Welcome to the third recap of the second season of The L Word: Generation Q, brought to you by the same network that brought you The L Word, a show about an ostensibly straight but clearly dykey filmmaker who arrives in Los Angeles with her sketchy cylon boyfriend to acquire funding for their white savior documentary, accidentally falls in lesbian love with noted dragon heiress Helena Peabody, gifts her a large white paper bag containing two small British chocolates, gets fingerblasted at the tea station while Kit Porter and Betty perform an unforgivable song in the nearby recording studio, has passionate lesbian sex in a Malibu penthouse during an epic sunset, videotapes a sexual role-play session with aforementioned Helena Peabody and then uses the resulting film to file a sexual harassment lawsuit against Helena which is settled out-of-court and eventually leads Helena to be briefly cut off from her family riches and forced to a life of catering and gambling. She then returns to Los Angeles two years later as an out lesbian who has a short at Outfest, has  hot tea and silent sex with Helena Peabody, gets mixed up in a truth-serum sting with mediocre novelist Jenny Schecter, dramatically storms out of a baby shower without reason and eventually lifts Helena from her knees, places her upon a kitchen counter, and holds a knife to her throat but in a sexy way before they break up thirty or so minutes later, thus condemning her to a Helena-free future but hey, at least she's got that short in Outfest!
Well we have come to Episode 203: Luck Be a Lady, a recycled Episode title from a very beloved Season Four episode. I do not think this is my best recap ever but I did try really hard I promise.
I love how many stories they're juggling this season so far and how many minor Season One characters are getting more airplay — this episode gave us a lot of Gigi, more Maribel and Micah (OTP) and more Tess! What fun!
---
Angie Poter-Kennard rushes home to open her laptop with the fervor of a passenger fleeing a 10-hour non-stop road trip because they really have to pee. In this metaphor, the laptop is a bathroom. I'm doing really good at this recap so far.
Turns out Angie, whose genetics should be a 50-50 split of noted artist Marcus Allenwood and noted White Person Tina Kennard, is somehow 51% Sudanese, 7% "other regions" of West Africa and South America, 20% European and 22% Native American? Umm what who did this graphic
Surprise! Angie has already received a message from Kayla Allenwood! Her half-sister! A real Johnny on the Spot, that one! Bette is gonna be thrilled! 
---
At the homestead formerly known as DaSoMi's and currently known as FiSoMi's, Finley's sharing some friendly scatalogical anecdotes with her crush, Sophie, while both emotionally damaged lesbians sweep up the physical mess in their shared home.
Finley asks if they can talk but Sophie says it's too soon, which is likely the first time in her entire precious life on this wretched earth that she has declined a request to discuss her emotions.
---
We then hop on our tiny scooters and zoom across town to Natalice's, where Alice is washing dishes with the fatalist spirit of a woman who is in a non-monogamous relationship that she wishes could be a monogamous relationship. Nat arrives home from her overnight date with news regarding a recent tree removal in the neighborhood.
Alice is like, hey I understand that you are the Lorax and you speak for the trees but let's get down to the roots of it all! Nat admits she feels weird 'cause she slept with someone else last night. Alice puts on her best "this is okay" face, saying all she wants is for Nat to be happy, and Nat's stoked re: that because she IS happy! "This is why we work!" Nat declares with ignorant glee.
Nat tells Alice she missed her but when she goes in for the makeout, Alice says she'd rather not engage in any tomfoolery until Nat has taken a second poly-cleansing shower.
---
We then hoverboard over to a Large Fancy Apartment Building where Bette and Gigi, dripping in sexual tension, desire and general emotions that I cannot believe are happening before my very eyes, are striding into the atrium with the confidence of two women at the peak of their Mommi Season.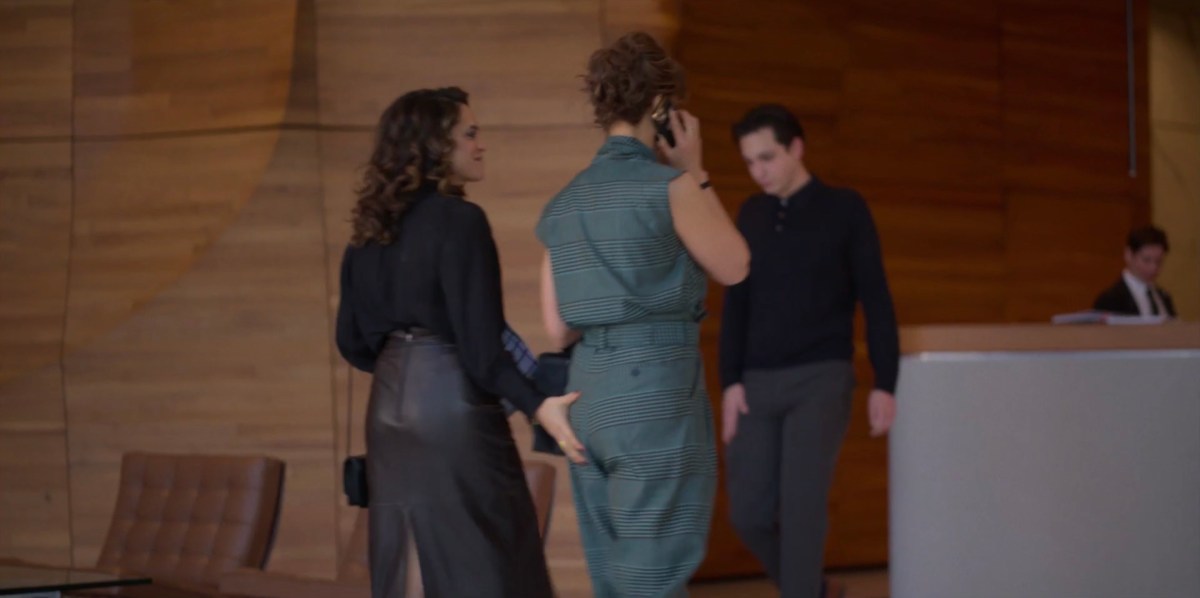 They're meeting up with Dani and her father to survey some real estate. Bette introduces Gigi as her girlfriend before seeing herself out so we can all just let that simmer for a moment.
---
We then ride a pony all the way to the LGBTQIA Center, where Micah's about to start a new job and is nervous about his shirt. Luckily his future wife Maribel is there to assure him it's an okay shirt, just like she asserted the first three times he asked about it. Maribel is having the best time because the Center has a free coffee shop right there in the lobby!
As Micah heads off into interviewland, Maribel teases that everybody loves his shirt and everybody is talking about it and they are so cute!!!!!! I am naming their children in my head!
---
What's going on over at our favorite Dana Fairbanks Memorial Tavern? Shane is analyzing the books, Finley is finagling some promo bottles and Tess is very mad that Shane wrote her a check for $5k because she is not a charity case!! Tess really should just take the check. It was not too long ago that Shane arrived on this coast in a private jet and waltzed into a gorgeous post-modern apartment in the Hollywood Hills with a shimmering pool overlooking the gilded valleys of Los Angeles. Besides, Shane is a poker champion now.
"It's not for you, it's for your Mom," Shane clarifies. Tess says she wanted to earn that $5k, but Shane says she will, and thus Tess quickly softens under Shane's loving reassurance which is very sweet but also HAVE SEX
---
ANGIE IS SO EXCITED YOU GUYS
BECAUSE ANGIE HAS A HALF-SISTER AND SHE'S FIFTEEN AND SHE LIVES IN LOS ANGELES AND ANGIE REALLY WANTS TO MEET HER AND JORDI SAYS OK I WILL GO WITH YOU TO MEET HER SO YOU DON'T GET KIDNAPPED OR MUDERED AND ANGIE IS LIKE OMG YOU'D COME WITH AND SHE'S LIKE YES OF COURSE I WOULD AND SO THEY'RE GONNA MEET HER AND
---
Cut to a gorgeous castle in the sky with a rooftop pool and a 3,000-foot fitness center and beautiful views of all the big law firms in downtown L.A!
Gigi's getting on with the Nunezes like gangbusters — comparing Rodolfo's desire for his daughter to own a nice apartment to her father's desires for her and speaking with both of them in Farsi which I do not understand but was delighted by nonetheless! Rodolfo wants Gigi to draw up the contract for the apartment. Gigi suavely turns to Dani and assures her that there's no pressure, she'll do whatever Dani says. Gigi is somehow flirting with not only Dani but also the very ground she walks upon and I do respect it.
---
Big news at The Aloce Show: a calendar in the background is turned to April, the first acknowledgement of a calendar month existing in the history of The L Word!
Sophie and Alice are still digging through what their potential fun segment could be — not Carpool Karaoke because Alice is in a twitter war with James Cordon and not "Man On The Street but gay" because Billy is already on the street being gay. I have an idea! It's called "The Chart" and Alice could do segments like: teaching gay lingo to newly-out and consistently-unprofessional California University Chancellor Phyllis Kroll, learning how to say "cunnilingus" in sign language with noted Origami With Steel sculptress Jodi Lerner and being transphobic towards unappreciated camera boy Max Sweeeny.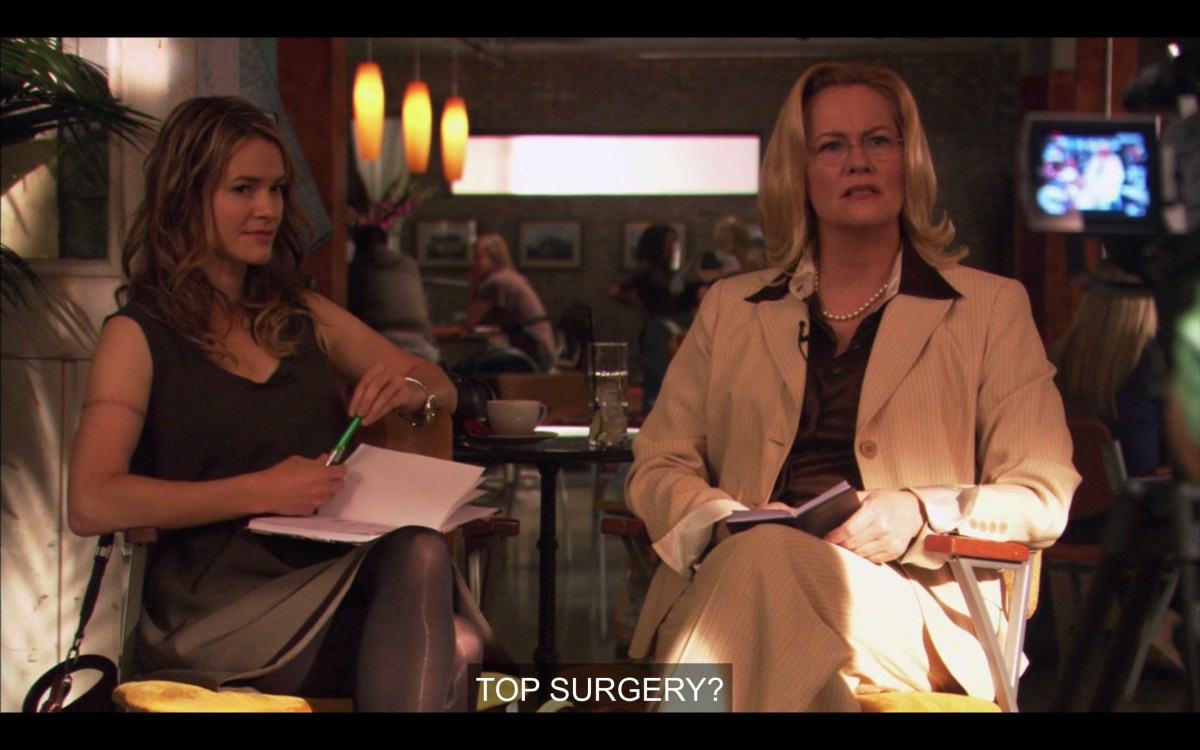 Anyhow, Sophie inquires regarding Alice's overall well-being. Alice says Nat had her first date with Marissa last night and Alice is completely and totally absolutely fine with it by which I mean, clearly not at all. When Nat texts to ask if it's okay for her to go out with Marissa tomorrow night, Alice gives her the go-ahead but her face betrays her discomfort.
Honestly, Nat could be easing Alice into this new phase of their relationship a little bit more gently. Regardless of Alice's problematic opinions on non-monogamy, witnessing your person enter the throes of New Relationship Energy with someone else — the part where you're so gung-ho about a new partner that you need to see them all the time starting now — will likely be the most difficult element of this arrangement for Alice to deal with. It's all happening very quickly!
---
At the LGBTQIA+ Center, Nat's showing Micah around as he explains his specialty is helping families deal with grief, recalling his own father's death when he was young. Nat says that's super great wow yeah grief is bad and hard and sounds like a very neat thing to specialize in but ANYHOO she's just really happy to have found "someone like him" for the center. Just say trans, Nat!!! They've got about a dozen trans clients, she explains, who will be so happy to meet with him, the Universal Trans Person.
Gonna go out on a limb here and suggest they hire more than one trans therapist for the G-ddamn LGBTQIA+ Center??
---
Back at Daddy Warbucks Manor, Dani's signing the papers for her Castle in the Sky while Dad fondly recalls getting his first apartment with her Mom many years ago and also meeting Gigi several hours ago. He always imagined Dani would end up with someone like Gigi, he declares.
"Someone Persian?" Dani asks.
"Someone adventurous and gutsy," he says.
"Someone like Mom?" Dani smiles to herself.
Dani suddenly remembers that all her worldly possessions remain at the house formerly known as DaSoMi's. Clearly unlike me she does not have weekly anxiety dreams about being forced to suddenly leave her apartment without having time to pack, which would keep her in a constant state of awareness regarding the location of her possessions.
Daddy volunteers to take care of the Stuff at the Old House. Also, while they're all here with his lawyer — who is named Ari because let's make this confusing for Ari — there's some more papers she can sign if she wants to, for funsies. An update to his will? Sign it! A DNR? Let's sign it!
Y'all do not kill Dani's father there is only so much this woman can be expected to endure in one season!
---
Well my dearest most intimate friends, it is time to return to one of our community's most beloved pastimes, Watching Bette Porter Look At Art. Today, Gigi's joining Our Lady of Porter on this winding journey into the annals of modern art, where Gigi's curious how Bette determines if art is good or not.
Bette says good art asks questions and it should move you or change you or at least piss off the board of the CAC. Bette comes to this show to check out emerging artists and see if anything catches her eye. "Well, you catch my eye," says Gigi, like a girlfriend who finds your interests hot but doesn't find your interests actually interesting. It was in this moment that I shifted my chips away from Bette/Gigi and towards Dani/Gigi in the Grand Poker Game of Life.
Bette doesn't seem particularly enchanted by Gigi, either, shifting between seeming bored and being patronizing, but even this early relationship ennui cannot penetrate the awe-inspiring impact of the work of Pippa Pascal, which Bette locates an stands in front of, bowled over by its majesty. She smiles, she laughs, she cries.
Gigi's like, "are you okay?" and Bette is like SOB SOB This is the work of Pippa Pascal, I know it is!
---
Micah arrives at FiSoMi's with a pizza and some disappointment regarding his day, which brings us into a small squabble!
Gay Squabble #12: Pony Play
In the Ring: Maribel vs. Micah
Content: Micah says his supervisor doesn't think he can help anyone except trans clients "and it's fucking demoralizing." Maribel says it's not, recalling earlier in her day when a white lady tried to lift her out of her chair and "hold [her] like a baby," which falls into the category of "shit that happens to [her] all the time." These are definitely horrifying, ableist things that happened to Maribel  — but it's unclear why any of this is relevant to Micah's situation or why this has to be framed like this. She also notes once desiring a pony that her Mother did not procure for her, a sentiment I think we can all relate to.
Her final advice is — "people are dumb, they can't read your mind, so use your damn voice if you want something different." She adds, "seriously i am SORRY you have to help trans kids. it must be a REAL burden. You're a saint AND a martyr!"
Finley apologizes on behalf of white people and Micah and Maribel are like 🙄
Who Wins? No
---
Back in ArtWorld, Bette's gushing about Pippa Pascal who's senior thesis at Bard was amazing because "nobody in the mainstream was making art about race and oppression and sexual violence," but Bette never worked with her 'cause she was too famous.
Then, in 2000, Pippa wrote an Op-Ed in the New York Times calling out the art world for open racism and systematic anti-Blackness and then she vanished into the ether.
[Cue music]
UNTIL NOW!
Bette embraces Gigi like her little girl has just arrived home from her first day of school clutching a radiant red balloon.
Pages: 1 2 3See entire article on one page