Welcome to the third recap of the second season of The L Word: Generation Q, brought to you by the same network that brought you The L Word, a show about an ostensibly straight but clearly dykey filmmaker who arrives in Los Angeles with her sketchy cylon boyfriend to acquire funding for their white savior documentary, accidentally falls in lesbian love with noted dragon heiress Helena Peabody, gifts her a large white paper bag containing two small British chocolates, gets fingerblasted at the tea station while Kit Porter and Betty perform an unforgivable song in the nearby recording studio, has passionate lesbian sex in a Malibu penthouse during an epic sunset, videotapes a sexual role-play session with aforementioned Helena Peabody and then uses the resulting film to file a sexual harassment lawsuit against Helena which is settled out-of-court and eventually leads Helena to be briefly cut off from her family riches and forced to a life of catering and gambling. She then returns to Los Angeles two years later as an out lesbian who has a short at Outfest, has  hot tea and silent sex with Helena Peabody, gets mixed up in a truth-serum sting with mediocre novelist Jenny Schecter, dramatically storms out of a baby shower without reason and eventually lifts Helena from her knees, places her upon a kitchen counter, and holds a knife to her throat but in a sexy way before they break up thirty or so minutes later, thus condemning her to a Helena-free future but hey, at least she's got that short in Outfest!
Well we have come to Episode 203: Luck Be a Lady, a recycled Episode title from a very beloved Season Four episode. I do not think this is my best recap ever but I did try really hard I promise.
I love how many stories they're juggling this season so far and how many minor Season One characters are getting more airplay — this episode gave us a lot of Gigi, more Maribel and Micah (OTP) and more Tess! What fun!
---
Angie Poter-Kennard rushes home to open her laptop with the fervor of a passenger fleeing a 10-hour non-stop road trip because they really have to pee. In this metaphor, the laptop is a bathroom. I'm doing really good at this recap so far.
Turns out Angie, whose genetics should be a 50-50 split of noted artist Marcus Allenwood and noted White Person Tina Kennard, is somehow 51% Sudanese, 7% "other regions" of West Africa and South America, 20% European and 22% Native American? Umm what who did this graphic
Surprise! Angie has already received a message from Kayla Allenwood! Her half-sister! A real Johnny on the Spot, that one! Bette is gonna be thrilled! 
---
At the homestead formerly known as DaSoMi's and currently known as FiSoMi's, Finley's sharing some friendly scatalogical anecdotes with her crush, Sophie, while both emotionally damaged lesbians sweep up the physical mess in their shared home.
Finley asks if they can talk but Sophie says it's too soon, which is likely the first time in her entire precious life on this wretched earth that she has declined a request to discuss her emotions.
---
We then hop on our tiny scooters and zoom across town to Natalice's, where Alice is washing dishes with the fatalist spirit of a woman who is in a non-monogamous relationship that she wishes could be a monogamous relationship. Nat arrives home from her overnight date with news regarding a recent tree removal in the neighborhood.
Alice is like, hey I understand that you are the Lorax and you speak for the trees but let's get down to the roots of it all! Nat admits she feels weird 'cause she slept with someone else last night. Alice puts on her best "this is okay" face, saying all she wants is for Nat to be happy, and Nat's stoked re: that because she IS happy! "This is why we work!" Nat declares with ignorant glee.
Nat tells Alice she missed her but when she goes in for the makeout, Alice says she'd rather not engage in any tomfoolery until Nat has taken a second poly-cleansing shower.
---
We then hoverboard over to a Large Fancy Apartment Building where Bette and Gigi, dripping in sexual tension, desire and general emotions that I cannot believe are happening before my very eyes, are striding into the atrium with the confidence of two women at the peak of their Mommi Season.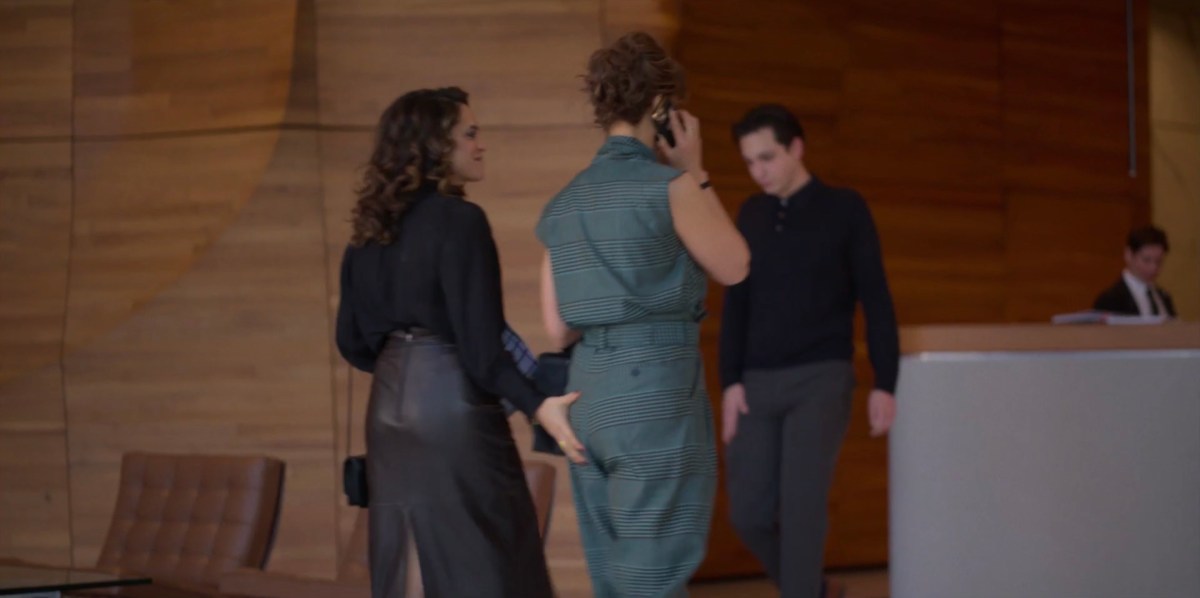 They're meeting up with Dani and her father to survey some real estate. Bette introduces Gigi as her girlfriend before seeing herself out so we can all just let that simmer for a moment.
---
We then ride a pony all the way to the LGBTQIA Center, where Micah's about to start a new job and is nervous about his shirt. Luckily his future wife Maribel is there to assure him it's an okay shirt, just like she asserted the first three times he asked about it. Maribel is having the best time because the Center has a free coffee shop right there in the lobby!
As Micah heads off into interviewland, Maribel teases that everybody loves his shirt and everybody is talking about it and they are so cute!!!!!! I am naming their children in my head!
---
What's going on over at our favorite Dana Fairbanks Memorial Tavern? Shane is analyzing the books, Finley is finagling some promo bottles and Tess is very mad that Shane wrote her a check for $5k because she is not a charity case!! Tess really should just take the check. It was not too long ago that Shane arrived on this coast in a private jet and waltzed into a gorgeous post-modern apartment in the Hollywood Hills with a shimmering pool overlooking the gilded valleys of Los Angeles. Besides, Shane is a poker champion now.
"It's not for you, it's for your Mom," Shane clarifies. Tess says she wanted to earn that $5k, but Shane says she will, and thus Tess quickly softens under Shane's loving reassurance which is very sweet but also HAVE SEX
---
ANGIE IS SO EXCITED YOU GUYS
BECAUSE ANGIE HAS A HALF-SISTER AND SHE'S FIFTEEN AND SHE LIVES IN LOS ANGELES AND ANGIE REALLY WANTS TO MEET HER AND JORDI SAYS OK I WILL GO WITH YOU TO MEET HER SO YOU DON'T GET KIDNAPPED OR MUDERED AND ANGIE IS LIKE OMG YOU'D COME WITH AND SHE'S LIKE YES OF COURSE I WOULD AND SO THEY'RE GONNA MEET HER AND
---
Cut to a gorgeous castle in the sky with a rooftop pool and a 3,000-foot fitness center and beautiful views of all the big law firms in downtown L.A!
Gigi's getting on with the Nunezes like gangbusters — comparing Rodolfo's desire for his daughter to own a nice apartment to her father's desires for her and speaking with both of them in Farsi which I do not understand but was delighted by nonetheless! Rodolfo wants Gigi to draw up the contract for the apartment. Gigi suavely turns to Dani and assures her that there's no pressure, she'll do whatever Dani says. Gigi is somehow flirting with not only Dani but also the very ground she walks upon and I do respect it.
---
Big news at The Aloce Show: a calendar in the background is turned to April, the first acknowledgement of a calendar month existing in the history of The L Word!
Sophie and Alice are still digging through what their potential fun segment could be — not Carpool Karaoke because Alice is in a twitter war with James Cordon and not "Man On The Street but gay" because Billy is already on the street being gay. I have an idea! It's called "The Chart" and Alice could do segments like: teaching gay lingo to newly-out and consistently-unprofessional California University Chancellor Phyllis Kroll, learning how to say "cunnilingus" in sign language with noted Origami With Steel sculptress Jodi Lerner and being transphobic towards unappreciated camera boy Max Sweeeny.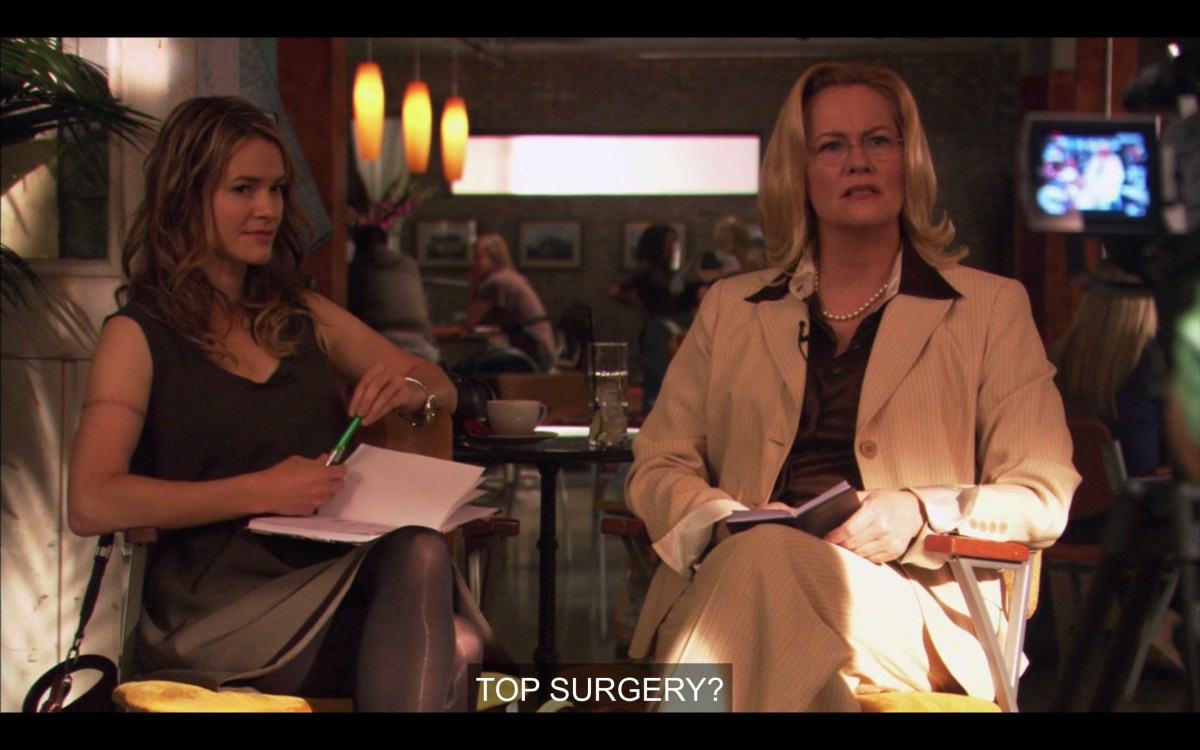 Anyhow, Sophie inquires regarding Alice's overall well-being. Alice says Nat had her first date with Marissa last night and Alice is completely and totally absolutely fine with it by which I mean, clearly not at all. When Nat texts to ask if it's okay for her to go out with Marissa tomorrow night, Alice gives her the go-ahead but her face betrays her discomfort.
Honestly, Nat could be easing Alice into this new phase of their relationship a little bit more gently. Regardless of Alice's problematic opinions on non-monogamy, witnessing your person enter the throes of New Relationship Energy with someone else — the part where you're so gung-ho about a new partner that you need to see them all the time starting now — will likely be the most difficult element of this arrangement for Alice to deal with. It's all happening very quickly!
---
At the LGBTQIA+ Center, Nat's showing Micah around as he explains his specialty is helping families deal with grief, recalling his own father's death when he was young. Nat says that's super great wow yeah grief is bad and hard and sounds like a very neat thing to specialize in but ANYHOO she's just really happy to have found "someone like him" for the center. Just say trans, Nat!!! They've got about a dozen trans clients, she explains, who will be so happy to meet with him, the Universal Trans Person.
Gonna go out on a limb here and suggest they hire more than one trans therapist for the G-ddamn LGBTQIA+ Center??
---
Back at Daddy Warbucks Manor, Dani's signing the papers for her Castle in the Sky while Dad fondly recalls getting his first apartment with her Mom many years ago and also meeting Gigi several hours ago. He always imagined Dani would end up with someone like Gigi, he declares.
"Someone Persian?" Dani asks.
"Someone adventurous and gutsy," he says.
"Someone like Mom?" Dani smiles to herself.
Dani suddenly remembers that all her worldly possessions remain at the house formerly known as DaSoMi's. Clearly unlike me she does not have weekly anxiety dreams about being forced to suddenly leave her apartment without having time to pack, which would keep her in a constant state of awareness regarding the location of her possessions.
Daddy volunteers to take care of the Stuff at the Old House. Also, while they're all here with his lawyer — who is named Ari because let's make this confusing for Ari — there's some more papers she can sign if she wants to, for funsies. An update to his will? Sign it! A DNR? Let's sign it!
Y'all do not kill Dani's father there is only so much this woman can be expected to endure in one season!
---
Well my dearest most intimate friends, it is time to return to one of our community's most beloved pastimes, Watching Bette Porter Look At Art. Today, Gigi's joining Our Lady of Porter on this winding journey into the annals of modern art, where Gigi's curious how Bette determines if art is good or not.
Bette says good art asks questions and it should move you or change you or at least piss off the board of the CAC. Bette comes to this show to check out emerging artists and see if anything catches her eye. "Well, you catch my eye," says Gigi, like a girlfriend who finds your interests hot but doesn't find your interests actually interesting. It was in this moment that I shifted my chips away from Bette/Gigi and towards Dani/Gigi in the Grand Poker Game of Life.
Bette doesn't seem particularly enchanted by Gigi, either, shifting between seeming bored and being patronizing, but even this early relationship ennui cannot penetrate the awe-inspiring impact of the work of Pippa Pascal, which Bette locates an stands in front of, bowled over by its majesty. She smiles, she laughs, she cries.
Gigi's like, "are you okay?" and Bette is like SOB SOB This is the work of Pippa Pascal, I know it is!
---
Micah arrives at FiSoMi's with a pizza and some disappointment regarding his day, which brings us into a small squabble!
Gay Squabble #12: Pony Play
In the Ring: Maribel vs. Micah
Content: Micah says his supervisor doesn't think he can help anyone except trans clients "and it's fucking demoralizing." Maribel says it's not, recalling earlier in her day when a white lady tried to lift her out of her chair and "hold [her] like a baby," which falls into the category of "shit that happens to [her] all the time." These are definitely horrifying, ableist things that happened to Maribel  — but it's unclear why any of this is relevant to Micah's situation or why this has to be framed like this. She also notes once desiring a pony that her Mother did not procure for her, a sentiment I think we can all relate to.
Her final advice is — "people are dumb, they can't read your mind, so use your damn voice if you want something different." She adds, "seriously i am SORRY you have to help trans kids. it must be a REAL burden. You're a saint AND a martyr!"
Finley apologizes on behalf of white people and Micah and Maribel are like 🙄
Who Wins? No
---
Back in ArtWorld, Bette's gushing about Pippa Pascal who's senior thesis at Bard was amazing because "nobody in the mainstream was making art about race and oppression and sexual violence," but Bette never worked with her 'cause she was too famous.
Then, in 2000, Pippa wrote an Op-Ed in the New York Times calling out the art world for open racism and systematic anti-Blackness and then she vanished into the ether.
[Cue music]
UNTIL NOW!
Bette embraces Gigi like her little girl has just arrived home from her first day of school clutching a radiant red balloon.
Meanwhile at The Aloce Show, Alice is gabbing with Tom about the throuple with Gigi, which she says was inspired by tequila and deflated by "complications." She acknowledges that Gigi is very hot and also that her and Nat are open again.
Tom says that non-monogamy is a no for him, because when he's with someone he only sees them!  If they were dating other people he'd only be able to see them and all his deepest fears about their activities with their dates. For example: going to the pumpkin patch together, a notorious location for activities like sticking donuts up your other girlfriend's asshole and licking apple cider off each other's nipples.
---
Bette dashes into her home to change for her next activity and is shocked to find her very own daughter in the living room, looking at her baby pictures.
Angie admits that she "did that DNA website thing" and Bette immediately flies off the handle. And we're off!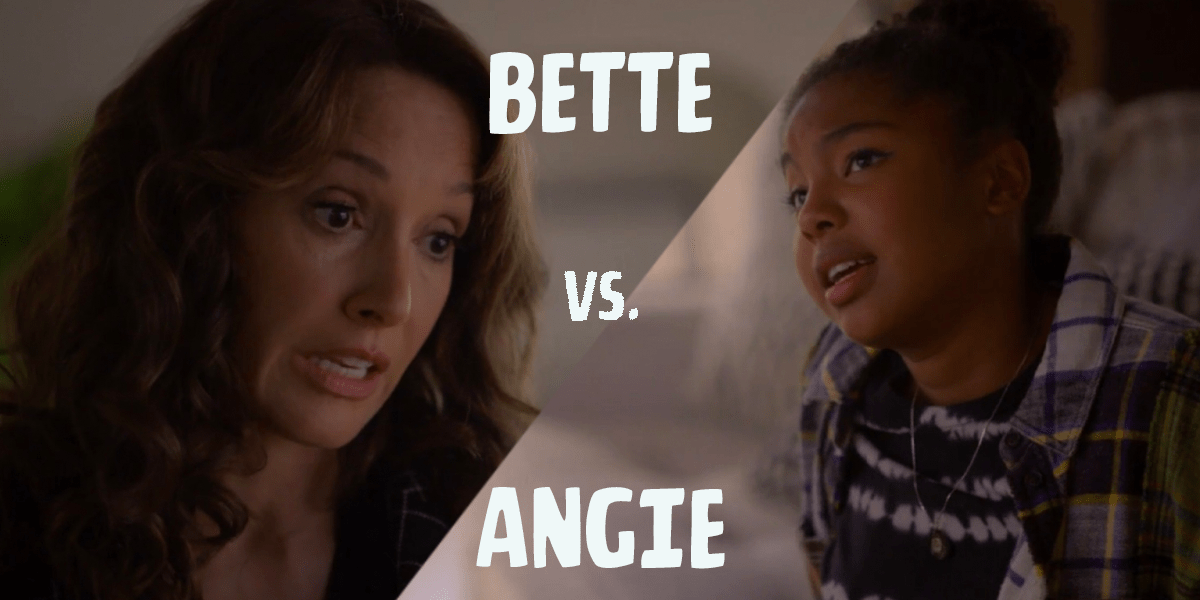 Gay Squabble #13: WHO'S YOUR DADDY
In The Ring: Bette vs. Angie
Content: Bette's furious that Angie sent her blood to the government without consent. Angie says she has a half-sister and she's made plans to meet her. Bette says she doesn't have a sister!
Who Wins? Angie, because she exits the argument with her dignity intact.
But Bette remains in the ring for her next match!
Gay Squabble #14: NO, I'M DADDY
In the Ring: Bette vs. Gigi
Bette answers the door in a huff, seemingly not wanting to be bothered by Gigi's iced coffee delivery or overall personhood.
Bette: She went behind my back and she went on some fucking DNA website to find the identity of her donor.
Gigi: Oh, ok, is that a huge problem for you? Nat and I are open with the kids about their donor.
Bette: Okay well, this is different. We didn't find Angie's donor at a sperm bank. He was an ARITST that we knew and we promised him that he would be able to stay anonymous, okay? I really don't know what to do right now.
Gigi: Maybe I can help. You know, Nat carried our kids, I didn't, just like you didnt, so I can understand if you feel threatened.
Bette: I don't.
Gigi: Okay. Maybe you feel like, I dunno, it diminishes your role as a Mom?
Bette: That's not it, that's not it.
Gigi: Okay. Maybe I'm projecting.
Bette: Yeah, maybe you are.
I'm always the Gigi in this situation (trying too hard to relate and help) and feel deeply pained on her behalf — even moreso when Angie calls down "Mom, who's here?" and Bette calls back "No one!" Gigi's insulted, and Bette says now's just not a good time to meet Angie. The thing is that um…. they actually already met? At Jordi's play? But okay! Bette says she can't be bothered with deconstructing Gigi's feelings, so Gigi sees herself out.
Who Wins? Gigi.
Once all alone with her woes, Bette calls Tina to leave a message and then eventually tells Angie it's ok, she'll take her to meet the potentially dangerous predator pretending to be her alleged half-sister. Angie says she's sorry and they hug. Again what we have here is supreme emotional maturity displayed by a teenager.
---
Back at the LGBTQIA+ Center, noted employer of one (1) trans therapist, Micah asks Nat if maybe perhaps she could give him a client list that is not just trans people! Nat apologizes and says she will "diversify the roster." Perhaps tomorrow he will have a fresh line-up of cis lesbians who can't get over their ex and are also struggling with crushes on their barista, or maybe even a lesbian couple who are trying to get pregnant but haven't had sex in seven months and one of them is always on her flip-phone.
---
Well well well, look who has a very cute office to match her very cute face: It's Gigi! Dani arrives to pick up her keys, and Gigi says Bette relayed Dani's Tragic Tale to her and she's sorry it all happened. It's cute of her to pretend like this salacious slice of lesbian drama only reached her via Bette when surely it would've been the Talk of the Town.
Dani says this isn't what she wanted from her life but really is anybody getting what they want from their life?
Gigi tells Dani that what she really really needs is a night out, and Dani acknowledge that this is in fact true. Gigi also recommends Dani throw her keys into the GARBAGE because the best way to get over a breakup is to shed yourself of its related metals. I hope Dani's keychain wasn't a precious family heirloom from a since-deceased member of Sophie's family.
---
Speaking of keys, Sophie's drop right to the floor when she gets back to FiSoMi's cause um, Dani's movers came and took all her furniture. Finley tried to re-organize but unfortunately "didn't have a lot to work with." However, Finley is dedicated to making the most of this space and is fully capable of creating some inventive storage and furniture solutions!
The goddamn sofa is missing. "Obvious void," Finley offers, but suggests getting a new sofa!
One thing Finley does have, however, is day-old pizza, although she unfortunately does not have red pepper flakes because Dani took those too. Another inconvenient truth is that the table is missing. "Everybody hated that table," Finley rushes. "I liked that table," Sophie counters.
"This is my life," Sophie laments. "This is my fucking life. Empty, except for you." My dearest and nearest friends…. IT'S TIME TO FIGHT!!!!! FINALLY!
Gay Squabble #15: It Feels Like I'm Coming Home
In the Ring: Finley vs. Sophie
Content: 
Finley: You know you don't HAVE to talk to me like that.
Sophie: Like what?
Finley: Like I'm an asshole.
Sophie: You kinda are.
Finley: Okay, I made a mistake.
Sophie: Okay now you're just underselling because — really? You made a mistake?
Finley: I thought I was saving you, dude.
Our misguided white knight is on her way back to her proverbial tool shed when Sophie comes out with it: "Okay, fine. You saved me. You saved me, okay." Finley says that Sophie is saying something nice in a mean way, which's confusing to her, and Sophie declares "I'm confused." Appropriate!
They touch, they part, Finley asks if she can just be forgiven and Sophie says she doesn't know how. But they're getting there.
Who Wins? Finley, fair and square.
---
Micah, because he is clearly in love with his fated bride, Maribel, has struck out into the wild west in the grand tradition of so many hearty cowboys who have seduced their future lovers through strategic enterprises involving the stables and the pure unbridled bliss of the open prairie desert.
---
It's time for Angie's big meet-up with her alleged half-sister and she's got her entire family in tow: Bette, Shane and Alice. Angie requests they wait outside and stare at her through a large plate glass window, which alarms the OG Trio who do not realize that Angie is the most emotionally mature person in this show and absolutely could outsmart a geneology dot com kidnapper.
Alice: I think you're gonna want me in there. I mean, I look pretty good today, pattern on pattern is in.
Shane: Says the church lady.
"I wish Tina were here," Bette and many generations of Bettina shippers lament from the other side of the glass wall. "Of course she's handling this whole thing with total grace while I'm biting Gigi's head off for offering very reasonable advice."
Angie and Kayla exchange some awkward Hellos before Angie sits down with her backpack and the two gals can get to gabbing!
Shane and Alice assure Bette that Angie's a smart kid, she's gonna be fine! Alice confides that Nat wants to keep fucking Marissa. Bette tells her to "shut it down," and Alice says she can't really do that 'cause it's not like it's gonna go away, if it's not Marrisa it'll be someone else. Remember when Bette shut down non-monogamy with Jodi and then cheated on her lol
Meanwhile indoors, Angie and Kayla are getting along like gangbusters but unfortunately we have NO IDEA WHAT THEY ARE TALKING ABOUT.
LOOK AT STAR-CROSSED FUTURE HUSBAND AND WIFE ATOP PONIES IN THE MAJESTIC DESERT!!!!!
---
Over the river and through the woods we go and subsequently arrive at Dana's Memorial Tavern for yet another round of Shane's Poker Night. Our introduction to the evening is Tess's leg emerging lavishly out the door of a fancy car as she passes two thwarted bar-goers and waltzes in to her tables! The bangs are swooped, the bar is stocked, the money is being distributed in envelopes.
Tess heads into the back and Shane spots a white male extra getting up and heading in that direction shortly thereafter. Suss.
---
It's time for Dani's Night Out with Gigig, and Gigi's laughing about Dani punching Finley in the face! They discuss Dani's Dad (she's worried he may be sick) and Gigi's family (seven brothers) and how it was lonely for Dani growing up after her mother died and they're laughing and drinking and it's so warm and easy.
As men are so often known to do — and continue to do, to this very day, even in this City of Angels — one comes over to hit on them, and Gigi explains that they are lesbians on a date, which predictably does little to deter him but eventually he returns to his man-box.
"I know this isn't a date, but that was the fastest way to get rid of him," Gigi explains. Dani says she so happy for Gigi and Bette but Gigi says she's not sure it's gonna work out and who cares about all that, she would like to learn more about Dani. I would like these two to begin a romantic and sexual relationship and I see no reason why all of us cannot have our needs met today.
---
We return to Poker Night to confirm nothing of interest to me personally is taking place. Shane asks Tess if she's okay and Tess says she's fine. OKAY HAVE SEX
---
What are you having for dinner? Good question. The answer for Alice is: martinis! She's dining with her editor Tom but more pressingly, she's spying on Nat's date with Marissa. "This place is Hollywood, yo," says Tom. Tom, with familiar gusto, extracts a laptop from his bag and begins asking Alice the important questions. For example — is she "a bisexual person"?
Alice is a bit distracted trying to find an optimal angle from which to absolutely torture herself, but confirms this orientation and asks if he is bisexual. "No, I did play soccer when I was younger, and there were a lot of thoughtful men," he says. "But actually I am 100% heterosexual."  Tom remains adorably clueless, rambling about his ex marrying his friend and how he wouldn't be able to separate sex from emotion and Alice is simply engaged in a warp-vision situation with Nat and Marissa. Alice is truly playing with fire here!!!
Marissa touches Nat's hair and Alice begins a little panic attack and decides to exit the premises through the kitchen — Tom chases after her out into an empty alley where she can have a mental breakdown.
Alice: Nat's here with her date.
Tom: What a horrible coincidence!
Alice: Tom.
Tom: OHHHHHH you totally set this up. Holy cow you totally set this up, that's why we were sitting by the—
Alice: I had to see it. I had to see them. I had to see them in order to feel it.
Tom: Feel what?
Alice: Well it wasn't — it's not jealousy!
It's not jealousy, she insists. In FACT, it is simply being stabbed in the heart and having all of her organs removed and extracted violently from her body. Tom suggests they put it in the book, which I love. Alice says she didn't think seeing them would hurt this bad. She realizes, standing on the pavement outside a restaurant with her editor from the movie Clueless, that it's over.
This just isn't something she can do. And I wish we could get more here — wish we could explore, for example, how she's likely got a lot of baggage from Dana, who left her for Lara after Alice had tried so very hard to be cool about them even being friends. But I'm also eager for Alice's next step and kinda shipping her with Tom, so?
---
Back at Poker Palace, Shane bla bla Jack straight came in high yadda yadda counting her money. Tess says the man who followed her in the back groped her. Shane climbs atop her rescue animal and insists she finds the guy and I don't know…. punch him?
Tess implores Shane to calm down and listen to her. She took care of it by taking a "rake" — a portion of the winning pot. It's illegal but, she says, it is customary if a guy is winning too much or is a prick.
Tess apologizes profusely, but Shane's not mad that Tess took a rake. She wishes Tess had taken more. Shane's just glad Tess is okay. LOL they're gonna get arrested eventually right?
---
Nat arrives home smelling of pussy juice and toasted ravioli to find Alice still in her very cute work blazer instead of sleeping, as she anticipated.
Alice: I can't do it.
Nat: Okay, we don't have to. We don't have to.
Alice: Look, I don't wanna change you, I don't. And I can't.
Nat: I love you, Alice.
Alice: I know.
Nat: I mean, it's me and you.
Alice: You deserve someone who can do this with you.
Nat: No, no Alice believe me that's not what I want. I want you.
Alice: I'm gonna go.
And that's a wrap on Alice and Nat. It's time for a closing musical montage!
---
Sophie arrives home and drops her keys… right into a bowl!!!! It's a slam dunk with an assist from our very own Sarah Finley!!! The crowd goes wild!!
Angie is looking at pics of herself and then pulls a pic of Marcus Allenwood and a baby out of her back pocket.
Tess and Shane are counting their money like big ballers. Also Sounder III is there. Like in that painting of a poker game.
Sophie walks over to where Finley is standing in the kitchen and wraps her arms around Finley's waist. AWWWWW!!!!!
Bette is googling Pippa Pascal. She calls Gigi, who silences the call — she's still in the car with Dani, talking about her family. She reveals that her full name is Golnar Ghorbani but "Gigi's just a nickname my Mom invented for stupid Americans in grade school."
"I had the best time tonight," Dani says. "And it really came out of nowhere."
"The pleasure was all mine," says Gigi.
OOOOPP surprise there are a lot of police cars outside Daddy's Manor?!?!?! EEEYIKES
---
The Round-Up:
Gay Squabbles: 4 this episode, 15 total
Lesbian Sex Moments: 0 this episode, 2 total
Quote of the Week: Sophie's face when Finley tells her that Dani took the red pepper

Pages: 1 2 3See entire article on one page