Meanwhile at The Aloce Show, Alice is gabbing with Tom about the throuple with Gigi, which she says was inspired by tequila and deflated by "complications." She acknowledges that Gigi is very hot and also that her and Nat are open again.
Tom says that non-monogamy is a no for him, because when he's with someone he only sees them!  If they were dating other people he'd only be able to see them and all his deepest fears about their activities with their dates. For example: going to the pumpkin patch together, a notorious location for activities like sticking donuts up your other girlfriend's asshole and licking apple cider off each other's nipples.
---
Bette dashes into her home to change for her next activity and is shocked to find her very own daughter in the living room, looking at her baby pictures.
Angie admits that she "did that DNA website thing" and Bette immediately flies off the handle. And we're off!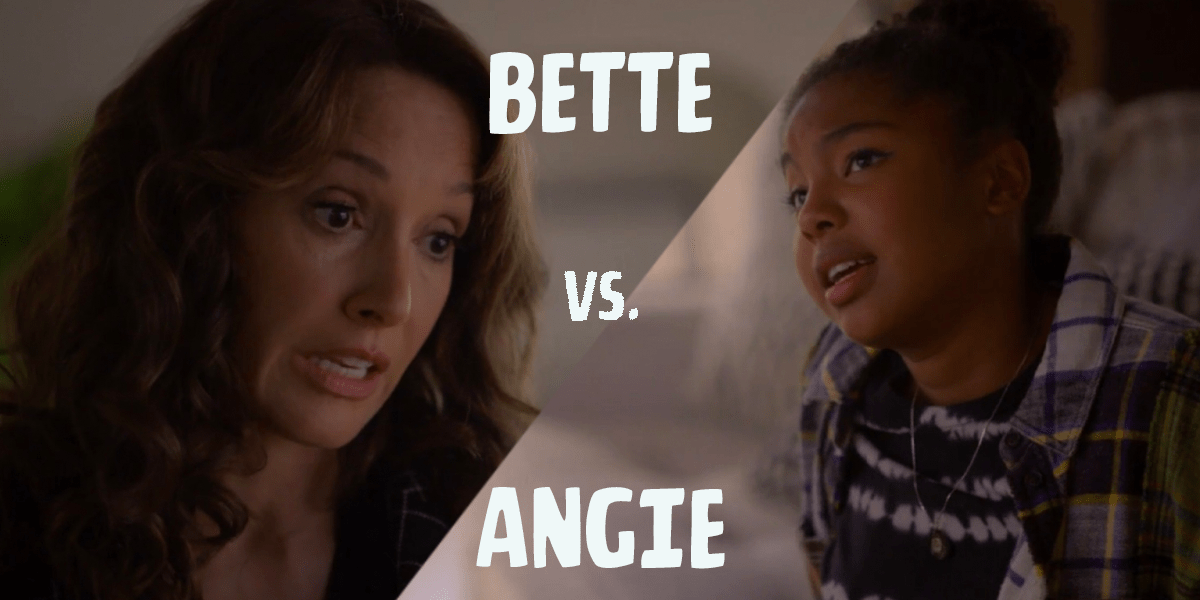 Gay Squabble #13: WHO'S YOUR DADDY
In The Ring: Bette vs. Angie
Content: Bette's furious that Angie sent her blood to the government without consent. Angie says she has a half-sister and she's made plans to meet her. Bette says she doesn't have a sister!
Who Wins? Angie, because she exits the argument with her dignity intact.
But Bette remains in the ring for her next match!
Gay Squabble #14: NO, I'M DADDY
In the Ring: Bette vs. Gigi
Bette answers the door in a huff, seemingly not wanting to be bothered by Gigi's iced coffee delivery or overall personhood.
Bette: She went behind my back and she went on some fucking DNA website to find the identity of her donor.
Gigi: Oh, ok, is that a huge problem for you? Nat and I are open with the kids about their donor.
Bette: Okay well, this is different. We didn't find Angie's donor at a sperm bank. He was an ARITST that we knew and we promised him that he would be able to stay anonymous, okay? I really don't know what to do right now.
Gigi: Maybe I can help. You know, Nat carried our kids, I didn't, just like you didnt, so I can understand if you feel threatened.
Bette: I don't.
Gigi: Okay. Maybe you feel like, I dunno, it diminishes your role as a Mom?
Bette: That's not it, that's not it.
Gigi: Okay. Maybe I'm projecting.
Bette: Yeah, maybe you are.
I'm always the Gigi in this situation (trying too hard to relate and help) and feel deeply pained on her behalf — even moreso when Angie calls down "Mom, who's here?" and Bette calls back "No one!" Gigi's insulted, and Bette says now's just not a good time to meet Angie. The thing is that um…. they actually already met? At Jordi's play? But okay! Bette says she can't be bothered with deconstructing Gigi's feelings, so Gigi sees herself out.
Who Wins? Gigi.
Once all alone with her woes, Bette calls Tina to leave a message and then eventually tells Angie it's ok, she'll take her to meet the potentially dangerous predator pretending to be her alleged half-sister. Angie says she's sorry and they hug. Again what we have here is supreme emotional maturity displayed by a teenager.
---
Back at the LGBTQIA+ Center, noted employer of one (1) trans therapist, Micah asks Nat if maybe perhaps she could give him a client list that is not just trans people! Nat apologizes and says she will "diversify the roster." Perhaps tomorrow he will have a fresh line-up of cis lesbians who can't get over their ex and are also struggling with crushes on their barista, or maybe even a lesbian couple who are trying to get pregnant but haven't had sex in seven months and one of them is always on her flip-phone.
---
Well well well, look who has a very cute office to match her very cute face: It's Gigi! Dani arrives to pick up her keys, and Gigi says Bette relayed Dani's Tragic Tale to her and she's sorry it all happened. It's cute of her to pretend like this salacious slice of lesbian drama only reached her via Bette when surely it would've been the Talk of the Town.
Dani says this isn't what she wanted from her life but really is anybody getting what they want from their life?
Gigi tells Dani that what she really really needs is a night out, and Dani acknowledge that this is in fact true. Gigi also recommends Dani throw her keys into the GARBAGE because the best way to get over a breakup is to shed yourself of its related metals. I hope Dani's keychain wasn't a precious family heirloom from a since-deceased member of Sophie's family.
---
Speaking of keys, Sophie's drop right to the floor when she gets back to FiSoMi's cause um, Dani's movers came and took all her furniture. Finley tried to re-organize but unfortunately "didn't have a lot to work with." However, Finley is dedicated to making the most of this space and is fully capable of creating some inventive storage and furniture solutions!
The goddamn sofa is missing. "Obvious void," Finley offers, but suggests getting a new sofa!
One thing Finley does have, however, is day-old pizza, although she unfortunately does not have red pepper flakes because Dani took those too. Another inconvenient truth is that the table is missing. "Everybody hated that table," Finley rushes. "I liked that table," Sophie counters.
"This is my life," Sophie laments. "This is my fucking life. Empty, except for you." My dearest and nearest friends…. IT'S TIME TO FIGHT!!!!! FINALLY!
Gay Squabble #15: It Feels Like I'm Coming Home
In the Ring: Finley vs. Sophie
Content: 
Finley: You know you don't HAVE to talk to me like that.
Sophie: Like what?
Finley: Like I'm an asshole.
Sophie: You kinda are.
Finley: Okay, I made a mistake.
Sophie: Okay now you're just underselling because — really? You made a mistake?
Finley: I thought I was saving you, dude.
Our misguided white knight is on her way back to her proverbial tool shed when Sophie comes out with it: "Okay, fine. You saved me. You saved me, okay." Finley says that Sophie is saying something nice in a mean way, which's confusing to her, and Sophie declares "I'm confused." Appropriate!
They touch, they part, Finley asks if she can just be forgiven and Sophie says she doesn't know how. But they're getting there.
Who Wins? Finley, fair and square.
---
Micah, because he is clearly in love with his fated bride, Maribel, has struck out into the wild west in the grand tradition of so many hearty cowboys who have seduced their future lovers through strategic enterprises involving the stables and the pure unbridled bliss of the open prairie desert.
---
It's time for Angie's big meet-up with her alleged half-sister and she's got her entire family in tow: Bette, Shane and Alice. Angie requests they wait outside and stare at her through a large plate glass window, which alarms the OG Trio who do not realize that Angie is the most emotionally mature person in this show and absolutely could outsmart a geneology dot com kidnapper.
Alice: I think you're gonna want me in there. I mean, I look pretty good today, pattern on pattern is in.
Shane: Says the church lady.
"I wish Tina were here," Bette and many generations of Bettina shippers lament from the other side of the glass wall. "Of course she's handling this whole thing with total grace while I'm biting Gigi's head off for offering very reasonable advice."
Angie and Kayla exchange some awkward Hellos before Angie sits down with her backpack and the two gals can get to gabbing!
Shane and Alice assure Bette that Angie's a smart kid, she's gonna be fine! Alice confides that Nat wants to keep fucking Marissa. Bette tells her to "shut it down," and Alice says she can't really do that 'cause it's not like it's gonna go away, if it's not Marrisa it'll be someone else. Remember when Bette shut down non-monogamy with Jodi and then cheated on her lol
Meanwhile indoors, Angie and Kayla are getting along like gangbusters but unfortunately we have NO IDEA WHAT THEY ARE TALKING ABOUT.
Pages: 1 2 3See entire article on one page