There were a few stories we started talking about last week that have continued to evolve — or in some cases devolve — over the past few days.
Let's begin!
1. The Lesbian Communion Story
We first wrote about Barbara Johnson's mother's funeral in February, telling you the story of how the priest, Father Guarnizo, denied Johnson communion because of her sexuality and furthermore walked out during Johnson's eulogy and subsequently did not attend the burial. Guarnizo, who was meant to deliver the final blessings at the funeral, claimed that he had suddenly fallen ill and therefore couldn't attend.
On March 12th, we told you that the preist had been suspended from his position for allegedly unrelated circumstances.
Today, new news from CNN via The New York Daily News — Father Guarnizo has made a statement and surprisingly enough, it contradicts Barbara's story.
According to Barbara, Guarnizo knew Barbara's partner was a lesbian because he asked her what her relation was to the deceased prior to the service, while she was helping prepare. Guarnizo says that's not true:
"A few minutes before the Mass began, Ms. Johnson came into the sacristy with another woman whom she announced as her 'lover.' Her revelation was completely unsolicited. As I attempted to follow Ms. Johnson, her lover stood in our narrow sacristy physically blocking my pathway to the door. I politely asked her to move and she refused."
This is an incredible adjustment to the original story, and an honestly hilarious one at that. I'm imagining it went like this: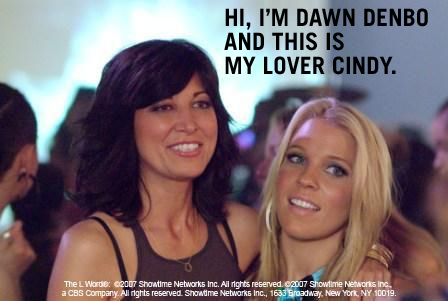 Most people have logically assumed Guarnizo's decision to dash out during Barbara's eulogy and skip out on the funeral was not an unrelated event. According to Guarnizo, he totally for real definitely seriously had a really bad migraine:
"I did not and would not refuse to accompany Barbara Johnson and her mother to the cemetery because she is gay or lives with a woman. I did not in any way seek to dishonor her memory, and my homily at the funeral should have made that quite evident to all in the pews, including the Johnson family."
Despite the fact that Guarnizo participates and leads anti-choice protests which are designed to invade the personal space and private health choices of female patients and attract media attention, he's very annoyed that this particular matter is being "debated in public.":
"I finally wish for the good of the Universal Church, the archdiocese, my parish and the peace of friends and strangers around the world, that the archdiocese would cease resolving what they call internal personnel matters of which they cannot speak, through the public media."
I'm assuming he's not yet formulated a theory behind why on earth anybody would make up Barbara Johnson's story. Meanwhile, I haven't changed my mind about being disgusted with him.
2. The Kony 2012 / Invisible Children Story
Last week we all hashed it out about whether or not Kony 2012 was worth our time/money/attention. Many people, including many Africans, have spoken out about their disillusionment with Invisible Children's tactics and the Kony 2012 campaign in particular. We linked to a multitude of those voices in that post.
Apparently this whole skerfuffle was very stressful for Kony fillmmaker Jason Russell, who last week was captured by the ethical bastion of moral entertainment news news, TMZ, running around his neighborhood naked and swearing. (I'm not going to post that video here, if you really wanna see it, follow the link to Queerty.) The police were called by neighbors who reported seeing Russell masturbating on the street.
Due to some apparently suggestive hand gestures, this video has also amped up the dialogue around the belief/impression that Russell is a closeted gay man, as I assumed he was throughout the entire Kony 2012 video until he mentioned a wife. Speaking of that wife, Danica Russell told The LA Times that Russell, who was detained by the San Diego police for his actions, was suffering from "extreme dehydration and exhaustion."
She added: "Because of how personal the film is, many of the attacks against it were also very personal and Jason took them very hard… Jason has dedicated his adult life to this cause, leading to [the] KONY 2012 . We thought a few thousand people would see the film, but in less than a week, millions of people around the world saw it." (That's perplexing, considering that the entire point of the video — clearly stated at the video's end — was to get millions of people around the world to see it.)
3. The Dharun Ravi Rutgers Webcam Spying Case
We told you on Friday about the verdict in the Dharun Ravi Rutgers Webcam Spying case, and today a juror named Kashad Leverett, from the case appeared on Fox 5's Good Day New York. He recalled the deliberations as "intense," and said everyone was "open-minded" and methodical about their decision.
Juror in spycam case talks with GDNY: MyFoxNY.com.
Meanwhile, for some reason people are interviewing an alternate juror who doesn't agree with the verdict. O
 4. In conclusion, I think it's clear that men are unable to handle their shit and women should take over the world.