This is the perfect spring meal — light enough to feel almost summery, but with ingredients that are available before local produce is. Also, with four main ingredients (I am counting sesame and ginger as main ingredients) and one pan, it's super easy, simple, and delicious.
GINGER SESAME CHICKEN
Adapted from Fine Cooking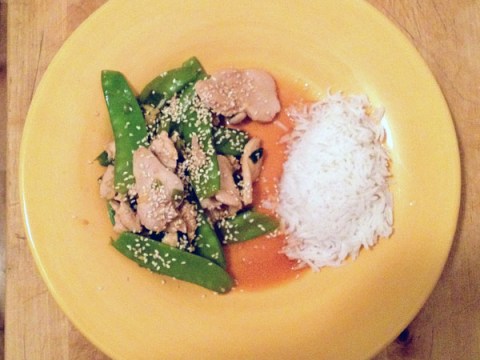 Ingredients
2 boneless skinless chicken breasts (would probably work with tofu)
1 1/2 cups snow peas, washed and trimmed
2 tbsp. soy sauce
1 tbsp. sesame oil
1 tbsp. + 1 tsp. rice vinegar
2 tbsp. ketchup (I know! Roll with it)
8 scallions
2 tbsp. minced fresh ginger, or more to taste
3 tbsp. canola oil
2 tbsp. sesame seeds, or more to taste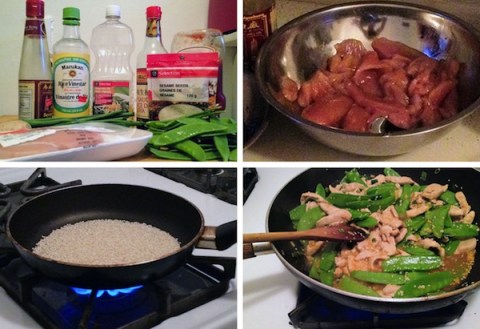 1. Toast the sesame seeds by putting them in a dry pan over medium heat until they start to smell toasty and darken slightly.
2. Cut the chicken breasts diagonally into very thin slices (here, "very thin" means "about the thickness of snow peas"). This will be a lot easier if the chicken is partly frozen — if it was frozen to begin with, don't defrost it fully, and if it's fresh, put it in the freezer for ten minutes before hand while you get the other ingredients ready and toast the sesame seeds. (If you are too squeamish to cut the chicken yourself, ask your activity partner to do it for you. Gallantly photograph the proceedings, or make yourself useful by cutting the scallions.) Toss the chicken with 1 tbsp. of soy sauce, 1 1/2 tsp. of the sesame oil, and 1 tsp. of the rice vinegar.
3. In a measuring cup or small bowl, combine 1/4 cup water with the ketchup and 1 tbs. soy sauce, 1 tbsp. vinegar, and 1 1/2 tsp. sesame oil.
4. Trim the snow peas if you haven't yet. Trim the scallions. Slice the white and light green bottoms into thin rounds, and slice the dark green tops into inch-long pieces. Mince the ginger. Put the snow peas, scallions, and ginger into the same bowl / on the same cutting board for easy access later.
5. Heat some sesame oil in a large skillet over medium-high heat until hot. Add the chicken and cook for one to two minutes, until it starts to look less raw. Transfer to a large plate.
6. Add some more oil and the scallions, snow peas, and ginger, and cook until the ginger and scallions start to brown, or for about two minutes.
7. Add the chicken back into the pan. Add the ketchup/soy sauce mixture and half of the sesame seeds. Cook until the chicken is cooked through and the snow peas are tender but still crispy, or for about two to three minutes. Remove from heat.
8. Sprinkle with the remaining sesame seeds, and serve.