It's been a delightful summer for fans of girl-on-girl television: we had returning lezzers on Pretty Little Liars and True Blood, brand-new lezzers on The Fosters, a lesbian clone on Orphan Black, a gay extravaganza on Orange is the New Black and bit parts for queer characters on The Killing, Ray Donovan and Mistresses. Unfortunately, the fall television landscape pales in comparison when it comes to lady-lovers.
We've got a lot of lady-fronted projects, though, although whether or not they'll be any good remains to be seen.
Fall 2013 Television: Here's What's Going On
Sundays
The Good Wife
CBS, 9:00 PM
Premieres September 29th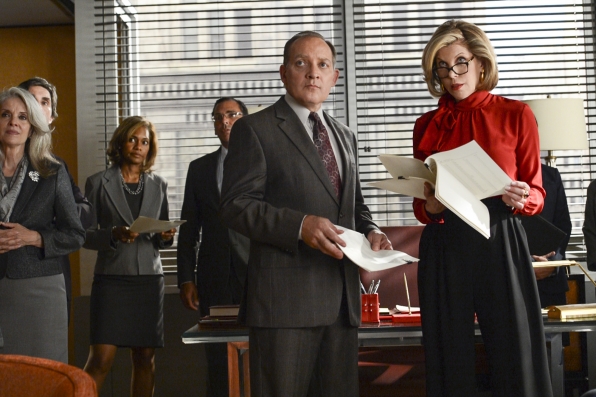 It's The Good Wife's fifth season, and everybody's wondering what'll happen next for Alicia and Cary's plan to ditch Lockhart/Gardner and start their own firm. Others are wondering what'll happen next for Kalinda w/r/t making out with girls — and there's good news on that front! Juliet Rylance is joining the Season Five cast as Kalinda's new love interest Holly, "a whip-smart Assistant State's Attorney who shares a past with Kalinda." Also of interest to women who love bossy women: Stockard Channing will reprise her role as Alicia's Mom.
http://youtu.be/jo_UZh-YPU0
NEW! The Masters of Sex
Showtime, 10:00 PM
premieres September 29th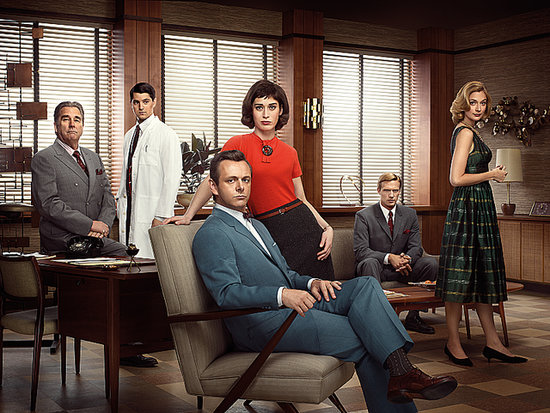 It's the story of a lovely lady who was associated with a very lovely man, and the two of them decided to start doing human sexuality research, and that's how they became The Masters of Sex! Based on the true story of sex research pioneers William Masters and Virginia Johnson, this show stars Lizzy Caplan as Virginia, "a club singer-turned-orgasm-expert." History! Sex! Women's sexuality! Feminism!
http://youtu.be/JqwahKjI2bg
Our Verdict: Lizzy Caplan, women's history, and sex research? We're in.
NEW! The Witches of East End
Lifetime, Sundays, 10 PM
premieres October 6th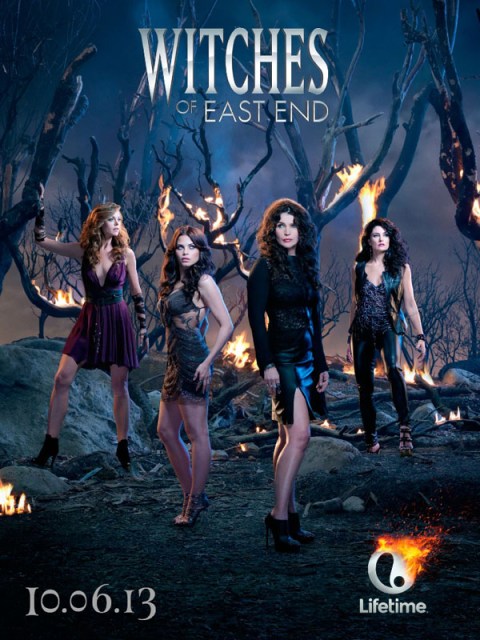 Based on the books by Melissa de la Cruz (I assumed it was based on The Witches of Eastwick, but I guess I'm behind the times), The Washington Post gives this lady-laden program a "C," describing it as "it's almost as if "True Blood" tried to conceive a demon baby with "Bunheads." Seems about right.
Our Verdict: Will almost definitely be terrible.
---
Mondays
NEW! Mom
CBS, 9:30 PM
premieres September 23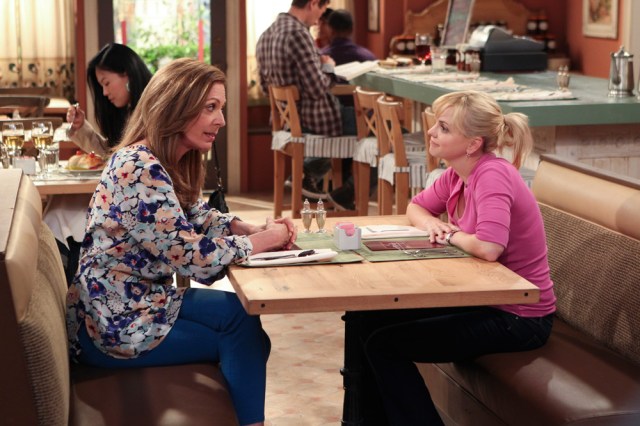 We're supposed to be really pumped about this show, because it stars Anna Faris, and Anna Faris is a lady. It also features Alison Janey, and we all love Alison Janey. But every time that laugh track elbows its way into my earspace, I ask myself, "is this show really for me? Or is it for people who aren't total bitches and therefore can tolerate laugh tracks?"
The premise is that Anna Faris's character, Christy, is a newly-sober single mom of two, and her mother (played by Janey) is a recovering alcoholic, and Christy is dating her boss at the restaurant where she waits tables. Also her teenage daughter is rebellious. The New York Times admits that Mom is both "wittier and sweeter" than the new FOX show Dads (a Seth McFarlane production that follows two Dads who move in with their sons) as well as "genuinely provocative." Why is this show so much better than Dads? "Moms behaving badly aren't a new thing, but on a prime time show, it still feels a little transgressive. Men who act like boys, on the other hand, are so familiar that they're almost retro." There you have it.
https://www.youtube.com/watch?v=vlVG3EY35os
Our Verdict: This really could go either way.
NEW! Hostages
CBS, 10:00 PM
premieres September 30
This show seems expensive. Produced by Jerry Bruckheimer and billed as a "high-octane suspense drama," it's on my radar 'cause Toni Collette is involved, playing a "premiere surgeon thrust into a chilling political conspiracy when her family is taken hostage by rogue FBI Agent Duncan Carlisle." The L.A. Times marks the show as CBS's bid to do drama like cable does drama, with "dark, character-driven entertainment," quoting executive producer, writer and director Jeffrey Nachmanoff describing the show as "Downton Abbey meets 24."
http://youtu.be/3zMy9Xd6txg
Our Verdict: Expect a carefully constructed television program that will grab you whether you want it to or not. Much like a hostage-taker! Hahahahaha.
---
Tuesdays
NEW! Lucky 7
ABC, 10:00 PM
premieres September 24th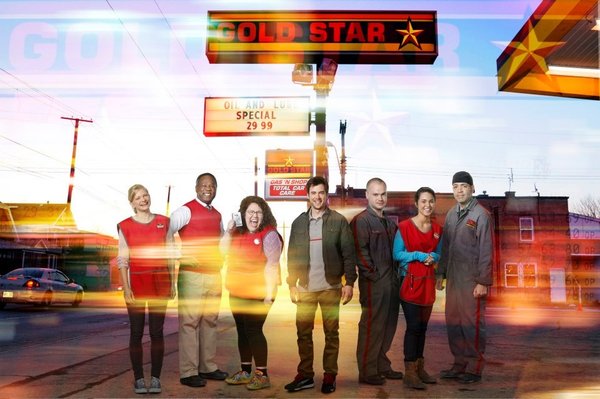 Seven co-workers at a Queens gas station play the lottery every week and then one day they win and then their lives turn upside-down! If you've been missing sweet sweet Vera Burr from Bomb Girls, you'll be excited to reunite with actress Anastasia Phillips in Lucky 7 — she plays single Mom Leanne Maxwell. The Washington Post says "it's basically a caper disguised as a drama, and we could use a caper on prime-time TV." Isiah Witlock Jr. from The Wire also stars.
https://www.youtube.com/watch?v=XKZifrUKXJk
Our Verdict: Initial reviews are relatively strong, and it could be a nice break from the procedurals and high-concept thrillers clogging up most major network's hour-long drama slots.
Chicago Fire
NBC, 10:00 PM
Premieres September 24th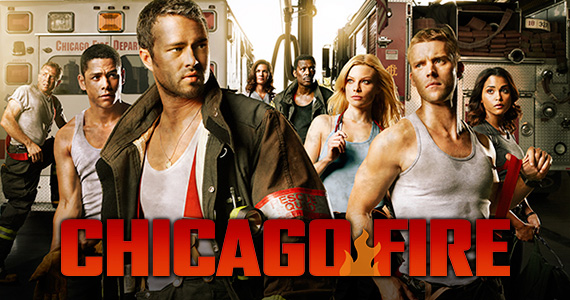 Chicago Fire, a fantastic program about, I assume, fires in Chicago, should be on your to-watch list because there's a lesbian character named Leslie Shay. Yup. That's all I got.
NEW! Ravenswood
ABC Family, 8:00 PM
premieres October 29th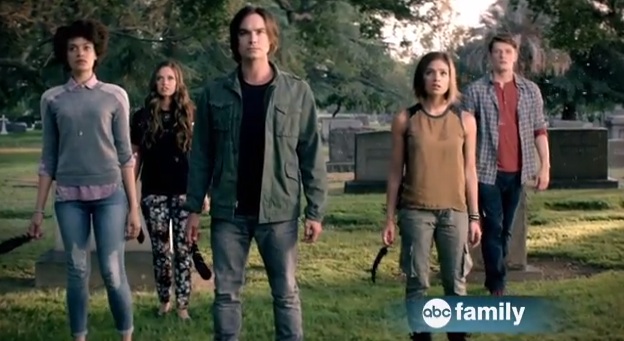 Caleb, Hannah's lesbian boyfriend from Pretty Little Liars, heads up the ensemble of this new PLL spin-off, which revolves around "the curse that plagues the town of Ravenswood." If it's anything like Rosewood, I imagine that curse is that the victims of said curse learn absolutely nothing from their mistakes and also never go to class.  Also starring is tall drink of water Britne Oldford, who you may recognize from the failed US edition of Skins or the second season of American Horror Story.
Our Verdict: Will probably be more of the same, but we'll give it a chance.
NEW! Marvel's Agents of S.H.I.E.L.D
ABC, 8:00 PM
premieres September 24th
"Leave it to Joss Whedon to co-create a smarter superhero drama, one that geeks out over conventions as often as it skewers them," says Entertainment Weekly. "Look it's Ming-Na Wen in tight black leather!", says us. No but seriously, this Avengers spin-off is definitely one of the fall's most eagerly-anticipated offerings.
Our Verdict: Watch it.
The Mindy Project
Fox, 9:30 PM
Premieres September 17th
Season Two of this honestly quite funny little program returns with cast members Anders Holm, Chris Messina and Chloe Sevigny joining guest stars James Franco and um, Kris Humphries? Glenn Howerton of It's Always Sunny In Philadelphia will be joining the cast as Mindy's new love interest.
---
Next: Thursday night's jam-packed with goodies (and Glee), Rebel Wilson makes her American prime-time debut and American Horror Story has a lot in store for Season Three.
Pages: 1 2See entire article on one page