A-Camp X is just around the corner, which means that we've been talking with tons of amazing companies, brands and humans who want to support Autostraddle and the continued success of A-Camp! Many of these companies are small, queer and independently-owned themselves, which makes their donations even more amazing. Because of their generosity A-Camp continues to thrive, which means we can continue to keep our ticket prices as low as possible. It also means we get to stuff your A-Camp swag bags with tons of great gifts — this year you'll be getting stuff from Planned Parenthood, LELO, Tomboy Toes, Smitten Kitten, Hurraw!, Early to Bed, Temper Tantrum, Oni Press, Bitch Mag, Feminist Press and Wild Fancy.
Without further ado, here are the luminous, lovely and rad babes who have showered us with their generosity! Please shower them with your wallet!
♡
---
All the Printing
Hello Merch is our one-stop shop for all things Autostraddle merch! If you've shopped in our store you may have one of their creations in your closet right now! Hello Merch are wonderful at helping us produce quality screen-printing for every weird request we throw at them — like gold foil and neon gradients! They also run the Buffering and Jenny Owen Youngs stores — Autostraddle reader faves! Check out this cute lil shop they put together with some things you might like!
---
We have major LOVE for this generous print shop in San Francisco. These talented humans have been sponsoring A-Camp for YEARS by printing all our Activity Programs — you can thank them for getting you to Shibari Rope Bondage on time­. They do it all: business cards, postcards, stickers, booklets, banners, posters, letterpress and graphic design services. Check them out!
---
Mammoth PrintShop is a full-service screen-printing facility specializing in handcrafted products and designs in Alabama. They are also the maker of many Autostraddle merch favorites, including the Gender Traitor tees. These rad humans have actually been supporting A-Camp for many years by providing heavily-discounted screen printing services for our A-Camp tees! We love working with them and we know you will too — hit them up for a personal project or something bigger!
---
All the Adorning
To say Hurraw! Balms are an A-Camp obsession is an understatement. As a long-time chapstick lover, I've officially converted my lip care routine over to the divine spirit of Hurraw. Every tube is full of premium raw, organic and fair-trade ingredients and get this — they're VEGAN. Hurraw! Balms are smooth, never sticky, and come in a bajillion fun flavors. I'm particularly obsessed with their Kapha balm (eucalyptus, grapefruit & ginger).
---

I ∆M NO L∆BEL is a Portland-based lifestyle brand that makes hand-crafted leather wares, from harnesses to chokers. They generously gifted hand-stamped leather cuffs to all our campers. It's headed up by two queer artists, Frankie and Che Che, who are more than leather craftspeople — they're also an indie pop duo! They aren't currently crafting on their Etsy shop, so you should check out their music!
---
WE LOVE OUTPLAY! This rad brand makes swimsuits for all sorts of genders and bodies, and specifically they're best known for their compression swimsuit tops. It's a binder and a swimsuit all in one! They've donated TWO camperships over the years. SWOON! Check out their stylish, fun, brightly colored mix and match suits.
---
All the Sexing
LELO has historically been one of my favorite sex toy brands — when I first started looking for higher-end toys, their colorful, smooth and sleek designs immediately caught my eye. Since then, many sex toy brands have caught up with them, which I think has caused LELO to push themselves even further in inventing magical objects like the Ora 2. Anyway! Wow, they are cool. They're even sending someone to A-Camp this year! Get 20% Off on their website from now until 6/20/18 with the code STRADDLE20 (excludes the SONA and SONA Cruise).
---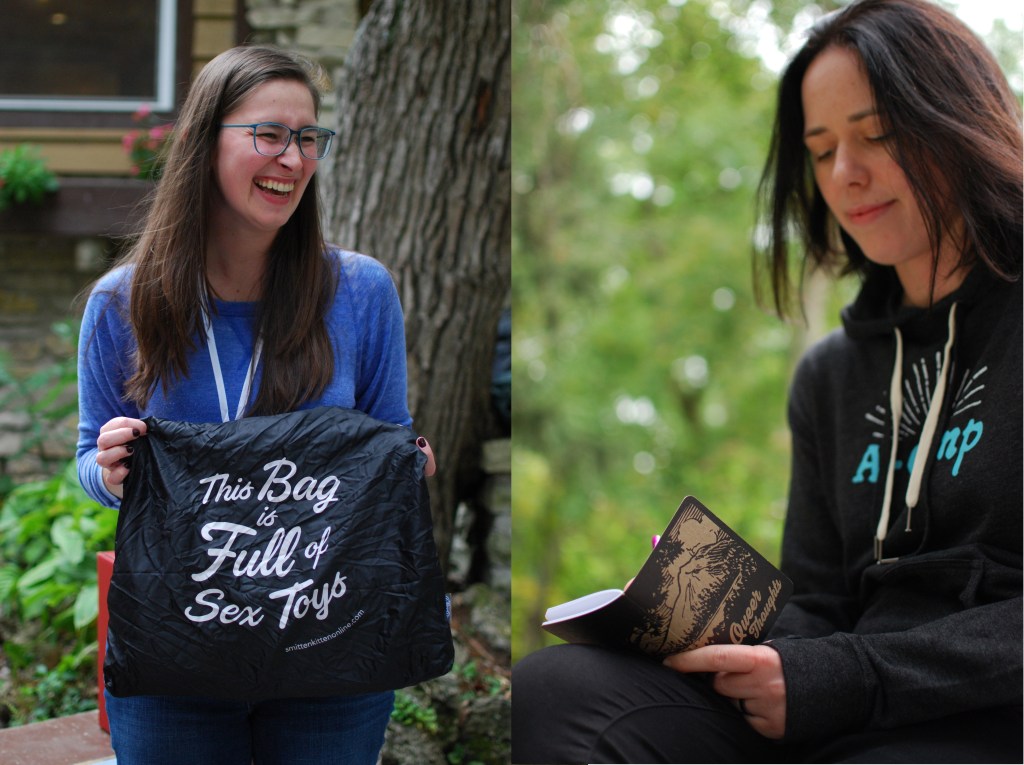 Smitten Kitten is a rad, sex-positive sex toy company that's been supporting A-Camp for years with cute, thoughtful swag bag gifts! This year, we're so excited to feature their generous donations in our "Acsexability: Demystifying Disability and Sex" A-Camp workshop! Acesexability highlights just how crucial it is to make sure our conversations around sex and intimacy include the entire ability spectrum. We'll be featuring the Fascinator Throw and the Super Sex Sling in this year's workshop — perfect candidates for a conversation around more accessible sex. Thank you, Smitten Kitten!
---
Unbound is a women-owned sex toy company based out of New York that's revolutionized the way we discover new sex toys. Every quarter they come out with a kick-ass sex toy box full of new, fun goodies to try, and if you subscribe, you'll get them for a fraction of the cost it'd be to buy them full price! We've even collaborated with them on our own sex toy box, full of queer-friendly toys to keep things interesting! They donated the best things ever — Harry Potter and Bjork themed drawstring bags (which I now keep all my toys in thank you!).
---
All the O M G Y E S 'ing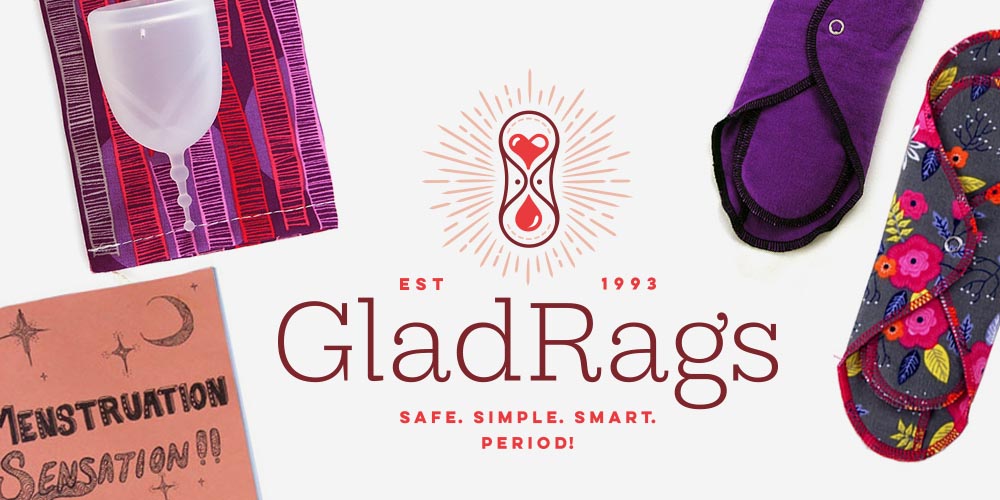 Have y'all heard about GladRags? This small Portland-based brand is making big changes in the blood-catching items industry by creating well-crafted, colorful reusable pads and menstrual cups that actually fit and feel good! They're also making sure that they're not creating any extra waste — and recycling the waste they do make. This year GladRags donated a campership, and are providing some treats for our Bloody Hell workshop.
---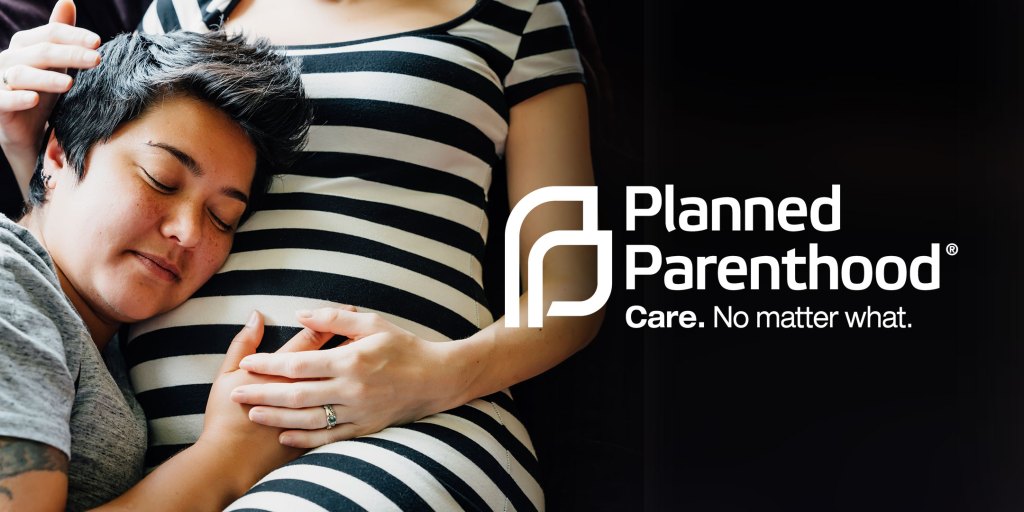 It makes perfect sense Planned Parenthood would be stepping up to sponsor A-Camp X; they're all about LGBT people living their best (and healthiest!) lives. They believe that LGBTQ rights are reproductive rights and reproductive rights are LGBTQ rights; at the end of the day, politicians shouldn't get to decide what you do with your body or what your family looks like, and your rights shouldn't depend on the state you live in. Because of them, one lucky camper is coming to A-Camp with airfare included! They are also donating water bottles because they wanna keep you hydrated!
---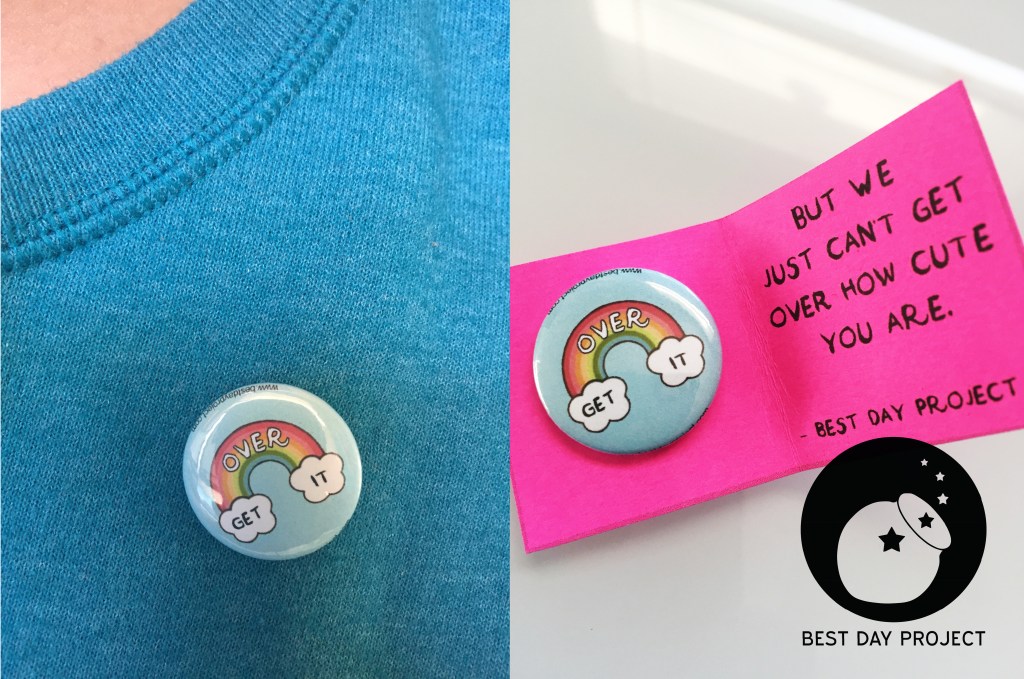 Best Day Project is an amazing organization headed up by one of our favorite humans Grace Kim! The organization is dedicated to giving best days to LGBTQIA youth who have "overcome depression and typically lack a voice in mainstream media, but have stories that need to be told." Best Day Project aims to bring as many dreams to fruition as possible, and through their efforts spread hope and positive change within our community — and we salute them! If you know someone who may need a Best Day you can nominate them here, or you can submit your own dream here.
---
All the Consuming
That's right, Disobedience, the orthodyke film featuring not one but two Rachels, is sponsoring A-Camp X! If you don't know about this film, let Heather fill you in: it's "an adaptation of Naomi Alderman's book of the same name, and it tells the story of Ronit, a 32-year-old woman whose father's death forces her to return to the Orthodox Jewish community she grew up in, and also to Esti, her first love, who still lives there and practices the faith of their youth." Also, there's a scene where one of the Rachel's spits into the other Rachel's mouth, so we are counting down the days, friends. Catch Disobedience in theaters on May 11th!
---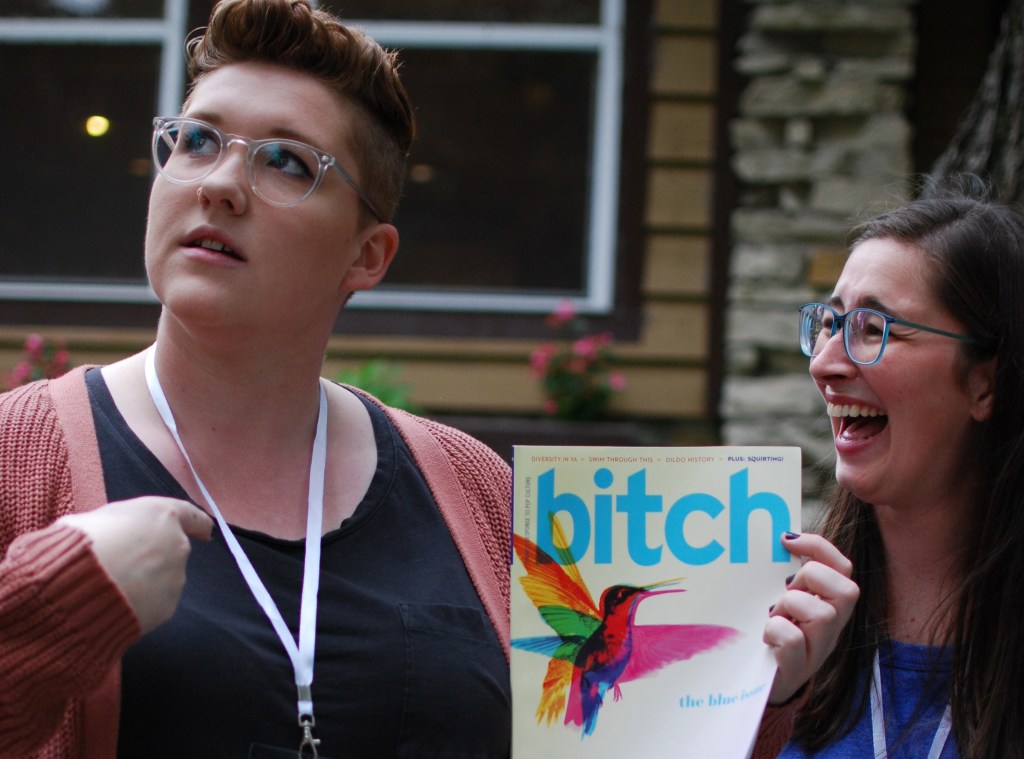 Bitch Media is a nonprofit, independent, feminist media organization dedicated to providing and encouraging an engaged, thoughtful feminist response to mainstream media and popular culture. Bitch is also literally one of the best pubs out there, and these lovely humans have donated their kickass print publication to our campers year after year! You should get it, it's really good — subscribe!
---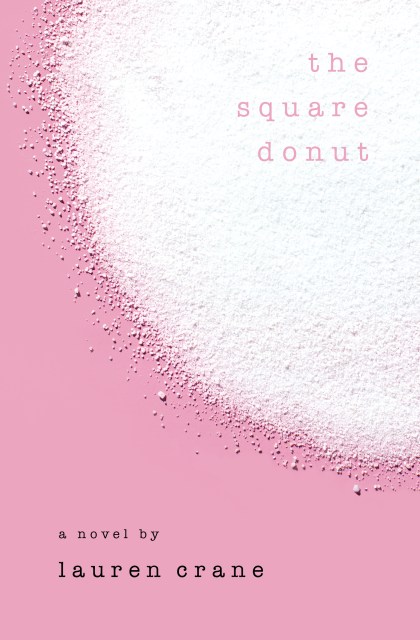 Author Lauren Crane takes us on the self-discovery journey of 17-year-old Toby, who's almost accepted her tediously dull life of slinging donuts – until a cool, intense blue-eyed nomad passes through town. Lauren donated the cutest sugar canister enamel pins to our campers last year! We hope you get the chance to read her breathtaking book.
---
Thank you to all the amazing sponsors that have contributed to A-Camp over the years!
SaveSave
SaveSave