Welcome to the 64th annual Primetime Emmy Awards. Free free to also refer to these as the Breaking Bad Downton Abbey Game Of Thrones Mad Men Modern Family Awards! This years Emmys are hosted by Jimmy Kimmel, which I must say is a definite downgrade after last years gay Emmys snagged Jane Lynch. Didn't Kimmel just do something we were mad about? One time he was a dick to Emily Gould. Also his "Back-to-School Embarrass Your Kids" thing kind of made fun of gay kids. Either way I'm personally not over him breaking up with Sarah Silverman.
If you're curious about who was nominated in which categories you can safely assume it was probably on a cable network and probably not your favorite show. Except Modern Family, which I suspect might actually be your favorite show.
To be honest, I don't have super strong feelings about who should win what, I mean, these aren't the MTV Movie Awards. So let's cross our fingers that something funny happens.
It all goes down at 8pm (preshow at 7pm)
Red Carpet Rundown
The Emmys
8:00pm EST:Let's do this! FYI this is what I'm eating.
8:05pm EST: The opening sketch is basically just a bunch of women punching Jimmy Kimmel in the face and Lena Dunham eating cake naked. I can sign on for that.
8:06pm EST: That was a surprisingly mixed reaction for "does anyone plan on voting for Mittens." I'm so uncomfortable.
8:08pm EST: Lena Dunham looks really amazing tonight, but more importantly Aziz Ansari was behind her looking hilarious.
8:10pm EST: This clip show of comedies is making me feel really sad about all the fucking hilarious shows that didn't get nominated. Fuckers.
Supporting Actor in a Comedy Series Goes to Eric Stonestreet
8:13pm EST: GAYS WIN EVERYTHING! I mean, we had a 1/3 chance but I'm still psyched. Also is it wrong/bad/weird that I was kind of rooting for Max Greenfield on New Girl? Like I really was.
8:17pm EST: In other news, apparently Jesse Tyler Ferguson and his boyfriend are both wearing ties from their new non-profit Tie The Knot. They're selling bow ties for marriage equality!!
8:20pm EST: Zooey Deschanel's breast looks amazing.
Outstanding Writing for a Comedy Series goes to Louis C.K.
8:24pm EST: I'm pretty upset that Amy Poehler didn't win for Parks and Rec. It's too fucking funny. Everyone hates women. Yeah, I went there.
Outstanding Supporting Actress in a Comedy Series goes to Julie Bowen
8:25pm EST: I love Modern Family but I was totally rooting for Mayim Bialik because Science. Also did Julie Bowen just make a Sister Wives joke?
8:30pm EST: That was the longest Samsung Galaxy comercial of my life. That comercial was longer than like… um… like a galaxy?
8:32pm EST: Welcome to the awkward moment in which Matthew Perry announces the Emmys for best Guest Performance that were already awarded last week. This is like when the newspaper prints your name on the honor roll.
Outstanding Directing for a Comedy Series goes to Jason Winer
8:32pm EST: So I guess Lena Dunham isn't going to win anything tonight. This is lame.
8:36pm EST: Let the record show that the girl who plays Lilly is the cutest ever. Also the actors falling out of their trailers thing slays me. The funniest part is that they probably had to actually film that.
Outstanding Lead Actor in a Comedy Series goes to Jon Cryer
8:40pm EST: Um. Jim Parsons probably should have won. Or maybe Alec Baldwin. Or maybe anyone else nominated in this category. Or maybe anyone on any show that people still watch.
8:45pm EST: I'm not over the Jon Cryer thing. Seriously. Do any of you guys watch Two and a Half Men?
8:44pm EST: Colbert should just fucking host this shit.
Lead Actress in a Comedy Series goes to Julia Louis-Dreyfus
8:47pm EST: I actually really love Veep. Also I really wish that all the women nominated could have won. I'm not even joking. I'm actually that lame and corny. Also how pretty is that dress?! I would wear that dress forever. Also the fake acceptance speech bit was hilarious but not as funny as last year's faux Mrs. America style win.
8:50pm EST: If Modern Family wins for Outstanding Reality Series I'll pretty unsurprised.
Outstanding Reality-Competition Program goes to Amazing Race
8:50pm EST: I'm having a really hard time giving a shit about the amazing race/reality television in general. I'm only going to care if someone starts a show called "Which Med Student Wants to Date a Hot Butch Lesbian Chef." I would so watch that show.
8:57pm EST: Instead of having a regular award show, this should be replaced with just Big Bang Theory characters commenting. Also recognizing the accounts who add up the votes. I appreciate this.
8:57pm EST: Seth Macfarlane should host this shindig next year in successive Family Guy Voices.
Outstanding Host for a Reality or Reality-Competition Program goes to Tom Bergeron
8:59pm EST: Obviously Betty White should have won, but I'm basing that on having never seen any of the shows nominated in this category. Except American Idol circa Kelly Clarkson. Duh.
9:04pm EST: I wish Claire Danes was pregnant as wife and co-mom instead of whatever actually happened to make her pregnant. I mean… I know what happened. Conceptually.
Outstanding Supporting Actor in a Drama Series goes Aaron Paul
9:07pm EST: This dude's fiance is banging hot.
9:10pm EST: Is anyone else a little bored? I feel like these things need some sort of musical artist.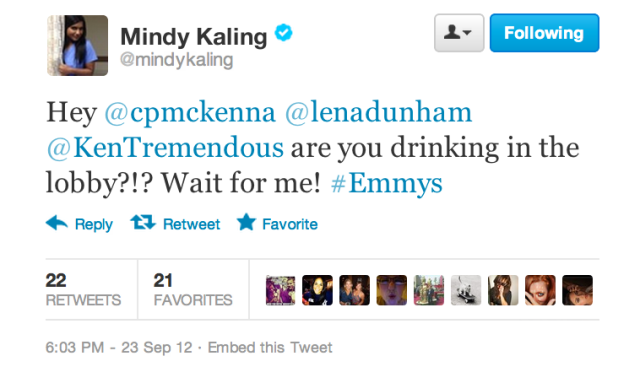 9:12pm EST: Tracy Morgan, your jacket is too small. I'm sorry.
9:15pm EST: Jimmy Kimmel just asked me to tweet this as some sort of "prank." I did because I like to be included in things.
9:16pm EST:
Outstanding Supporting Actress in a Drama Series goes to Maggie Smith
9:20pm EST: I wish Maggie had showed up to accept. I love Professor McGonagall fo eva.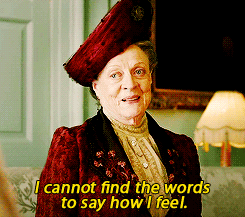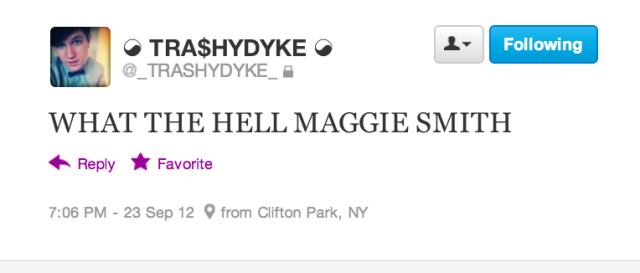 9:24pm EST: There are TWO alternative lifestyle haircuts on stage right now.
Outstanding Supporting Actress in a Drama Series goes to Maggie Smith
9:25pm EST: Are they just choosing people who couldn't make it in hopes that this thing goes shorter?
9:26pm EST: Wait. Jimmy Kimmel is doing an In Memoriam to himself pre-mortem? This is weird. #badtaste.
Outstanding Lead Actor in a Drama Series
9:29pm EST: In which John Hamm loses again. It's a thing. You know what John Hamm should have won an award for? When he played the fuck buddy in Bridesmaids. That was his shining roll.
9:32pm EST: Maybe this is my biological clock speaking, but I think it's really cute when people talk to their kids through the TV.
9:35pm EST: Yay Tina Fey is on stage. I do think it's time for her to come up with a new hairstyle for these things.
9:37pm EST: Tina Fey just made me die laughing. Like for the first time for real-reals this award show.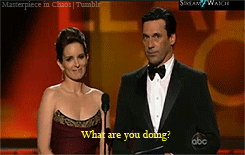 Outstanding Lead Actress in a Drama Series goes to Claire Danes
9:39pm EST: My previous statement about Claire Danes's pregnancy stands. Also I don't watch Homeland because it doesn't feature singing teen lesbians.
9:41pm EST: This montage of variety shows is making me feel weirdly emotional and sort of nostalgic for last year. Particularly the clips from the VMAs which I think was the first show I ever liveblogged. Those were the days.
9:43pm EST: Aziz Ansari should host next year. Everyone but Kimmel should host next year.
Outstanding Writing for a Variety, Music, or Comedy Special goes to Louie CK for Live at the Beacon Theater
9:46pm EST: How did I miss this Louie CK craze?
9:48pm EST: I wish I could go get a glass of water. Drinking wine does not satiate your thirst. The commercials are exactly a minute too short to allow for water breaks.
9:51pm EST: Ricky Gervais makes me feel so weird. Like so weird.
Outstanding Directing for a Variety, Music, or Comedy Special goes to Glenn Weiss for 65th Tony Awards
9:53pm EST: Wait. The guy who just won best directing for the Tonys did so while currently directing the Emmys? Suspicious if you ask me.
Outstanding Variety, Music, or Comedy Special goes to the Daily Show with John Stewart
9:55pm EST: Ten years running. Wow. I think this is something we can all get behind. Also John Stewart is the fucking best. He just is.
10:01pm EST: "My dad looks like Wolf Blitzer" was Jimmy Kimmel's best line of the night hands down.
10:04pm EST: Why on earth did the miniseries/movies category have to show that clip of American Horror Story? How on earth am I supposed to sleep tonight now?
Outstanding Supporting Actress in a Miniseries or a Movie goes to Jessica Lange
10:07pm EST: I need this scary American Horror Story music to stop. Right now. I am so scared all the time.
10:08pm EST: It's weird to me that Ryan Murphy co-created American Horror Story. It seems so out of his box of insanely preachy shit.
10:12pm EST: Is Ellen wearing a kilt? A sweatshirt across her waist? Wait– why was Ellen on stage?
Outstanding Supporting Actor in a Miniseries or a Movie goes to Tom Berenger
10:16pm EST: I'm just really glad the word Docudrama exists. Like super glad.
10:18pm EST:
Me:[upon seeing Ron Howard]: Who's that?
My friend: Dude. That's Richie Cunningham.
Me: Oh my god I'm old.
10:21pm EST: I am not emotionally secure enough to handle the In Memoriam. I'm just not. Are they playing The Way We Were?
Outstanding Writing for a Miniseries, Movie, or Dramatic Special goes to Danny Strong
10:27pm EST: Someone needs to adjust the mike for Jay Roach.
Outstanding Lead Actress in a Miniseries or a Movie goes to Julianne Moore
10:29pm EST: I love Julianne Moore. In case you don't know, she won for portraying Sarah Palin in HBO's Game Change. She also won Best Actress in a Lead Role in My Heart.
Outstanding Directing for a Miniseries, Movie, or Dramatic Special goes to Jay Roach for Game Change
10:37pm EST: Okay. So I need to see this movie now. Luckily I finally caught up on True Blood and can use HBOGo time for something else now.
Outstanding Supporting Actor in a Miniseries or a Movie goes to Tom Berenger
10:37pm EST: Hatfields & McCoys is one of those shows that people are constantly telling me I need to watch but obviously I never will because I think it's just a show about men. Plus as previously mentioned, singing high school lesbians only please.
10:45pm EST:
Me: Is Hatfields & McCoys just a show about white people?
My friend: I think all these things are just shows about white people.
Outstanding Miniseries or TV Movie goes to Game Change
10:48pm EST: Okay I get it. I'll watch the goddamn TV movie.
Outstanding Drama Series goes to Homeland
10:50pm EST: Holy shit did Homeland just beat Mad Men?! Did Showtime just have a best Dramatic Series Emmy? Gosh and we all thought that would happen for the first time for TRLW. Obviously.
10:55pm EST: I can't hear Michael J. Fox speaking because all of my friends keep making vagina jokes. This is my life.
Outstanding Comedy Series goes to Modern Family
10:57pm EST: Obviously. Let's get real. We know how this works now. Also Ty Burrell blinks so emotively.
11:05pm EST: Welp this thing is a wrap. In conclusion, this: