Actual dinner can be such a production, I'm exhausted just THINKING ABOUT IT. And not only is it a production tonight, but it'll be a production tomorrow night too. It happens practically every night! It's redundant and takes forever and really, the dinner plates are just so big. I'd rather spend hours putting together a mess of food that I can eat with my hands, hot or cold, and from a tiny plate, than spend that time putting together a mess of food that has to be eaten immediately, piping hot, from full-size dinner plates using all the flatware.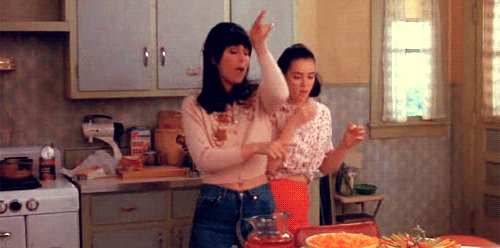 "A word about Mrs. Flax and food: the word is "hors d'oeuvres." Fun Finger Foods is her main source book and it's all the woman cooks."
—Mermaids
Appetizers for dinner. That's where it's at this week. The number one most brilliant best finger food feast is obviously the cheese board — a spread so simple and lavish, it's sometimes the only reason I get up in the morning — but here are some other small foods for when you want to branch out a little.
---
Laneia: Vegans love polenta. Y'all are some polenta loving freaks.
---
2. Mystery Rolls
---
3. Japanese Vegetable Pancakes
---
4. Crostini with Pea Shoots and Strawberries
---
5. Parsnip Latkes
---
6. Brushetta with Leeks, Goat Cheese and Bacon
---
7. Salt and Pepper Tofu Triangles (Vegan)
Laneia: At first you're like, "Oh hm, salt and pepper and tofu. Yawn. This is not interesting." AND THEN YOU'RE MET WITH THE SURPRISE MAPLE SYRUP and suddenly it's pandemonium and shit is crazy and you? You are hella impressed.
---
8. Roasted Tofu Lollipops with Pesto
---
9. Beet Jello
Laneia: The fuck.
---
10. Dahi Kebabs
---
11. Grilled Flatbread with Onion Jam, Burrata and Apples
Laneia: Oh damn, let's talk about burrata. Burrata is a fresh cheese situation that resembles mozzarella, but only if mozzarella were a million times creamier and made specifically to send you on a blissed out psychic trip into the ether. GOD BURRATA YOU ARE SO DELICIOUS I LOVE YOU. Burrata + onion jam might as well be renamed The Stairway to Fucking Heaven. Make this right now.
---
12. Party Jalapeno Poppers (Vegan)
---
13. Avo-dillas (Vegan)
Laneia: Again with the unexpected maple syrup. What if this is the meaning of life, you guys? What if caramelized maple syrup in savory dishes is all you ever needed to know to be successful and loved? What the hell else can we put this on??
---
14. Corn & Avocado Fritters
---
15. Cauliflower Breadsticks
---
16. Garlicky Tofu Stix
---
17. Rava Toast
---
18. Teriyaki Meatballs
---
19. Croques Besito
---
20. Creamy Artichoke Spinach Dip (Vegan)
---
Tell us what you want to put in your piehole or suggest your own recipes, and next week we'll check in and talk about which things we made, which things we loved, and which things have changed us irreversibly as people. What are your favorite appetizer/small plate foods? Are you putting together a cheese board for one tonight? You are living the dream.