#5
BEST: The Power of the Gay Dollar Recognized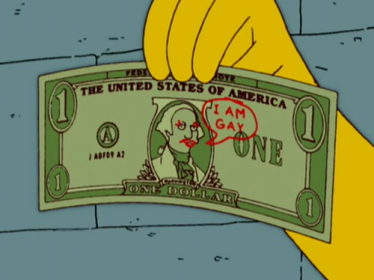 At last the power of the gay dollar was recognized as many mainstream marketers bucked conservative outcry and followed the money trail. Hey, it may be self-serving but in a capatalist society, marketability is clout. With the recession and consumer confidence near record lows in 2009, markets were glad to hear that the nation's GLBT market were more upbeat about the economy's direction than their heterosexual counterparts. Also, more and more lesbian businesswomen are entering the marketplace, starting new businesses and succeeding.
WORST: Being gay is really f*cking expensive
According to the New York Times, your love of fingerblasting is costing you and your partner at least $41,196 over the course of your lifetime. It's true that most of the articles about this are just coming out recently, but let's be real, you've been fingerblasting for a long time now, and you've probably been losing more money than heteros for the whole decade. (NYT says that nearly all these costs would be erased if same-sex marriage was legalized. Just saying.)
Also all that stuff we just said about the gay market is only partially true. We can tell you firsthand that it's not easy to convince anyone that women without men in their lives are a viable and eager market, even though they totally are.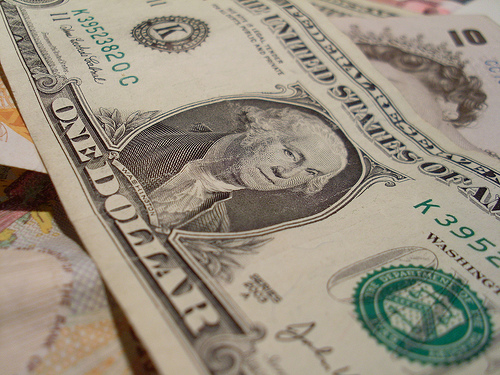 ---
#4
BEST: The Millennium March (2000) and the National Equality March (2009)
These two marches on Washington let the world know that queers have needs, too. Also, if this photo is representative, we are very attractive as a group.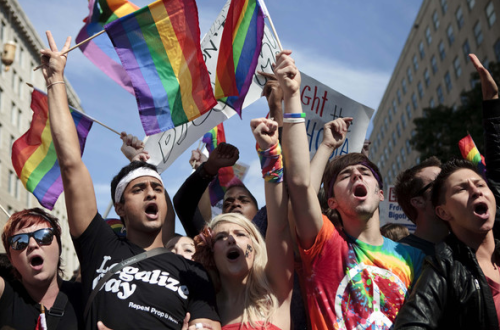 Worst: The Other Side is Mobilizing Too
Much like a large animal in its final death throes, the anti-gay movement has been all over the place this decade. The Westboro Baptist Church has been protesting everything that moves (including Lady Gaga, Autostraddle's Fish Out Of Water article, and fun!). The American Family Association has sent Rachel like two million emails because she is somehow on their list, wtf. NOM makes us want to punch walls. Rick Warren is on TV all the time buttering up to middle America.
Then there's the ex-gay movement, led by Exodus International. Not only do they say being gay is a choice (it's not), but they accuse the gay community of discriminating against THEM (we're not). What we're against is treating someone's identity like a psychological affliction. You can't pray away the gay.
All these groups claim that recent victories for "traditional marriage" mean God is on their side, the gays will never win, etc. Luckily, we're pretty sure this is just their final surge before completely collapsing in on themselves, like a dying star. History, logic, and most people under the age of 35 are on our side, after all.
---
#3
BEST: More Visibility for Lesbians of Color
It would take a 50,000 word article to highlight all the action for this topic — we almost didn't include it because we knew there was no way we could cover even 1/100th of it, and it seemed deductive to throw all of us into one category here. So feel free to add links and your own opinions!
The National Gay & Lesbian Task Force continues its commitment to diverse racial representation at its annual Creating Change Conference and the Racial Equity Campaign aims to bridge the divide that "fissures the LGBT rights organizations and dilutes its potential." Just this year, we saw Simone Bell become the first openly black lesbian official in the United States, winning District 58 in the State of Georgia, and Wanda Sykes be the first out lesbian to appear on the cover of Ebony magazine. The recent same-sex marriage vote in DC gathered support largely thanks to Rev Dr. Dennis Wiley & Rev Dr. Christine Wiley, black Christians and two of other most vocal & visible supporters of equality for the LGBT community. The chairman of the National Association for the Advancement of Colored People (NAACP), Julian Bond, is well-known as a strong supporter of LGBT equality and spoke at the New Jersey vote a few weeks back.
The 00's also brought us out out writer/director Shamim Sarif, actress Skyler Cooper, actress Michelle C. Bonilla, screenwriter Alice Wu, hip-hop artist Mélange Lavonne and actress Felicia "Snoop" Pearson among many many others. Miss Cleo came out in 2003, Sheryl Swoopes in '05, Wanda Sykes in '08, Jane Valez-Mitchell in '09 and our dear Tila Tequila as a lesbian in '09.
Lesbian films like Saving Face (2005, Asian-American), Mississippi Damned (2009,  African-American), When Kiran Met Karen (Indian-American), Cherin Dabis's Amreeka (Palestinian-American) and Black Aura on An Angel (2007, African-American) have offered more visibility.
Furthermore, the African-American lesbian experience was explored in documentaries like U People (2009), The Aggressives (2005) and The Butch Mystique (2003). Reality programming offered some racially diverse casts including the Asian & Latina cast of Logo's first lesbian reality show Gimme Sugar, and gay/lesbian characters of color appeared on broadcast & cable shows including The L Word, One Tree Hill, Degrassi: The New Generation, Flash Forward, Grey's Anatomy, Dante's Cove and Stargate Universe. Lesbian websites and magazines also offer platforms for women of color, like Afterellen's "Come With Me If You Want to Live" and Autostraddle's upcoming vlog starring Nat Garcia.
WORST: Institutionalized Racism Continues to Slow the Process of the GLBT Movement
In 2002, AfterEllen.com lamented a lack of black women in black movies, and in 2006 further lamented that "rarely have black women played gay." Queers of color battle racism in cyberspace.  This year we did a story on how the allegedly gay-friendly Filipino community often prefers its lesbians to keep it in the closet. From 2006-2010, GLAAD has consistently reported zero African-Amerian lesbian characters on scripted broadcast television series. Cable numbers were only slightly better, with Tasha from The L Word pretty much holding it down for three years.
Perhaps this is part of why a 2009 Equality Forward HRC survey revealed that nearly 38% of African Americans feel ignored by the white LGBT community and nearly two in five LGBT people of color do not feel part of the larger LGBT community in their city or in the United States.
In 2007, the 13-year-old African-American Lesbian-targeted Venus Magazine readers were in for a big surprise when Charlene Cothran, the magazine's publisher, announced that she'd been "redeemed," was no longer a lesbian, and therefore was changing the mission & direction of the magazine to help gays who wanted to find God and leave the lifestyle.
When Prop 8 passed in CA, an Associate Press exit poll erroneously reported that 70 percent of black voters voted against gay marriage, compared to 49 percent of whites & 32 percent of Hispanics — and although the Gay & Lesbian Task Force later debunked those stats, some damage had already been done and it was shocking how quickly white gays began pointing fingers. Controversy also sprung up when many people [cough us too] felt it was inappropriate for gay white male activists (or anyone) to directly compare the modern gay rights movement to the black civil rights movement of the 60s. [If anything it has more in common with the second wave feminist movement, criticized for being a largely white middle-class movement which generally ignored oppression based on racism and classism, a problem which persists today.] The #uknowhowiknowurgay twitter scandal once again offered an opportunity for in-fighting and then evolved into the equally horrifying #uknowhowiknowureblack.
We hope to move past this in the next decade — which begins with all of us giving each other the benefit of the doubt, offering constructive criticism and focusing on how we can work together without disrespecting the unavoidably unique struggles that face minorities within a minority.
---
#3
BEST: Netherlands legalizes same-sex marriage (2001)
It was the first country to do so; there are now seven countries where gay marriage is legal. Thanks for setting a trend, Netherlands!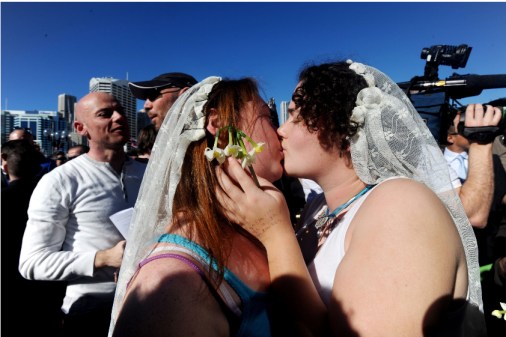 WORST: Laws against same-sex adoption
It's always been a bit harder for LGBT people to adopt. In 2008, Arkansas and Florida made it even by passing even stricter laws again same-sex adoption. There are seven states where same-sex adoption is illegal (a lot of those bans simply apply to people who aren't married). In case you were wondering exactly how much conservative lawmakers and voters hated gay people, the answer is: even more than they care about children. Great.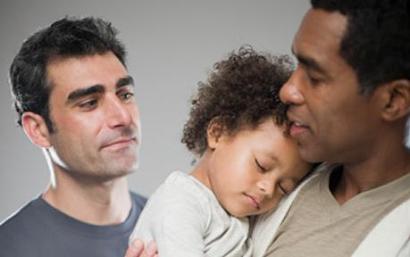 ---
#2
BEST: San Francisco Mayor Gavin Newsom issues marriage licenses (2004)
Acting on his own, the mayor issued over 4,000 marriage licenses to same-sex couples, including Del Martin & Phyllis Lyon, Rosie O'Donnell & Kelli Carpenter, and best-lesbian-cartoonist-ever Alison Bechdel & Amy Rubin.
WORST: Prop 8 passes in California (2008), Question 1 in Maine (2009)
WE CRY FOREVER.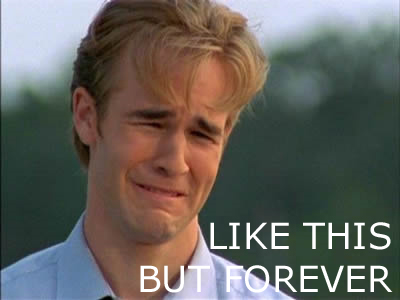 SILVER LINING:
Yes, it passed, and that sucks. But thousands of people protested Prop 8 in cities all over the world, Prop 8: The Musical happened, plus Keith Olbermann made that speech we liked.
---
#1
BEST: Massachusetts allows gay marriage (2003)
The state officially became the most advanced state in the union, and it also happens to be Rachel's home FUCK YES.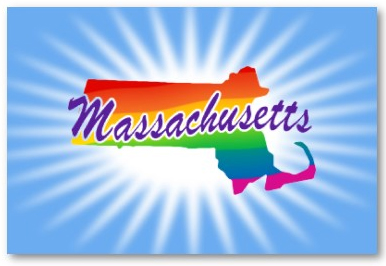 WORST: Don't Ask Don't Tell
In the first nine years of the decade, 7,468 service members were kicked out of the military for DADT violations. Homophobia is still rampant in the armed services, and there's no chance of that going away while DADT is around.
Democratic leaders have said the policy will likely come up for repeal in 2010, so we're hoping DADT's mark on the next decade will be minimal.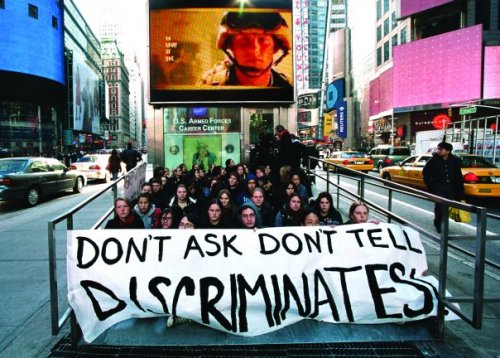 Pages: 1 2See entire article on one page