YOU DID IT! Thank you to every single radical human who helped us reach 111 new A+ Member signups! It was such a beautiful birthday gift and we hope you had a great time at the AMA/Advice-a-thon! Also GUESS WHAT we even exceeded our goal!!! Y'all are serious overachievers and we love to see it!
So, because of how amazing you all are, we're celebrating our birthday ALL this week with a stretch goal and a giveaway! Here's the deal: if we get 50 additional A+ Member sign-ups by Sunday, we'll host an AS Store merch giveaway that ANYBODY can enter. We'll be giving away SIX Autostraddle merch packages. How to enter? You can start by following us on your fave flavor of social media (FB, Insta, or Twitter) and paying attention on Monday, March 16. Haven't joined A+ yet? Help us reach our goal! We're currently 19 members to our stretch goal already. We really just need 31 more people to take the plunge and join the A+ family! That could be YOU!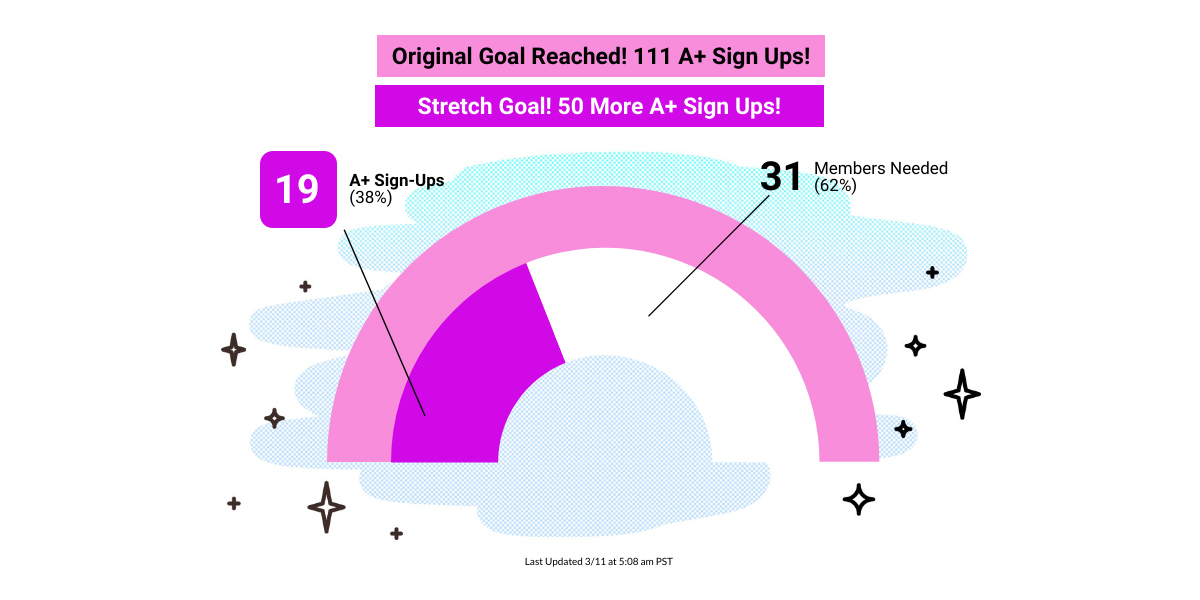 A+ Members make it possible for Autostraddle not just to survive, but for us to grow and learn and pursue our dreams for building queer community. A+ Members are people like you, people who read and have a space in their heart and life for Autostraddle, who believe in this work. In the past six months, A+ Members have helped Autostraddle to:
Welcome Deputy Editor Kamala who is brilliant!
Bring on Nicole as A+ Director to make A+ even better!
Hire 11 new writers of color!
Send the senior staff on a retreat to engage in leadership training and training to dismantle a culture of white supremacy in the workplace. We let A+ members know about this in last month's Insider!
Create a job posting for a trans editor! There was an amazing response (120 applications!) and we are so appreciative to everyone who shared the posting or applied. We wish we could tell you more right now, but be on the lookout as we are in the process of hiring someone very, very soon!
Above all, A+ Members give Autostraddle the support and space to recognize that progress toward greater inclusion and diversity, and building a vibrant and healthy queer community are all ongoing activities, without end. The support of A+ Members allows us to do the work every day that it will take to make Autostraddle the space we know we deserve it to be.
We have so many exciting plans for the future. Our team of smart, ambitious, downright electric writers and editors are working to continue to bring you the queer content that's relevant to you and your life, and to building queer community and a space where we can all be together. Will you support the writers, the team, and help Autostraddle be here for the next person who needs us? Will you join A+?
Already an A+ member? First, you are amazing! Thank you! If you want to help even more for Autostraddle's 11th B-Day, you can help by:
Commenting on this post and telling us why you are an A+ member
Telling a friend about A+
Following us on social media, sharing and liking and commenting on our posts and stories, and…when we reach our goal, participating in the giveaway!
It's going to be an amazing birthday week! Thank you for anything you can do to help!