Lunchtime: unequivocally the best part of the day. But could it be better? Yes sir, it can. You don't have to spend gobs of money going out, but you also shouldn't be packing the same peanut butter sandwich year in and year out; there is a middle way. The path to becoming a lunch box buddha isn't so hard. All you need is a good balance of inspiration and  improvisation. Every week, we'll make one or two packable recipes so that you have something new to fill your lunch box and your stomach. 
---
Every year around the middle of September, my mom would take my two little brothers and me to Jo-Ann fabrics to look for Halloween costumes. She'd pull out book after book of patterns and and page through them with us, waiting until we found something we liked. There were some patterns that were off-limits. "I dont do stuffing," she'd say when one of us pointed to an impossibly complicated costume that involved horses and fake legs. My dreams of dressing up as Pocahontas one year were squashed when it was decided that me 7-year-old body just didn't have the breasts to keep a one-strap dress up through a whole night of trick-or-treating. "You'll get those when you're older," she told me. (note: still waiting). But eventually we'd agree on a costume and by October 31st, she'd have three impeccable Halloween costumes ready to go.
When I started sewing, I wasn't interested in the brown tissue paper costumes I'd seen my mom use. It drove her crazy (but to her credit, she never said anything) to watch me sit there with a seam-ripper, undoing the last two bad seams I'd made because I refused to use a pattern. Eventually I'd get the fabric to do what I wanted, but it always took me longer and involved a whole lot more frustration than it seemed it should. Like most things when you're a teenager, it was someone else who finally got me to do what my mom had been trying to suggest for years: use a pattern. That's when I really started to get better.
Food works pretty much the same way. If you never use recipes – never learn the "right way" to do things – you'll never know what you're capable of or what really works. You might be 60 years old before you discover that peppers and peanut butter taste great together. Or never learn that adding citrus to a cake recipe means you need more baking soda. And that would be a damn shame. You could have been such a great cook earlier on!
This recipe really tested my ability to follow directions. The website I got it from mentioned that it seemed to be missing something which, in any other instance, would send me running for the improvisational hills. But since we're making this together, I thought I'd set a good example. I made it once the "right" way and once my way. The original recipe was fine but definitely not something worth writing home about. Still, by making it according to the recipe first, I learned exactly what I liked and didn't like about it. I thought the apple cider vinegar in the dressing was too strong for the salad. The beautiful blood oranges were too subtle and needed a little boost of flavor so I added red pomegranate seeds and some orange juice to the dressing. Although I love parsley, I didn't like it with the rest of the flavors in this salad. And since this is going to be my main course for a week, it needs a little protein.
The Original Blood Orange and Wheat Berry Salad
via The Kitchn
2 1/2 cups of wheat berries
1 cup of Red Onion Vinaigrette
5 blood oranges
7 ounces of feta cheese
A few handfuls of flat-leaf parsley
1. Bring 10 cups of water to boil in a medium sauce pan. Add a sprinkle of salt and the wheat berries. Reduce to a simmer and cook until the wheat berries are tender, about 25 to 30 minutes.
2. While that's happening make the dressing.
Red Onion Vinaigrette
via The Kitchn
2 teaspoons of olive oil
1 medium red onion
1 clove garlic
1/2 t of fresh thyme leaves (from about 3 sprigs)
1/2 cup of extra-virgin olive oil
1/4 cup of cider vinegar
2 t of balsamic vinegar
4 t of sugar
1/2 to 1 t of salt
Black pepper
3. Chop the onions and mince the garlic.
4. Heat two teaspoons of olive oil in a skillet over medium heat. Add the onions, season with salt and pepper, and cook until soft, about 10 minutes. Add the garlic and thyme and cook another 1 to 2 minutes.
5. Transfer the onion mixture to a container along with the vinegars, extra-virgin olive oil, sugar, salt, and a few grinds of fresh pepper. Use an immersion blender to blend until smooth. Alternatively, blend in a blender or food processor.
6. Okay back to the salad. Once the wheat berries are done, stir in the dressing.
7. Supreme the oranges (you know how to do this!) crumble up the feta cheese, and chop the parsley. Add everything to the wheat berries.
+ Storage: Keep in a sealed container in the fridge for a week. It tastes best cold or at room temperature and will only taste better as time goes on.
My Version of the Blood Orange and Wheat Berry Salad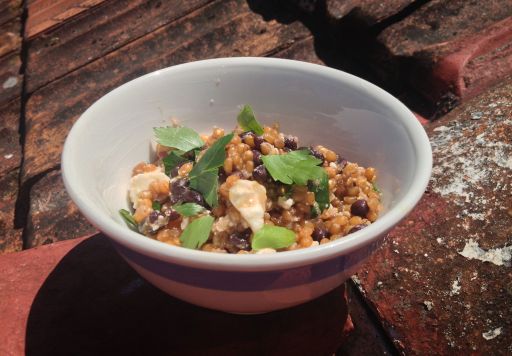 inspired by The Kitchn
2 1/2 cups of wheat berries
1 cup of uncooked black beans or a can of cooked black beans
1 cup of the dressing below
5 blood oranges
a pomegranate
7 ounces of feta cheese
A few handfuls of basil
1. Pour 10 cups of water into a really big pan along with the wheat berries. In fact, it helps if you soak the wheat berries and black beans over night or at least rinse them. When it boils, turn the heat down low, put a lid on the pot and let it cook. It supposed to take 30 minutes, but mine took almost 45.
2. If your beans are not already cooked, throw them in a bunch of water and let them cook until they're soft. I like to turn the heat down once it boils and cook with a lid on the pot, just like the wheat berries.
3. While the pots are humming along, make the dressing.
My Revised Dressing
1 medium onion
2 cloves of garlic
1/2 cup of extra-virgin olive oil
1/4 cup of juice squeezed from the bits of orange left int the peel after supreme-ing
2 t of balsamic vinegar
2 t of honey
Salt
Black pepper
Sweet paprika
4. Chop the garlic and onion up and sauté them in a bit of olive oil. Season with salt and pepper.
5. Combine the olive oil, balsamic vinegar, orange juice and honey and add the sautéed garlic and onions. Puree with an immersion blender or blender. Salt, pepper and paprika to taste  (okay, so sweet paprika basically tastes like nothing, but isn't it a pretty color!).
6. Back to the salad! Chop up the basil, supreme the oranges, seed the pomegranate and crumble the feta.
7. When the wheat berries and black beans are ready, drain them and stir them together with the dressing. Add all the toppings and stir.
+ Storage: Second verse, same as the first. Keep in a sealed container in the fridge for a week. It tastes best cold or at room temperature and will only taste better as time goes on.