Calling something this delicious a salad is like calling Sofia Vergara attractive. Hello understatement of the year! Orange, as it turns out, is coriander's media naranja. I can't believe I've never had them together before. This salad is also supahealthy with its trendy complete protein, quinoa, and seasonally-appropriate vitamin-c-filled oranges.
Quinoa and Black Bean Winter Salad
Ingredients
1 cup of uncooked black beans or 1 1/2 cups of black beans from a can
1 cup of uncooked quinoa
2 oranges
4 tablespoons of olive oil
2 teaspoons of apple cider vinegar
1/2 teaspoon of honey or sugar
1/2 teaspoon of coriander
1/4 cup of cilantro
1/2 small red onion
Pepper and salt to taste
Instructions
1. Since I live at the very ends of the earth, a can of black beans costs about €4.50. And because that's obscene, I make my beans myself. If you're in the same boat, don't worry: it takes a little bit of planning, but it's not impossible. Start by soaking a cup of beans in water the night before you're going to make the salad.
2. In the morning, rinse and drain the beans and put them in a pan with a few cups of fresh water. Bring the pan to a boil, then turn the heat down to low, cover it with a lid and let it cook for 45 minutes to an hour, stirring occasionally. You'll know they're finished when they're soft and not chalky inside. Drain the water and they're ready to use.
3. While the beans are cooking, you can do everything else. Apparently, quinoa is something you should rinse before cooking so that it doesn't taste soapy. I don't have a small enough strainer, so I skip this step and it still taste great every time. Pour the quinoa into a pan along with 2 cups of water. Just like the beans, you're going to bring it to a boil, cover it with a lid and turn the heat to low. In about 15 minutes, the water should all be absorbed and your quinoa should be ready.
4. While the quinoa and beans are cooking, work on your oranges. First, wash and zest one of them. If you've never zested before or are lacking a zester, you can use a fork or a knife. Just make sure you don't accidentally take any of the sour pith along with your zest.
5. Now we're going to supreme the oranges!
You do this by peeling the oranges and peeling each segment apart. Then, using a really sharp knife, cut the pithy membrane from the juicy inside. Squeeze the juice from the membrane and save it for later and slice the supreme'd oranges into smaller pieces.
6. It's sauce time. Mix the olive oil, vinegar and honey with all the orange juice you squeezed out of the oranges. You should have at least 6 tablespoons. Add the orange zest, about a 1/2 teaspoon of salt and another 1/2 teaspoon of pepper and the coriander. If you can only find corriander seeds, try your best to ground them up. It's kinda gross biting into a whole seed and you don't need some stupid seed ruining your salad experience.
7. Chop chop chop your cilantro and onion.
8.. When the quinoa and beans are ready, mix them together. Add the orange slices, cilantro and onion. Finally pour the sauce on and stir it all in.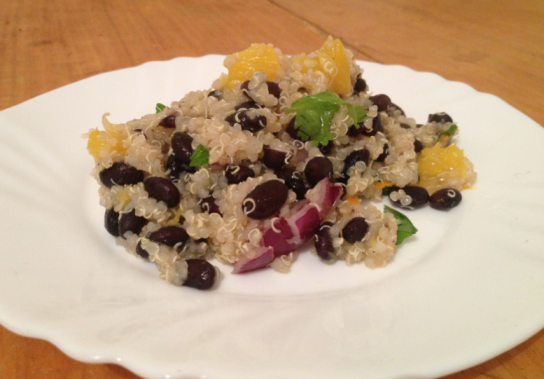 Inspired by The Kitchn