Welcome to yet another round of lesbian romance reviews! As I've confessed numerous times on the internet, reading lesbian romance novels is my favorite lesbian past-time; the entertainment factor is off the charts and sometimes they beat real life. Plus these sweet girl-on-girl love stories provide the perfect breather between all that Proust and Nietzsche I devour. (Kidding! The last non-lesbian book I read was Fifty Shades of Grey. Keep that in mind as we proceed.)
Yet Another Top Ten (Five) Lesbian Romance Novels
+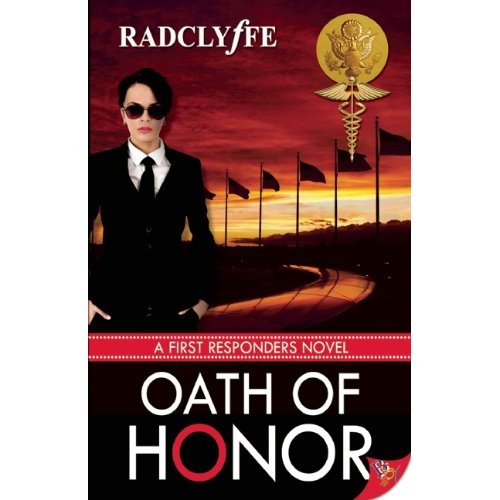 Oath Of Honor by Radclyffe
e-book
paperback
Oath of Honor is the newest addition to Radclyffe's First Responders series, which tells stories of smokin' hot, slightly butch medical professionals who have a tendency to fall in love with co-workers who they initially dislike and then want to get naked with. The fact that these heroic heart-throbs are in uniform is obviously a large of the appeal.
In Oath of Honor, Navy Captain Wes Masters is hired to head up the White House Medical Unit. This means that she's the President's new doctor, basically. Big job. President Powell is a good guy whose goodness has pissed off bad guys who want him dead. Hot Secret Service Agent Evyn Daniels is charged with teaching Wes how to respond when the inevitable assassination attempt occurs because, when it comes to responding to things, Evyn is at the top of the game.
This novel is classic Radclyffe: likeable characters, a page-turning plot and some pretty steamy romance. Yes, "steamy". I can confirm that it is a million times better than Fifty Shades of Grey. As a bonus, it tips its hat to Radclyffe's Honor series via an appearance by my favorite fictional lesbian lovers, Cam and Blair. (Add the Honor series to your reading list if lesbian Secret Service agents float your boat).
Tags: work-related circumstance, hot lady cop, lesbian power suits, somebody call a doctor
+

Demons Are Forever (Elite Operatives) by Kim Baldwin and Xenia Alexiou
e-book
paperback
Demons Are Forever is the follow-up to the Elite Operatives novel, Dying To Live, which just won the Lambda Award because it's really good! You should read it.
The Elite Operatives series features BAMF lesbian secret operatives (with cute code names like "Domino" and "Fetch") who are tasked with saving the world, and/or pretty girls, on the reg. Sounds great, right?
The hero of Demons Are Forever is Landis "Chase" Coolridge, the broody, hard-bodied graphic novelist whose double-life is as an expert tracker for the Elite Operative Organisation (EOO). Chase is sent on a mission to locate fellow operative "Lynx", who is being held hostage by a mad man and who also happens to be the lover of Chase's ex-best friend, EOO deserter Jack aka "Phantom". Jack is also broody. Probably also hard-bodied.
Having reluctantly teamed up to save the girl, this dynamic spy duo are led to Heather Snyder, a fashion designer by day and high-class call girl by night who is the key to busting open a black market organ harvesting ring which in turn is the key to locating "Lynx." Sexual tension builds between Chase and Heather, which seems perfect due to Chase's fondness for sexing call girls exclusively. However, it's not. It wouldn't be a lesbian mystery/romance novel if there weren't complications that cause the ladies to resist tearing each others clothes off and so that happens.
I've never read an Elite Operatives book that I wasn't totally into, and this book is no exception! An Amazon reviewer called this novel "campy" like it is a bad thing, which is confusing.
Tags: work-related circumstance, raunch, confusing figure from the past, hot girl has swagger
+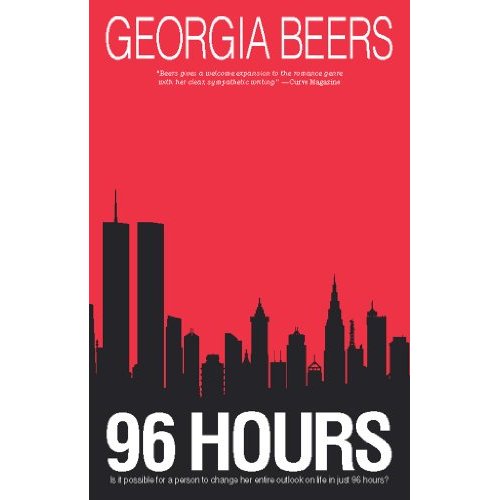 96 Hours by Georgia Beers
e-book
paperback
Super serious scientist Erica Ryan is on a flight from London to New York when the 9/11 terror attacks hit. The plane is diverted and she finds herself stranded in Newfoundland, Canada along with the other passengers, including young free-spirit Abby Hayes.
Erica's initial assessment of Abby is that she's annoyingly optimistic and completely naive about their situation, but also kinda cute. Meanwhile, Abby thinks that Erica is a cold-hearted bitch whose negativity is bringing everyone down and who looks nice in a suit. When forced to share a room, Abby and Ericka start seeing each other in a different light and, ninety-six hours and a roll in the sack later, they return to their cities as different people. That's not where their story ends.
I almost didn't read this novel. September 11 felt like a strange choice of backdrop for a light-hearted romance read and honestly I was super nervous about how it would pan out. To her credit, Georgia Beers doesn't gloss over the devastation; she captures both the horror of the event and the way that it changed people and opened their hearts. Overall it's a little sad but very sweet.
Tags: tragic accident
+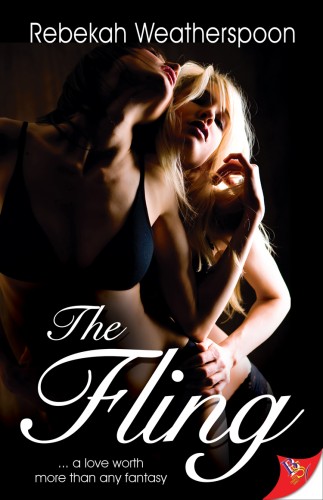 The Fling by Rebekah Weatherspoon
e-book
paperback
Reality television producer Annie is engaged to a man but craves a girl-on-girl experience before being tied down, which is apparently fine by her fiance who is currently sleeping his way around Europe. Sure! Why not. Enter Oksana, the extremely likeable personal trainer with tattoos, a shaved head and a heart of gold, who volunteers to be client Annie's lesbian experiment.
Of course this book is called "The Fling" for a reason, and that is that neither lady is prepared to walk away after their raunchy one-night stand.
Romanticizing an affair is a hard task. Annie, the primary instigator, is not an overly likeable character; she's selfish and indecisive, she fucks with Oksana's already-fragile heart and does absolutely nothing for bisexual stereotypes. While Annie and Oksana's actions aren't ethical by everyone's standards, they're refreshingly realistic for this genre — from how they sit by their cell phones anxiously awaiting the next flirty text, to how they discuss their preferred dildo girth and STIs. Real talk.
If you're looking for a total escape, this probably isn't it. It might give you flashbacks to every kiss or text you knew was a bad idea but followed through with anyway. But if you're after an entertaining read with lots of girl-on-girl action, I can attest that the sex is graphic, and frequent. It's essentially erotica with an extended plot line.
Note: an Amazon search has just revealed that Weatherspoon has also penned a novel called Better Of Red: Vampire Sorority Sisters, which I can't believe I haven't read yet. It'll be in the next Top 10, obvs.
Tags: raunch, work-related circumstance, it's complicated
+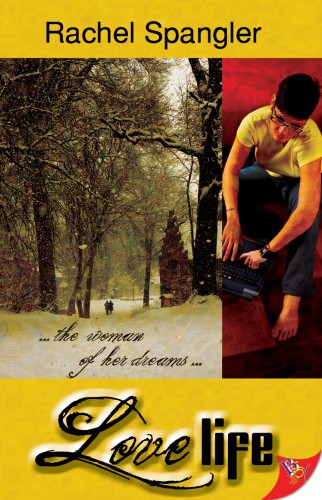 LoveLife by Rachel Spangler
e-book
paperback
If you love feelings then you're gonna REALLY love this novel!
28-year-old Buffalo boi Joey has an epic crush on one of her coffee shop customers, Elaine – a sophisticated 42-year old Life Coach who is awesome at sorting out everyone's shit but her own. Joey thinks that Elaine is out of her 'league' and refuses to ask her out, prompting best-friend Lisa to meddle and sign Joey up for one of Elaine's life-coaching sessions. Obviously this is a terrible idea that backfires. Obviously.
Joey, who has already graduated from the School of Hard Knocks, also has a dream of graduating from Buffalo State University. Elaine forgives the ruse and agrees to teach Joey how to block out her critical voice / find her true path / take the power back, etc – in a strictly professional capacity, of course. They talk, talk, talk, process, process, process for 200 pages, largely ignoring their mutual attraction until it threatens to put their coach/client relationship at risk. Then they talk, talk, talk, etc even more.
As a person who avoids talking about feelings at all costs, I found it difficult to relate to this story. However! It's well-written and the characters and romance are incredibly sweet, so those of you who are in touch with your Authentic Selves will probably dig it.
Tags: feelings, work-related circumstance, it's complicated

I've also reviewed a whole bunch of other lesbian romance novels here and here.
Pro tip: The majority of titles that I review come from Bold Strokes Books, the most superior lesbian romance publisher on the planet and the source of approximately ninety-five per cent of my lesbian romance collection. They do good work.
Have you read a good lesbian romance novel lately? Tell me all about it.