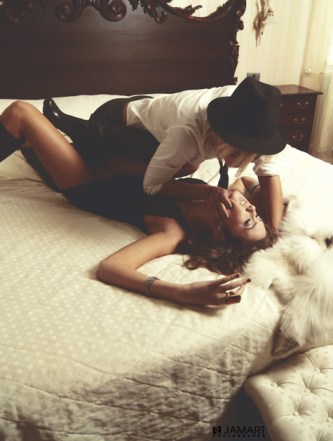 I have this fantasy that the more we talk about New York Magazine's lesbian sex diaries, the more New York Magazine will publish lesbian sex diaries. This theory is not entirely non-sensical because Rachel Kramer-Bussel, the editor of New York Magazine's Sex Diaries, is a friend of Autostraddle, but it's probably non-sensical because I imagine they don't get a lot of submissions from lesbians and probably use all the ones they do get, because really who needs it when we have The Real L Word? Just kidding, that show blows harder than a job.
Anyhow, here I am to report that yet another lesbian has spread her legs for New York Magazine, because I always tell you when this happens. Witness The Lesbian Law-Firm Intern Hooking Up With Her Co-Worker:
I'm already caught up in my head about this. Why am I not more into it? She's making all of these sexy noises and writhing all over the place underneath me. Normally this would be insanely hot. Am I too into LDG? A random hookup will be good for me, so I keep going.
This sort of reminded me of what it was like to be 26 and gay in Manhattan and I felt wistful. I also think somebody needs to compile an erotica anthology compiled entirely of stories wherein a Questioning Lady who thinks she might be gay finds out that you're gay and decides to use you to figure her shit out, and you're totally like "no problem! lez do it!", and then you find out later that you were essentially offered up to the Questioning Lady by a mutual friend who said something like, "[x] is gay, you should talk to her!", which the Questioning Lady seems to have interpreted as "[x] is gay, you should have sex with her!" You know what I mean?