This week in my journey to better health and more wellness, my sugar consumption is back under control! I haven't done candy or chocolate in eight days now and I've survived, the cravings have gone away. I've been hitting the office fruit bowl instead, which is not as delicious as a handful of Allen's lollies but kiwifruit is still pretty tasty, hey.
My fitness activities have slowed down a lot since I've started packing up my life so today I've only got a couple of things to talk about that've been working for me.
Working: Blogilates
A few of you recommended Cassey Ho's Blogilates after I mentioned my blossoming love affair with FitnessBlender.com for workouts that can be done (quietly) at home. I still feel like I don't know much about pilates as an exercise form but I'm very into these videos, so thanks for the tip!
What I've been loving about Blogilates:
Cassey Ho as an instructor. She's so cheerful! She says a lot of funny things and describes the movements in a unique and endearing way, like to imagine there's a zombie pulling on your stomach or a penny in your butt. When I'm puffed and hating life, a bit of personality goes a long way in motivating me to finish the workout.
There's a lot of gentle encouragement, including reminders to not be ashamed if you're a beginner and terrible. It's important and not something that I've seen other workout videos mention much.
This 17-minute beginners workout, which seemed super easy at first but had wrecked me by the end. There have been a few other Blogilates videos that I've attempted but I've mostly just been focussing on nailing this one.
And a couple of things that I'm not super in love with:
Most of the videos are fairly short? Between 3-8 minutes. Maybe that's standard for this kind of exercise? I'm not sure. 30-45 minutes is my personal ideal workout length. Maybe there are longer videos hiding somewhere in the archives; the website is a bit of a mess.
A lot of the videos are titled things like, "six minutes to a sexy little waist!" and "muffintop massacre!" which is just, no thank you. That kind of marketing that makes me feel like I should be working out to achieve a particular body shape and I get enough of that pressure out in the world, I don't need it in my bedroom as well. Thankfully it seems to be limited to the titles only; I haven't experienced any of that shit in the actual video content.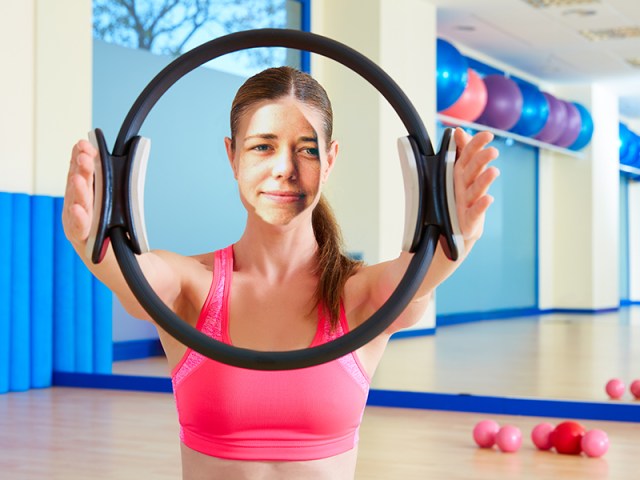 Working: Paddle-boarding
I don't particularly enjoy sea water, or sand, or being in the sun. It's very un-Australian. When my surf-loving mate Ben offered to show me how to paddle-board I wasn't super sure that I was going to have a good time. The thought of standing on a surfboard and rowing myself around just seemed a bit weird. I said yes anyway, 'cause he was so enthusiastic but also I'm trying to do this personal growth thing where I try not to write off an activity without giving it a red hot go.
We went to a beach which was thankfully as calm as a lake. It was the end of winter and so fucking cold, the sand was like shaved ice. Ben did a demonstration first and then held the board while I climbed on. It wobbled, fast, but then when he let go, my abs took over and it was gold. I padded around and around and around until eventually I got bored.
There's not much to say about this experience. Both Ben and I assumed that I'd be totally terribly and that would at least make for some laughs and a good story online. To our collective surprise, I was really good at it. I didn't fall off once! Thanks, 30-day ab challenge! So I had a great time. I'm really passionate about being good at things and staying dry.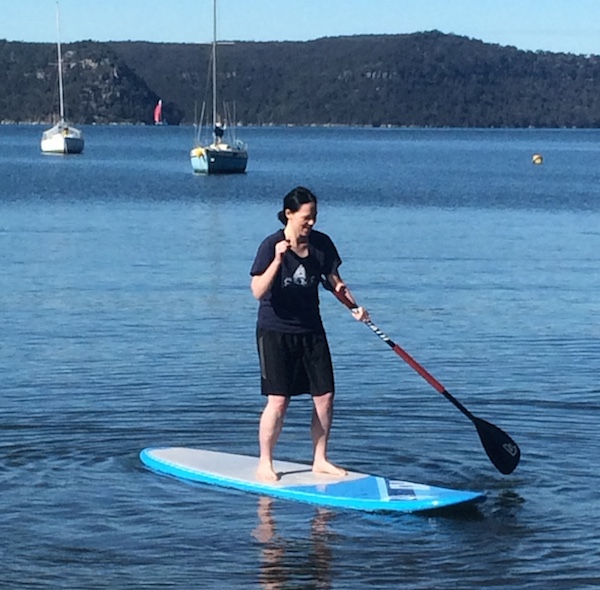 How's your past week been? What's been working for you? Is anyone still doing the yoga challenge? Do you have an healthy recipe that you want to share? I've started a Google doc of healthy meals which can never be long enough, so please do.
Coming up next week: Hiking, and other activities that I thought would be A LOT easier than they are.