+ A five-year-old girl was barred from returning to her private Christian school because she has two moms. The girl attended Mt. Erie Christian Academy in San Diego for pre-school and summer school and just days before school started in September, her parents — Sheena, a stay-at-home mom and Lashaune, who is in the Navy — were summoned into the pastor's office where they were told they weren't welcomed at the school anymore.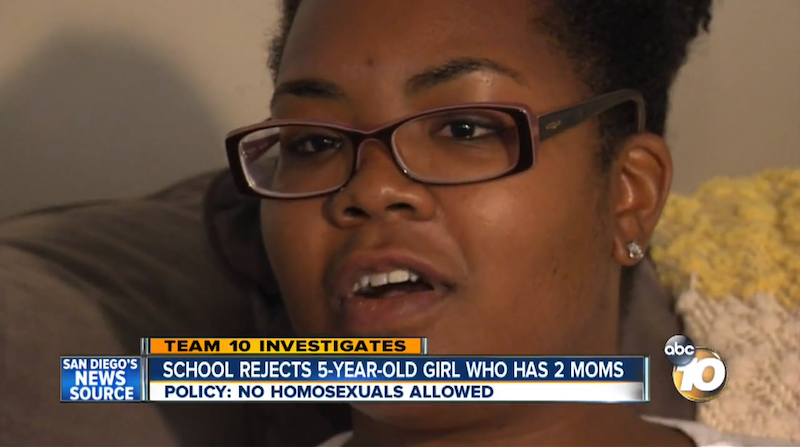 San Diego TV station KGTV reports the school cites an admission policy document to justify their action:
"On those occasions in which the atmosphere or conduct within a particular home is counter to or in opposition to the biblical lifestyle that the school teaches, the school reserves the right, within its sole discretion, to refuse admission of an applicant or to discontinue enrollment of a student. This includes, but is not necessarily limited to, living in, condoning or supporting sexual immorality; practicing homosexual lifestyle or alternative gender identity; promoting such practices; or otherwise having the inability to support the moral principles of the school"
The mothers are looking for an attorney to file a civil rights lawsuit. The school is private and doesn't receive any federal funding, so it's within its rights to discriminate against LGBT people, says San Diego attorney Eugene Iredale, who spoke with KGTV.
+ Today is #PinkOut Day, which is being held to support Planned Parenthood. There are events happening all around the nation and PP health centers are offering free STD testing in 28 cities. Check out what is happening in your city and how you can support Planned Parenthood.
+ Republican presidential candidate Carly Fiorina still stands by her inaccurate descriptions of Planned Parenthood videos while on Meet the Press even though the videos have been debunked.
+ Gaia Vince, a journalist based in London, was named the winner of the 2015 Royal Society Winton prize for Science Books for her work on her book Adventures in the Anthropocene: a Journey to the Heart of the Planet We Made. This is the first time a woman write wins the prestigious prize in its 28-year history.
+ Michelle Obama introduced a new campaign called 62 Million Girls which focuses on girls' education at the 2015 Global Citizen Festival. "Right now 62 million girls are not in school… they deserve the same chances to get an education as my daughters and your daughters,wp_postsshe told the audience.
#62MillionGirls do not have access to education. Share a photo & what you learned in school: http://t.co/A4AkZqxAuLhttps://t.co/LuDF85C8FC

— First Lady- Archived (@FLOTUS44) September 27, 2015
+ Sen. Elizabeth Warren gave a speech at the Edward M. Kennedy Institute in which she spoke about the importance of the Black Lives Matter movement and remarked on how the Civil Rights Act made progress but not nearly enough when it comes to structural racism. She also said violence against Black people hasn't disappeared, citing the deaths of Black people at the hands of police.
"None of us can ignore what is happening in this country. Not when our black friends, family, neighbors literally fear dying in the streets. This is the reality all of us must confront, as uncomfortable and ugly as that reality may be. It comes to us to once again affirm that black lives matter, that black citizens matter, that black families matter."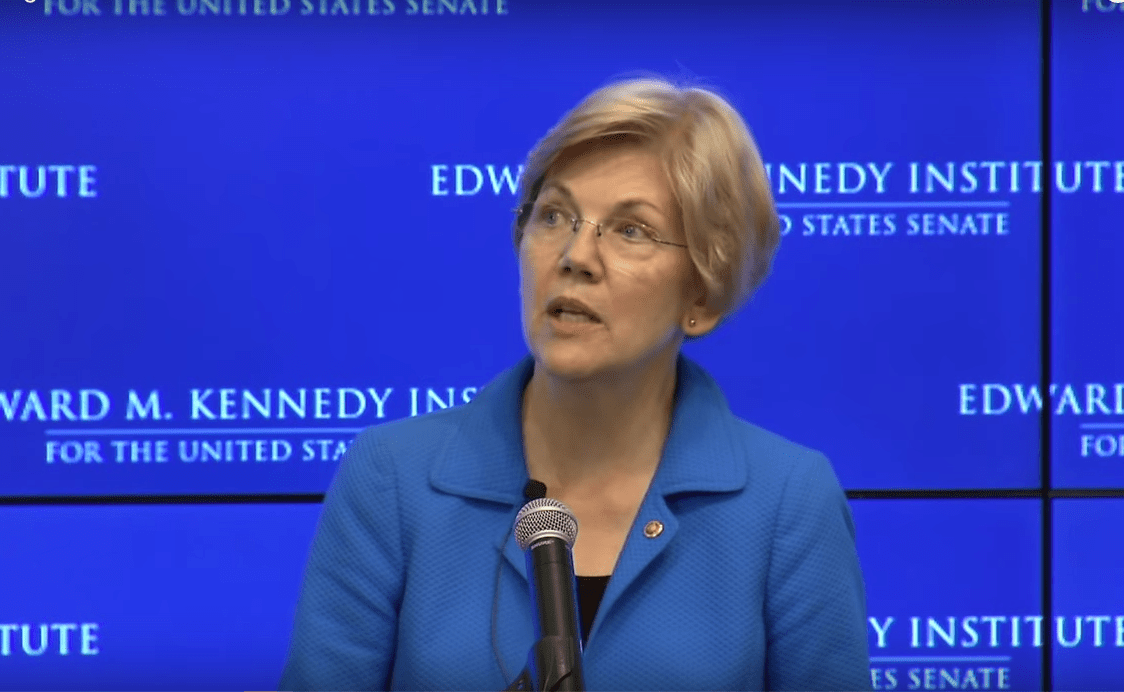 + In a first, a transgender woman won a legal victory under the Prison Rape Elimination Act and received $5,000 in damages for the violation of her rights while she was in a Maryland prison. In August, Judge Denise Oakes Shaffer ruled that Sandy Brown's rights were violated when she was placed in solitary confinement for 66 days, taunted by guards who sexually harassed her while she showered and who told her to commit suicide, according to the AP. She was also strip-searched by both a female officer and a male officer upon arriving Patuxent Institution, a temporary mental health facility for prisoners. All of these offenses are in violation of PREA regulations. As a result of the suit and Shaffer's ruling, Maryland correctional facilities have initiated policy changes for the treatment of transgender inmates which includes a policy where trans inmates choose the gender of the officer who searches them and that "officers will undergo training within the federal law and PREA's mandates to ensure affirmative, respectful engagement with transgender individuals."
+ A group of "anti-gentrification activists" called "Fuck Parade" attacked a cereal cafe in East London on Saturday. The owners and staff of Cereal Killer Cafe said they had to barricade themselves inside the cafe while the protesters wrote "scum" on their windows. The Fuck Parade marched through the low-income neighborhood of Shoreditch where the luxurious cereal cafe, which sells expensive cereal by the bowl, is located. The activists were trying to call attention to the gentrification of the area that is, as one protester put it, "destroying the lives and demolishing the homes of some of London's most vulnerable people."
+ In a speech at a New York fundraiser, President Obama dismissed Republicans opposed to same-sex marriage, saying they're living in another era and that the conversation has moved on from equal marriage rights.
+ While filming in the street, Sarah Teale, a BBC TV reporter, was harassed by a man while reporting on street harassment.