Many citizens of the United States are off of work today, which means many citizens of the United States will be flocking to movie theaters around the country to enjoy popcorn and air conditioning and a reprieve from the news. Some of those citizens might even be seeing Wonder Woman, a movie that just keeps on making money. If you haven't seen Wonder Woman, you should do that. If you have seen it, you should probably see it again.
In the meantime, on this day when people are waving around stars and stripes, perhaps you are interested in the queerest stars and stripes, the ones worn by Wonder Woman while she's engaging in canonical bisexuality! Well, you're in luck, my friends! Here are Our Lady of Perpetual Misandry's 10 gayest comic book moments.
---
Wonder Woman Volume 3 #18, May 2008

In the lead up to the Proposition 8 vote in California, which ultimately stripped marriage equality from a state that had already signed it into law, Gail Simone was sneaking gay stuff into every comic book she was writing. Here Wonder Woman tells her boyfriend, Tom, she's going to begin courting him in the traditional Amazon manner, which throws him for such a loop. Even more of a loop, in fact, than Wonder Woman later admitting she doesn't love him while he's being held hostage. "Does all this stuff count," Tom whines, "with a guy involved?" It's a common theme with all Wonder Woman's boyfriends, their shock and dismay when they find out men are necessary for reproduction but not for pleasure.
---
Batwoman #17, February 2013
Batwoman #17 ends Batwoman and Wonder Woman's tag-team adventure into Hades, and also it's the beginning of Kate Kane's engagement to Maggie Sawyer. (It also features the greatest splash page of modern comics, when Wonder Woman and Batwoman charge into battle together for the first time in history.) But the panel that shook my breath from my body was when Wonder Woman caressed Batwoman's hair as she was saying goodbye to her. They bonded so much during their arc that Wonder Woman had a hard leaving. Touching someone's hair like that is so intimate! You don't just lovingly stroke your buddy's hair! Diana knew it and so did Kate.
---
Sensation Comics #35, November 1944
Wonder Woman's creator, William Moulton Marston, hardcore believed in the matriarchy, and he had a polyamorous relationship with several women (who were also in relationships with each other) throughout most of his life. They were all very into bondage. In the years when Marston was writing the comic, women on Themyscira were constantly tying each other up and spanking each other. "Bind me as tight as you can, girls, with the biggest ropes and chains you can find!" Wonder Woman exclaims in the early days of Sensation Comics. In this panel from 1944, Wonder Woman expresses a sentiment she returns to again and again: Tying up other women isn't meant to cause pain or shame; it's all about safety and careful control. She calls this one "the kitten hold."
---
Wonder Woman: Earth One Vol. 1, April 2016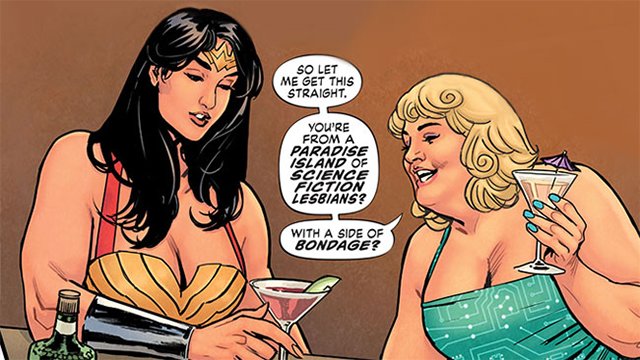 If Wonder Woman's feminism irked conservatives, Etta Candy and the Holliday Girls' brash and unapologetic sexuality drove them absolutely bonkers. At least Wonder Woman usually had a chaste man chasing after her. In 1954, psychiatrist Fredric Wertham wrote a book called Seduction of the Innocent, in which he tried to prove that reading comics led to juvenile delinquency. Wertham was hysterical over the Holliday Girls. "The homosexual connotation of the Wonder Woman type of story is psychologically unmistakable!" he screeched. "Her followers are the 'Holliday Girls' i.e. the holiday girls, the gay party girls, the gay girls. Wonder Woman refers to them as 'my girls.'" She sure does! Etta Candy is always a delight. In Earth One she follows up this revelation by saying, "Count me in!"
---
Sensation Comics #19, July 1942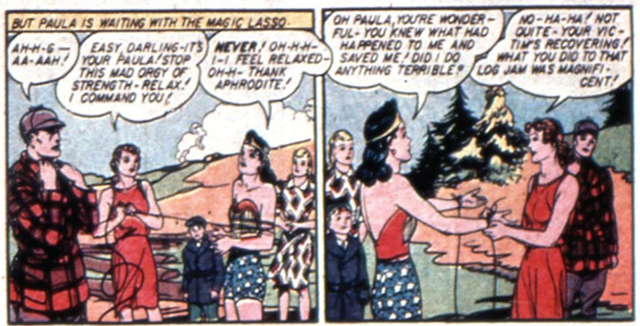 When Wonder Woman's bracelets were ripped off in Sensation Comics #19, the bloodlust of men and the man's world got her and she went a little berserk. Luckily her gal pal Paula from Themyscira was on hand to call her back to herself and bind her with love and compassion. "Easy darling, it's your Paula," she says. "Stop this mad orgy of strength. Relax! I command you!" Wonder Woman immediately calms down and cries out thanks to Aphrodite.
---
Sensation Comics Featuring Wonder Woman, Chapter 48, August 2015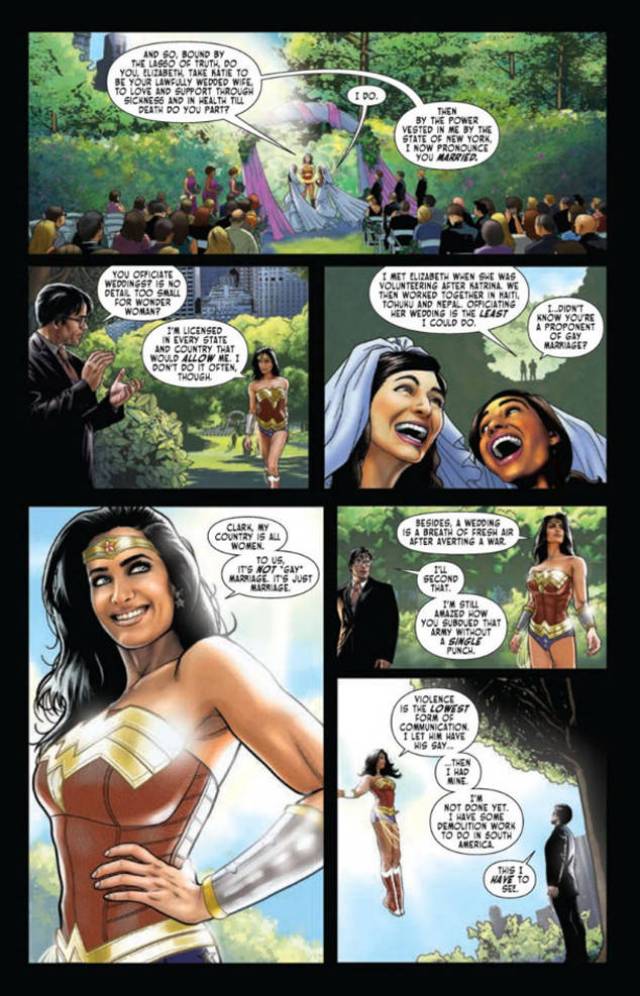 This issue of Sensation Comics landed just two weeks after SCOTUS made marriage equality the law of the land in the United States. Writer and illustrator Jason Badower explained to critics that Wonder Woman was the best candidate in the DCU to officiate lesbian weddings because hello she learned it from her own mother. How many marriages between two women do you think Hippolyta officiated in her lifetime? Probably a million.
"I saw this Wonder Woman story as an incredible opportunity to have one of the most recognizable, iconic characters in the world to be among the first to step forward and officially endorse this new law," he said. "But I thought, let's not just have Wonder Woman embrace this new law, let's have her celebrate it."
---
Wonder Woman Vol 2 #197, December 2003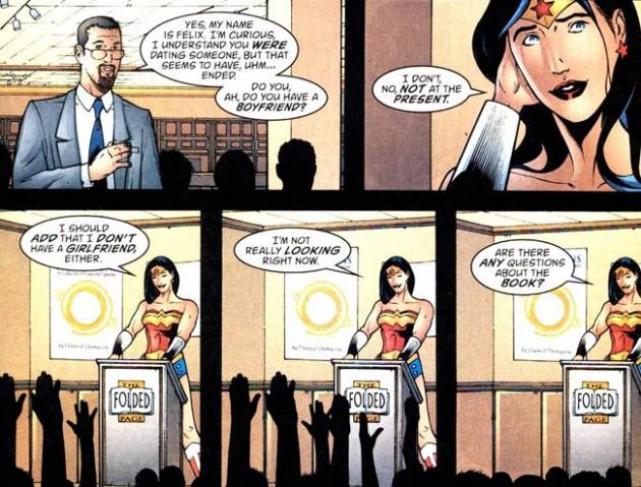 Before Greg Rucka pulled Batwoman out of the closet and wrote one of the greatest queer arcs in comic books history by making Rene Montoya gay, he let the world know Wonder Woman was tired of everyone's damn heteronormativity.
---
Wonder Woman #2, September 2016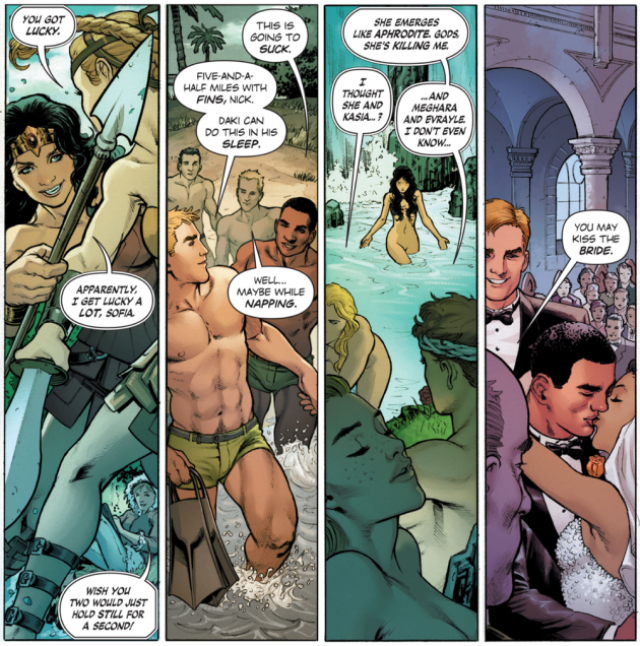 Rucka's return! In the lead up to Steve Trevor and Diana Prince meeting each other in the The New 52, we see their lives interspersed. Steve is a soldier who's happy to be his best friend's best man at his wedding because Steve Trevor loves love. Diana is training with all women all the time on Paradise Island and sleeping with too many for her friends to keep count. Sofia, Meghara, Evrayle. "I get lucky a lot," is a thing she says before skinny dipping in a pond and driving all the other sunbathing women mad with lust.
---
Justice League Task Force Vol 1 #8, January 1994
This page from Peter David's Justice League run was scandalous at the time it was released. 1994 was the year the Moral Majority decided to go all in on scapegoating gay people in tandem with the Republican Party, two entire years before Ellen came out. Kerry Weaver from ER and Carol and Susan from Friends were the only gay women on TV. It was a big deal. Also a big deal: The way she sips her wine when she says, "We don't call it 'Paradise Island' for nothing."
---
Wonder Woman #32, June 1948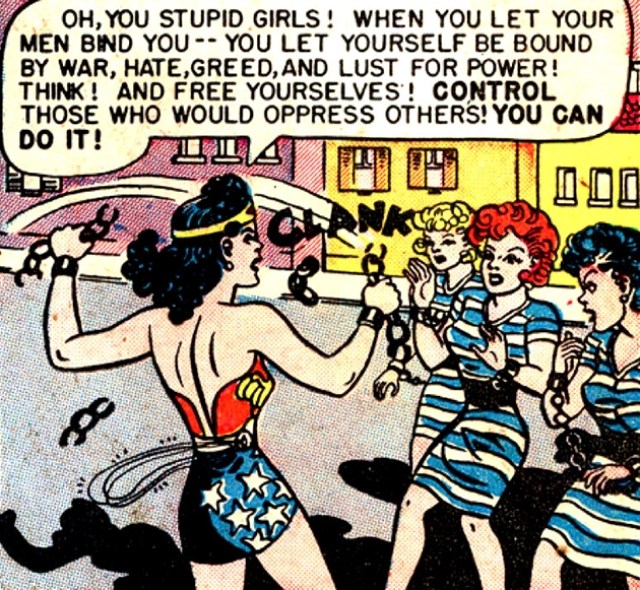 In the Golden Age, Wonder Woman was constantly telling women not to marry men or be beholden to them in any way. And she was constantly turning down Steve Trevor's marriage proposals. It was (and remains!) revolutionary that Steve was a gender-flipped damsel in distress, constantly pining after Wonder Woman and begging her to be his wife. At one point she tells him she'll marry him "when evil and injustice vanish from the earth." So, you know, never.