Feature image via Shutterstock.
---
A study released this month by University of California Hastings' Tools For Change conducted in-depth interviews with 60 women of color working in STEM and found that 100% of them had encountered patterns of gender bias. That's right. All of them. The particular ways in which that discrimination manifested across racial groups, however, varied widely. Although WOC live these experiences every day, "Double Jeopardy? Gender Bias Against Women of Color in Science" is one of the few studies to formally delve into this topic.
According to the report:
Women of color face "double jeopardy" because they encounter race as well as gender bias. This study explores how the experience of gender bias differs by race. We use the interviews of women of color in science and a survey that quantifies the experiences of White, Black, Asian-Americans, and Latina women in STEM fields to document the little-explored differences between the experiences of White women and women of color, and between different groups of women of color.
Among the interview subjects (all recruited through the Association for Women in Science), there was an even distribution of Latina, Asian, and Black women. A further 557 female scientists (including white women) responded to an online survey.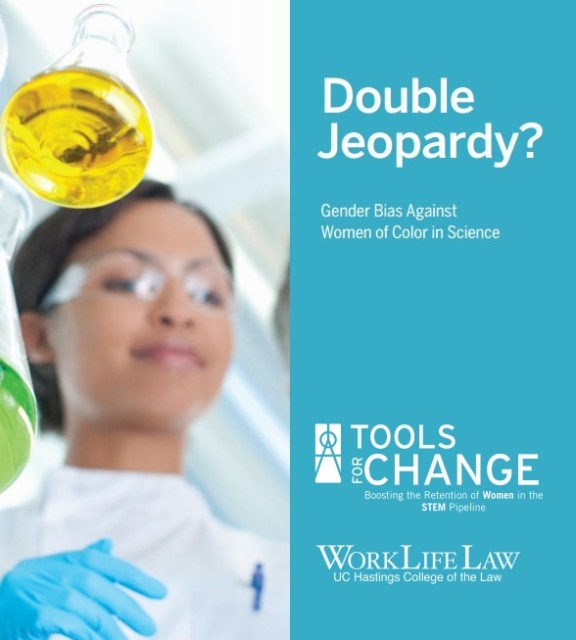 Some key findings:
Black women were hardest hit when it came to "prove-it-again" discrimination, in which women have to provide more evidence of competence than men in order to be able to be seen as equally competent. This type of bias was reported by 77% of Black women, 65% of Latinas, 64% of Asian women, and 63% of white women.
Asian women experienced increased workplace pressure to fulfill traditionally feminine roles (such as office mother or dutiful daughter), and also reported more backlash if they didn't. Fully 61% reported pushback for assertiveness. In comparison, 53% of white women, 50% of Black women and 47% of Latinas reported the same.
Latinas shouldered large loads of "office housework" (such as making coffee or doing administrative work typically performed by support personnel), and reported being perceived as "angry" or "emotional" by colleagues when they behaved assertively.
Women of all races were impacted by the "Maternal Wall," which refers to the assumption that that women lose their work commitment and competence after they have children.
Female scientists without children also reported being disadvantaged in a variety of ways, including being expected to work longer hours to make up for the schedules of colleagues who did have children.
Women of color from all backgrounds reported that they had to specifically confront negative racial stereotypes. Latinas and Black women often reported being mistaken for janitors — something the researchers had never heard in interviews with white women. Asian women reported facing the "forever foreign" assumption, wherein they were assumed to be from another country. Many also discussed tokenism (the idea that there's only room for one woman) as fuel for "tug of war" conflict among women, where individuals sometimes deploy racial privilege to cushion the effect of gender bias.
As described in the report, the current body of social psychological work on gender bias in STEM has disappointingly (but not unsurprisingly) focused almost exclusively on the experiences of white women. In practical terms, what this means is that racialized women systematically receive inadequate support. Lack of research renders women of color's experiences invisible; thus, support groups cannot adequately prepare for their unique needs. Women of color are isolated, essentially left to fend for themselves.
Latinas and Black women often reported being mistaken for janitors — something the researchers had never heard in interviews with white women.
Following their results of the study was a thorough overview of the "Metrics-Driven Bias Interrupters" model developed by study author Joan C. Williams, a law professor and Director of the Center for WorkLife Law. The model gives STEM employers a tool to assess bias in everyday situations and address it in real time. According to the report, the four steps are:
Assess. Using interviews or focus groups, investigate whether, and how, subtle bias is playing out in your institution in hiring, Rank and Tenure processes, compensation, and elsewhere. Where bias is suspected, identify an objective metric that will measure whether bias exists.
Implement A Bias Interrupter. Put in place a Bias Interrupter.
Measure. Measure to see if the intervention interrupted the bias effectively enough so that the metric improved.
Ratchet Up If Necessary. If the metric did not show improvement, strengthen or modify the Interrupters until it does.
What's great about this model is that rather than promoting actions that involve self-monitoring (which is where well-meaning organizations land as they try to "fix the problem" of getting more women in STEM), it shifts the focus to systematic change. For example, on the issue of "office housework," this model doesn't tell individual women to stop planning office parties, scheduling meetings, ordering supplies, taking notes, doing other admin tasks, or cleaning (if those are things that they want to do). Rather, this model would suggest that departments:
Use interviews or focus groups to identify the kinds of "office housework" that exist in a particular workplace.
Take action by assigning an admin to plan the parties, establish a rule that each professor order their own equipment, or address whatever specific issues were identified in the first step.
Follow up with additional data collection to see whether the "housework" is now more evenly distributed.
If not, take further action by establishing clearer rules or assigning specific tasks.
At the end, the report also provided employers with guidelines for best practice throughout recruiting, hiring, tenure and promotions processes. Although these approaches could benefit a wide variety of fields, they're particularly well-suited (and necessary) for white male-dominated STEM fields, which are often resistant to your typical HR-led sensitivity trainings. A better approach in these fields is to provide evidence-based trainings and structured guidelines that clearly communicate specific patterns of discrimination and bias to look out for.
The full report can be viewed on UC Hastings' website.