Did you know this year is the 20th anniversary of the theatrical release of classic witch film The Craft? A common bond among queer women who identify as or with witches is that we love The Craft. It's all about embracing your weirdness and outsider status and using those things to give you power. We connect deeply to these four high school girls who are mocked and criticized for who they are and then connect with others who are going through the same thing and find a lot of strength in that connection. I know I wished I had a coven like that when I was in high school (except, you know, maybe without the attempted murder).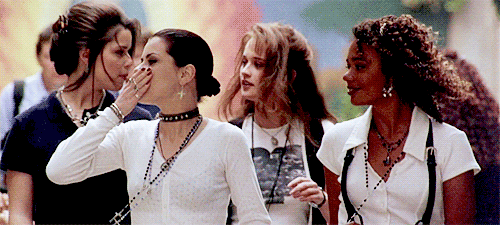 I remember when the movie first came out, I was way too scared to watch it, but I saw a bunch of scenes and I was obsessed. I kept on thinking about Light as a Feather, Stiff as a Board, about that scene where the sharks wash up on the beach, about Nancy. Yeah, pretty much everything about Nancy drew me in. And I wasn't alone. If you look around the internet this past month, you'll see many other people talking about why they love this film and how it changed their lives. Over at Jezebel, they had a roundtable on the influence of the film, and over at the AV Club, they talked about how the film captured the cultural zeitgeist of the time. Finally, had you heard about that possible remake? Well, good news, new reports are coming saying that it's actually a "20 years later" sequel! Now, we're going to get back to Craft talk, but first, here are some great witchy links from around the internet.
Here at Autostraddle, Beth wrote on a topic that will help a lot of us, using Tarot to help with your anxiety and Corina's queer horoscopes totally called me out, saying "Your relationships are in a period of adjustment, and whether some are growing or ending is still unclear; what's important right now is that you keep demonstrating in all your actions that you know how to treat yourself and others with respect. You'll have a chance this month to balance the scales in any relationship that's gotten too controlling or one-sided." Like, dang, that's right in the heart. At The Establishment, Maranda Elizabeth writes about how witchcraft and magic help her heal from the trauma and pain she experiences in her life. Similarly, Maria Turner-Carney wrote on her Seattle feminist therapy website about how many queer women are being drawn to astrology as a resilience strategy. And if you want to read about some witch movies that aren't The Craft, you can check out Flavorwire's list of The Best Witch Movies You Haven't Seen.
---
Playlist: These are His Gifts
https://play.spotify.com/user/autostraddle/playlist/2C2NnD756WrxpNcgQ0cEZg
The Craft 20 Year Anniversary Feelings Fest
Some of Autostraddle's greatest witching minds have come together to talk about their love for The Craft. Also, if you want evidence that magic is real, Stef made that Craft-themed playlist well before I found out it was the 20th anniversary and decided to have all this Craft themed stuff.
I grew up in a teeny little town that absolutely did not (and still doesn't!) want anything to do with witches or witchcraft or teenage girls putting hexes on people from their bedrooms, and yet my mother still allowed me to buy a tarot deck at 13 and a spell book for beginners shortly after. She would've let me have a ouija board if I'd asked for one, but lucky for all of us, I was more interested in candles and chants and spells and cards (and calling Bloody Mary to my bathroom mirror). My friends weren't super into any of these things, and I definitely never told them about my spell book, so all my witchy woo stuff was a solo expedition into unknown darkness, which was exactly how I liked it. But, as it turned out, the boys I thought I had to like definitely didn't want their girlfriends to be telepathic witches, so I gradually drifted away from all the real me stuff and toward a life of khakis and hair ribbons (seriously) and occasional church. By the time The Craft came out on VHS in 1997, I was 16 and I'd had it with that shit — the boyfriend, the hair ribbons, the whole thing. I'd just been absorbed into what would turn out to be an intense friendship with my first Bad Influence, and was ready to make several questionable decisions hither and yon. It was perfect timing. We felt just as pissed off and unstable as Nancy, just as scared and weird as Sarah. We wanted to be in control of something and make things happen for us instead of to us. I bought new candles, brought my tarot deck out from the back of my closet, cut off all my hair and started sitting in the woods outside my house after everyone had gone to bed. I didn't try to invoke spirits or use spells then, but I did tap back into that witchy space that had always felt the most honest and like I could find my own potential powers there; where it didn't feel like I was trying on someone else's life.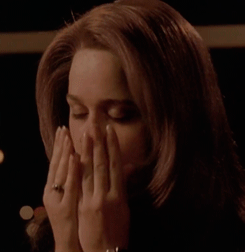 My best friend and I would watch The Craft over and over again, and then turn of all the lights in her bedroom. We would light every candle we could find and try to mimic the spells from the movie that would change our hair and eye color. I know that logically it's because we were basically sitting in the dark, but I remember two distinct moments during which we were convinced the colors had changed, and how thrilling that felt, like we too had power in us that we could draw out and harness.
The Craft was rated "R" in the US but M15+ in Australia, which is where I was for a small chunk of the summer of 1996, so that was our big chance to see it in the theaters. I mean, I was only 14, but like, come on, that's so close to 15! And it's not like we were carrying IDs with our ages on them, not then, so what was she going to do, ask for our passports. Well she did. She thought I looked young and wouldn't let us in without proof. "What a bitch," was our main thought about that. My aunt was 16 and my best friend Kristyna was 15, so it was my fault, I was stupid and young and I was ruining everything. My aunt went back to our hotel and Kristyna and I sulked around the streets of Surfer's Paradise for a few hours until we met these two random cute surfer boys who took us back to their motel to smoke weed. That was the first time I'd ever smoked weed. I took one hit but was scared. We spent the whole next day with them, too, and I wrote in my diary that the bitch who wouldn't let us see The Craft turned out to be awesome 'cause it enabled us to meet those boys. Then my aunt and Kristyna went to see The Craft without me. I had dinner with my grandmother who got mad at us about letting the boys use our pool. It wasn't until December of 1996, visiting a friend in Boston, that I finally saw "The Craft." By then it was on video, which meant it could become a part of our lives and we could rent it and watch it over and over. Like I was a teenager who felt different and so were these girls, but they were also really pretty and wore cool outfits. When someone pissed us off or stole the boy we liked, Kristyna and I would do the chant "I bind you Lizzy, I bind you from doing harm unto others and harm unto yourself." We loved those actresses. We wanted to be pagans too or witches, maybe. Anything that would make us feel powerful because mostly we felt like we were at everybody else's mercy. We wanted skirts and big boots, like "I will french kiss you and then stomp on your face." I wanted to be Neve Campbell. I wanted it to be real. We tried Light as a Feather all the time, but I can't remember if it ever worked.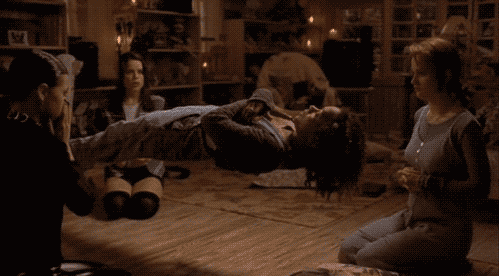 ---
Witches Who Sing
---
Words with Witches
by Rachel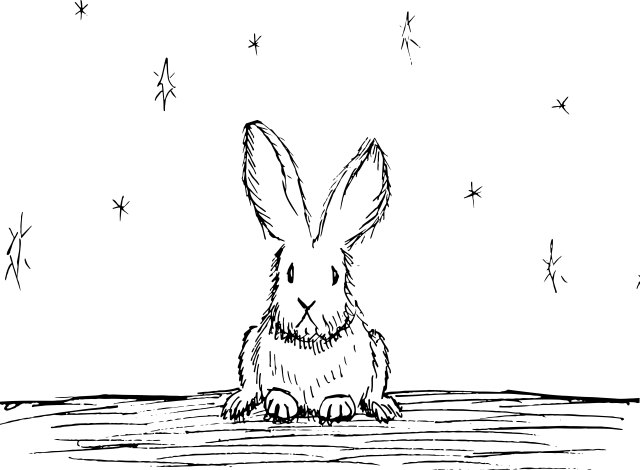 Familiar (noun): supernatural entities believed to assist witches in a variety of ways, including protection for young or untrained witches. It is thought they could appear in several forms, including animals, humanoid figures, and ghostlike apparitions. In an animal form, familiars are often imagined as small animals, like ferrets, birds, toads, hares, cats, rats, or dogs. In medieval and colonial conceptions of the witch, a familiar might appear as a black or red animal sighted around the village; seeing an animal of this description could be construed as a sign that a witch was working somewhere in the community. Lore held that a familiar might suddenly appear to a witch one day out of nowhere, or be passed down by a mentor witch. Familiars are sentient and separate beings who enter into a mutual contract with a witch, agreeing upon issues such as the length of a familiar's service and tasks performed. Some folktales have witches feeding their familiars from an extraneous nipple somewhere on their body; others say that familiars are sustained on milk, bread, meat and/or blood. Modern-day witches may think of an animal in their life as a familiar, or interact with spirits or thoughtforms as familiars.
---
Astrology Altar Essentials – Earth Signs
by Cecelia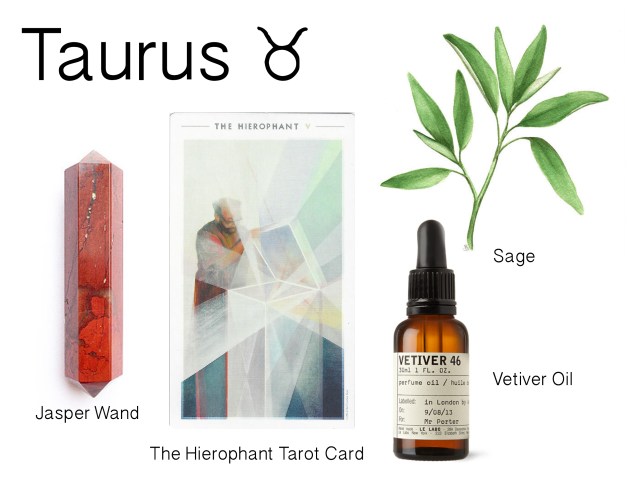 Taurus
The best description of the outdated Hierophant card, which is associated with traditional institutions and religion, comes from Beth Maiden of Little Red Tarot. She says, "It's about roots. About knowing where we've come from.wp_postsTaurus has a deeply intuitive sense about how roots connect to spirituality. This card reminds you to ask: have I checked in lately with the messages of my ancestors? They might be trying to tell you something. Vetiver oil is comforting, earthy, and sensual and it helps bring out these qualities of your aura. It also provides you with inner strength for spell work. Jasper is your protection stone and helps you do something you enjoy very much: relax and appreciate beauty. Sage works to make you feel safe and secure working with magic that explores deeper aspects of your psyche.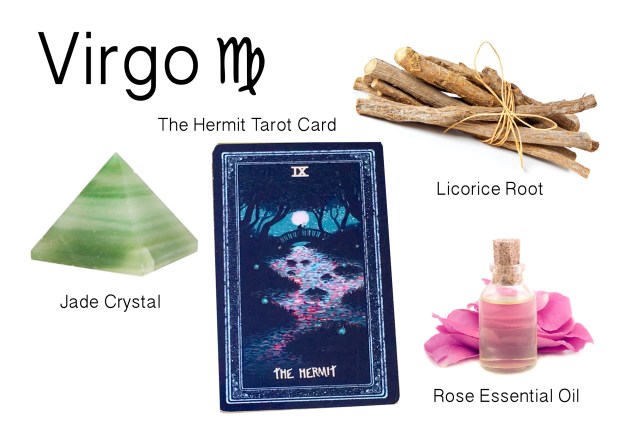 Virgo
The message of the Hermit card is one best understood by Virgos. It's about prioritizing space to learn, grow and study. When you feel caught up in the stress of a million projects, the Hermit reminds you to take a step back and find joy in your work. The energy of the Hermit will make your altar a productive space of solitude, and will help you find the answers you seek within yourself. The Jade stone is protective and supports your ability to make clear, quick and precise decisions. Rose oil (and Rose water) brings out your confidence and helps you connect with your desire to love and find harmony in your relationships. Licorice Root works to repel negative energy in magical spaces.
Capricorn
Try not to be offended that the Devil card is traditionally associated with Capricorn. It seems harsh, but viewed in a positive light, it points to the Capricorn ability to work with determination, live an ambitious life, and go to unimaginable lengths to fulfill their dreams. The Devil card asks you to be honest with the lengths you are taking to accomplish your goals. Are you building unhealthy habits to get something done? There's a reason Capricorn is the Get Shit Done sign. Sometimes through such a focused channeling of purpose, we lose touch with the choices we make to stay safe and healthy. Blue Lace Agate is a good stone for communication, and it'll come in handy when you need to take the position of Diplomat and remain composed, confident, clear and mature. Melissa essential oil is good for meditative purposes, and it can help you understand what lessons are most important to take with you moving forward. Comfrey is a good herb to carry around for luck and protection – it's considered especially lucky for attracting money.
---
My Favorite Witch
by Rachel
There are lots of representations of supernatural powers in Penny Dreadful — weird devil magic! Shapeshifting witches! Werewolves! Most of them are fantastical, dark and brooding, even sexy. But the character I couldn't stop thinking about wasn't glamorous or omnipotent. She was the Cut-Wife, or Joan Clayton: short, rough, craggy, and grumpy. In a show set in a magical fantasy world, she seemed painfully real.
The Cut-Wife lives in the rural wetlands, isolated and in seeming poverty; her name comes from the abortions she provides to desperate women and girls from the nearby village, who will turn to her for help in a time of need even though she's a despised outcast. Whereas other characters came by their powers through ~mystical means~, it seems like Joan learned through training and practice. She knows the names of the herbs in the local woodlands and what they can be used for; she's studied the meanings of tarot cards. She takes on the show's protagonist, Vanessa Ives, as a protegé, and as a teacher, Joan's tough and fair. When her end comes (it's not a show where good things happen to people, as a rule), it's one that we're familiar with from real history: she's turned upon by the same village that relied on her healing powers because it became politically expedient to kill the witch, the outcast woman.
The risks Joan Clayton takes to provide unsanctioned support for other women who need it, even though she knows she won't be thanked for it, feel endlessly relevant — I can't help thinking of abortion providers who treat the same people who protest outside their clinics, knowing that their patient will be back out there shouting next week, or those who go to great lengths to provide medical abortions or medical transition options to patients who can't access them through normal channels. Women who use their limited power to help those who have even less; women who aren't necessarily always kind, but are good.