As soon as I told my mom I was going to leave, I promised her I would come home. I figured spending time back where I grew up would remind me why I was leaving, would put me into the right space to finally pack up the last of my mug collection and get going. I didn't really factor in, though, that spending time around my mom in the town where she raised me would make me emotional and hella anxious. But that part comes later!
---
Tuesday, 9/1
Right now, we'll just start at the beginning: the part where Geneva, my live-in BFF Soph, and I loaded up my tiny Chevy Spark with a massive suitcase, a smaller but still quite large suitcase, four reusable shopping bags, three backpacks, a duffel bag, and Eli's car seat.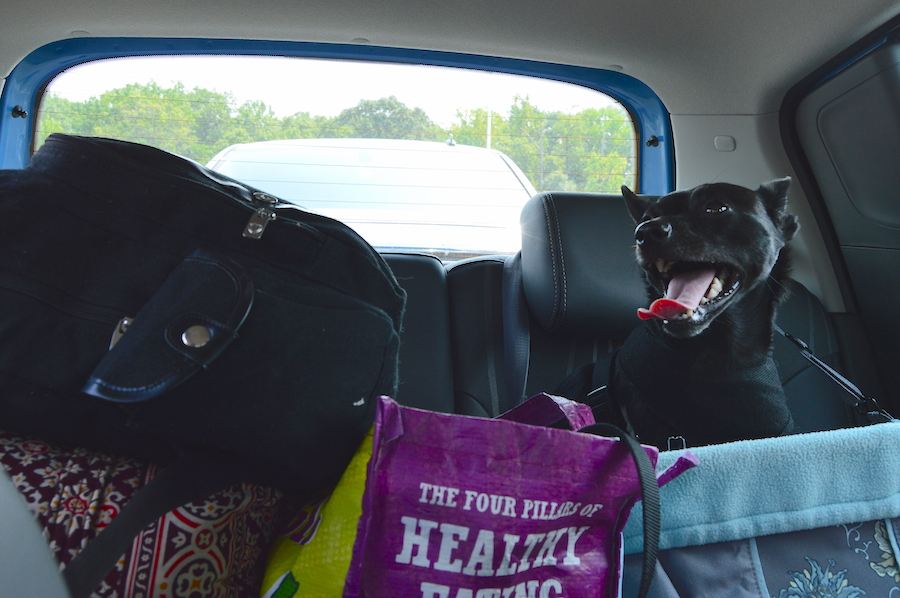 I didn't like how crowded the car was, but I figured I had to get used to it and focused instead on tuning my XM Radio to E Street Station and counting how many Bruce Springsteen songs I knew by heart in the first two hours of the ride to New Jersey from my place near Capital Hill in Washington, DC.
I drove the entire way, y'all! Like a fucking champ.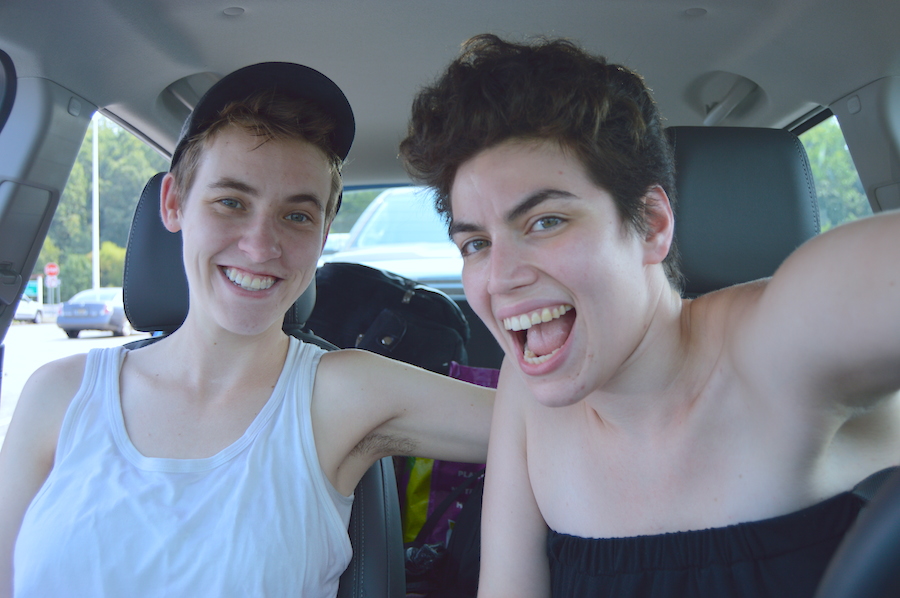 I am, um, not a super experienced driver. Which is to say, I am a newly licensed driver who had never ridden on a highway for an hour-long stretch before, let alone four to five. But the highways to New Jersey are wide open, and easy to navigate, and fast-moving. Those highways made me feel free and limitless and happy.
And then, before I knew it, we were home.
We rolled in to my mom's place at about 3 p.m., said hello to her a million times, let Eli snuggle with her until he felt ready for us to leave again, and then headed out to the Wayne Hills Diner, which is my spot. I got spinach pie, which I get at this diner every time I'm just coming back from DC and typically in the midnight hours. Geneva got my favorite salad, the one that comes in a big tortilla shell.
Our trip to New Jersey marked the first time Geneva had really met my mom, minus the time my mom came down to DC to help me buy my car and I took us out to dinner, and it also marked the first time ever that I had "brought someone home" to my mom's tiny place. Knowing that my mom and I have a bit of a tumultuous history when it comes to the whole queer thing, I wasn't sure how it was gonna go being in closed quarters with her and for so long. But dinner that night was perfect: conversation came easy, everything felt calm and right, and also everything was delicious. It hit me there just how far my mother and I had come, and just how happy it made me.
My mom and I were best friends when I was younger, which I'd say in a self-deprecating way to cover my ass except I don't think there's anything wrong with it. We did everything together, and she was my biggest hero and inspiration. I wanted to be just like my mom, and I wanted to make her proud. But we went through some rough patches after I went to college, and I sort of stopped going home at some point, and things shifted for a while. Now I feel like I'm 25 and my mother and I finally have the adult-to-adult relationship I'd always dreamed of having with her — the kind where we look each other in the eye and tell the truth and show each other love without holding back.
I wanted to go to New Jersey to see my mom before I left for California because she was my entire world for 18 years, and I'll need her for the rest of my life. But I don't think I realized how hard it would be to take on my journey and feel like I was leaving her behind until I sat across from her in a diner booth in New Jersey and finally, for the first time in a long time, felt like I had come back home.
---
Wednesday, 9/2
We hadn't even been in town 24 hours before we embarked on yet another road trip, this time in my mom's car with me riding shotgun and Eli and Geneva in the backseat. We drove three hours north to Lake George Village on Wednesday, which was the place my mother tried to take us as much as possible when we were kids.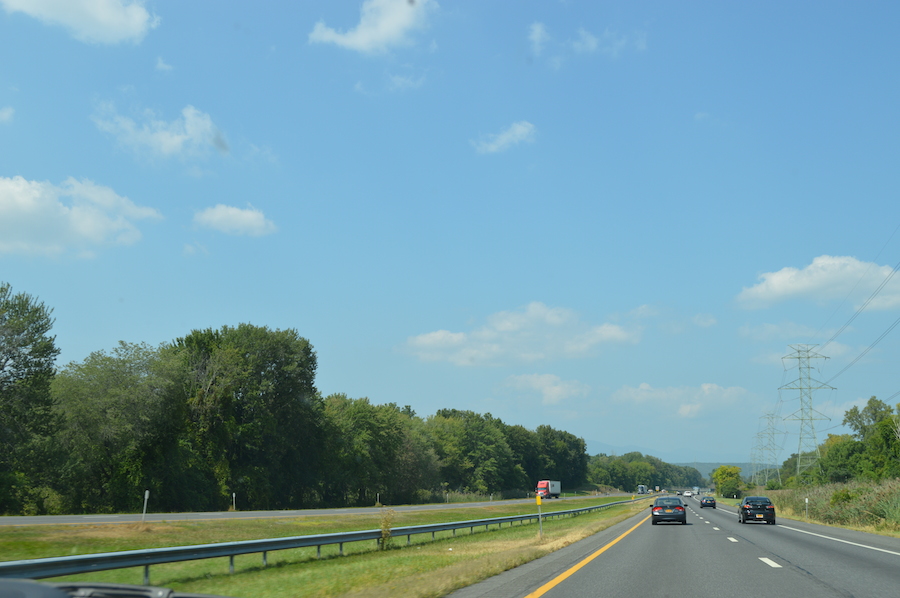 We used to drive up there every year, once in the summer and sometimes again in the winter, just to do the same old things: mini-golf across town where I grew up playing Around the World and Around the US in 18 holes each, ice cream at the place with the pink roof that my mother swears is the best she's ever had, lunch cruises on the Lac du Saint Sacrament that I used to dress up for in my persistent pursuit of adulthood, the blackjack game in the arcade across from the pizza place that has all the best prizes, and watching the lake for hours from streets lined with benches and flowers in silence, as everyone should once in a while.
Eventually, our summer vacations tapered off as we got older, and I realized this year that I haven't been there in probably a decade. I couldn't leave the East Coast without going back one more time, and I wanted my mom to come because really it's her place. She used to always tell us that she wanted to own a motel in Lake George, a dream she'd been thinking about and working on since before she married my father, and I used to promise to help her make it happen. Instead, we usually settled for slices of pizza at Capri and went home.
Lake George is slow, serene, peaceful and innocent. It's everything. There were bright, blue skies and friendly people and cute little stores and family restaurants and places my mom used to love to shop when we were kids, all still in a line on Canada street. Some businesses we loved had gone out in the years since we had last vacationed there, but Lake George still felt the same. There was still a sense of community, of small-town grandeur. There was still the overwhelming weight of simplicity and the overwhelming beauty. Being there instantly transported me back to my childhood, to all the times I'd made my mom go in this store, or that one, or she had fit all of us into a tiny motel room on the lake and made us appreciate the spectacular view.
We stayed at the Lake Haven Motel, in a room directly connected to my mother's room next door. We did not think the rooms were going to be next door to one another, and never in our wildest dreams did we think they'd be connected. But whatever. We just opened the door and let Eli run around both of them whenever he wanted, because if there's anyone he loves more than me, it's Geneva, and more than her, it's my mom.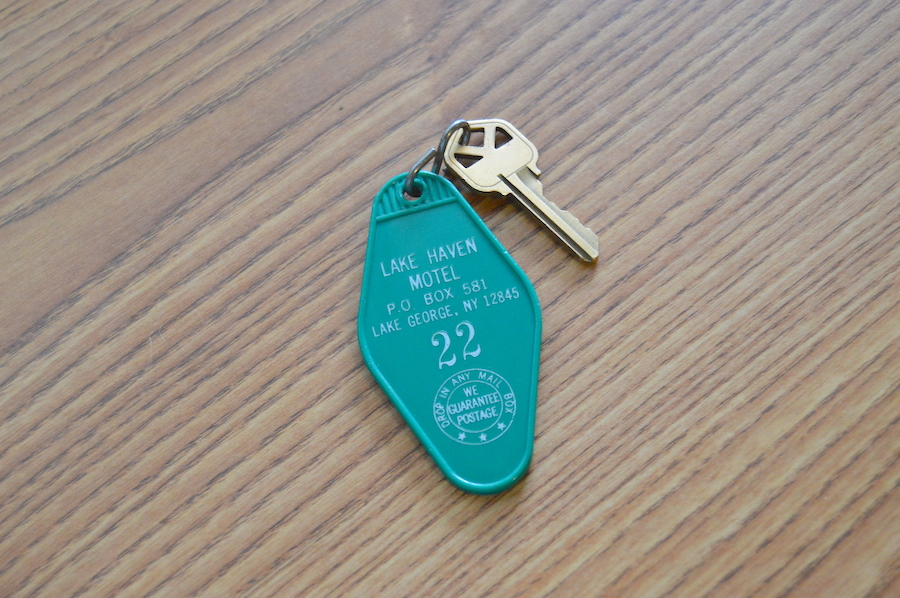 We got to Lake George late, because I'm my mother's daughter and the two of us can't get anywhere near the time we wish we could on any occasion. So we got to the hotel, dropped off our stuff, and headed directly out to the good stuff. Canada Street, where most stuff is located, was kind of sparse since it was the middle of the week in September, so we took our time and strolled into the Adirondack Winery for a tasting. Rough Translation: We got really drunk together within the first thirty minutes we spent in Lake George.
I selected zero red wines, finished off a game of "cork" solo in under twenty minutes, fell in love with a Riesling, and then upgraded my wine tasting package so I could chug a Wine-a-Rita and die happy.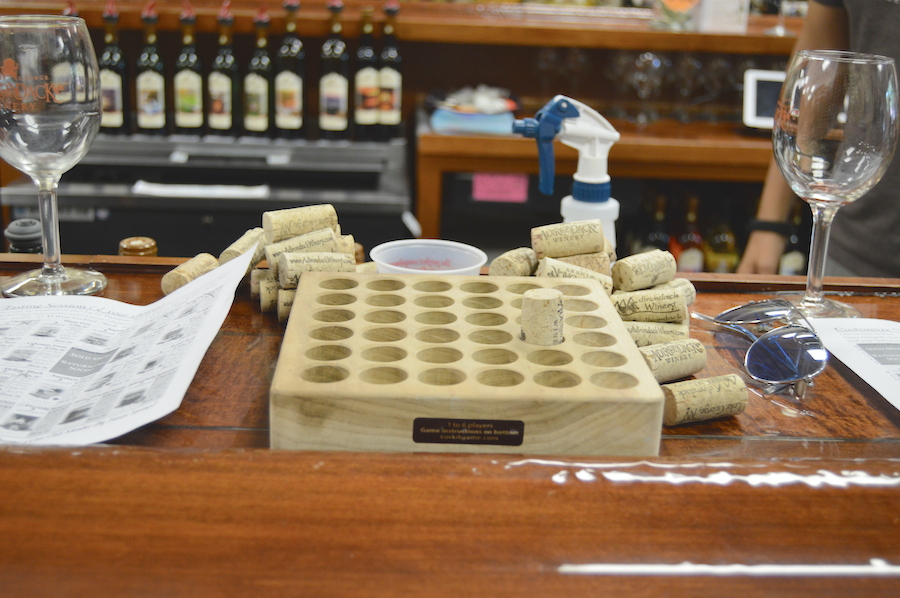 Afterward, we headed out to see more of what had changed and stayed the same downtown and Geneva and I ran into this bear.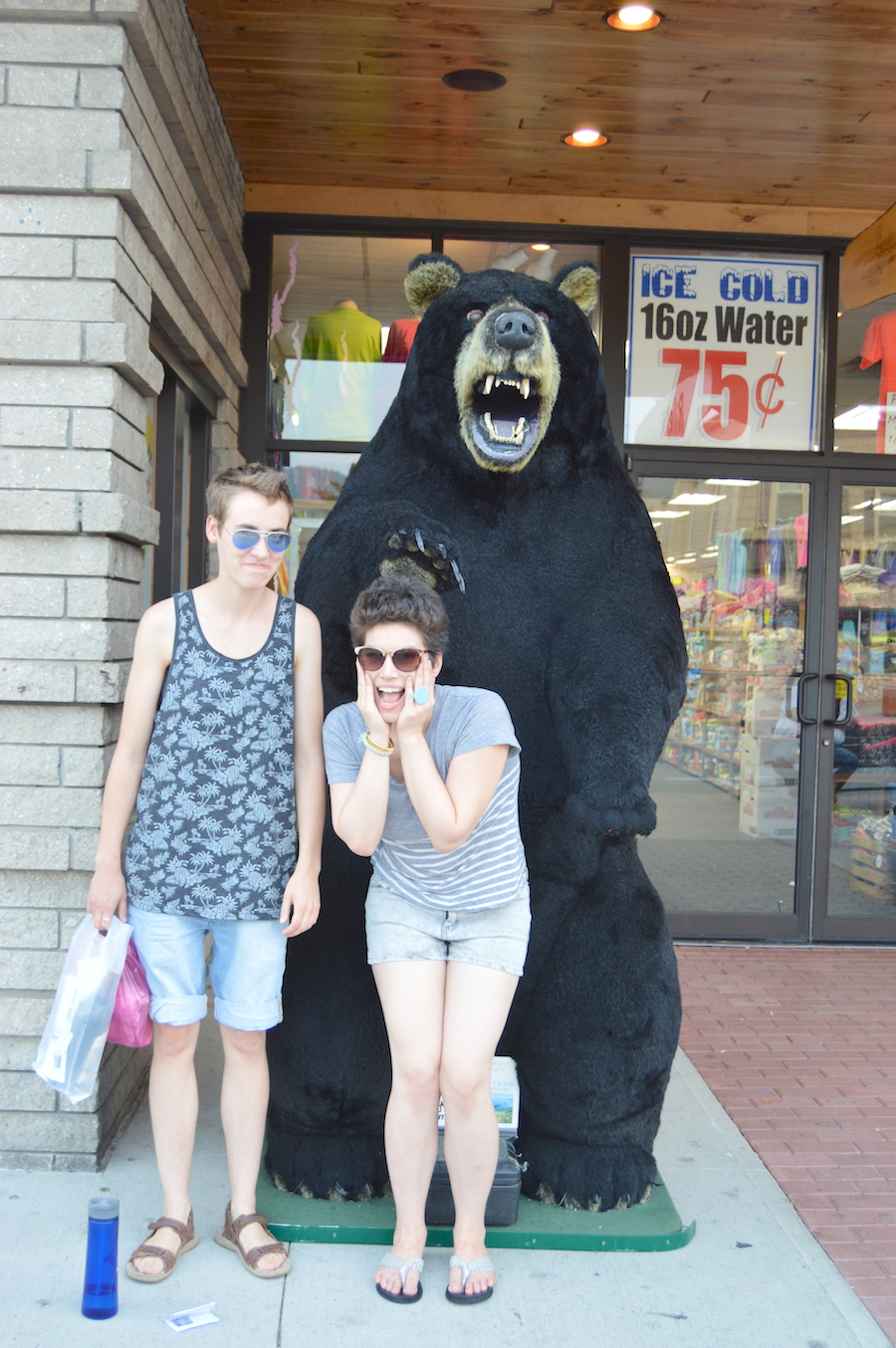 We went down to the lake so I could take a lot of photos while pretending to be invested in our search for the right place to eat dinner. I knew we were gonna end up at Mario's anyway, so I figured I'd just look out at the boats.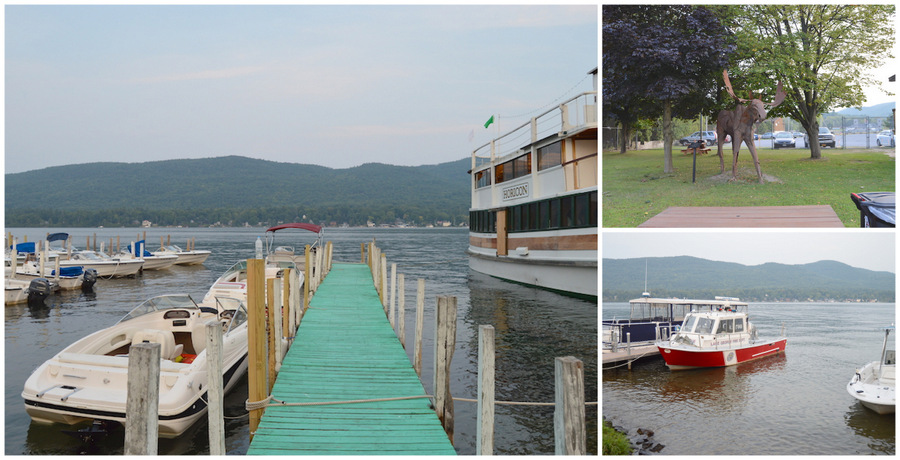 NOTE: I was right, just so we're all clear. We went to Mario's, where I ate the lasagna and maybe broke my vegetarianism to eat some shrimp scampi out of my mom's plate. And then we went to bed, as those who are too full are wont to do, after my mom and I took a solo walk to the lake at night in a feeble and short-sighted attempt to play mini-golf. We scratched the plan and went back to the motel, where I stayed up watching a rerun of the VMAs instead of going to bed so I could wake up on time. 
---
Thursday, 9/3
The alarm clock was supposed to go off at 7 a.m. on Thursday morning and play a country station, which I had picked out in a sleepy haze the night before. Instead, it blared and blared until Geneva and I crawled out of bed to shower, slow-moving and still contemplating Nicki Minaj's amazing shot at Miley Cyrus from the night before. Also, Eli was there, which makes waking up really difficult. He's kind of a snuggle muffin.
We got started on the day at 9 a.m., when my mom handed Geneva and I some free breakfast pastries from the lobby and I took Eli on a walk. We headed out to the Prospect Mountain Diner for eggs, hash browns, toast, and also a chance to read the Lake George Mirror, which I didn't realize wasn't free when I took it I swear.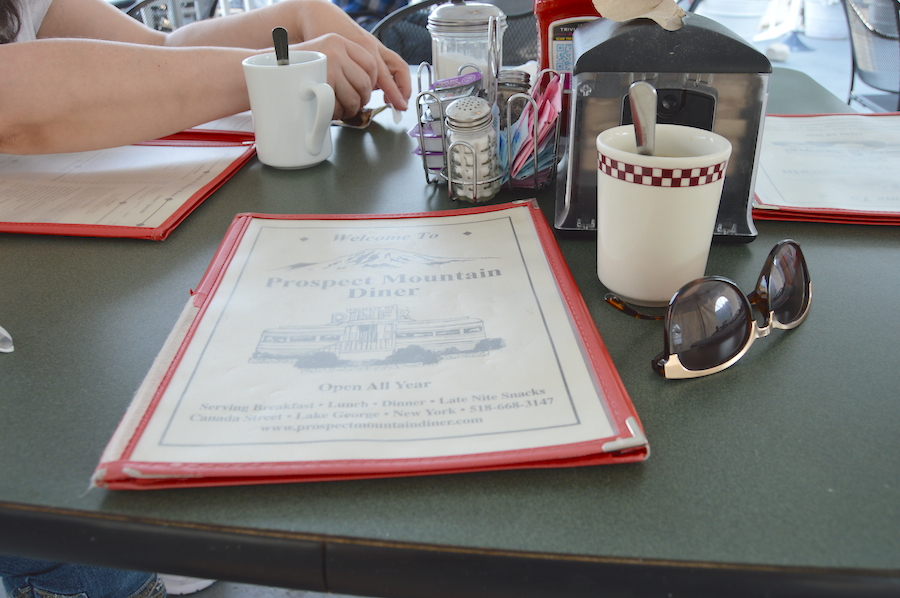 Afterward, we made good on our commitment to mini-golfing. Geneva and my mom tied in first place, and I lost by one point, but that was okay because we went Around the World before noon and it was adorable. Literally nothing had changed on this golf course, which is one of a few places in the Lake George area where you can navigate a golf ball around tiny obstacles in a feeble attempt at the par of 4 on any given day but definitely the best of them all. We still saw Paul Bunyan, the Taj Mahal, and the pyramids of Egypt. And I still struggled to get my ball around the damn sombrero rim.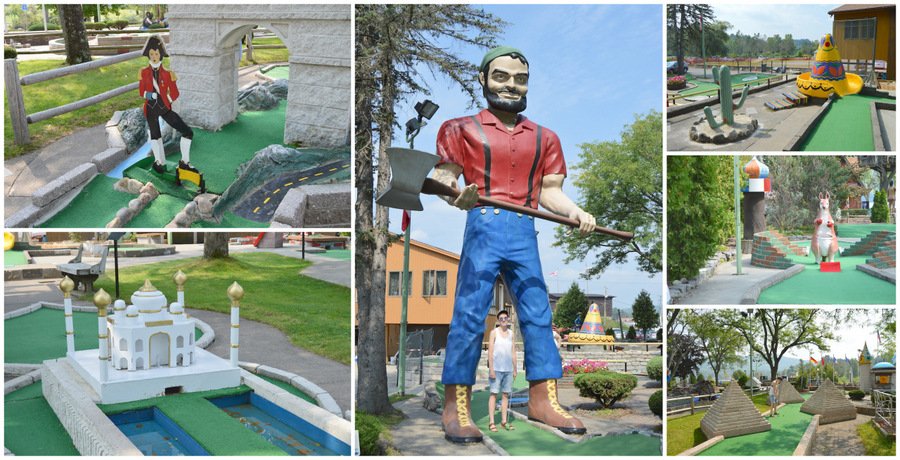 (Also, Geneva won a free game by getting a hole in one at some point, unlike this guy!)
We got out of there right in time to check out of the hotel right at noon, after which we headed back down to the lakefront and snagged ice cream at The Pink Roof. I got raspberry soft-serve in a chocolate-and-peanut-dipped waffle cone because you only live once. Then, we walked Eli along the dog beach before we got back in the car to head down to Jersey, which he enjoyed for like, a minute. And then, I put his beach hat back on and all bets were off, because he doesn't get how cute he looks in it yet.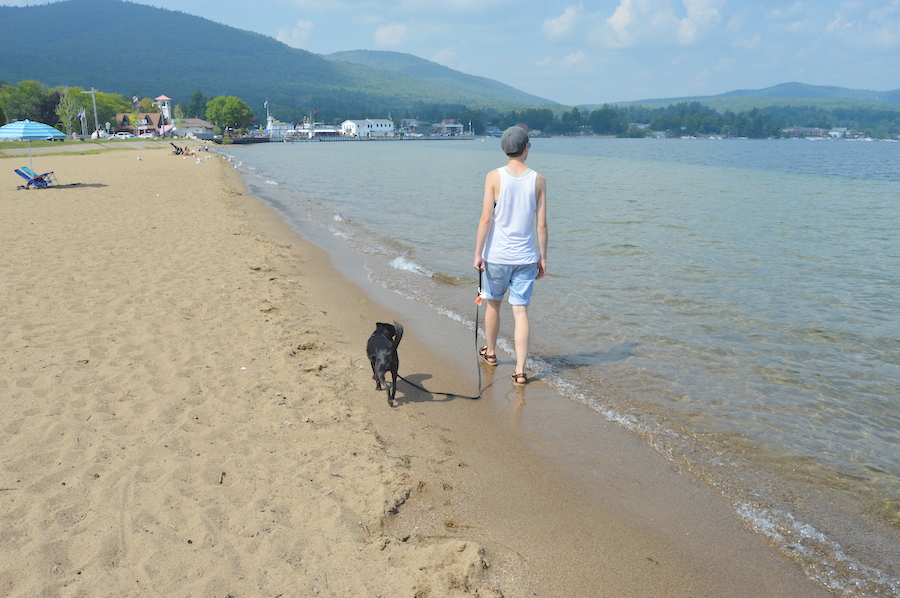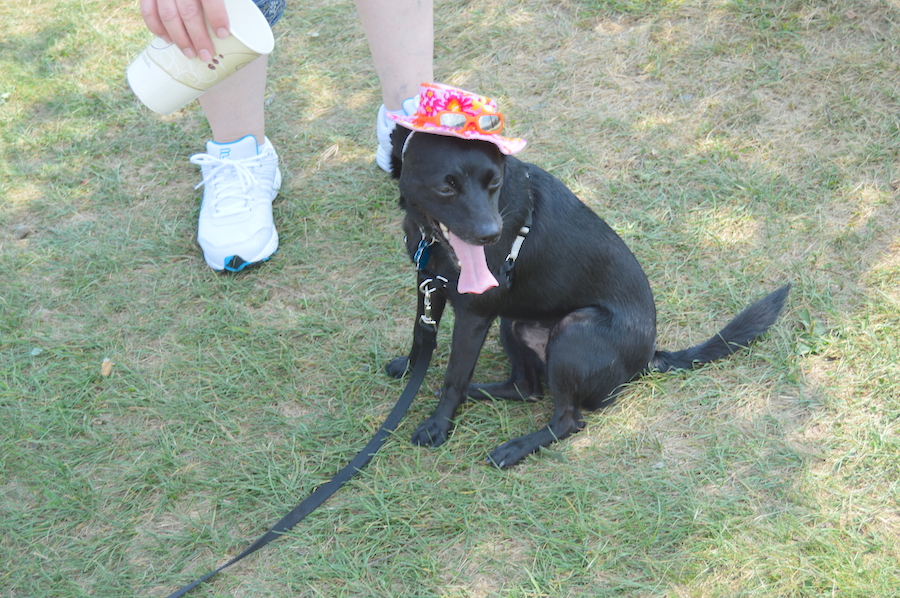 He spent the ride home hatless in the backseat, and I spent it experiencing waves of intense anxiety, nostalgia, and panic about my move. I guess maybe planning a trip home in which I relived my childhood right before driving 3,000 miles away from the places where it all went down maybe wasn't the best idea? Or at least, that was how I felt in those moments, in which I was surrounded by things I love just seeing or smelling or touching again and all I could think about was how sad it was going to be to say goodbye to them. I was a very happy tiny person. I loved each and every second of time I've spent in Lake George, or home in New Jersey, or riding shotgun in my mother's car. And I'm scared of what it will be like to be thousands of miles away from all of those moments.
I am not a person who often feels super confident she is doing "the right thing." Like, other people seem to have these instincts or understandings of themselves and they seem to always sort of know, very decisively, what they want or what they need to do or what would make them happy. In comparison, I am the sort of person who struggles to make decisions about even the tiniest things like what to order at the Wayne Hills Diner and often second-guesses herself.
I wanted being home to make me sure that I was ready, that it was my time, that this was a thing I really did need to do and was going to be able to do. Instead, I found myself sitting in my mom's car wishing I could have a million things all at once: my own life, my crazy and wild dreams, and all the stuff those things mean driving away from to get to. Instead, I was scared I wasn't strong enough or ready enough or the right person enough to make it work.
It was the day I cried in front of my mom, or at least the first day I cried in front of my mom. But I think that was important, because I know there had to come a moment in which I said all my fears and hesitations about this stuff out loud to her before it felt okay. And the rest of the way home, we just cruised down the highway listening to the radio in quiet reverence of it all.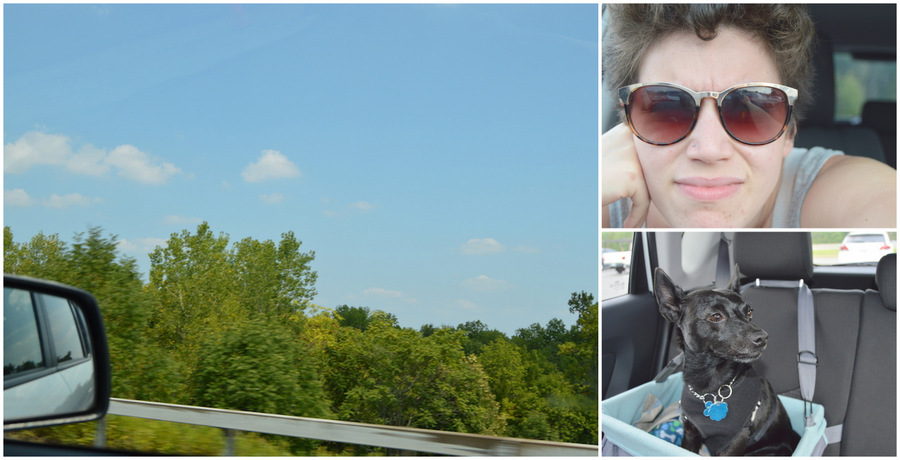 ---
Sunday, 9/6
The next few days in Jersey are a blur. Actually, they were a whirlwind — of chores, diners, emotions, and long walks in my mom's yard. We got my prescription sunglasses, ate pizza and got really good Italian food with my grandma. Geneva and I even went on our first trip as a couple to a laundromat, where we watched Saved by the Bell and ate egg sandwiches from the convenience store next to it. In the middle of it all, I was having conversations with a lot of different people about the trip and attempting to calm my nerves, which helped.
I went to New York City to see Josh, my BFF from college and hands-down the coolest person I know. He lives in Bushwick, which was only about a million years away from the train station in Ridgewood where Geneva and I got dropped off by my mom on Sunday afternoon.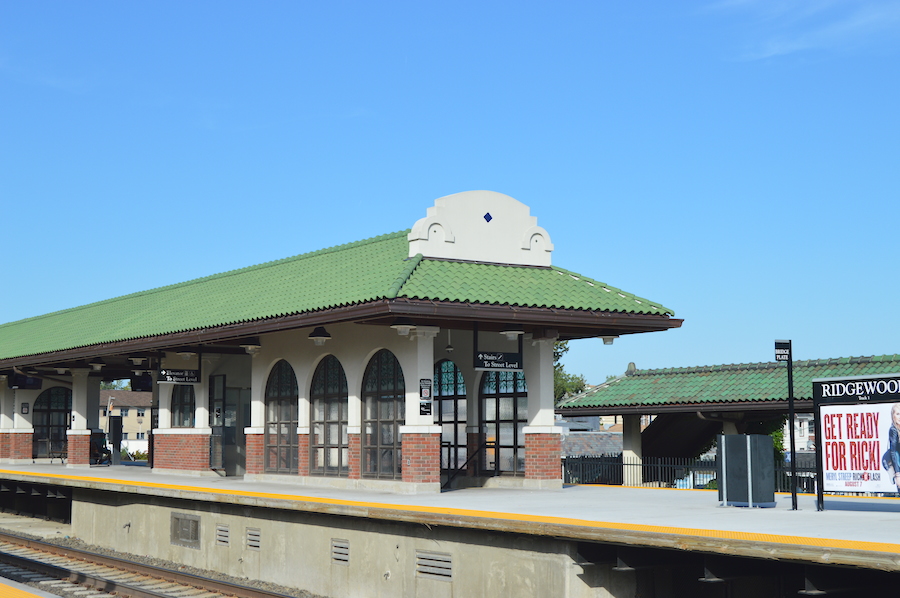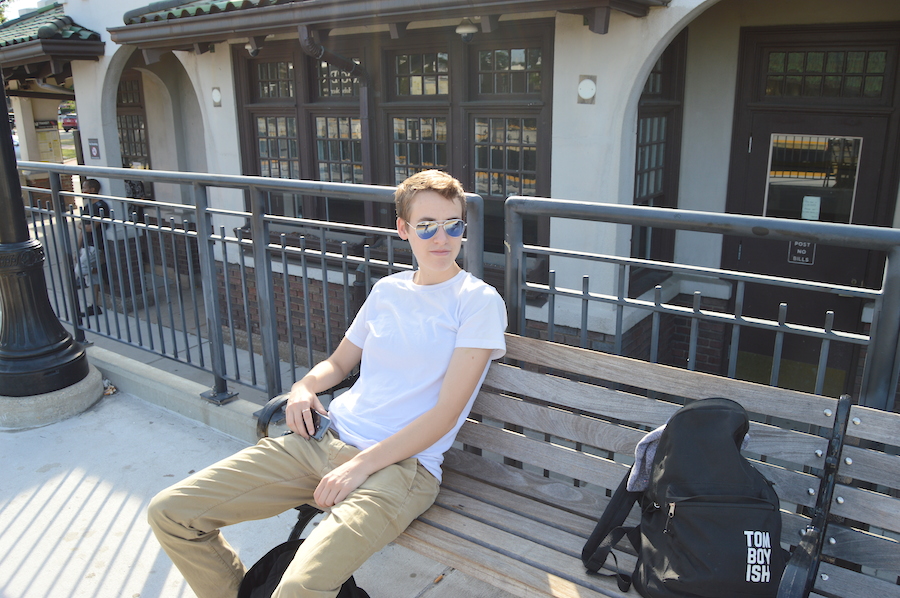 New York City and its surrounding boroughs are far from my favorite place to go, but I'll make the trek for Josh. The NJTransit ride there is actually really beautiful: We passed through forests, fields and small town centers on our way to the city, all from the comfort of our own booth. Geneva took a nap while I stared out the window, remembering all the times I'd taken these trains to and from the city to get to internships or big feminist events when I was in college. I used to wake up at the crack of dawn and commute with a bunch of stuffed shirts to New York when I was 19 so I could try and save the world, and on the way I'd always take a moment to look out those windows. New Jersey is really beautiful, you guys. It's okay if you don't believe me, because you'll just be wrong and I'll be right.
Eventually, the views ended and we entered "The City." We hopped on a subway and then we were there! Well, JK. First we bought $14 iced teas. Then we were there. Fuck you, too, New York.
Josh took Geneva and I to Bushwick's Living Room, where I got a veggie cheese steak and Forest Point, where they serve brunch with bottomless coffee under a bunch of trees growing among tables. Shout out to Marina, who came all the way from wherever she lives in that godforsaken city to join us there despite being the only one who didn't order a Bloody Mary.
We watched Wild when we got back to Josh's place on Sunday night, which felt appropriate. I've read the book twice just to remind myself that I can do adventurous things and be better for it, and the movie made me cry in all the ways I predicted and really wanted it to even though I liked the words on pages better than the moving image of it. The whole time I watched it I just remembered that Cheryl Strayed carried all of her belongings on her back and repeated I am not afraid to herself and walked thousands of miles through deserts and winter storms and rain and the unknown and survived. I will figure it out, I reminded myself. I will figure it out. I will figure it out.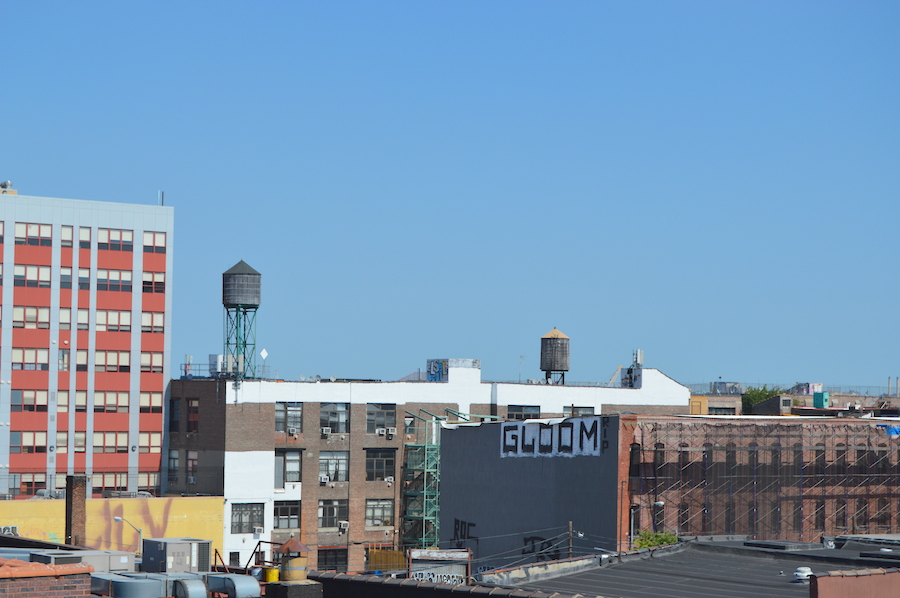 ---
Monday, 9/7
We got back from New York late. Like, later than the time I had predicted we would arrive because we had run late. It was 5 p.m., people. AN ENTIRE DAY HAD VANISHED. The good news? It was that way (partially) because we got lost and ended up at the Empire State Building.
But we got home! We did! And when we got to the Ramsey NJTransit station, we had only a few hours left to do all the things and see all the stuff before we headed back to DC in the morning to finish packing and them embark on yet another massive trip while attempting to remain calm and well-snacked. But my mom wasn't there when the train pulled in, so Geneva and I just strolled around the area around the station and held hands.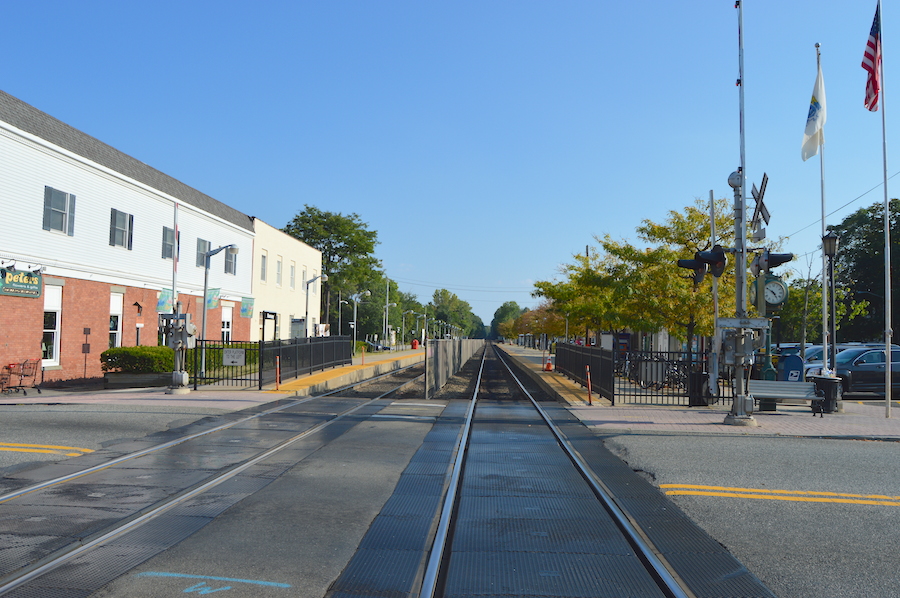 Later that day, we went with my mom to my grandma's house one last time, which was always a special place for us as kids. My brother and I spent nights there when my mom worked late, and we've eaten Sunday dinner there in the early evening every week since we were four and five and came back from Puerto Rico. We used to venture down to the basement to play with toys or sit on the old furniture or help my grandma and my aunt carry up decorations from the bay window. I used to be in charge of refilling my grandma's sugar containers for her coffee and sometimes I would drink some with her out of the Mickey Mouse mug she still keeps for me in the cabinet.
My brother and I grew up in assorted houses, and we moved a lot. But my grandma's house has been around for decades, and it's alive with the past. My mother grew up there, starting at the age of 12. The dining room still has a low-hanging stained glass light in the middle of the ceiling that you can see in old photographs. The room my brother and I used to play video games in used to be my mom's bedroom. The bay window, still full each season of the same decorations, was my favorite thing to decorate and stare out of as a little girl. It's all still there. It's all still standing. It all still feels like home.
I wanted to go to my grandma's and walk around the backyard and remember being a tiny human there, which came easy. The big pine tree! The grill that used to have a bee's nest in it! The pool we pretended was quicksand! It was all still there, still in place, still frozen in time. I wanted to breathe it in, so instead I took photos 'til my camera died. Which was approximately five minutes after we went outside and twenty before we saw the deer in the yard, so I apologize in advance for not including them.
When I to my mom's, I took Eli outside by my lonesome and walked around there, too. My mom lives in a big complex of houses-turned-apartment buildings, and the property is massive. It's full of trees and bushes and grass and hills and knolls and it's just craziness, like it's so pretty it's actually crazy. I didn't grow up on that property, not at all, but it still feels like home. It is home. Wherever my mom lives or has lived or will live in the future will always be my home. Or at least one of them.
Plus, Eli likes to play basketball here. And that makes it a little more special, too.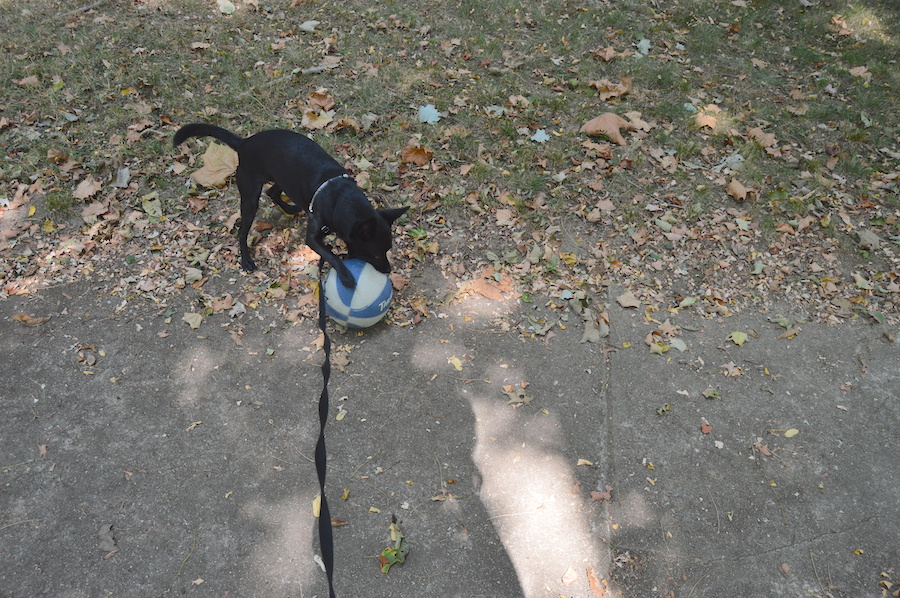 We spent my last night home the way we spent a lot of our nights in New Jersey — drinking wine on the sofa in my mom's living room with her and shooting the shit. It basically became a routine while Geneva and I were in town: we pop the bottle, we get a little loopy, we laugh, Eli starts trying to force us to throw a ball to him, he wins, I eat but no one else is hungry, I fall asleep and everyone else is awake, rinse, repeat. We toasted to a different thing or person or whatever it was each time: once for my mom, once for Eli, once for the trip. "I'm gonna call it that," my mom said that night. "It's just a trip." And I nodded along, because for the first time ever I was comforted by the idea that I could always come home again, if I wanted.
---
Tuesday, 9/8
My mom took Geneva and I out for breakfast on Tuesday morning, and then we went back to her place and Geneva carried all of our stuff out to the car so I could cry in my mom's arms. I mean, she did it because she knew I needed time with my mom, but that's what that meant, right. That's what I did. I alternated between packing up my stuff and taking down directions from my mom and then crying in her arms. And she cried, too, duh, because she loves me and she's my mom. She sent me along with food and dryer sheets and a little blue wooden square that had "I love you to the moon and back" painted on it to hang in my new place, and I promised I would call more, and she told me she would miss me and wished I wasn't going so far away and I told her I'd be home before she knew it, for the holidays, in November and in December.
"I'm not gonna hold you back." That was what my mom told me about a year ago when we were driving in her car on the highway and I told her I thought I might move soon to Los Angeles. She told me about how she thought about moving to Colorado and how she wanted to open that goddamn motel and how she hated being far away from my grandma when my dad made her move to Puerto Rico.
I told Geneva on the trip when I was freaking out that people in my family just don't do this, they just don't pick up and leave or say goodbye or go far away. My family is full of people who chose to stay home, who chose to stay close, who thought about leaving but didn't. But my family is also full of people who are happy for me, who support me, who want me to do what I have to do. "You've gotta live your dreams," my grandma told me the day I got my license. "And you're gonna love it there." And my aunt gave us some quarters for tolls and walked me to my car to come look at it while I put them in the glove compartment and whispered to me, "California or bust." My family is full of people who stayed, but that isn't a prerequisite to their love. I knew saying goodbye to my mom that we were gonna be alright, and that she would still be there when I needed her, and that more than anything she just wants me to be happy.
And so I got in the car and drove back to DC, where the only thing left to do was leave. My mom directed us to a different route on the way back to DC, one with slower roads but more grass. We went through Princeton to Philadelphia, skipping some tolls on the way, too. Geneva and I split driving, mostly because I wanted to sit in the passenger seat and think about life for a little bit.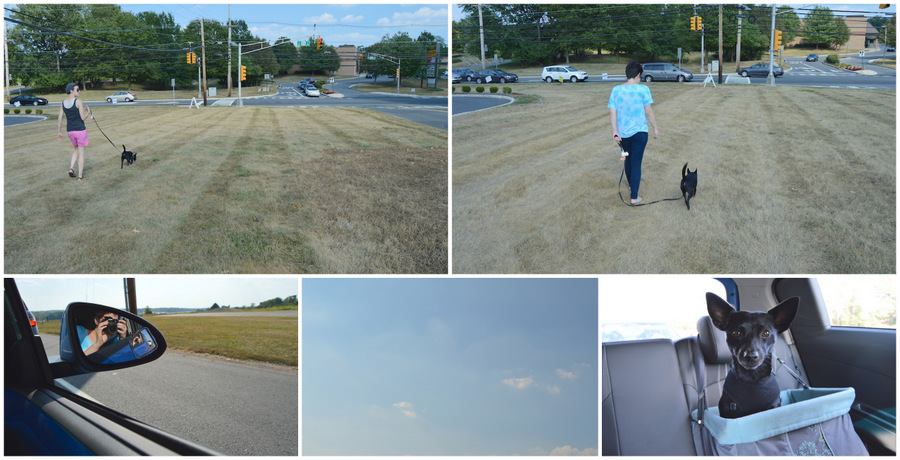 We got to DC late, because the hashtag of the trip should be #latelatelateforeverlateblah. But that was okay. We skipped packing, hung out with Soph, and reveled in the last few minutes we'd have of any sort of home for a little while.
---
Wild Child West is a mini-series about this thing I'm doing with my life wherein I quit my job so I could pursue my dreams and fulfill my intentions as written in my copy of The Desire Map in Los Angeles. Alongside road trip diaries and all of my feelings here on Autostraddle, I'm also posting live from the road using the hashtag #WildChildWest on Instagram and Twitter, so.