Autostraddle is pleased to premiere the latest video from Toronto-born, Bay Area-based musician Lila Rose's most recent album, WE ANIMALS. "This Could Be Ha" is a collaboration with the album's co-producer Daniel Garcia (who also appears in the video as "the ego").
The song itself is haunting and almost dirge-like, punctuated by moody drum fills and somber layers of icy vocals. Filmed in the Valley of Fire in Nevada, the video for "This Could Be Ha" matches the song's sparse, lurching melodies with a very literal visual interpretation of the song's lyrics. As Lila tells it, "It was an amazing and intense experience to be out in the blazing hot sun filled desert filming all day just me and him without any crew at all. It was indicative though, of the meaning behind the song: that it's important to remember the basics for which we have been given in life — food, water, shelter, safety, no matter how deeply we might experience difficulties in our every day lives… Things can always be harder, when we remember the bigger picture. Lest we forget the struggles happening all over the world — the immense suffering which puts into perspective all the blessings we have been given. We get to choice our approach to life every single day (specifically in the Western world)."
"'You make things harder, harder on yourself, so go easy, easy on yourself.' These words inspired the vision of
Lila
walking through an intense journey, looking for answers, looking for life, searching for a way to release, to feel at peace. And the Only way to find this is through the mystic death, the death of the ego," offers Daniel Garcia.
The album WE ANIMALS deals with the interconnectedness of life on Earth, and the state of emergency we face in terms of our planet and its inhabitants.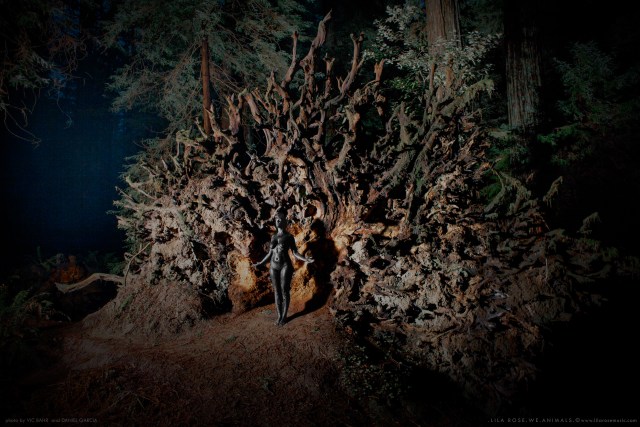 Lila Rose is currently embarking upon a West Coast tour  from San Diego up to Vancouver; dates and details can be found on her website.
WE ANIMALS is available on SoundCloud,  iTunes and Amazon.