Read Caitlin's previous writing on her first pregnancy and current one here!
---
Week Twenty-seven: My wife sets up the bassinet we bought in week one. I feel victorious, and terrified. The cats love it and have claimed it as their own, so we find ways to deter them (tin foil, double stick tape). The reason it's up so early is that we are hosting friends whose son was born on Anderson's intended due date. I prepare for an emotionally difficult weekend, with this child who is the exact age our son should be, a weekend of "this should be our life" head games.
Because we need the nursery for a guest room, all the other baby stuff is hidden in the closet, which is probably better for my sanity. We are still doing a lot of other pre-baby necessary things, though. For example, this past weekend we got haircuts, installed the car seat (for said visiting baby), bought fabric so the wife could make a sheet for the co-sleeper, detailed the car, weeded the garden, wrote thank-you notes to those who had already sent us baby gifts, and perhaps most importantly, took our c-section birthing class.
Week Twenty-eight: I have a cold wherein there is a lot of phlegm sitting in my throat and chest. So much so that the overnight post-nasal drip causes me to vomit around 3:30 a.m. and again when I wake up around 7; so much so that I'm coughing and it hurts. I know the coughing and vomiting won't hurt the baby, but oh gracious, it seems like it will when your abdomen contracts so violently. I'm exhausted from several nights of very little sleep due to problems breathing. I HATE COUGHING (but I keep reminding myself it's still better to have this cold now than when I'm recovering from the c-section. There is very little in my life that has hurt more than sneezing the day after my c-section). I see my doctor for a regular visit, and he isn't that concerned – apparently this cold is going around, so I just need to deal with it. It is my first time meeting the final Maternal-Fetal Medicine specialist in the office — he is new to this practice (though not to being an MFM). The other three I know well from my time in the hospital before, and I have definitive opinions about them. I love this new guy, though; he has by far the best bedside manner of the group, and he takes the time to listen to my concerns and put my mind at rest, which seems to be his top priority.
I'm slowing down a lot, but I attribute a good portion to this cold. I can no longer walk to and from work on boxing days — the four miles plus an hour of class is too much, so I'm compromising and taking the bus to work on days I go to boxing, and only walking home. It seems so silly to care about this — I'm in my third trimester, I'm still healthy and active — but to me it feels like failure.
Week Twenty-nine: I think we thought redoing the baby registry would be therapeutic, but right now it's annoying, although seeing the original and all the stuff that was supposed to be for Ander could have hurt too, I suppose. We choose more of a color scheme than a theme, per se. My mother-in-law made us gorgeous curtains from fabric we picked out after painting the walls. The walls are porpoise gray with white trim, and the curtains are gray, yellow and blue, big flowers and geometric patterns. We're planning on white furniture and yellow and gray bedding. We have some wall decor from our original plan that is a big tree with owls and a koala night light. We also have a koala painting from my own childhood bedroom and an actual stuffed koala from our grief group. Most of the stuff we're picking out sticks to this basic color scheme, with a variety of animals (yellow ducks, gray hippos, etc.) – though there will be some dinosaurs in there for an Ander touch, and the baby will have some of "his" things.
I am invited to speak on a panel at my hospital on caring for patients experiencing perinatal loss. It is great, as it always is, to tell Anderson's story. I am glad too because I am the only panelist to have such a comprehensive experience of the care at the hosptal — MFM, L&D, NICU. I get to say everything I want to say, and the very, very best part is that I know some of the workshop participants and panelists and it is so good to see them, such as our favorite chaplain, and my favorite Labor & Delivery nurse. The best was one of the NICU nurses, who came up to me afterwards and said, "You don't know me, but I was one of Anderson's night nurses. I had him after his PDA ligation surgery, and I remember him. We talk about him frequently. He made a big impact, and he isn't forgotten." Definitely the best part of my day!
Week Thirty: Seeing the number "3" at the beginning of the week is crazy exciting for me. I think (hope, hope, hope) that I've finally turned a corner on this cold and cough; I still have coughing fits morning and evening (my stomach muscles are so sore!!) but I have slept well for three whole nights now!
My doctor isn't thrilled about me traveling, given my history of preterm labor, so my sister and her fiancé Skype me into my dad's retirement party so I can hear all the speeches. I'm also missing the memorial service for my grandma, but I'm again able to Skype in to the after-picnic for that. She had nine children, 13 grandchildren, and 21 great-grandkids and counting, and only six of us total were not there. It's been ages since that many of us were all in one place, so I'm disappointed to miss it but glad to have had such a productive weekend. We are now 75% done with the nursery; all we are missing is the glider (on its way), the boxes we left with our parents to bring out post-baby from our showers back East, and whatever we might get from the shower the wife's work is throwing us next weekend. I am drained from 89 degrees and a day at Ikea, but I do enjoy the nesting. Now I just hope I have a living, healthy baby to take home to it!
Week Thirty-one: I am getting more of those "is this your first? Are you excited?" questions from strangers. I am unwilling to pretend Ander didn't exist, so usually answer that it's my second and my son would be one right now, but he died last year. I follow that up with "we will be very excited when this new baby arrives and is healthy!"
We are really flummoxed about the idea of circumcision and are thus taking all opinions. My mom thinks we're crazy to even consider not circumcising, but then again her generation thought it was the norm. Most of my friends now aren't circumcising, and it's not popular globally. I think in the end we might not because "everyone else is doing it" doesn't seem like the type of compelling argument that would sway us (plus, it's not really true). But we're asking our friends, our doctors, and two pediatricians as well — clearly this is a hot topic for me! I also feel like I shouldn't be the one making this decision for my son, as it's his body — but then if he wants a circumcision when he's older, it's a lot more work and a lengthier, more potentially complicated procedure. So…. hard call!
Week Thirty-two: So, with Ander I had nausea and fatigue, and of course the bleeding and such — but no other "typical" pregnancy symptoms. With this baby, I've had the gamut! Besides those I've already mentioned, now I'm getting bleeding gums (just a little, occasionally, when I floss) and hemorrhoids. Gross. But I'm truly not complaining — it's nice to feel normal! I have another ultrasound. This time, they find a marginal cord insertion. It's always something that could be nothing but could influence the pregnancy.
Week Thirty-three: It is 2015, right? I ask this because, in the world of trying to conceive and pregnancy, I have read a LOT of books and websites since we started trying to have a baby three (wow, three) years ago. And you know what they all have in common? They assume that mom has a partner. And that the partner is her husband and the baby's father. It goes without saying that the partner is male. In fact, nearly every website has "tips for Dad" or "what Dad should expect when Mom is expecting" or "how to help your partner" or "tell Dad to do X so that he feels involved." Of course, the things these sites and books recommend Dad do are also very sexist ("He'll be excited to get out those power tools to set up the nursery furniture!").
Now, I get that for most expectant mothers, there's a Dad in the picture. But again: it is 2015, right? Can not one of these sites/books consistently use the word partner instead of husband? And can they sometimes acknowledge that maybe there IS no partner? Often they start out using partner, but then it's like the author regresses to Dad when their attention drifts. (Note: when we went to our baby classes (birth, bringing baby home, etc.) it was also hard for the instructors to remember this. They addressed "Dads" a lot, even though I had introduced my wife and she was sitting right there. In one class they even segregated the Dads and Moms for certain sections, which was awkward). Ugh.
Week Thirty-four: We have now taken all our classes except for breastfeeding, which is in a few weeks. I have to say, "Bringing Baby Home" was underwhelming. I think it's just that I've read so much that I've reached saturation — in theory, I know what needs to be known, but until I actually practice, it's all just theory. I did love the tour of Labor & Delivery though, as it was so reassuring to be able to see everything. I also found out that if the baby is doing well, I'll get skin-to-skin right in the OR as they stitch me up, which is so wonderful to know. And wow the new postpartum rooms at our hospital are huge and luxuriant! Double the size of before, with new futons and two bathrooms — one for mom and one for guests! I feel so very lucky to be having this baby in a major metropolitan area and at a top-notch hospital.
As we get closer I'm getting more irritable, which is due to both the lack of sleep and the ever-present anxiety that this baby will just, at some point, stop moving. I am so deathly terrified of stillbirth. Even typing that word seems superstitious to me. It doesn't help that after a day of SO much movement like Sunday at the Pride parade, I come to expect that level of activity (which isn't fair to baby!) to keep me sane (especially as I'm pretty sure he was just reacting to the marching bands!). I have fallen head over heels with this baby already and now that I have seen the OR I can actually imagine the c-section happening and him coming out and being shown to me. But every daydream of joy brings an equal one of terror. It's so frustrating to feel that I've made it this far doing so well with my fears and now in the last few weeks I'm just unraveling. Last night we got a call from friends who will be in town unexpectedly in a few days, and we're very excited to see and host them. My wife went into the nursery to move the crib and everything (again — this is our third stint of visitors after having set up the nursery as we wanted) and I just lost it in a festival of waterworks. Since we will have both of our parents staying with us in August/September (not at the same time), she had figured we'd just leave the nursery a jumbled mess (everything baby shoved into a corner) so we could fit the air mattress, bedside tables, etc. that we usually haul out for guests. Rationally, this made sense — our folks deserve a moderately comfortable space, and the baby will be with us in our room. But emotionally, not having full access to this perfect nursery we had set up made me ridiculously upset. We spent a lot of time and love on that room, and the idea that I'll barely be able to go in there for a month, the first month of this baby's life, just had me bawling. I think I'm really hung up on wanting everything to be so perfect for this little guy. I keep rearranging and washing things — I know that's partly nesting, but I think it's also partly me thinking "I didn't get to do this last time, I want it to be perfect this time."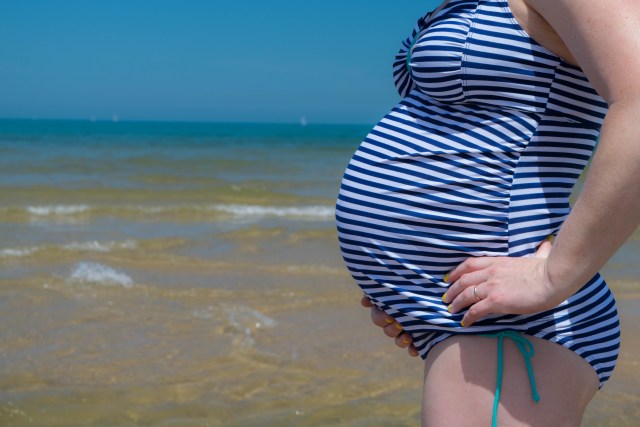 Week Thirty-five: Two weeks to go and two weeks left of work! I'm planning on working right up until my c-section so that I can maximize my maternity leave — and honestly, as I can work from home and I'll "only" be 37 weeks, there's no real reason I can't/shouldn't. I most definitely have senioritis though. I keep telling my wife that I feel like a teacher with only two weeks left in the school year. And 35 weeks! My doctor rejoiced that "we made it!" because we're past the mandatory special care/NICU window. It does feel like a pretty big milestone! We finished all of our baby classes — breastfeeding was this past weekend. I was glad to learn that our pediatrician's office (we had our meet-and-greet) has two board-certified lactation consultants on staff to meet with new moms and help with breastfeeding issues. That makes me feel a lot better as to be honest, I know of way more people with breastfeeding troubles than those who have it easy.
It was in the '90s this weekend and I guess I didn't drink enough water, because I was in triage this Monday with dehydration. It ended up being good that I went in, but it was a lot of pain and anxiety, and I think I'm more nervous now because of all the times I was told to "keep a very careful eye on fetal movement." Baby's amniotic fluid is a little low, but I'm not leaking, so dehydration is to blame. Still scary, though, but isn't everything? I have to keep reminding myself that if I didn't have my history, and wasn't considered high risk, I wouldn't even know about borderline low fluid or a marginal cord insertion — both things that shouldn't make a difference to the baby's development.
Week Thirty-six: We spend the weekend shopping and cooking big batches of meals to freeze that are conducive to throwing in the slow cooker. I usually hate cooking, but I blame the nesting bug – I lead this charge and have a lot of fun choosing recipes and taking pictures of our stocked fridge and freezer. Then we have a thunderstorm and a brownout, leading to momentary panic – what if we lose power? The crisis is averted.
Except for the triage incident, I've been VERY lucky regarding the heat — in that it's pretty much nonexistent. It's been in the '70s or low '80s pretty consistently, which is nice for pregnancy but pretty crappy otherwise, in that I really like hot weather and it makes it feel like it jumped from spring to fall. We went to see a movie at the park and were freezing in sweatshirts and jeans. In JULY. The one thing I dislike about Chicago… though apparently in 1995 they had a heat wave that killed over 700 people. So, I'll stick it out.
Week Thirty-seven: We meet our son this week. We meet our son this week. We meet our son this week… and you will meet him, too, as soon as we come up for air!