Ali
Yes, my brother dresses me. He works at a company that sells jeans and insists I don't know how to dress my body. Yes, he brings up how I should shave my body hair at the dinner table. When I told him that if body hair was so gross then he should shave his, my dad cracked up laughing. I don't know how much of this is gay men's misogyny and how much it's that siblings are constitutionally obligated to give each other a hard time using whatever they can scrounge up. And besides, this isn't how most gay men in my life treat me. So I don't want to focus on that experience.
Instead, I want to talk about M. I changed his name because I haven't asked him if I could write this, and since he's always respected my body and work I will respect his.
M. was one of my roommates in college. We lived in a house of seven. Half of us were gay, and he wasn't the only gay man that lived with me. But we were very close. Still are. One night, he was high and I was stone cold sober. When I had been sick with the swine flu, I had written a poem in my journal about how everyone has a different colour aura (because I was a big hippie and also hopped up on cold medicine) and I made him read it. This night, weeks later, he asked what color I thought his aura was.
"I can't tell you that. But I'd say probably a deep shade of magenta."
"Magenta," he said the word good and slow. It sounded like he was tasting it.
We decided that his aura was probably magenta. The poem had already established that mine was "midnight blue and full of stars" (I'm a shitty poet.)
"Hey Ali?"
"Yeah?"
"Can we swap pieces of aura please?"
(I want to remind you that I am stone cold sober.)
I got really excited about it, because then we'd be connected forever if a bit of his aura were in mine, and my aura were in his. "Sure!" I said, and I grabbed his hand.
We both closed our eyes and independently envisioned siphoning a piece of our aura into each other's bodies. I am still convinced I have a piece of his magenta aura in my blue one. I am almost positive he thinks about this night also, and my little piece of blue in him.
M. has given me voice lessons. I have given him acting lessons. We have gone to parties together. He has been the receptical for information about my gynocological appointments. We got obsessed with Hair (the musical) at the same time. We decided together that he has a figurative vagina just so he could participate in the Vagina Monologues question, "if your vagina could wear clothes, what would it wear?" He has given me solicited advice about girlfriends. He held me together when my heart was broken. He visited me when I lived in Paris. I drove him to the hospital when he got penumonia. And not once has he grabbed my boobs, given me fashion ultimiatums or disrespected by body in any way.
Actually, the only person in my life who has is my brother. And I'm pretty sure that's just because brothers do that. My brother could be the butchest straight man in the world (and he is very much not any of those things) and still find SOMETHING to torture me about. But M. and the other gay men in my life? We're just people with auras of varrying shades ready to swap bits of our spiritual selves in return for unconditional love and friendship.
---
Kate
It was only a few weeks ago that my gay male friend and I had an argument about privilege, and it was just as exhausting and frustrating as every other time I try to have this conversation. In fact, it feels like I keep having the same talk over and over again, with each reiteration bringing an increase in eyerolls and missed points. He believed that because he was gay, he automatically did not have male privilege, or much privilege at all, despite being a cis white male. In his version of oppression, his gayness erased the other categories that allow him to navigate the world much more comfortably than most. I think this is a ridiculous idea, he does not. Thus our argument began.
I hate playing the Oppression Olympics, and I'm frustrated by the fact that speaking to cis dudes often leaves me in a position where I have to call out shit. It's exhausting to blatantly avoid bringing up certain topics with cis dudes because I know I'm going to find something problematic in the conversation, and while I have mellowed out a bit in my quarter-life crisis, I'm too concerned with making the world a not-sucky place for people like me that I can't let poorly thought-out mentions fly. I don't want to perpetuate the idea that I am a man-hating lesbian (except the patriarchy can suck my giant dildo, for realsies) and that gay men and gay women get along like cats and dogs (which apparently is really badly, despite the fact that my dog loves cats). I don't want to play into the idea that I bristle at the dudes, but sometimes the mansplaining and the ignorance of privilege is just too fucking much, am I right? The notion that one's sexuality alone can erase all privileges is the same as me saying that my being a giant flaming queer totally erases my whiteness. Nope, that's not how these things work, and mercy me, believing that kind of bologna is what makes the world way suckier for people who DO experience actual oppression. I tried to stay calm while talking about this, and at first I think we appreciated each other's input, but it got dicey when we started talking about the gaze.
The gaze, specifically the "male gaze" that you and every other art history professor has screamed about for hours on end, is an incredibly complicated thing. My friend talked about how he experienced the male gaze when other men checked him out, and that meant he was a subjected party. And he said that my checking out women means I am participating in the male gaze. Okay, fair game. I wrestle with this idea constantly, and it's something that a lot of other people have wrestled with via academic papers and roundtables and a bunch of theory students getting drunk together. Is there a queer gaze? I genuinely think so. I think I am capable of certain privileges as a result of desiring women, but I'm also denied a hefty serving of privilege as a result of those same desires. And the fact of the matter is that my body is still a woman's body, even if it's not always a woman's body, and the history of the world versus the bodies of women means all kinds of things for privilege.
"I think I am capable of certain privileges as a result of desiring women, but I'm also denied a hefty serving of privilege as a result of those same desires."
I want to have productive conversations about this, I really do. I have more awesome conversations with my gay friends than I do shitty conversations that make me want to print out social justice texts and tack them to their fridges. I think that the queer community has an incredible potential for dialogues that are productive, that induce incredible and necessary change, and I want to pursue that in all my interactions. But sometimes it's all I can do not to post a reality show gif and tag it as #basicbitches #stopnow.
---
Lizz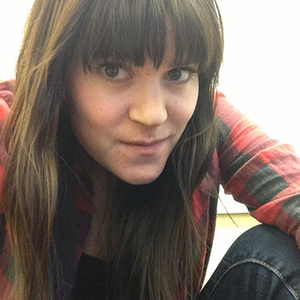 While nothing in Akili's article strikes me as surprising, I can't remember ever experiencing outrage towards any of my gay male friends (or strangers) for touching my body. After thinking about it, though, I realized this isn't because it hasn't occurred  it's just because it doesn't phase me anymore. People– straight, gay, men, women– have been groping me my entire life. You see, I have for most of my life carried around enormous breast. 32F post-breast reduction breasts, and unfortunately our culture has decided that big breasts are public property to be poked, lifted, pushed together or flattened down. In fact, straight women are often the worst perpetrators. I can't tell you how many times another woman has double handed me while telling me I had nice breast. Once, a sales clerk physically showed me, unsolicited, the right way to put my breasts into a bra. So I may not get upset if a friend, regardless of their gender/sexuality gropes me a little. For better or worse I'm fairly desensitized to being touched and I just don't get that mad anymore.
Though I recognize that my personal boundaries (or lack thereof) don't reflect the feelings of most women, I can heavily relate to the kind of objectification that kind of groping represents. I think because I'm queer, men often believe that I hold the same beliefs about women that they do. Sometimes this is okay. I'm happy to participate in a joking round of Girls Are Crazy with my close friends. However, I often can't believe the shit men will say to me about women's bodies. And yes, as the "official experts on women's bodies" gay men are sometimes the worst perpetrators.  I once watched, jaw dropped, as one gay male med student asked another gay male med student, "Does the OB clinic just smell like fish all the time?" The other responded, "I've probably had three positive fish whiffs." Though neither of them were touching me, I felt like my body was being personally and intimately violated.
---
Hansen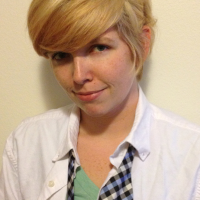 Until I read this article, I don't think I ever realized how much this affects me and upsets me. I think the first time I took notice of the way gay men treat women's bodies was in high school when the one openly gay boy credit-carded me. Maybe this is only a thing that happened in my high school or it's called something else in other places, but it's when you slide your hand between someone's legs from behind — a surprise feel-up, if you will. I was really upset about it happening to me, and when I told our mutual friends about it, everyone rolled their eyes, saying, "But he's gay." I don't care. Your lack of sexual interest in me doesn't permit you to touch me inappropriately. But still, I couldn't even look this guy in the eye and tell him not to do it anymore, because I was afraid of being judged as a homophobe. Oh, the irony.
Since then, I've had a few other experiences like this, including a gay hair stylist telling me a short haircut would make me look like "a fat butch, and we wouldn't want that, would we?" Uhhh, really? I've just never thought that other people were uncomfortable with this form of male privilege, because somehow the "gay" cancels out the harassment. This is what our society teaches us. This is why my friends says things like, "I wish I had a gay friend. No, not like you. Like a gay male friend. Like a Stanford." We need gay males to tell us what to wear or who to date, because they're safe and we revolve around this false notion that a gay man knows more than us. This is an interesting conversation — what happens when they are no longer "safe" and can be held accountable for their actions? I also like that this conversation was started by an awesome pro-feminist queer man, and I am interested to see where his project goes from here. Maybe that's the best route for changing these false notions.
---
Now it's your turn.
Pages: 1 2See entire article on one page