Hello! Welcome to Lesbian, Gay, Bisexual and Transgender Pride Month, as it has been declared by our fine fine president, Barack Obama master of the Universe. He actually does this every year, like how every year Jesus says that it's Christmas, or however it is that everyone finds out about Christmas. Santa Claus? The mall? I'm Jewish.
Anyhow there are so many ways to celebrate this fine month of inequality and intolerance and today I'd like to focus on clothing and the businesses that produce clothing!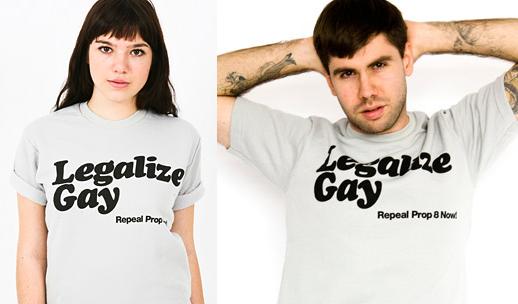 +
"There is one and only one social responsibility of business—to use its resources and engage in activities designed to increase its profits so long as it stays within the rules of the game, which is to say, engages in open and free competition without deception or fraud."
– Milton Friedman, "The Social Responsibility of Business is to Increase Its Profits" (1970)
+
So — Old Navy, who has yet to construct a pair of pants that fit me, is rolling out Gay Pride t-shirts this year and donating 10% of the profits to the It Gets Better campaign. These shirts aren't available in every store, however. WHY NOT OLD NAVY? Well, Old Navy says:
While we understand your frustration at the limited numbers of stores that will carry this line of shirts, please know that this is a step in the right direction. With enough positive feedback, it's possible that we will continue this tradition next year and have the product available in even more locations. Feel free to spread the word and have your friends send their positive requests to expand the availability!
We should take a few seconds to contact Old Navy—at custserv@oldnavy.com or 1-800-OLD-NAVY (1-800-653-6289)—and express our appreciation. There's also two petitions to encourage the store to put the shirts in more states.
(Not everyone is convinced, however.) In the meantime, while we're on the topic of clothing, you shouldn't shop at Urban Outfitters/Anthropologie any more, either. Confusing, right? I mean, they sell shit like this:
But don't let Keith Haring designed t-shirts or Obama t-shirts confuse you, my dearest Consumers. Urban Outfitters actually isn't actually on your side, it's ALL AN ILLUSION:
Even Miley Cyrus joined the online anti-Urban Outfitters chatter last week, pointing out that president and founder Richard Hayne donated $13,150 to the political campaigns of Rick "gay sex leads to man-on-dog love-making" Santorum. She even went so far as to call the retailer "#SHADYASHELL." Sharp words from the super-chill salvia-smoking teeny-bopper.
The one message uniting blog posts and Tweets aimed at Urban Outfitters is that it's time to boycott the company and its brands, Anthropologie and Free People.
The thing is, despite Urban Outfitters' hip liberal image, Richard Hayne has always been our enemy. As explained in this 2008 article from thismoney.co.uk: "There is surely a bigger gulf between [owner Richard] Hayne and his customer base than any other High Street retailer."
Hayne, the billionaire owner/boss who started Urban Outfitters in the 1970s, is described as "a staunch conservative who donates money to Republican politicians, not least Rick Santorum, a now failed Senator whose views on homosexuality are both bizarre and old-fashioned." Despite the fact that "shopping in Urban makes you feel like you are somewhere radically Left-wing," you're actually giving money to someone "..once described as projecting a "Dick Cheney-esque aura of no-nonsense grayflannel gravitas."
Why have you never even heard of Richard Hayne until um, Miley Cyrus developed an opinion about it?
Well, Hayne apparently doesn't give interviews "because he's afraid that college slackers who get to know him will suddenly realise that buying his clothes is like giving cash to George Bush."
Even in 2008, it was already clear that "Hayne must be the only retailer whose expansion plans depend on no one finding out who he really is."
Honestly, I'm genuinely surprised. I guess I always imagined Urban was owned by some skinny-jeaned hipsters in a AndyWarholsFactory-style loft, figuring out how to make really cool looking clothes that break after the fourth wash. But nope. Just another rich white guy!
That being said, the CEO of Urban Outfitters is the only openly gay CEO of a Fortune 500 company, and it offers domestic partner benefits as well.
(Sidenote I just realized I'm wearing a "Vote '08" t-shirt with a donkey on it that I bought at Urban Outfitters right now as I write this. So there you go.)
Anyhow — so where does this put us, the homogay Consumers of America/The World?  Bottom line is Republicans usually offer more protection for the wealthiest 1% and more perks for giant corporations than Democrats ever will. (Those protections/perks are, in my opinion, fundamentally unethical, but that's another story for another day/writer.) However, for companies seeking to maintain a brand identity which encompasses liberal social ideals like being pro-gay-marriage, donating to a candidate with that ideology can serve to reinforce that brand identity and help their overall bottom line and corporate code of ethics moreso than a Republican's financial policy might help their business.
So, we can't shop at American Apparel because Dov Charney sexually harassed his employees and uses objectifying child-porn-esque photos for its ad campaigns. We can't shop at Target because they gave money to an anti-gay candidate. We can't shop at Wal-Mart because absolutely everything they do is evil in about 56 different ways. (Seriously though — don't shop at Wal-Mart.) We shouldn't shop at Forever 21, either. Also, don't eat at Chik-Fil-A.
Now we can't shop at Urban Outfitters, too?
Here's the thing — do we honestly expect corporations to be bastions of morality and ethical behavior? These companies didn't grow by sticking up for the rights of marginalized people, they grew because they knew how to make lots of money.
A quick search around opensecrets.org will reveal that nearly every major retailer has, at some point, donated to anti-choice and/or anti-gay candidates. In addition to supporting large numbers of pro-equality & pro-choice candidates and once upon a time employing yours truly, Gap Inc, which owns Old Navy, also donated to Roy Blunt, a pro-life/anti-choice Republican candidate for senate. On the flip side, Urban Outfitters is one of the top 100 donators to Patrick Murphy, a Democratic candidate also supported by the Human Rights Campaign and NARAL.
If you're shopping at any store owned by a major corporation, chances are good that you're unwittingly funneling some money towards candidates and issues you oppose with every fiber of your being.
This is a given. Welcome to America! Simply by supporting corporations at all — which at the very least wipe out small businesses and often make us very vulnerable to a Big Brother media takeover — you're already supporting something unethical.
I do feel bad about shopping at Target — and I SHOULD. I don't celebrate Target. I don't embrace Target or want a Target shopping bag visible on my person. I feel TERRIBLE about shopping at Barnes & Noble, and I should! It doesn't stop me from shopping there, but that guilt exists. Perhaps one day when i'm rich like Miley, I can afford to shop elsewhere. But in the meantime I just accept that this kind of guilt is, for better and for worse, part of American life.
So what CAN we do? What should we do? What do you do? You should buy one of those Old Navy t-shirts btw, for starters.
[Oh, here's a t-shirt you can buy at Urban Outfitters and send to Richard Hayne:]