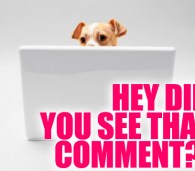 Hello my little gayelles! I think last week I forgot to read like 6 articles for comments, so I'm sorry. There was probably something funny in there that I missed. But also this week I accidentally read 3 older articles and gave terracottatoes an award for something she had won an award for last week, so. Also sorry terracottatoes, I had to get rid of that one.
This week we got baked with Autostraddle for the breakfast edition! Bklyn Boihood is back to talk about being queer, or being not queer. Riese's friend Krista gives the best breakup/life advice you might ever read, so go print that out, and Riese herself writes a beautiful article about Britney Spears, which you should read even if you don't like her (Britney, not Riese. Everyone likes Riese).
Make sure to catch up on last weekend's Dinah Shore shenanigans , and watch The Real L Word parody part 2! Which I haven't seen yet but am 100% confident that it is hilarious.
---
On Institute of Medicine Says Your Medical Records Should Be As Gay As You Are:
The Sexually Inactive Award to novastar, Meer: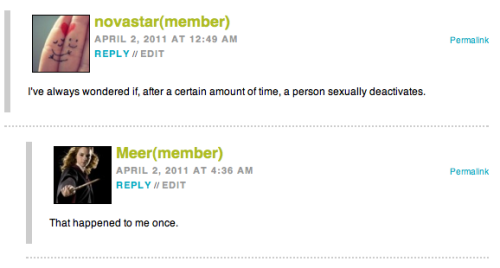 On Lesbian Confesses Crush to Her Straight Best Friend, Is Received With Open Arms:
The Unicorn Poo Award to Brittani:
I hear Trish and Elizabeth will be on Oprah. Oprah already bought Trish a rainbow. The next time you see a rainbow, it might be Trish's. If you follow the rainbow to it its source and you see it erupting from a girl's mouth, you just found Trish.
On Get Baked With Autostraddle: Breakfast Edition:
The Morning Shot Award to TSwizzle:

On Dinah Liveblog Day III: Autostraddle Goes Boldly Forth:
The Punny Award to wasteunit, smartypants, SomethingClever, e: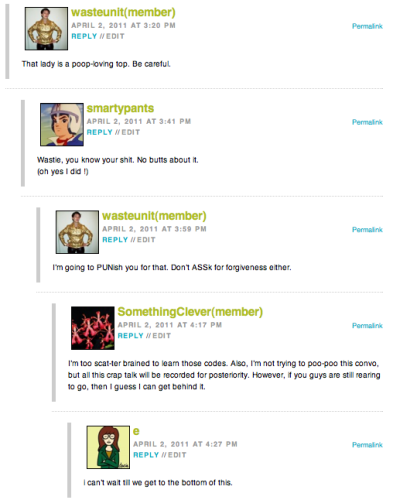 On NSFW Lebosexy Sunday: We Are Going Down:
The Be Canadian, Eat Beaver Award to RagDoll, terracottatoes:

The This One Time, At Band Camp Award to Ami:
when i went to lesbian sex school in toronto, the class was called "how to eat a peach"
i feel like SOME sort of term must be derivable from that?
On Research Finds Hating Gay People Makes You A Hate Group, People Actually Surprised By This:
The Girls In Suits Award to Dani, idotry:

The What Even Award to Radiogirl, e, cynthia, terracottatoes, allie:

The In Your Box Office Season 3: Save Britney Award to freckleknees, AG, vending machine, Brittani: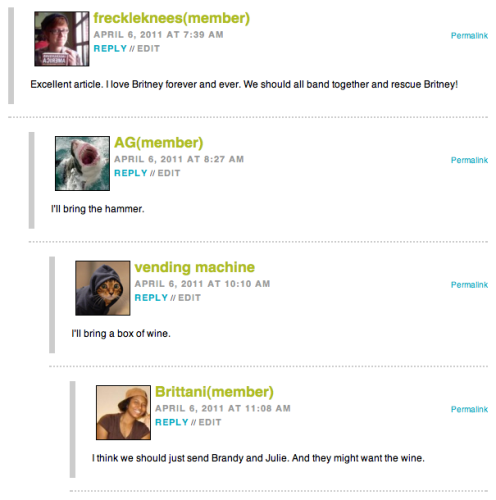 On I Really Loved 'Who Took The Bomp?: Le Tigre On Tour':
The Priorities Award to montreal:
Good stuff!
My band at the time got to be the support act for them for most of that year so I got to see them play every night for months. There were a lot of moments where I just thought 'man, these guys are doing all the right things and making a lot of queer kids feel a zillion times better about their lives'.
Other times I just snuck into their dressing room and drank their beers.