Female oral sex terminology is permeated by misogyny. "Getting head" or "dome" sound degrading. "Eating out" is both inaccurate (what exactly are we supposed to be eating? Is there a sandwich in my vagina that I am unaware of?) & insulting (implying some flavorful lurker in our ladybits). These phrases strike me as vulgar at best, nasty at worst, and all-around misogynistic. I usually use "go down on," but feel the term is slightly too vague to be useful. Technical terms – like cunnilingus – leave me uncomfortable and seriously not turned on. Oral sex is natural, amazing, and enjoyable for both the recipient and giver. So why isn't there a term unburdened by negative innuendo?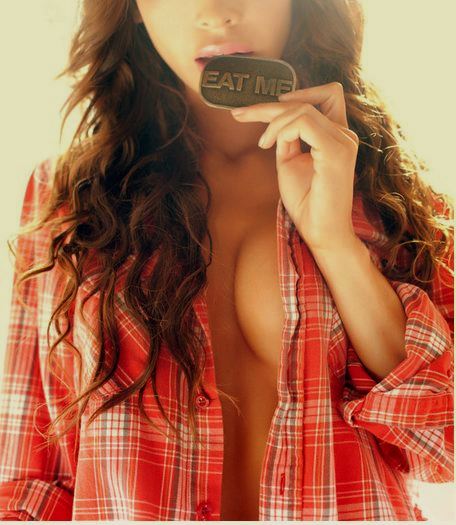 Society teaches us to be ashamed of our vaginas. Both heterosexual and queer partners require vigilant grooming. Terrible messages about vaginal appearance, taste, and smell constantly beamed through media, pop culture, and advertising. Possibly the worst offender is douching commercials that attempt to sell us an unsafe, unnecessary, and ineffective product by blatantly conveying that our natural state is shameful. I can't watch a feminine wash commercial without quivering in rage.
To tell you the truth, I used to be on the forefront of pussy shame. I believed the prepubescent boy urban myth that it tasted like either fish (ew) or cheese (double ew). Being gone down on by my boyfriends (this was back when I was dating men) was to be rushed through or avoided if at all possible. I couldn't stop thinking about how disgusted they must be.
It took being with a woman to finally get over my self-loathing. When I went down on a woman for the first time I realized:
+ It doesn't taste like fish or cheese.
+ It isn't unpleasant.
+ And, most enraging, it ISN'T THAT FUCKING HARD.
+ (For reals though, sometimes I have a barely controllable urge to call my ex-boyfriends and be like, really? No Really?)
Now that I have enthusiastically embraced my (and other women's) vag, I'm still without any clue of how to go about discussing it. Cringe-worthy terms just don't match with the fantastically awesome act.
I don't want to sound misogynist, degrading, crude, or technical. So what am I left with? Am I being overly prudish and PC? Or is there a term that reflects the reality of giving and receiving oral sex from a woman?


In related news:
+ 10 Famous Merkins: "When FHM asked Klum about her bright red and heart-shaped pubic hair in the film, Klum assured the mag, "That wasn't my real hair anyway, it was a specially made wig."
+ How to Talk About Sex: "One of the greatest difficulties couples have when it comes to sexual communication is an inadequate sexual vocabulary."
+ The VICE Guide to Eating Pussy: Warning – it's very VICEy.
+ For 80% of Young Adults, Oral Sex is "Not Real Sex" Teenagers kick our butts.