DADT:
It might actually all be happening: it seems like despite the best efforts of Republicans, the eventual actual repeal of DADT is becoming more and more of a reality. The Pentagon says that training is proceeding on schedule, and that training could be "sufficiently finished" by mid-summer to "allow for certification of repeal." Based on their statements, the Undersecretary of Defense for Personnel & Readiness Clifford Stanley and Director of the Joint Staff Vice Adm. William Gourtney seem at least not completely opposed to the repeal:
According to Stanley, the U.S. military has trained more than 200,000 members of the armed forces on handling open service, or about nine percent of the armed forces.
Gourtney concurred that mid-summer is the time for when certification for repeal is expected to happen.
"It's really the magnitude of the challenge that's out there and making sure that as we get our arms around the magnitude of the challenge, we don't miss anything,wp_postsGourtney said. "So we're grateful for the deliberate process that has been laid out and we're [looking at] mid-summer for the recommendation. Followed by 60 days after that, repeal is achievable."
And more immediately, there's the story of Petty Officer 2nd Class Derek Morado, who was outed in 2009 by a photo with another man online, and who faced the threat of discharge under DADT. No one seems to know of any soldiers discharged since Obama's signing a bill into law, and Morado didn't want to be the first: his lawyer argued that Morado should be allowed to keep his job because DADT is on its way out. And while the Navy won't disclose the reasons why he was not discharged, according to a Navy spokesperson, Morado won the right to stay. Even if the Pentagon refuses to acknowledge it, it seems likely that this is a recognition on their part that DADT discharges are finally over; even though they could legally still push them through with a great deal of effort, it would just mean more time, money and resources spent bringing the same soldiers back on when the repeal is officially 'certified.' Hopefully this means we can look forward to a future with more stories like Morado's!
GAY ADOPTION:
The state of Virginia is proposing adding anti-discrimination language around queer adoptive and foster parents. The proposed language states that "The licensee shall prohibit acts of discrimination based on race, color, gender, national origin, age, religion, political beliefs, sexual orientation, disability, or family status to: 1. Delay or deny a child's placement; or 2. Deny an individual the opportunity to apply to become a foster or adoptive parent." You can go here to tell the Virginia Department of Social Services that you support the idea!
KSTEW AND FEMINISM:
YOU GUYS SOMEONE WROTE A SMART AND FEMINIST THING ABOUT KRISTEN STEWART. I know, I know, me too. Basically as you may have heard Kristen Stewart is like a HUGE BITCH OR WHATEVER who doesn't even smile for pictures and that's like really ungrateful and unattractive right???? Or wait, no it's not: "Stewart is often a target of a specific kind of body policing: the "smile, babywp_postsrequirement. When she appears on the red carpet and does not assure us with her teeth that she is simply thrilled to be reduced to a presence, a dress, a posture, she is often the target of harassment for her expression. There is an expectation of women in general and famous woman in particular to always assure the onlooker that they are happy to be looked upon through smiling, and Stewart rejects this." THIS ARTICLE INCLUDES THE WORDS "AFFRONT TO THE PATRIARCHY"
IRELAND:
From April 4 to 15 it's Stand Up! LGBT Awareness Week in Ireland. Look there's this really cute video PSA!
PRO-GAY HOCKEY:
Men's sports teams aren't necessarily known for their support of differing sexual orientations, but after the tragic death of their manager Brendan Burke the Miami Red Hawks are speaking out on acceptance. "One stereotype that people have about gay people is that they're predators and they're going to come on to straight guys,wp_postssaid defenseman Chris Wideman. "But the one thing I learned from Brendan is that's not how it is. The idea that a gay guy is going to force himself on you in a shower is totally unrealistic."
GAY PRIEST:
Father James St. George was fired from his position at Chestnut Hill College, and he says it's because of his homosexuality. But he's been hired again basically right away by UPenn! He'll be teaching on religion, social justice, and urban development.
HARRY POTTER:
Lupin was maybe kind of gay, at least in the movies? I don't know it's unclear and also this news comes via twitter.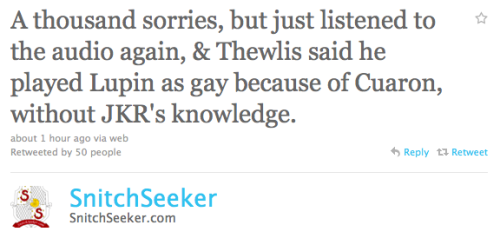 LESBIAN PROM TUX:
Lesbian high schoolers and prom, am I right, ladies? In this case, it's good news: Belinda Sanchez, who's been out since her freshman year, was told by her high school principal that she couldn't wear a tux to her senior prom. But the LGBT Group at the ACLU stood up for her, and now she'll go to her prom looking fly. "This sends a negative message to other students that they can't express who they are," said John Knight, director of the LGBT Project at the ACLU. "It's a First Amendment right, a free speech right, and that includes her right to send a message through wearing male clothing that she doesn't think women should be restricted to traditional female clothing."
WRITERS:
Jennifer Egan has some wise words for all of us who wanted to go stick our head into a pile of shredded 30 Under 30 lists, and she's been in The New Yorker and so she must be right. (It works better if you ignore the seeming contradiction there.)
DINAH SHORE:
Thank you for reading and commenting while we were at Girl Bar's Dinah Shore Weekend! We missed you!