Hellooooo friends, and welcome to Dinah Shore 2011! Your intrepid Autostraddle editors will be scampering about Palm Springs like the cute little Chuck-Taylor-wearing sunburnt drunk internet kittens we are, and we have left an equally intrepid and adorable team of interns to communicate all of our adventures to you in the meantime. We'll be hitting all the events, shows and parties of Girl Bar's Dinah Shore Weekend 2011, and we want you to be there with us in spirit! Here's a map of Dinah AutoHQ, courtesy of Design Director Alex Vega: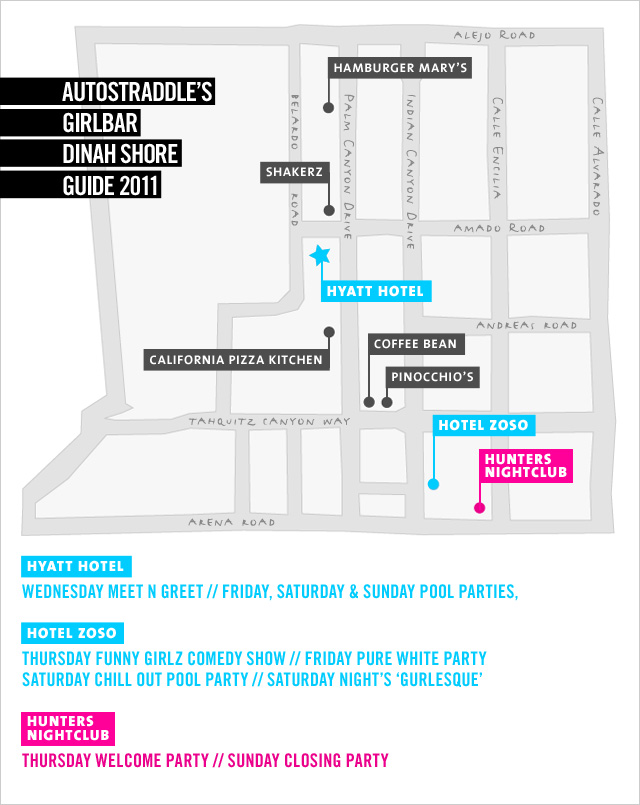 And check out our schedule of all the Dinah action happening this weekend! We'll be at Girl Bar events Thursday through Sunday, and you might think you're ready but you're not ready. But we're doing this anyway! Here we go!
---
+
Friday April 1, 2011
+
9:30 am: It's supposed to be 90 degrees in Palm Springs today. And right now it's 89 and only 9:30, I hope everyone has brought their sunscreen.
9:42 am: Jess, via gchat: yesterday was stressful getting into the rooms … but today should be good. we're all still in bed
9:48 am: I suspect everything will be boring for a while while the team recuperates from last night. Now, for the liveblog of Emily Choo's life? Just finished eating breakfast, now watching an old episode of Glee. Yeah, I said it, I'm a Gleek.
10:14 am: from Rachel, via email: We have all just woken up, bright and chipper like happy children! Just kidding we all feel like caveman zombies. Hope the entire internet wanted to know that.
10:16 am: The team has bagels but no toaster. Or cream cheese. What will they do, toast it with a lighter or call room service? Adventures abound at Dinah Shore!
10:32 am: Rachel, via email: also Laneia really wants everyone to know that her foot isn't broken yet
ATTENTION AUTOSTRADDLE READERS: LANEIA'S FOOT BONES ARE STILL INTACT. CARRY ON.
10:40 am: Oh thank God. The mystery of "lighter or room service?" is over. Also I am sending happy period vibes over to Riese, which is probably not as good as midol.

10:50 am: I think that we need context for this. Laneia, via twitter:
10:56 am: OK, apparently they have ordered a pot of coffee but it has not arrived yet, Laneia is not actually going to die. As long as it comes soon.
11:06 am: THE COFFEE HAS ARRIVED.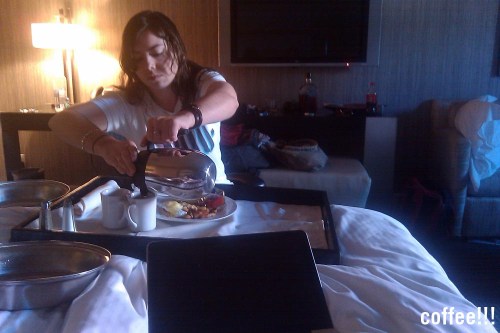 This is Rachel's latte. It is already gone.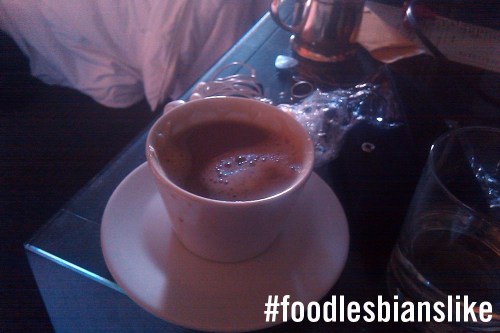 11:09 am: Rachel, via email: It turns out that room service means getting THE TINIEST BOTTLE OF HOT SAUCE IN THE WORLD. Also the picture I sent you earlier was of my latte. Obvs it's gone now. Riese still doesn't have any midol.
11:18 am: Rachel via twitter:

11:40 am: Sarah, via email: This is what we're doing instead of going to the pool party.
'Cause, like, whatever, there are naked ladies and boobies outside, but do you know where else those things are? On Tumblr.
11:45: Oh, wait (Laneia via twitter):

Personally it is my mandate to support all clothing removal anywhere ever. Especially before noon.
11:55 am: Team Autostraddle makes a solid effort to begin the day. Laneia's shirt remains on.

Rachel: does anyone have a product that will make my hair look better than it does right now. like a shower in a bottle?
Laneia: We should do yoga
Riese: I want to spend the rest of the trip in child's pose
Sarah: I've never done yoga.
Laneia: You should.
Sarah: But i'm not a hippie like you guys
11:59 am: A GREAT DISCOVERY IS MADE
Riese, via gchat: rachel just put on really short shorts and laneia is squealing
OHMYGODIHAVESOMANYFEELINGSABOUTYOURSHORTS YOUHAVESUCHACUTEASS
You guys, Rachel has a cute ass.
12:15 pm: Autostraddle becomes either Star Wars or the Matrix:
Rachel: Has anyone checked in with red team?
Laneia: Who's red team?
Rachel: The girls in the other room. They're red team, we're blue team.
Sarah: What do the colors symbolize?
Rachel: I don't know, I just want to pretend we're in Star Wars.
12:22 pm: Laneia is obsessed with this photo: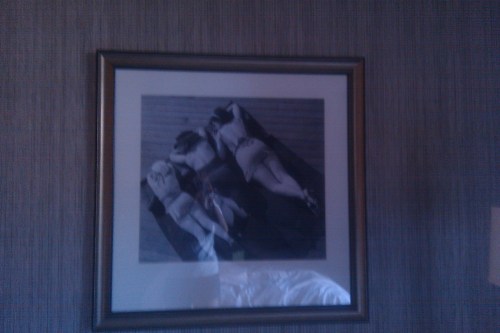 Laneia: I want to be the one on the left
Sarah: You are.
See? She is: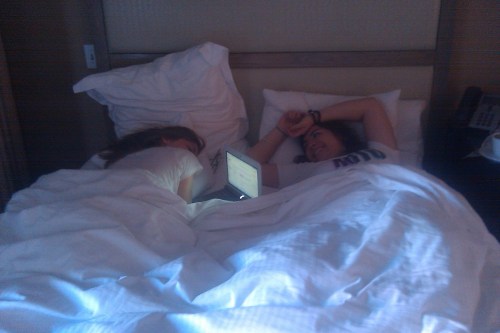 Despite coffee, breakfast amenities, and awaiting ladies, the chances of Laneia and Sarah getting out of bed today are decreasing steadily.
Rachel reports more accurate numbers: 75% have showered or are showering, and I am only about 15-20% hungover.
1:20 pm: Rachel via email: so riese and laneia are asleep again somehow i think, and also the circles under my eyes are so dark that i do not think they will ever go away ever or be covered by any makeup so i am just going to wear my sunglasses at all times including inside and when i am asleep. the good news is the hair product laneia gave me seems really good, when is someone going to start offering us endorsements
1:33 pm: Look how much whiskey is still left after last night!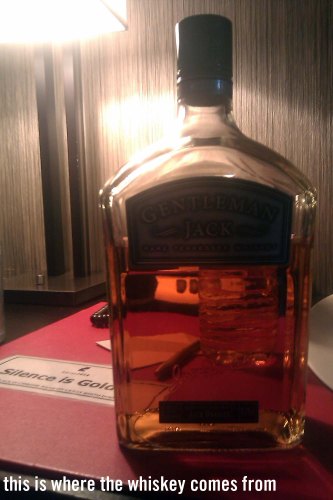 1:44 pm: Jess via email: we finally left the safety of our room and ventured into lesbianland by the pool
And they have hot Autostraddle shirts, look:
Which unfortunately they are also still wearing: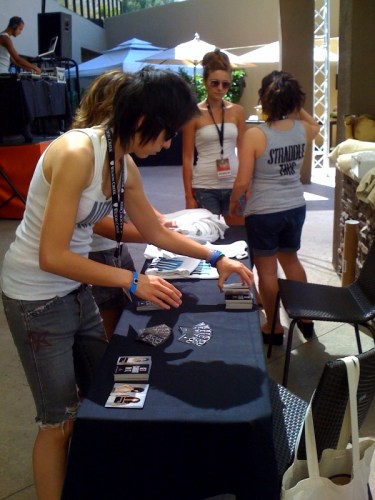 Also here is Rachel and Sarah F*cking Palmface with THE SHIRT:
1:54 pm: Rachel via email: At the autostraddle lounge at the girl bar pool party!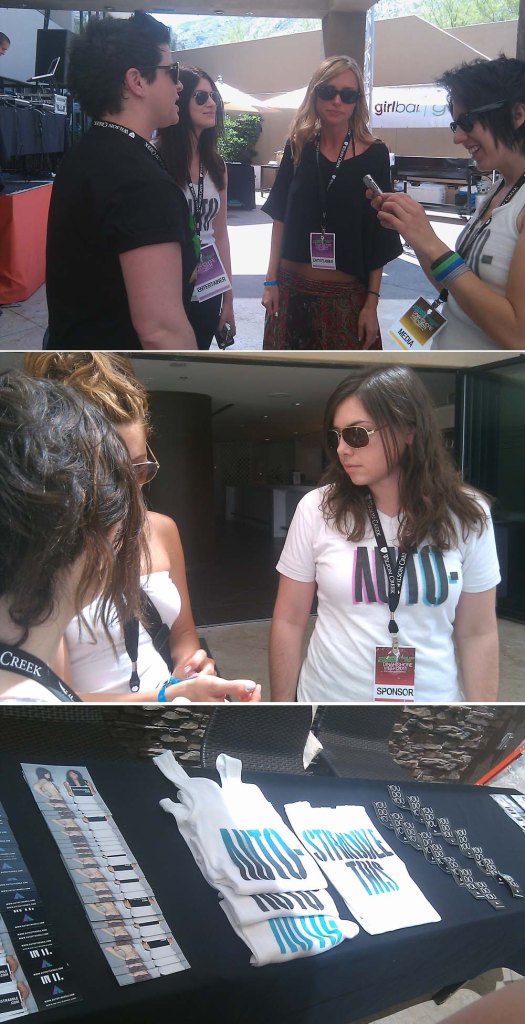 2:00 pm: Laneia via twitter:
Also there is a dude in a thong, possibly he is unaware he is in public, possibly he is just trying to incarnate 'you do you':
2:14 pm: Rachel via email: Jess is going to get an exclusive interview with the banana hammock guy for autostraddle dot com
2:17 pm: Laneia via email: bringing pre-cut mango was THE BEST IDEA I'VE EVER HAD
2:21 pm: Riese via email: i am going to make cargo shorts happen
2:23 pm: Rachel via email: apparently there is some lounging that is going on
And Haviland was just quoted: "does anyone know where my top is?
2:29 pm: Rachel via email: I think sunscreen + you do you really says it all
3:05 pm: Rachel, via email, is within four feet of…
3:17 pm: Rachel via email: VEGA IS IN THE POOL
and it is very Ushery down there:

These two miracles caused LANEIA AND RIESE TO WAKE UP
And last but not least, Alex really liked how this girl looked in THE SHIRT too.
3:23 pm: Rachel via email: Haviland is the best at selling calendars
3:27 pm: Riese: Tequila sounds like a bad idea, and I'm the market for a bad idea.
3:48 pm: Rachel finds Julie Goldman: "the butchiest butch that ever butched"
4:04 pm: Rachel via email: Alex, Jessica, brandy and Julie
Alex also emails to let us know they're chillin' at the pool / Auto table:
4:22 pm: Alex is justcaughtnapping dot tumblr dot com
4:28 pm: Jessica interviews Banana Hammock man
So I got an exclusive interview with Thomas the Banana Hammock Guy! First Linda Perry, now this guy… it's been quite an exciting week kids!
SO. Thomas the Banana Hammock Guy is a straight dude who simply lovesbeing surrounded by lesbians and comes to Dinah Shore every year –this is his third. He comes alone and stays the whole weekend, creeping out 10,000 lesbians each year with his thong and huge boner right there in front of God and everybody.
[a pause]
I have an update on Banana Hammock guy! Julie Goldman has exclusively told me that he got KICKED OUT!
Here is his picture:
5:00 pm (HAPPY HOUR): Laneia via text:
Rachel: IH MY GOD IT'S A LIBRARY. WHAT IF WE JUST SKIP EVERYTHING AND GO TO THE LIBRARY!
which is weird since Sarah F*cking Palmface says everyone is napping and being gay or something:
5:35 pm: Riese via gchat:
laneia: are you having coffee?
sarah: no, this is whiskey
(it's in a coffee mug)
5:47 pm: Jess via Twitter:

5:50 pm: Alex via email:
Team meeting at the GirlBar sponsored Hyatt room, just sayin'
This is what they were talking about:
Laneia: does anyone have visine?
Rachel: no but we have xanax which is basically the same thing
It was resolved around 6:19 pm: Rachel via email: Showers have been taken and whiskey has been drunk and tampons have been distributed, now we are going to dinner before the cocktail and then pure white party.
7:26 pm: DINNER HAPPENS.
And with dinner comes the 8:11 pm tweet from Rachel:

8:40 pm: Only now Rachel's computer won't connect to the internet and she might be too panicky about this to go to the girl bar white party. This is not good, you guys, the internet is important.
8:44 pm: Sarah F*cking Palmface via email: and this is Rachel's ass
9:20 pm: Rachel, via email: Getting ready for the cocktail party, and also how did I not notice how vaginal this painting was before this

Also Taylor's twitter thoughts from earlier today are important, both for the evening, and for life:

9:42 pm: Carolyn: I haven't heard from anyone in a few minutes because they are probably still getting ready but I am channeling Emily Choo and eating a bowl of cereal that I am debating liveblogging (sample transcript: 9:40 pm: poured soy milk. 9:45 pm: remembered about soy milk intolerance. 9:46 pm: remembered about soy milk deliciousness. 9:52 pm: sneezing.).
11:03 pm:
If you are at Dinah Shore or just following along with intense fascination, the following events are going on right now:
Girl Bar's Pure White Party in the basement of Zoso with a performance by Wynter Gordon
The White Diamonds Party at the Riviera Resort and Spa.
And they probably look like this: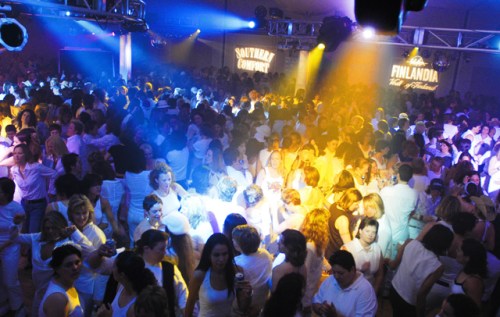 Also the Girl Bar White Party is in a basement, so there will be no cell access, which concludes our liveblogging for this evening. If this makes you sad, here is a video of Julie Goldman as Lezilla at yesterday's Funny Girlz 6 Comedy Show:
Stay tuned for exciting debauchery-based updates tomorrow!!