It's possible that, when going to a new doctor or medical provider for the first time, you have had them awkwardly ask if you're sexually active and if so, is it with girls or boys? If so, you probably answered meekly, and then some executive decisions were made regarding when you needed a PAP test next. It's also very possible that you've never had this conversation with your doctor ever, even though it informs large parts of your physical and mental health. Now a new report from the Institute of Medicine says that not only should this be information that your doctor cares about, but it should stay in your health record permanently. They also recommend that federally funded studies track sexual identity and orientation – something that might actually work towards solving the endless repetition of "Unfortunately we don't have enough research on [gay issue or problem] to take action."
As it stands, there are very little data out there on the health needs of LGBT patients, the paper's authors point out. There is even less information about adolescent and elderly LGBT people than there is for LGBT adults, and comparatively less for transgender and bisexual people than there is for gay and lesbian patients.
A hypothetical requirement to include your sexual orientation in your medical records would be scary for some people, which the study recognizes – "the study's authors point out that this bit of information will probably be perceived as "more sensitive" than others." But given the particular health challenges associated with being queer, it could be worth the risk.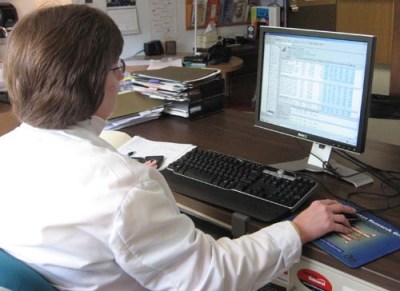 These include that LGBT youth may have an elevated risk for attempted suicide and depression, and sexual minority youth may have higher rates of substance use than heterosexual youth; that one of the barriers to accessing quality health care for LGBT adults is a lack of providers who are knowledgeable about LGBT health needs as well as a fear of discrimination in health care settings; and that LGBT elders are more likely to rely on friends and others as caregivers rather than biological family members, at least in part because they are less likely to have children.
As an example, a study has recently found that older gay and lesbian adults in California are more likely to have physical and mental health problems than their straight counterparts, "based on data from the California Health Interview Survey, the nation's largest state health survey, gathered in 2003, 2005 and 2007 by the Center for Health Policy Research at the University of California, Los Angeles." Is this trend true nationwide? What about the finding that older lesbian and bisexual women are more likely to report physical disability? Because the California Health Interview Survey is unique in gathering data on sexual orientation and gender identity, it's hard to know.
The researcher's summary recognizes that this could help researchers make long-awaited progress towards important findings on gay people and "gender minorities" in America, and the Institute of Medicine concludes:
Lesbian, gay, bisexual, and transgender individuals have unique health experiences and needs, but as a nation, we do not know exactly what these experiences and needs are. To advance understanding of the health needs of all LGBT individuals, researchers need more data about the demographics of these populations, improved methods for collecting and analyzing data, and an increased participation of sexual and gender minorities in research. Building a more solid evidence base for LGBT health concerns will not only benefit LGBT individuals, but also add to the repository of health information we have that pertains to all people.