Jay-Z supports marriage equality and considers Obama's recently completed gay marriage evolution a political plus. In fact, he thinks it was "the right thing to do."
What a man.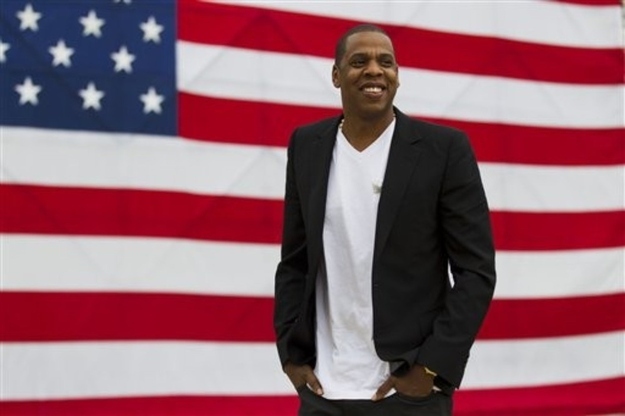 Yesterday was your average Monday until Jay-Z, credited in his interview with CNN's Poppy Harlow as a "Rapper/Philanthropist," decided to wax philosophical about politics. Like most of Jay-Z's words, they were perfect. 
Jay-Z is a long time friend of the Obama family, a White House VIP, and a personal musical favorite of the President himself. (Obama prefers Jay-Z over Kanye.) During his CNN interview he refused to talk about Mitt Romney and confessed to not knowing much about him. He decided, instead, to praise Obama's decision to endorse gay marriage:
"I've always thought it as something that was still holding the country back. What people do in their own homes is their business and you can choose to love whoever you love. That's their business. It's no different than discriminating against blacks. It's discrimination plain and simple…I think it's the right thing to do, so whether it costs him votes or not – again, it's not about votes. It's about people. It's the right thing to do as a human being."
Coming from a man who describes himself as not "a huge fan" of our political system, that's a huge compliment for Obama. But let's focus on us. Jay-Z supports gay marriage, everyone. It is right there in print, on video, and across the Internet. Let us all rejoice by listening to The Black Album and looking at pictures of Blue Ivy Carter emotionally.
Jay-Z also talks the importance of business ethics and helping the less fortunate (a not-so-common perspective for a mogul), the current state of our economy and Obama's stimulus, and the similarities between hip-hop and politics in his interview.
As an emerging rap starlet and former political hopeful myself, the news that Jay-Z supports progressive politics and the rights, equality, happiness, and forever humanity of gay people is second to everything in my life except Drake (let's be real).
Let's just hope Hov performs at the next A-Camp Talent Show.