Yesterday was a very special day: our fearless leader Riese took it upon herself to rank 75 Lesbian Ken Dolls, by Lesbianism, so that we could all better understand our Kens, our Selves.
What a time we all had, staring at those photos of plastic dolls, recognizing our exes, our friends, our friends and exes who are dating each other, four different versions of our selves…being queer is magical, isn't it? It sure is.
And now, to keep the magic alive, we have a request for you. Don't worry, I think you're gonna love it. In fact, I'm willing to bet 75% of you have already partially fulfilled the request and you don't even know it yet. Ready?
We want you to send us photos of your Best Ken Self!
What do I mean?
Feast your eyes on these babes: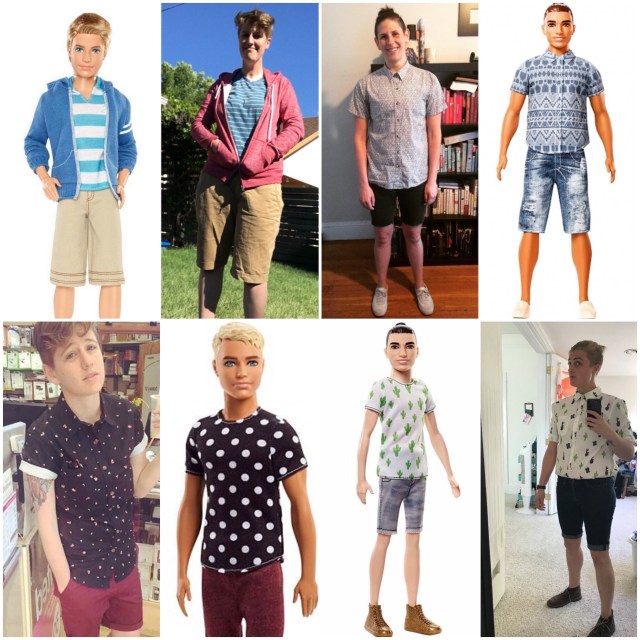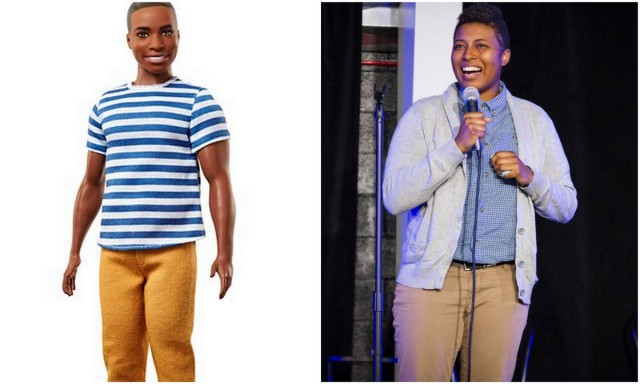 Okay do you get it now?
As the incomparable Taylor Hatmaker tweeted, just as I was brainstorming in the Autostraddle Slack Channel about this very idea (because great minds think alike):
a fun game is to see how many kens you can recreate w/your existing wardrobe https://t.co/Hi6VueEeor

— Taylor Hatmaker (@tayhatmaker) June 22, 2017
Many of you have already expressed that you found yourself (or your girlfriend!) in one or many Kens, which is why I know most of you are already 75% ready for this. (The final 25% is just taking the photo and sending it to me!)
I'm just saying my girlfriend owns 4 of these outfits pictured. ¯\_(ツ)_/¯ pic.twitter.com/PHBH9ATm5m

— Julia Chelly Johnson (@Juliadapted) June 22, 2017
So yep, that's the plan. You send us photos of your very best Ken (paired with the image of actual Ken) and we make a gallery showcasing our very attractive community proving once and for all that Ken is very, very gay. And duh, if you're more of a Barbie or Skipper, find the doll model you identify with most strongly and send us those comparison photos! I'm a long haired femme with a penchant for dresses – I see all my exes (ugh, literally all of them) in the Ken dolls but I don't see myself – so I feel you if you're worried that you can't contribute to the Ken roundup! But you can! Let's get Barbie and Skipper and whoever the fuck else from the Mattel Plastic Doll Dreamworld in here to round out the scene, mmmkay?
So, to review:
1. Decide which Ken/Barbie doll best represents you.
2. Dress up exactly like them. Bonus points if the entire outfit comes from your closet and you don't have to buy anything new.
3. Take a photo of yourself dressed as your doll. Make sure to take a vertical portrait and include your whole body so we can see all the details! Show me those shoes!
4. Send the photo of yourself and a photo of the doll you're emulating to vanessa [dot] pamela [at] gmail [dot] com. (Please note the change of email address from when the post originally published on June 22! I am currently having technical difficulties with my autostraddle.com email! If you already emailed me a photo to my autostraddle.com address I will be reaching out to you to ask you to resend it! I'm sorry for the confusion! This is some ~behind the scenes~ stuff about how your Very Favorite Website runs! Sometimes there are technical difficulties! Exclamation Point! Woohoo!)
5. Prepare yourself for the best most hilarious gallery we've ever compiled.
Deadline for photos is one week from today, Thursday, June 29 at 11:59pm PST.
PS: Feel free to pick multiple options and send multiple photos! Also, get creative! I am so excited about this! CAN'T WAIT TO SEE YOU ALL LOOKING LIKE YOUR BEST SELF/BEST KEN!