To celebrate the recognition of equal marriage rights in New York, award-winning photographer Robin Roemer wanted to give one lucky gay or lesbian couple a wedding photography package worth $4,000! She teamed up with Green Bride Guide and wedding officiant Elizabeth Phaire to make this giveaway even more amazing:
+ A professional photography package that includes wedding coverage, image editing, an online gallery and a DVD of high-resolution images.
+ A personalized wedding ceremony valued at $850-$1,000.
+ A signed copy of the book, The Green Bride Guide: How to Create an Earth-Friendly Wedding on Any Budget by Kate L. Harrison.
+ A gift certificate for a $250 shopping spree to Green Bride Guide's Green Wedding Registry.
+ Their wedding featured on Autostraddle.
Couples were asked to email Robin with their stories and wedding dates. There were so many sweet, inspiring stories! You guys are really adorable. Narrowing the list down to just five couples was impossible, so, based mostly on Robin's availability and after days (really) of deliberating, we chose six!
Now it's your turn to make the tough decisions. Read their stories and look at their adorable, lovey faces and CHOOSE ONE. Seriously, this is so much harder than you think. Voting closes August 16!
Which couple will win our Marriage Equality Wedding Giveaway?

Tia and Mar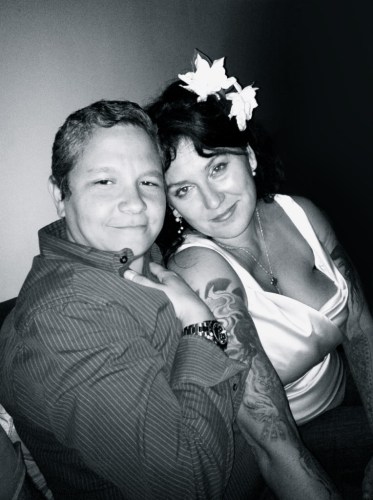 These two love birds are dedicated to have a low-impact, "Eco-Glamwp_postscelebration. Their wedding will be Organic, Alchemystical and Green. All plastic and paper products are banned from their reception. As we speak, the two are scouring garage sales to collect enough wine glasses, and they're sewing their own linen napkins (dying them with black tea and onion skins). Even the flowers used at the wedding will be from their very own garden.
Mar is from Panama and until she met Tia she had never discussed being gay with her traditional Latin family. She came out to her family by announcing her and Tia's impending nuptials! Her mother cried . . . tears of joy! She immediately gave her blessing to the happy couple. Now she and many other members of Mar's family will soon travel to the US, for the first time, to be apart of this couple's special day.

Abby and Lani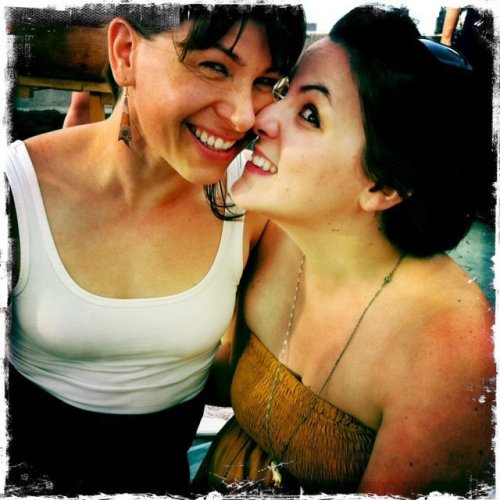 Abby is a current talent agency assistant and aspiring maker of TV shows. Lani, the lazy one in the relationship, is a PhD student, freelance artist, composer, web developer, yogi and outreach director for a Buddist non-profit. They got engaged on Christmas 2010.
The couple enjoy cuddling, making hummus and taking care of each other in their own special ways. Lani ALWAYS gives Abby her seat on the subway, but never lets go of her hand. Abby puts extra greens in Lani's salad and she keeps extra almonds with her at all times in case Lani gets hungry. Lani saves her crispiest french fries for Abby. Abby makes sure they always have peanut butter for Lani's 2am snacks.
"Our love, to me, is daily, hourly, moment-to-moment thoughtfulness."
These two are looking forward, not just to a wedding, but to a marriage: "Pushing our toddler on a swing. Waking up when the monsters are in the closet, and singing lullabies together to help our baby back to sleep. What means the most to me is that we will truly have a lifetime of love together. And the day we commit our lives to each other, legally and in front of all of our family and friends- I want that day to live with us and in us always."

Liz and Katie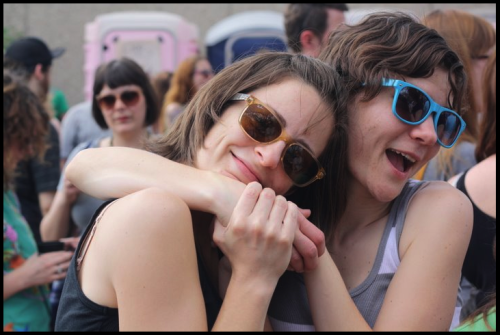 Liz and Katie met in Los Angeles in 2008 during the brief time that homogays could legally marry in California. They fell so hard for each other they joked about tying the knot then and there. Instead they enthusiastically volunteered for the "No on 8wp_postscampaign in both LA and San Diego, but we know how that turned out.
Katie is a writer and Liz is an audio engineer. Their work has taken them from LA to Austin, Texas, and finally to Brooklyn this past May. New York's recognition of marriage equality has come at an amazing time for these engaged cuties. It means even more to them after the devastation they felt in California.
As a couple they've made two cross-country moves, endured a three month long distance relationship and are ready for that next big leap together. Their budget doesn't allow for a photographer, but they love "photography and art (and music! And and and . . .).wp_postsA beautiful record of the wedding they've waited so long for would mean the world to them.
Note: Shhhhh, don't tell Katie. If they win, Liz wants to surprise her bride.

Dea and Morgan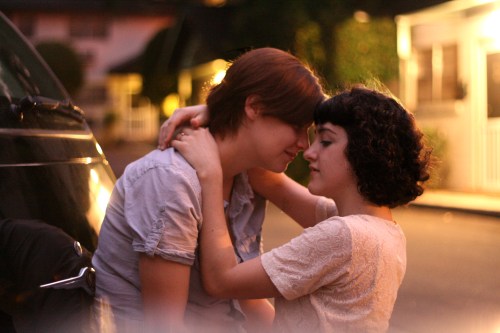 Before Dea met Morgan she hated the rain. Not so anymore. It's been raining at every meaningful moment of their relationship.
It was raining on St. Patrick's day, when they first confessed their love for each other, and Morgan may or may not have vowed to marry Dea one day.
It was raining on the long drive from Nowhere, KS, to Dea's "dream school.wp_postsIt poured the entire 14 hours.
It even stormed on the day they proposed to each other. They hiked to the top of a mountain with a bottle of champagne in Dea's backpack, slipping and sliding the whole way.
None of this dampened their spirits and they can't wait to marry each other. Dea says it best:
"All this rain, and yet these have still been the greatest days of my life. Every day with her is good, even when it's bad. She's my umbrella on a cloudy day, my rainbow after a summer storm, the rubber boots that keep my feet dry, a puddle asking to be jumped in, and together I know we'll get through all of life's thunderstorms."

Gina and Kate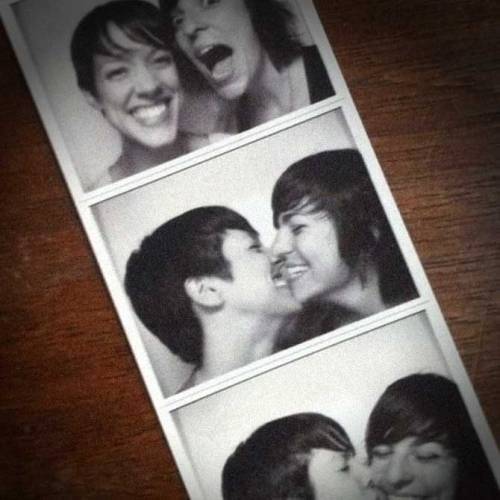 The story of how Gina and Kate met is straight out of a romantic comedy: on her very last night of a trip to NYC, native Brit Gina met Kathryn in a bar in the West Village in 2004. They talked for hours, and left reluctantly only after the bar closed, sharing their first kiss as Kathryn walked Gina to the subway. It could very well have been their last — Gina went back to the UK, and she had no plans to return to the States. But she and Kathryn managed to keep in touch via "odd objects, postcards and letters from around the world."
Miraculously, Gina was able to get a job as a designer and therefore a series of work visas in 2006, and was able to relocate to NYC and Kathryn.
Today they've been living together for two years, and Gina has applied for a green card — although her status remains "pending," as does that of many gay binational couples. Gina and Kathryn say they "love NYC, and are grateful for the rights, community and safety that living in NYC and in the U.S. affords them. While it may not be everything they deserve as legal U.S. residents, they know the rest of the world doesn't have many of the same privileges." They would love to have a professional photographer to capture the very first time both of their families and friends will come together from across the globe in July of 2012 to celebrate their commitment to each other.

Melissa and Jessica

Melissa and Jessica met as coworkers at a Starbucks in Oklahoma. Jessica was assistant manager, and the two became close friends. They began to realize they were more than just friends when Jessica was transferred to another location and Melissa found herself driving hours to visit her there.
After acknowledging their love for one another, the couple moved to NYC, and have lived there for the past four years. Jessica will be attending the Princeton Theological Seminary in the fall as well as writing and working as a barista, and Melissa has a hectic schedule of auditioning, performing, and nannying. It's a busy city life for a Christian couple from the South, but they've never been happier — especially now that New York has legalized marriage. For a couple working multiple jobs to pay the bills and covering all the wedding costs on their own, the opportunity to win a talented professional photographer's services is priceless beyond measure. Their wedding is in September, and there's no time to lose!

I don't know how you're ever going to pick just one. Voting closes Tuesday, August 16!