Hello beautiful peaches of this sweet world, guess what today is? International Day of Orange is the New Black Season Two, holigay of Netflix binge-watching queers everywhere. Hope you've got your weed, snacks, boo thangs, and updated account info, because shit is about to pop off. Sound the gay alarms, ring the queer church bells, send the label-free text messages because our favorite show on internet TV land is BACK.
Woo! Bust most of you already know this; in fact, my FB feed is filled with countdown statuses like "5 more days until the return of Poussey!" (as if she ever left us) and jokes about how the hottest pick-up line of the month is "Hey, girl, I've got Netflix." So I know that most of you are already on the OitNB up and up. I am so damn proud of all of you but I swear to lesbian Jesus if any of you do some spoiler status shit, I WILL CUT YOU.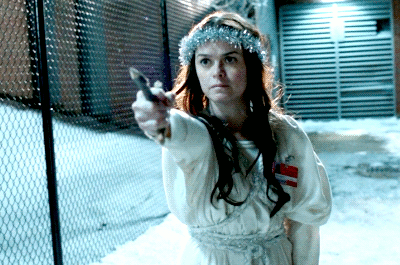 I kid. Stop the Violence. Anyway, let's take a step back and talk about that time that Autostraddle sent me and the stone cold fox that is AS Fashion Editor Lizz to the GLAAD Media Awards in New York to do some red carpet interviews.
We got to meet and greet so many gay icons and celezbrities and then we all went to A-camp and forgot everything! But lo and behold, amidst all the crazy times, we remembered how many of those interviews came from the cast of Orange is the New Black. Now, that doesn't include everyone, unfortunately, Samira Wiley and Laura Prepon were ushered past the red carpet, or at least past us, and led directly to their guest table. Taylor Schilling and Uzo Aduba attended the White House Correspondent's Dinner that evening and so they weren't even around for us to lovingly harass. But never fear; thankfully, enough of the fly babes from Orange is the New Black made the rounds on that magical carpet for us to ask some questions, get some kisses, and create this video for you all to enjoy.
https://www.youtube.com/watch?v=AfaGVbW6hAI