VALENTINE'S DAY: GLAAD likes something! And that something is the new romantic comedy "Valentine's Day," starring a few people we love and a few people we don't love. Why do they like it? – "What we can say is that the gay plot is in fact intended as a surprise and is not completely revealed until the film's final act, which is why no overtly gay content was shown in the film's trailer. Due to the nature of the story, LGBT viewers should not go in expecting a drawn-out, passionate love story. However, one of the gay character's stories is actually timely and groundbreaking and the final scene is very genuine and tender." (@glaadblog)
OUTMEDIA WANTS YOU: OUTmedia is seeking college youth on campuses throughout the world to submit original videos on the theme, "Be Queer, Buy Queer!" The winning college wins $10,000! Poetry slams, rants, stand up & sketch comedy, and music are all welcome.
We want you to speak boldly, and outrageously on the vision, expressed by OUTmedia's Founder, Shelly Weiss, "care about where you spend your every dime, invest in the businesses that believe and invest in you. Build your queer vision of your future, with what and where you buy today!" The international campaign Be Queer, Buy Queer! will not only give back to Campus Pride but also promote visibility of LGBTQQIA culture at colleges and universities across the globe. For more info visit outmedia.org.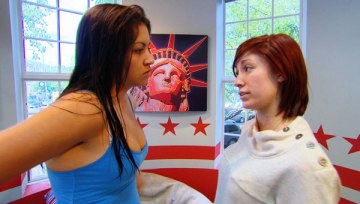 THE REAL WORLD: Last night's episode of The Real World: DC, illogically named "Bitch Begins with Bi" (the two bisexuals on the show were actually anything BUT bitchy throughout the episode, playing both sides of the fence as peacemakers while Erica and Ashley pursued a Battle of the Low Blows HAHAHA SEE WHAT I DID THERE) was lacking in several areas, like "Andrew straddling the line between terrible/AWESOME and creepy/HILARIOUS" and "Emily making out with chicks" (this is really an overall season problem, not just this ep) but really shining in other areas, like "reinforcing negative stereotypes about marginalized groups of people."  That being said there was a nice little pow-wow wherein the girls told Emily they wouldn't care if she was a lesbian and the token Republican this season is pursuing an internship at the homo-sexy Washington Blade (RIP) and is seeming overall very open minded to everyone about everything.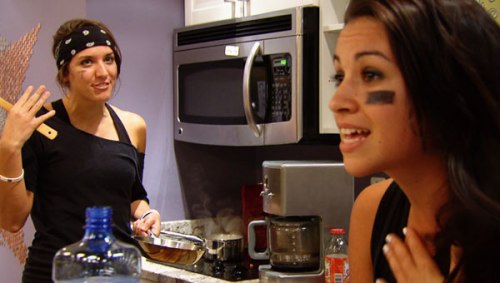 But a lot of it was like A Shot of Love but without Tila Tequila there to cry all over her breasts and say that she just really wants to find love and why is everyone punching everyone else in the face! Instead; Erica and Ashley both revealed their history of dealing with depression and, rather than bonding over this shared emotional state they consequently did a bang-up job of reinforcing the stereotype that women who do suffer from depression or major depressive disorder are just whiny bitches! That being said, it can be challenging at times for two depressives to be good friends. THANKS GIRLS GOOD JOB A+++! Oh also, Mike held up his end of the stereotype-reinforcing game as he naively insists that he is bisexual despite everyone else's number one feeling that Mike is defo 100% homo. Defamer breaks it all down for you. (@defamer)
RIHANNA: Rihanna tells i-D magazine she loves ladies but… isn't gay. Luckily, as Alice Pieszecki once pointed out, all girls are straight until they're not. There are approximately 15 teeny tiny scans of Rihanna's interview available on the internet, and zero copies of the magazine itself available within a five-block radius of my apartment, so we will have to just wait and see what prompted all this buzz.  (@blackgaygossip)
ALEXANDER MCQUEEN: "The man whose name was often followed by the words "enfant terrible" was found dead today in London. While he may be remembered as a bad boy, it's more likely that he will be called a visionary." The death has been ruled a suicide. He was tweeting some upsetting things before he died. (@jezebel)
JERSEY SHORE: Grace Chu of Grace the Spot and Afterellen has an article on The Huffington Post about the cast of The Jersey Shore's upcoming appearance on Ellen! (@huffpo)
GAGA & CYNDI: After making the morning talk show rounds yesterday, Gaga & Cyndi Lauper attended the AMFAR Gala in New York City to raise money to fight HIV/AIDS, looking heroin chic fierce, per ushe.  Gaga performed her rare song "Future Love" covered in white pearls and white body paint. (@gaganews)
They also did a two-part video chat with Diane Sawyer where they talked about gay rights, their gay fans, and what Gaga learned about sex in Catholic school.
ELLEN: Ellen's talk show has been extended through the 2013-2014 TV season. "I'm thrilled to know I'll be here 'til at least 2014. Things will be a lot different by then. I won't be dancing over my coffee table anymore. Through the magic of 3D, I'll be dancing over yours!" (@variety)
TAYLOR SWIFT: The Times Online UK weighs in on the Taylor Swift phenomenon, noting her "America's sweetheart" cachè and so forth. In conclusion:
I hope Taylor's life stays as sweet as she makes it seem today. I hope she never does sing about divorce and tragedy, about the kind of domestic suffering her country-music predecessors went through. I wish her only happiness. But if you were to ask me whether, a decade down the line, she will be singing the kind of songs that change women's lives, the kind of songs Tammy and Kitty and Patsy sang, I would have to say, I doubt it.
JANEANE GAROFALO: In a new interview with New York Magazine, Janeane Garofalo openly admits she sold out by losing weight, having Botox, and her dream job on 30 Rock. "I sold out. Total sellout, lost weight. Quitting drinking does contribute to that because apparently I was drinking about 22 pounds of vodka. But yeah, I fucking sold out. That is absolutely a fact. I was heavier and it really gets you almost nowhere, you realize quickly. I mean, I got very lucky in the nineties." BRB gotta go watch Reality Bites. (@nymag)
LOHAN: Lindsay Lohan missed her flight to Vienna to earn $150,000 for showing up to a gala. Her date is gonna take a dude instead. (@contact music)
MODERN FAMILY: "On ABC's Golden Globe-nominated mockumentary comedy series, which has been picked up for a second season, Eric Stonestreet proudly plays Cameron, the more flamboyant half of a gay couple raising an adopted baby, opposite out actor Jesse Tyler Ferguson as Mitchell. Also known as Dr. Benson in the 2003 indie Girls Will Be Girls, the 38-year-old Kansas native spoke to Advocate.com about how he's personally pushing the gay movement forward — with or without prime-time PDA." (@advocate)
MELISSA ETHERIDGE: Watch the video & listen to the first single off Melissa Etheridge's new album, "Fearless Love." The new album will be released April 27. (@me)
SCHOLAR LADIES: Love, love nothing but love: