Google Buzz just took our Twitterverses by storm. We didn't ask for it, but suddenly Buzz was just there. Like a little beach ball shaped Trojan horse, it wheeled right in. It plopped down in the middle of our micro-blogging lives and was like… Oh, Hey Guys. And then it rolled us a joint and we were like okay, sure whatever, because it was right there.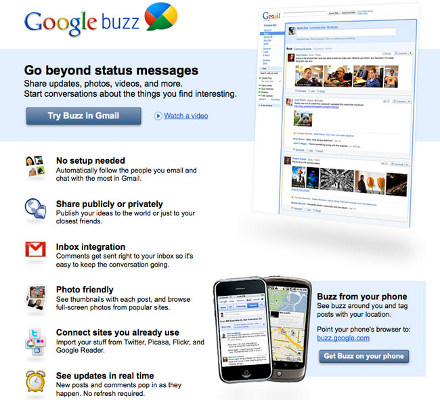 And that's Google Buzz's first strength. It's extremely easy to use. It's native to our Gmail. And that's real sneaky and real smart, Google. Because you know how much we love sitting there gazing at our inboxes and waiting for something awesome to happen. Perhaps Google Wave was merely a high-profile diversion all along? Like how new Coke reminded us how much we loved old Coke, kind of?
Gauging immediate reactions to the advent of Google Buzz, I'd say most people I know were like what the hell is this for? But the key is that they were Buzzing about it. And today they kept Buzzing.
Here are my thoughts so far. I'll admit that I was a Twitter skeptic when it rolled out. I've since evolved. These days I tweet like a mofo, but I don't use Facebook for much of anything. Pretty much just to check which weirdos I knew in high school decided to get hitched and where my friends will be drinking at any given moment. Full disclosure. So here's how I see it so far.
GOOGLE BUZZ'S FATAL FLAWS?

1. I don't particularly want my email interwoven with my forays into social media. I email my grandma. I email homicidal maniacs on Craigslist for cheap furniture. I email all manner of  unseemly individuals who I don't want any sort of more intimate dialogue with.
Most people seem to be all worked up about how other Buzzers can see your most frequent contacts. Hell, I don't care about that so much as I want to know who can see my Buzz itself. I like to keep my projected online awesome life separate from my mundane real life so no one knows when the things I say are elaborate (but well-woven) lies. What if Google Buzz somehow mixes these two worlds without my knowledge and I have to stop lying all the time? That would totally suck. I promise Technostraddle would get so much lamer.

2. Twitter allows you to connect to celebrities, organizations and personalities you might not otherwise have access to. Because they live in L.A. and have bodyguards and stuff. And "restraining orders" and "prosecuting attorneys."
I think Twitter's ability to neutralize the weird space between you and the people you admire, support or stalk is one of its coolest understated features. This is possible at all because Twitter is largely disconnected from the rest of our online lives or real lives, whatever you call them. We get one link and a low-res profile picture and that's all. Then only the tweets remain.
How that notion of a level playing field will connect to Buzz is less clear. It may work for small-scale social networking, but what about when we want to Buzz at Rachel Maddow? Or Martha Stewart?
3. Much like Harry Potter and Lord Voldemort, neither can live while the other survives. Twitter and Google Buzz cannot co-exist because they're cramming themselves into a niche that's too tiny. Of course Facebook, while still squeezing onto this proverbial getting-pretty-crowded micro-blogging couch, doesn't just offer tweet-like status updates through the news feed. It's got all kind of information that makes us accountable for what we did last night, from regrettably tagged photo albums to our fluctuating sexual orientations.
But what if they could co-exist? Facebook's news feed and Twitter live side-by-side amicably enough. They even overlap. Will the ability to feed our tweets through Buzz gradually reel the Twitterholics in? Will a Buzz crowd and a Twitter crowd emerge, much like there's a Facebook crowd and (unfortunately) a Myspace crowd?
HOW GOOGLE BUZZ MAY BLINDSIDE TWITTER AND FACEBOOK:
1. Google's getting sneaky. And I think I like it. This whole Buzz thing is kinda like when Google popped up with Google Voice for the iPhone not so long ago in a move that totally side-stepped Apple's eternal pending review of the Voice app (and Apple's understandable but still unjust reluctance to approve it). I mean, this thing is sitting right there in our inboxes. We don't have to go to an awkwardly separate login like we did the one time we logged onto Google Wave.
2. Buzz allows for more continuous conversation. Like Facebook (or Wave) we won't have the need to rummage around for the fractured pieces of who-said-what like we do with tweets. That's nice because it still bugs me.
3. Buzz has a "like" button. With an emoticon, no less. Do not underestimate the power of the like button.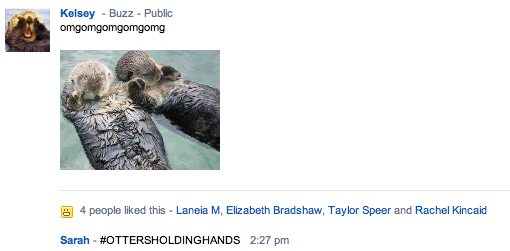 4. Resolute non-Twits can use Buzz guilt-free and maintain their moral superiority. I'm sure that appeals to a certain self-righteous demographic.
5. Google Buzz totally butted in to our lives. It's there and we have to actually execute an action to make it go away. That's powerful.
6. Google implemented Buzz in the opposite way they tried to give us Google Wave. All of the sudden Buzz was there and we were curious so we started using it and it was intuitive and then one thing led to another. Wave was really exciting when it was in hype-mode and really disappointing and disorienting for most people when it transitioned into reality. Kind of like when you cross state lines to meet someone you've only talked to online who claims to be a a really handsome young Nigerian prince with this great business proposition for you, but then it's actually just Chris Hansen from MSNBC. And you're f*cked.
WANT TO TWEAK YOUR BUZZ?
+ Feed your Twitter to Buzz. Click the Buzz link under your Gmail inbox. Right next to your profile picture (which looks really nice, btw) there's a link for "connected sites." There ya go-all kinds of stuff! Add away.
+ Worried about your privacy? Us too. Lifehacker's got you covered with some more privacy tips.
+ Make an individual Buzz "private." Then only people you've explicitly approved can know about all those terrible things you do and did and will continue doing. Below the text input box there is a drop down menu. If you only want approved followers to see your buzzes, select "private" before publishing your text.
Unfortunately, you can't change this after a Buzz is published (yet). I'll probably learn that the hard way. Also you have to make a group and stick your approved Buzz onlookers in there which is both irritating and awkward. But surprisingly, if you want all of your Buzz updates to be private it seems to change the default selection on this menu to whatever you picked last. I was ready to be up in arms about that.
+ Turn off Buzz email updates, because they are probably bugging you.
+ Or hell, turn Buzz off entirely. Yes, there's a tiny link in size -4 font down at the bottom of the Gmail homepage to "turn off buzz," but of course turning it off is way more complicated than that. Because Google thinks they can successfully force us to use their new product by making everything about how to remove it complex and awkward. Opacity really isn't the best policy here Google. It's not the best policy ever. Stop being an asshole.

What do you guys think? Is Buzz a privacy-wrecking Google demon? Or are you buzzin' about Buzz? Buzzed on Buzz? Is it a Buzzkill?  Please, stop me.