After a tense week in which Uganda's infamous "Kill The Gays" bill seemed to be defeated, then alive and kicking, it looks like the saga is finally over – for now. Uganda's Parliament originally only conceded to rescheduling the vote until later in the week as a result of international pressure, and ultimately refused to remove the death penalty from the bill's language. But it now appears that the vote that was rescheduled to Friday never occurred, and the bill has expired, effectively taking it off the table for the time being.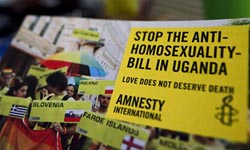 Obviously this news comes as a great relief, and there are reports of celebrations being planned by gay activists in Uganda, whose courage in the face of frightening violence by their government is deeply inspiring and also largely to be credited for any advances or social progress made for queer people in their country. Homosexuality is already illegal in Uganda, and has been since before this bill was ever introduced; protest and political activity by any gay activist in Uganda is dangerous, and their work is to be applauded.
The precise reason for the bill's being allowed to expire hasn't been given by the Ugandan Parliament; some online sources are still crediting international pressure and Western authorities, citing the fact that Avaaz gained 1.6 million more petition signatures in the 72 hours before the rescheduled voting time. It may also be worth noting that Amnesty International has directly addressed the newly re-elected Ugandan president Yoweri Museveni, urging him to adhere to a higher standard of human rights, and letting him know that he is under scrutiny. While compelling, their statement doesn't cover only the abuses that gay and lesbian people in Uganda have suffered, but the general freedoms that all its people are denied:
"The blanket ban against all forms of public assemblies and demonstrations that has been in force since the conclusion of the February 2011 general elections must be immediately lifted, says Amnesty. Walk to Work protests which began on April 11 have been marred by the use of excessive force by security forces, including the use of firearms against crowds which were not posing an imminent threat of death or serious injury, killing at least ten people and injuring dozens more.
"President Museveni must take immediate steps to improve the freedom of expression in Uganda. Perceived critics of the government have faced harassment and intimidation," said Michelle Kagari. "The proposed Press and Journalists (Amendment) bill should be withdrawn and the right to peaceful protest upheld."
Amnesty says it is also worried that torture and ill-treatment by Ugandan security officials remains widespread."
It's interesting to note, however, that Museveni was also recently celebrated by the Inter-Africa Committee on Female Genital Mutilation for "his outstanding role in fighting the brutal inhuman practice against women in Uganda, the region and internationally." While the human rights issues around FGM/FGC are fiercely debated, it does seem like this is one matter that's taken seriously in a country where peaceful protests are met with violent retribution and gay people are literally criminals. "[Deputy Speaker of Parliament Rebecca Kadaga] said the women of Uganda feel proud of the President for constantly identifying with the plight of women and the girl child."
The rest of the world celebrates this legal and moral victory with Ugandan activists, with the hope that President Museveni will keep in mind Amnesty International's words. While the hardships that queer Ugandans live with aren't over by a long shot, the words of lesbian activist Kasha Jacqueline Nabagasera sort of sum it all up:
Nabagesera, planning the evening's celebrations, refused to be dismayed by the news that Bahati would fight on.
"It is his right to reintroduce the bill but just as we have ensured the bill did not pass in this Parliament we will do the same in the next," she said. "The fight has just started."