Welcome back to Transparent, the show where everything's made up and the points don't matter. If you've been bursting with questions about backstory on this show or the childhoods of our three whippersnappers, YOU ARE IN LUCK. This episode happens pretty much entirely in the past — in 1994, specifically. If you were wondering what percentage of the events in the last episode actually happened and which were hallucinated by Ali, you are out of luck. I know, I'm sad about it too.
---
We open by the trunk of the car, where we learn that Ali's bat mitzvah has been successfully canceled and this means that Maura has had time to concoct a pretend conference and go to it so that she can attend Camp Camellia. Judith Light isn't pleased. She feels like canceling Ali's bat mitzvah is basically the end of her social life and doesn't know what she's going to tell her friends. Maura says "No one owes anybody any explanation. It is what it is." That line is applicable to much more about their lives than just this bat mitzvah situation! Do you get it?
In the house, baby Sarah and baby Ali are commiserating about how this will make their mom sad. Judith Light is talking on the phone, complaining about Maura, and ends the phone call by telling someone to just put the white wine in the freezer, she'll be over in 10. She tells her kids that her sister's back is out again and she needs to go care for her, probably all night, and won't be home. Judith Light is a terrible liar. She leaves her kids some money for a pizza, and Sarah complains because she flew all the way home for Ali's bat mitzvah and ended up just hanging around at home. Well in twenty years you're gonna be living here once again and still laying around smoking weed, so let's not get too hoity-toity, baby Sarah.
Sidenote, one of the things that's come up in previous episodes has been a sort of refrain of the siblings referring to their childhood and their parents as really negative, like it's a source of great pain for them — Josh did a whole thing in Episode 5 about how both his parents were terribly absent and never there for them and ruined his life, etc. I haven't really commented on it because I felt like while we hadn't really seen any evidence of less than involved parenting, maybe it was coming later! But to be honest if this is it, Maura traveling on the weekends and Judith Light sleeping over at her sister's, it just doesn't seem all that bad? Maybe it's because I watch a lot of Criminal Minds and am used to seeing parents lock their kids in car trunks and make them live in ditches and stuff, but I do not feel any more motivated to take the Pfefferman kids' angst seriously, at least not because of their parents. Plenty other alarming stuff happens in this episode, though, so don't worry, if you were hoping for some weird childhood stuff you're not gonna miss out.
Meanwhile, Maura and Marcy are arriving at Camp Camellia! It looks kind of like it's being hosted at the exact same campground where my brother used to go to Boy Scout camp, which I guess is possible. When they drive through the campground there are pretty people in dresses everywhere! I hope that's what happened at Boy Scout camp too but I suspect it isn't. Maura says "we're mother-effing here!" and while usually it grates on me when people voice watered-down versions of swear words out loud, when Maura does it it's really charming.
Elsewhere, Judith Light is complaining to her sister that now everyone thinks that the thirteen-year-old daughter is the head of the household. Actually I imagine that's kind of normal for having a thirteen-year-old? Granted, they can't vote or drive, but you try getting any thirteen-year-old to do something they don't want to do and let me know how it goes. Judith Light's sister implies to us that Maura has been absent from other major family events, like weddings and funerals and 4th of July barbecues, and while I think this is supposed to make us understand Judith Light's side of the story, I mostly feel like I would probably hate goign to all of those events and missing them sounds awesome. Judith Light theorizes that maybe this mysterious conference attendance is about a cute TA.
Judith Light doesn't wanna go to couples counseling, which is fair because look what happened to Calzona, and she also spills the beans about how Maura's been wearing her underwear. Basically my worst fear in life is a former or current sex partner sharing lots of details about having sex with me and I'm not even working through a transition so this makes me wanna die. Judith Light also reveals that she's maybe kinda considering an affair with Eddie Pascowitz, and also we know that in the present her husband's name is Eddie. THE GAME IS AFOOT.
At Camp Camellia, Maura and Marcy are showing at the first evening's get-to-know-you soiree. They make friends with some old-timers, who tell them about bygone days of Camp Camellia and how great it is that there's more hot water now. We also learn that one of the new friends' wife, Connie, is here, even though usually this retreat is kind of off-limits to wives. It's interesting that the way "wives" is used in this scene implies a collective understanding that pretty much everyone here is gonna be married, and their attractions are to women.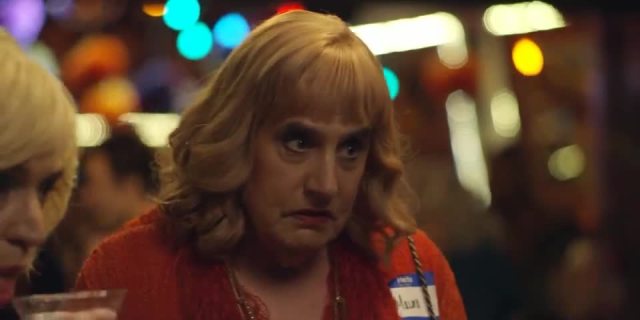 The conversation is cut off when a song that everybody loves comes on, and there's a break for dancing. It's amazing that they got such good footage from the last night dance at A-Camp, the lighting is great.
Back at the house, Ali is moping and sharing a pizza with Baby Josh. Sarah is gonna peace out to go protest abusive labor practices with some UCSB students. If Teenage Sarah is anything like Adult Sarah, she's gonna spend about 5 minutes protesting and then go write some graffiti about ending abusive labor practices inside a restroom stall that an underpaid laborer is gonna have to paint over.
Josh soon leaves too, with Rita, who I was hoping would seem really young and teenaged so I could feel a little less upset but nope, she is definitely a grown-ass woman. Rita is deeply uninterested in talking with Ali and it shows, which sucks because Ali seems like a very cool and smart little kid? Ali tells Josh that he and Rita are disgusting and make her want to vomit, which is fair.
I also want to vomit when I think about Josh and Rita, but for horrifying statutory rape reasons, which I don't think is what Ali is referring to here. Maybe I'm wrong and she reads a lot of Scarleteen, I don't know.
At Camp Camellia, Marcy and Maura ride their bikes to a pay phone to call their families and prop up their conference/business trip cover stories. Maura can overhear Marcy telling her son over the phone to "man up," which is really special. Maura passes on her opportunity to call her family, saying she'll do it later. Is it because she's having so much fun she doesn't wanna be reminded that life outside Camp Camellia exists? Is it because her marriage isn't going super well even regardless of gender stuff and she'd rather take a break from talking to her wife? Is it because she knows that everyone is probably out of the house pursuing their own personal disasters anyway? We don't know.
Ali is just chilling out, maxing, relaxing all cool at home when she hears a mysterious noise. Who's at the door? Surprise, it's Mel Shimkovitz playing Jules the caterer, and the first of a couple of total hotties in this episode that you're going to have a crush on. Jules' catering company didn't get the memo that Ali's bat mitzvah is canceled, and so she's just a girl standing here in the hallway with her bar cart, asking you to love her.
At Camp Camellia, Maura is enjoying what seems to be a lovely outdoor bbq picnic situation? Is there any way we can get that person to do the food for next A-Camp?
As she sits down to eat with her new buddies, the camp returnees discuss Ramona, a former camp attendee who was socially ostracized after it was revealed she was a trans woman, not a cis man who enjoyed crossdressing.
"I am judging!… that's crossing a line. …We are crossdressers, but we're still men!"
This is meant to seem absurd and cruel, which it 100% is. There's even an instant where the speaker begins to describe Ramona using she/her pronouns — which everyone at this camp uses, along with women's names — and then retracts them and corrects them to "he," which is just unbelievably mean. I'm trying to imagine straight cis people watching this show on their couches at home and what they would make of this, what frames of reference they have to draw on for this scene. I honestly have no idea. To me it comes across as deeply, deeply sad and also very run-of-the-mill. It's something it feels like the mainstream queer/LGBT community does so often: trying to make sure there's at least one group that stays on a lower rung of the ladder of social acceptability, and distancing oneself from that group as much as possible. I might be [x], but at least I'm not [y]. As long as we can all agree that [y] are beyond the pale, and I help make sure that it stays that way, then at least I'm doing a little better than someone. And so, so often, the group on the receiving end of this treament is trans women. On a more concrete note, the particular lesson for Maura in this case is: no spaces are safe for trans women, ever. You can see her face change as she absorbs that lesson, and it's awful.
Later, Maura and Marcy relax in the idyllic forest next to their cabin, reading their horoscopes. Connie, the cis wife of the person who hates Ramona, walks up. Maura likes Connie and is excited; Marcy doesn't like Connie very much, I don't think. Maura asks Connie about Ramona — during the conversation earlier, Connie seemed to sort of be a voice of dissent, saying "she had the nerve to bring hormones to cross-dressing camp, can you believe it!" sarcastically (and using Ramona's correct pronouns). Now, Connie says that she knew Ramona, and misses her.
The subject changes when Marcy reads Connie her horoscope, and it is very difficult not to think of that scene from Spice World. You know the one I mean. Maura redirects back to Ramona, and Marcy sort of pissily protests "that's not what this place is for." She thinks that trans women should make their own space — you know, just make your own camp! How hard can it be! (Reader: it is very hard.) Maura says "I don't agree," and Connie observes to Marcy, "you made her sad!" Connie suggests alcohol as a next step. Seriously these two are gonna fit right in at A-Camp. Marcy is worried that they're not gonna make it to the pageant on time, because there's a pageant, but I bet it's all going to be fine and nothing will go wrong at all.
Pages: 1 2See entire article on one page