As you know, Batwoman is coming to the CW in this year's Arrowverse crossover, and will very likely fly out of there to headline her own show. As you also know, Ruby Rose will play Kate Kane and don that famous cape and cowl. What you might not know, however, is how in the world to dive into Batwoman's illustrious comic book canon to prepare yourself to see her on teevee.
Comic books are complicated! Every superhero in every Marvel or DC universe has been killed or destroyed and then rebirthed repeatedly. There are multiple character continuities, some of which are being published at the exact same time. There are alternate realities. Characters exist in their own solo titles and are sometimes getting up to shenanigans in other characters' titles or in team titles. Most confusing is the fact that each hero's solo books start over at #1 every few years. Where do you even begin, and once you've done that where do you go? Don't fret, friend; I'm here to help.
The lesbian Batwoman that we know and love today was reborn into our world in 2006, a mere 50 years after she was introduced into Detective Comics as Batman's love interest to thwart rumors that he was gay! We'll start with her lesbianism, but please do enjoy her original arrival in Gotham city.

---
52 #7-11 and #28-36 (2006)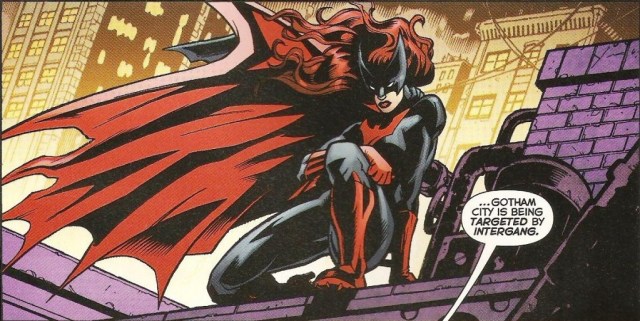 DC's 52 is where Batwoman reappears as a lesbian, under the seasoned queer-writing pen of Greg Rucka, who'd made Renee Montoya a lesbian in Gotham Central just one year earlier. Batwoman is a minor character in this series, but she and Renee do get to know each other and trust each other and start feeling some feelings about each other in side-stories and the background. (Issue #33 is their most prominent one.) The other main thing this series establishes is that Kate's an outsider in the Bat-family. It's not essential Batwoman reading, but Renee Montoya remains one of the best-written queer comic book characters, and it's important to note that when 52 was published, Kate and Renee's relationship was revolutionary. They were the only queer women in comics. There weren't even any leading lesbian characters on broadcast TV during during this series run. Glee was still years away.
---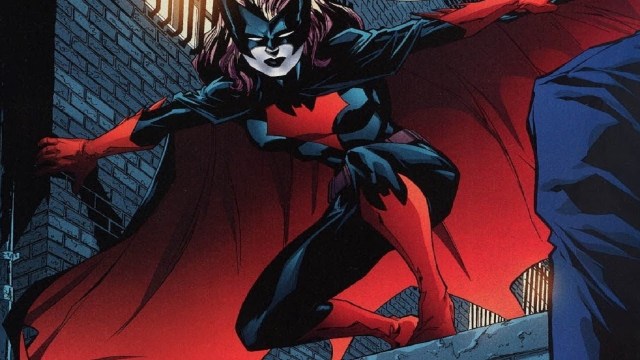 If you're casually into Renee Montoya — and you absolutely should be! — these are both her series and Batwoman is featured as a side character in them. (If you're really into Renee Montoya — and, again, you should absolutely be! — back up and read Gotham Central before you read, well, any of these recommendations.) Like 52, this isn't essential Batwoman reading but it's good gay stuff.
---
Detective Comics #854 – #863 / Batwoman: Elegy (2009-2010)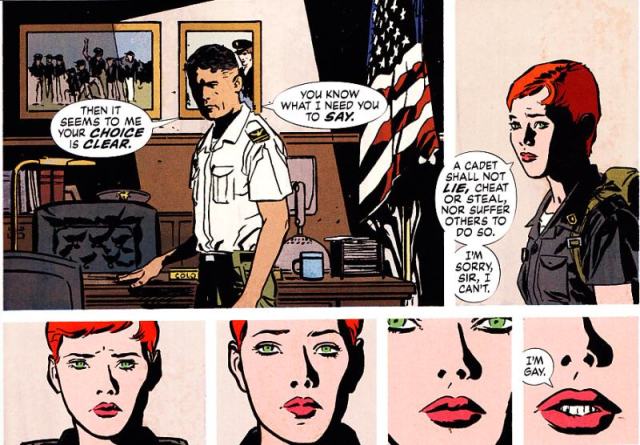 Here's where Batwoman's career begins! These issues of Detective Comics are collected in the award-winning graphic novel Batwoman: Elegy, which features a foreword by Rachel Maddow and remains one of the most celebrated collections of queer comic books. Batwoman's backstory (getting kicked out of West Point because of Don't Ask, Don't Tell) is explored, and her blossoming relationship with Gotham City PD Detective Maggie Sawyer (not the Maggie Sawyer you know from Supergirl the TV show), and her supremely fucked-up family dynamics, and her relationship to fighting crime in Gotham City. This is a must-read.
---
Batwoman #0 – #24 (2011-2014)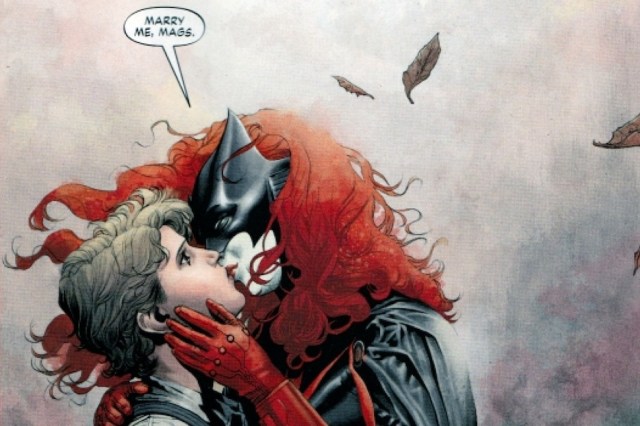 J.H. Williams of Elegy continues his celebrated Batwoman art in her first solo title. These first 25 issues are artistically stunning; to this day they contain some of the most celebrated art and layouts in the industry. Writer W. Haden Blackman goes deeper into Kate's past and works to create her own cabal of supervillains from Gotahm's C-list. He begins pitting her against some of Gotham's more mythological foes. It's uneven, but it does feature a three-issue team-up with Wonder Woman that ends with her caressing Batwoman's hair — and Kate and Maggie's engagement.
---
Skip it. I'll just tell you right up front: Skip it. Kate comes out to Maggie as Batwoman and proposes at the end of Issue #24, but DC forbade their wedding, which caused the entire creative team to quit. Marc Andreyko picked up the writing in Issue #25 and tanked the series. Kate and Maggie break up, Batwoman gets in a rape-y situation with a vampire, and it's overall just bad, bad, bad.
---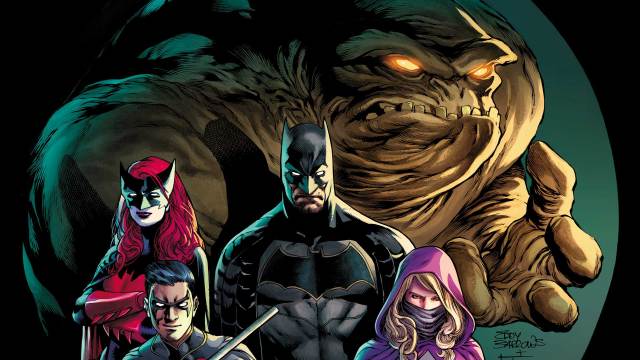 This is a much-needed Batwoman do-over. It resets her story and alters some key elements of it, as well as finally folding her into the larger Bat-family in the way she's always deserved. This is actually a really good jumping-off point for the most modern version of Batwoman, and an excellent precursor to her current solo title (which you can read more about below).
---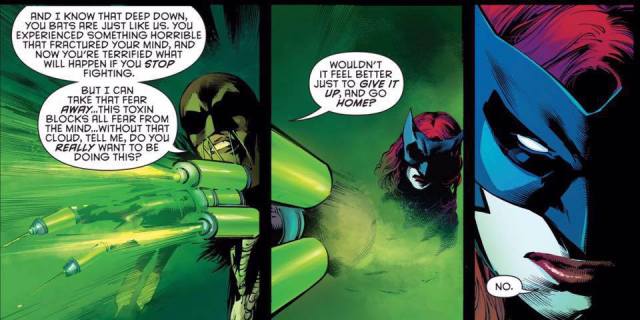 11 years after she came out, Batwoman finally got a queer woman writer in her main-universe book! Marguerite Bennett is joined by James Tynion IV in the beginning of this series but she's writing it solo now. Bennett wowed everyone with her take on all of DC's famous women superheroes in Bombshells, and all the care and affection she gave to Kate and Batwoman in that alternate universe is on display here, with more grit and trauma-conquering. Most recently, Renee Montoya is back(!!!!) and Hayley Kiyoko's music makes a guest appearance. Another must-read!
---

If you like A League of Their Own and also women superheroes, this is for you. It's not part of DC's main universe continuity by any means, but it's hands-down the best characterization of their most beloved superheroines. The series is set during World War II and while there's plenty of action and villains to fight (including, hey, punching Nazis!), there's also plenty of character growth and exploration of these women's relationships with each other. Kate's lesbianism is on full display here, even though it's the 1940s. This is also the series that made Marguerite Bennett a star!
---
This is not an exhaustive list of Batwoman single-issue comics; she shows up repeatedly in Batman's books and pokes her head in from time-to-time in other Bat-family titles. Do you have any favorite Batwoman issues that I missed? Share them in the comments!