The pool hall is my second home. On a weekday afternoon, I'll go after work and meditate as I count off shots. This time in the evening there are usually only a few men in the bar. Playing solo costs $5 and helps me settle from a frantic workday. I wonder sometimes what the men think of me as I lean my butch ass over the table. Is there ever lust in their eyes like there is in mine when some dyke gets just the right posture as she lines up a shot? My own lust is reserved for Sunday and Monday nights, when the bar is full and there are queers sizing each other up across the way at different tables.
This Sunday, there's a tall woman a few tables over with this hot outfit (almost entirely denim) and her hair gracefully swept up and back. She's here with her parents. Do they even know she's gay? I'm pretty confident that she is, she gave me the nod on the way in. I'm here with a sweetheart, teaching them how to control the object ball with little adjustments. I pocket a shot and catch the woman's eye, she gives me a look: mutual recognition but definitely flirtation too. I think maybe she would come home with us. She certainly seems to be signaling, the way her eyes ask me to play just before she looks away. A fantasy starts to grow in my mind; I want to take her home with us. What does she enjoy? Would she let me lead the way I like? Am I allowed to be fantasizing about a stranger like this?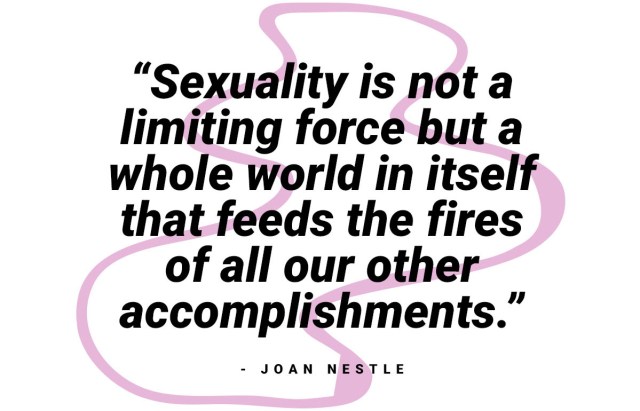 I don't know that I ever "figured out" I was queer. I first saw sexuality inside of queerness. I never connected my sexual brain with images that involved women and men having sex with each other. What I did connect with were the strange taboo sexualities I found in books in the back of the library. There was never any place in my sexuality for straightness, even as someone who feigned a lot of clean-cut normalcy. What I found myself searching out were the "abnormal" and "deviant" desires of people on the margins – and that meant lots of queer folks. My sexuality formed around the idea of being outside of something, of playing with and usually breaking the conventional rules.
But I was not a rule-breaking kind of kid. I was very straight-laced, keen on observing other people's deviancy with open eyes and ears. I would consider myself feminine then, and eager for people to like me but so totally unwilling to challenge their assumptions about who I was. As a teen I was Tegan and Sara Femme, soft and passionate, then later I was Intellectual Femme, brazen and fun, and for a short period I was a gorgeous Summer Days/Starry Nights Femme flaunting in dresses that showed off my growing hips and sleek calves.
Some nights now, on a nice date maybe, my butchness is a tight tee under a blazer, with my slick black chelsea boots on. It's a look that teases my working class roots, only a slight disguise that says "look, I can be sharp if I try, I can be sharp and clean for you, to turn you on." When it's me, with my sweethearts and my friends at the pool hall, my butch look is a hopefully-not-too-affected mix of loose workman jeans, roughed up leather boots, keyring on my beltloop and maybe a muscle tank clinging to my skin. It's Springsteen and cheap beer, a different image of lust, more overtly classed, but playing with a fantasy of a rough past I never had.
My sweetheart and a close friend tease me one night, pretending I'm not playing so well: "unimpressive," "pure luck," "you aren't that good." They were trying to get my ire up so that an hour later when I told them to stare into each other's eyes as I fucked my sweetheart's body, I would mean it with a snarky competitive vengeance, I would mean it with power and control, I would be pushed to take what I want. And they would feel my desires dripping off of me. My body is wanted. My body is wanted for its lust. I'm a lustful slut, a butch slut. I want people to fantasize about me. I look this good, I play this well, because I want you to tell me about the desires I give you. Have you ever felt another dyke gaze at you?
It's new for me, to call myself a butch, to have my partners call me Daddy. I know not every butch would tie their sexual lust thoroughly into their presentation, but my butch looks are definitely about my lust. Claiming my butchness has been a complicated road filled with longing, miscommunication, hurt feelings and damaged relationships. When the world gave me instructions for womanhood, it never carved out the paths I wanted. As I fought to understand my own desires, I had to face up to the ways society projects an image of a sexually provocative woman.
I found myself complaining a lot. Around me were these masculine-of-center women who drew a lot of attention from the people I wanted to draw attention from, but my womanhood couldn't look like theirs, I convinced myself. My wide shoulders and long forehead meant I needed swooping bangs and low cut tops, a visible bra would tell the world I had tits, the tight jeans showed enough hip to be convincing about my small curves, but if I cut my hair short in some sharp dyke fashion I would look like a boy, I thought.
But then slowly I reached a frustration point with my own presentation. At the right selfie angle I now began to appreciate my own appearance for the first time in my life. I liked my shy smile and the way my thighs filled out. I liked my collarbone and my soft hands. But I still wasn't what I would describe as hot. A partner even inferred, "you look pretty when you dress up, but not sexy." I wanted to look sexy when I dressed up. Very sexy. Irresistible. And so my closet shifted again as I gathered button downs and leather belts; I found a nice pair of black stud earrings and haven't worn another pair since.
There is always room for queerness, we are told, as long as it looks… acceptable. But unacceptability is part of what structures my queerness in the first place. Now each night I go out I hope my intentions are clear; I hope my sexuality is in full view, I hope my presence as a butch woman affects the gaze of the queers around me. The butch is often the visible form of queer womanhood, and through growing local and online communities, I am learning to use my visibility. Part of that is definitely using my own image to have, work with and generate sexual desire. And it is important to me. I think queerness is always struggling against a desire to assimilate, resisting the long-attempted cover-up of queer sex.
I'm not supposed to lust like this, not supposed to want sex, not supposed to want to fuck. I'm definitely not supposed to want the sex I do: the polyamorous and kinky systems of consented power and control that make me and my partners feel like we're closer to dueling than making love, closer to offending than satisfaction, closer to our deepest fears and desires than we can be elsewhere in our lives. Even within queer community, I think our sexuality is sometimes given away to the things that will make us look put together, safe, controlled, and therefor stable enough to build a home with. But, at least for me, sexuality, lust and desire are most of what makes me queer. And I think my queer kinky sex can be a part of my inner life, a part of my community's life, and a part of my public life without endangering anyone.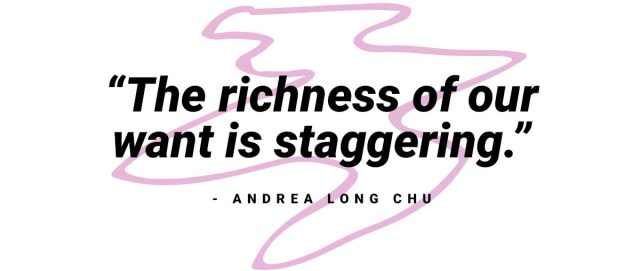 My butchness isn't just about me. My butchness feels like protest, feels like outrage. I am outraged at the construction of womanhood as safe from lust, as distant from lust, as proper and tame. Rarely are women any of those things. The women I know are brimming with desire, are asking to live out their fantasies, are begging for the discovery and acceptance of their bodies.
I am a butch, simply put, because I believe in queer lust. I believe in my own lust and the lust of the people around me, in the power of their gaze and my ability to meet it. There is nothing inherently scary or awful about lust. I hope that my nice black button downs and shining leather boots make it obvious: want what you want, I am with you. Together I want us to form our most desirous selves into fully expressive beings of power. I want our desires to enrich and expand who we are, not make us feel scared or untrustworthy. If we can trust ourselves to know kindness and trust and consent, our wants can take us over and we can give ourselves over to them without fear.
To the other trans women in particular who have also struggled to find a sexuality in themselves that felt full, rich, appreciated, and safe at the same time: I see you, and I want your lust. Give it to me. Meet me at the pool hall some night, let's catch someone's eye, let's take them home, let's let ourselves be seen and see others without averting our gaze.