Welcome to Femme Brûlée! This is a new bi-weekly column where I'll be making delicious things then sharing the recipes and talking about my feelings and experiences during the process. There will be successes and the inevitable epic failures, but mostly just me having a lot of fun being queer in the kitchen. I hope you'll join me!
My opening offering comes before you for two reasons: I am obsessed with strawberries and they were on sale at the farmer's market so I couldn't resist. During the summer it becomes my life's mission to eat as many pints of strawberries as possible and get others to do the same. I had them with every meal today. They're sweet and perfect and sexy and second only to peaches in the running for best summer fruit. They also go with SO many desserts. Funnel Cake, Fro-yo, chocolate fountains, pudding, milkshakes, cheese cake, ice cream and my absolute favorite, STRAWBERRY FREAKING SHORTCAKE.
I love strawberry shortcake so much that when I found out my graduate alma mater NYU makes one that's 140 feet long at their yearly strawberry festival, it weighed into my decision to apply there. Judge me all you want, but given my history I knew it was shortcake time when I saw that buy one get one free sign perched over the strawberries at the market. I also had some buttermilk left over from a cake I baked earlier in the week and decided that needed to be involved too, so this is no ordinary strawberry shortcake recipe. This is strawberry shortcake made with mini buttermilk biscuits and topped with lemon whipped cream. Yup. Let's go.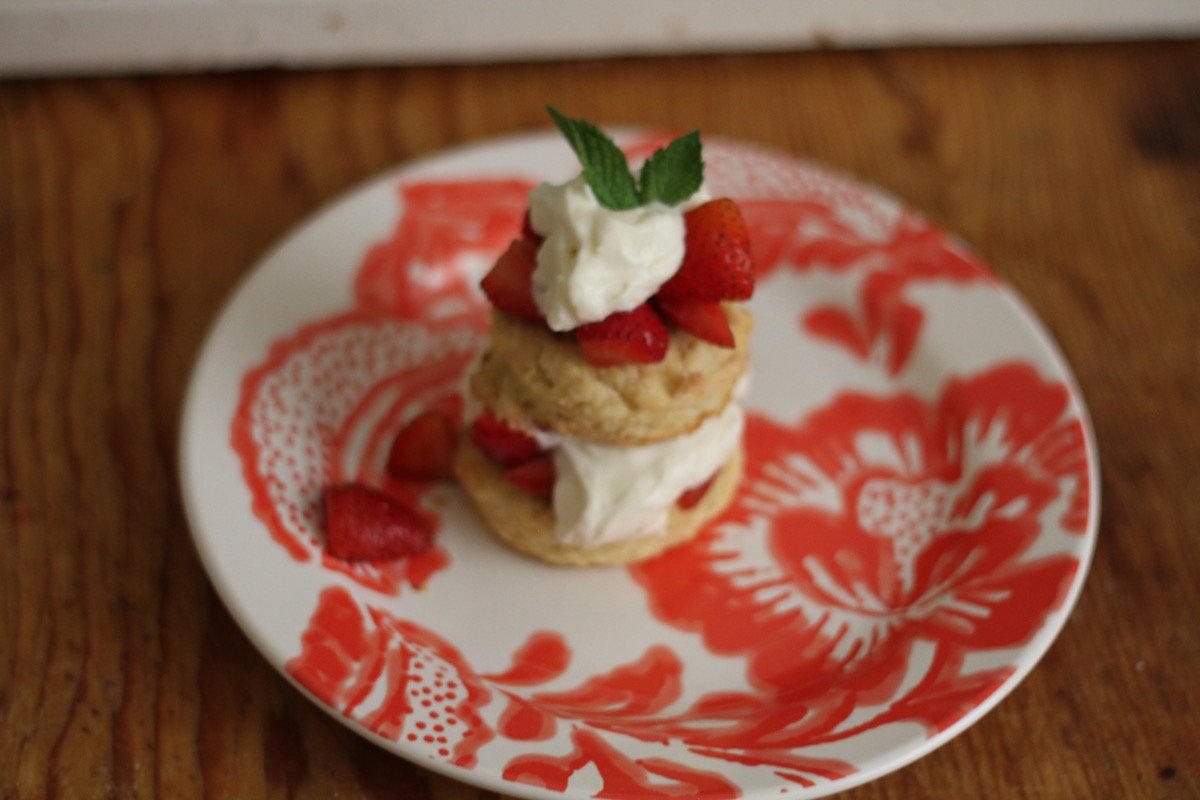 Strawberry Shortcake Of Your Dreams
Buttermilk Biscuits:
2-1/2 cups all purpose flour
1-1/2 Tbs sugar
1 Tbs baking powder
3/4 tsp salt
1/2 tsp baking soda
8 tbs cold unsalted butter, cut into cubes
1 cup cold buttermilk
Strawberry Filling:
1 pint strawberries, hulled and quartered
1-2 Tbs sugar
1 tsp lemon zest
splash of balsamic vinegar
Lemon Whipped Cream:
1 cup cold heavy whipping cream
2 Tbs sugar
Zest of 1/2 a lemon
1-1/2 tsp fresh lemon juice
1/2 tsp vanilla extract
Mint for garnish (optional)
Equipment:
Electric hand mixer
Sheet pan
Biscuit cutter
1. Preheat Oven to 400 degrees
2. You want everything involved with the dough to be very cold for the best results, so cut the butter into cubes then put it in the freezer. Next sift flour, sugar, baking powder, salt, and baking soda into a medium mixing bowl. Add the butter to the bowl and pop the whole thing in the freezer for 10 minutes.
3. Meanwhile, quarter the strawberries and place them in a bowl with the sugar, lemon zest, and balsamic vinegar. Depending on how sweet your berries are and the level of your sweet tooth, you may need more or less sugar. Be sure to taste them and adjust to your liking, then cover with plastic wrap and let stand to allow juices to release.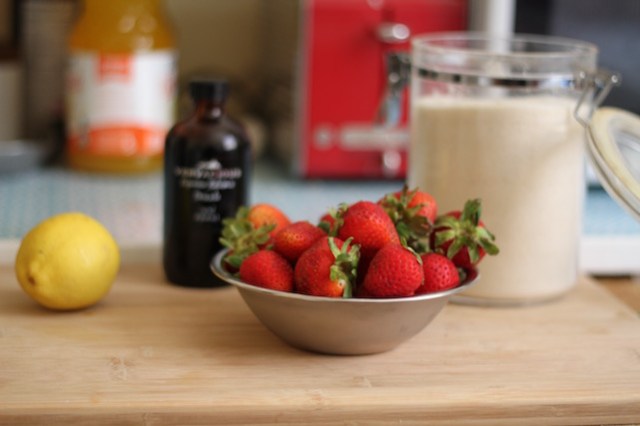 4. Now grab the mixing bowl from the freezer. This is the fun part where you cut the butter into the flour! I use this moment to release my pent up anger with the patriarchy. If you have a food processor, whirl it up. If not you can use a pastry cutter, two forks, or even your hands. If you go that route work quickly because you don't want the butter to melt. I repeat, everything needs to be cold — as cold as Jenny Schecter's heart. Stop once you have little pea-sized balls of butter distributed throughout the flour. I got lazy and stopped a little early. You can too, this isn't about perfection.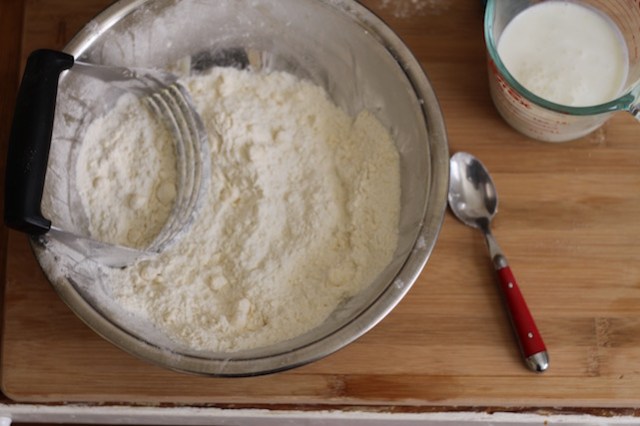 Next, add the buttermilk and fold it in with a spoon or rubber spatula JUST until the dough starts to come together. This is important. DO NOT OVERWORK THE DOUGH. If you do, no one will want to eat your biscuit. You want people to eat your biscuit. Granted, for this recipe we are going for smaller, slightly more dense biscuits so you will want to flour your hands and knead the dough just a little, about three or four times until it forms a ball but that's it! Once you've got the dough in a ball, dump it onto a floured surface and gently pat it out to about 1/2 an inch.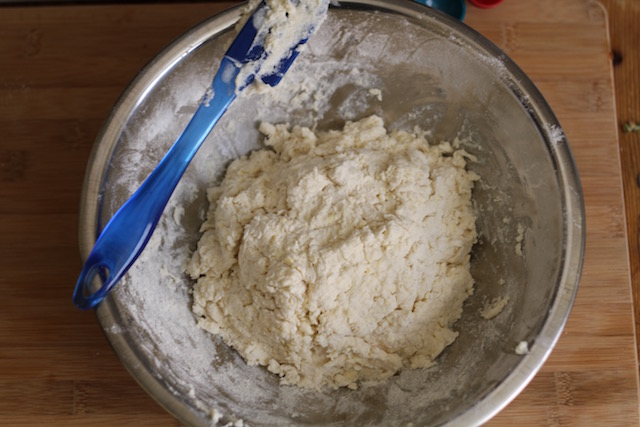 5. Cut the biscuits! If you've got a 2-inch biscuit cutter use that, otherwise anything you can find in your kitchen that is round with a relatively thin, straight edge will do. Think measuring cups, small aluminum cans, glasses, or you can just use a knife and cut squares instead of going for circles. Whatever you use, make sure it is well floured so it doesn't stick and break your biscuits. That would be sad.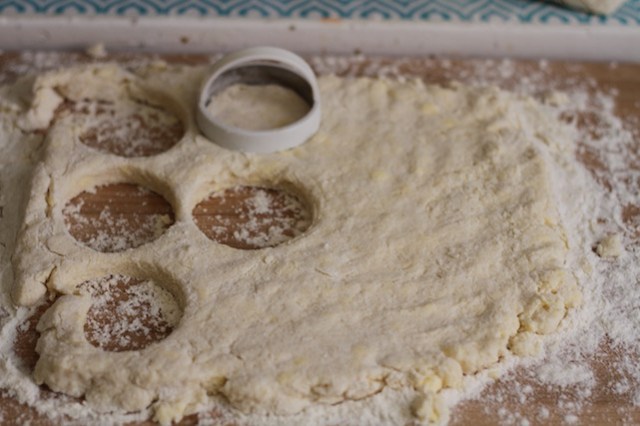 Next, line a sheet pan with parchment paper then place the biscuits onto it about two inches apart and pop them in the oven for 10-12 minutes. This is when I sing a random song I learned in my childhood about watching biscuits rise in the oven, but you do you.
6. While the biscuits are in the oven, make the whipped cream. This stuff is SO good, maybe the best whipped cream I've ever made and I don't know what took me so long to think of it! You might want to eat the whole bowl and I'd never tell you not to, but waiting is totally worth it. Put all the remaining ingredients into a mixing bowl then beat it with a hand mixer. Cook books always say to beat it until "soft peaks" form. I find that weirdly suggestive and unhelpful so I say beat it until it looks like whipped cream. Stick it in the fridge once it's done to keep it cool till you're ready to assemble your badass shortcakes.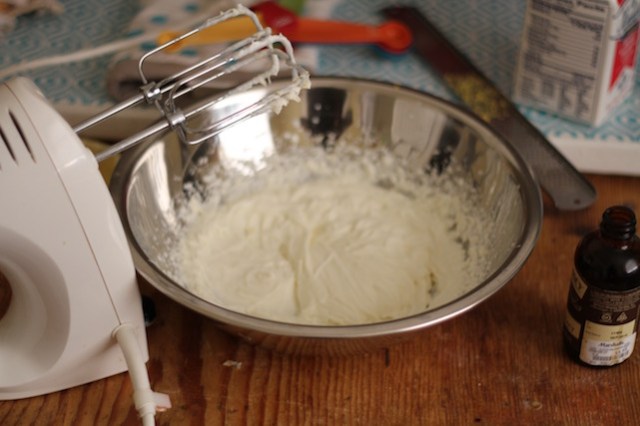 7. Take the biscuits out of the oven if you haven't already done so. Mine are a little overdone. Don't be like me! Take them out sooner!
Let them cool for about ten minutes and then it's time to put it all together. Take a biscuit, spoon some strawberries on top, drop some whipped cream on it, top it with another biscuit and another round of strawberries and whipped cream then garnish with fresh mint. Now is the time to take Instagram pics and send petty tweets about how much better you are at baking than everyone else before falling into silence as you destroy the insanely delicious masterpiece you just created.