Are you all familiar with Steam? Probably most of you are, but, just in case any of you don't know, Steam is a free online platform where you can download thousands of games (though they have less for Macs, unfortunately). If you have a decent enough computer I highly recommend it, especially for new gamers, because you can try out some different types of games without committing to a whole console.
One of the best and worst things about Steam is that they are constantly running sales and they will email you when a game from your wishlist has a reduced price. This is extremely handy most of the time, but every once and awhile they will have a huge sale and, if you're me, you end up with about a dozen tempting emails over the span of like two days. And maybe even though you don't actually need any new games, you go a little crazy and make a few or six impulse purchases.
One of the games I bought on my holiday spending spree — though I'm not sure I should call it a spending spree; I got six games for about $16, so that feels pretty much fiscally responsible — is called The Stanley Parable. It won a Steam Award and looked super intriguing, so I decided to take a break from Dragon Age: Origins and give it a play.
[DA:O aside: I finally romanced Leliana! We spent a beautiful night together (and then again the next morning – heyo!); it was much better than the sex worker I accidentally banged. Wynne is concerned that I'm putting my relationship with Leliana ahead of the cause, but I told her not to worry because True Love is the most important thing.]
The Stanley Parable was definitely a nice change of pace from a really long, intricate game like DA:O. You can literally playthrough and beat the game in about ten minutes, though I recommend playing through multiple times to get the most out of it. It's a pretty weird and unsettling game, which is made immediately clear in the beginning of the game's description: "The Stanley Parable is a first person exploration game. You will play as Stanley, and you will not play as Stanley."
The Stanley Parable centers around the monotony of office life, so if you work a boring 9 to 5 that you hate, this game might hit a little close to home. Stanley, the narrator informs us during the game's intro, has been working the same job, doing the same thing for many years. He receives orders and he pushes the buttons he is told to push. One day, Stanley stops receiving orders. He hangs out in his office for a while (hours, days, weeks, years), before finally deciding to explore the rest of the building to figure out what happened. Maybe.
If you have any inkling to play this game, which I wholeheartedly recommend, you should stop reading now. This is definitely one of those games where it's best to go in as blind as possible and enjoy the strange and quirky ride. It's clever and funny and sometimes a little scary, especially if you're a wimp like me. Go pick it up on Steam, play it, and then you're allowed to come back and read the rest.
Okay, everyone gone? Only still here if you've either played already or have no interest in ever picking this game up? Good.
I found The Stanley Parable to be such a fun, peculiar, interesting little game, but I can imagine that some people might think it was a bit too clever for its own good. The gameplay is very simple; you navigate Stanley around the office using and can only interact with some of the items around, mainly doors and buttons. The thing that sets The Stanley Parable apart from other games is the narration.
As you progress through the office, the narrator describes what Stanley is thinking and where he wants to go. For instance, at one point the narrator remarks that Stanley wants to use a particular door so he can go to the conference room. If you take Stanley through the other door, the narrator adjusts his dialogue to decide that Stanley first wants to look at the break room, even though he knows perfectly well it will be empty.
If you listen to everything the narrator says, you can beat the game quickly and easily. Sort of. It's up to you if you really think that ending is actually the end. There are lots of other "endings," though, depending on how and when you defy the narrator. Take this decision, for example: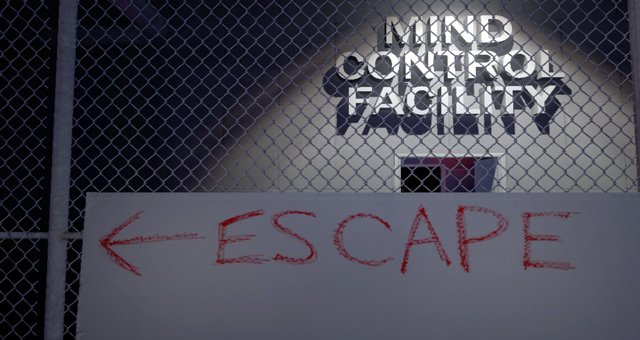 If you try to follow the escape sign, the narrator proclaims, "At the end of this hall, Stanley would meet his violent death." And he's not wrong, per say, but it's not as simple as that either. There are many ways to experience the game and all the endings I've seen so far have been interesting and worthwhile.
At its core, the game is about following orders; do you make Stanley follow through with the narration or do you defy it?
Do you keep on defying the narrator even when he starts to get angry or threatens you? When he makes you think maybe you have made the wrong choices?
I am assuming the game's name is a reference to Dr. Stanley Milgram, the Yale psychologist who ran the famed Milgram experiment. The Milgram experiment, if you haven't heard of it, was all about how people are willing to act against their consciences to remain obedient to authority figures.
It's pretty fascinating stuff (if you're interested, there's a good fictional account in the form of a novel by Chip Kidd called The Learners), and The Stanley Parable puts a new, interactive twist on the concept. Here's where I would normally tell you — again — to go play it, but if you have read this far down the page then you already have played it. Right?