The show opens in the Great Lesbian Kitchen, which is where most of the action seems to happen in this house. Not that kind of action, though that sturdy table could take it. Jesus rides his skateboard into the kitchen and Lena tells him he shouldn't do that and I agree because that would be hell on the floor and then I wonder what type of flooring they have because I am easily distracted by flooring. This burning question goes unresolved.
Lena looks out the window and Steph the Cop Mom is sitting outside with Brandon the Piano Man. He says that he did a dumb thing "last night" which means this is the morning after the trips to and from Not Mexico and the House of the Shiny Gun and they all seem surprisingly chipper. He tells Steph, "It won't happen again." and she says, "You're darn right…" and then says that she was about to drop the hammer on him and, with restraint unknown to most, I resist making the stereotypical lesbian and tools joke. It turns out that Lena feels he's suffered enough and they aren't going to ground him. I disagree with Lena but this show already has an abundance of moms so I let it go.
Steph and Brandon enter the kitchen and Lena says, "Steph, your pancakes are burning."
Digression 1: Were the pancakes waiting for Steph to return? Is Lena pancake-flipping impaired? Is Steph the Cop Mom also Steph the Pancake Mom?
Digression 2: Marianna complains that her hair makes her look like a Lhasa Apso but she doesn't really look like one – no underbite. Also, my sister has Lhasa Apsos and one of them bit my son in the face and now I don't like Lhasa Apsos and this is unintentional foreshadowing because it turns out I don't like Marianna much in this episode either.
Steph serves pancakes and then Jesus runs over Steph with his skateboard and Steph says, "Have you taken your pill this morning?" He says, "Yes." She says, "No." and he says, "No." This foray into ADD/ADHD and medication is clunky; however, I have this conversation with one of my kids often. Even when I'm saying it, I hate myself for it and, watching this scene play out, I hate it even more. Vikki the Recap Mom got a valuable reminder – sometimes kids are just kids and they do stupid things and we shouldn't always follow their stupid things with that question and, Jesus! Stop skateboarding in the house!
Jesus takes the wheel. No, he doesn't – he takes down the wicker basket to get his pills and I wonder what happened to the Burberry basket from last time and suspect that Lena sold it to buy more taupe clothing and bangles. We get a close-up of Jesus' hand with his pills and the plot thickens.
As the opening scene fades, we get the first true show opening with music and credits. There are shots of homework, cluttered stairs, a sponge, arms, height marks on a wall, pancakes, sheet music, a rubber duck in a top hat and Steph and Lena's hands in bed together. Just their hands. They could each be sitting on the floor on opposite sides of the bed. Who knows? I had three thoughts: 1) Why the hell is there a sponge? 2) We have that duck in a top hat! 3) I am a stupid sap because this opening gives me warm, fuzzy feelings and a craving for pancakes.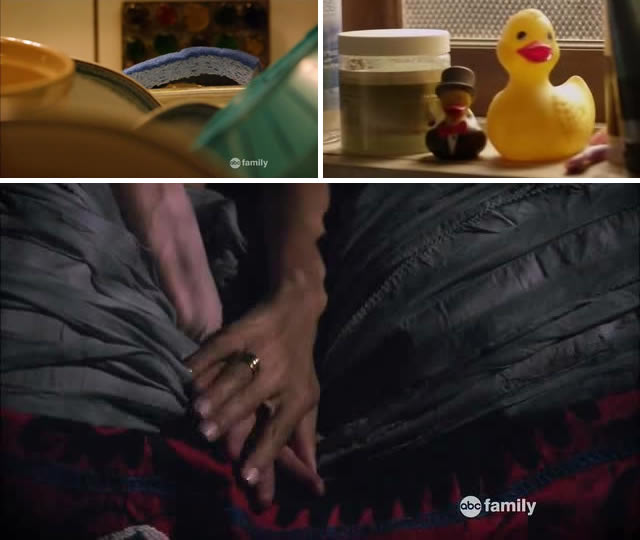 Then we have a series of quick scenes…A mean girl approaches Marianna and says, "Do you have any more…?" and I yell, "SKITTLES!" because even mean girls shouldn't do drugs and also Skittles are delicious. Marianna says she can't get anymore. Lena tells Steph she worries about her being a gun-toting cop and wishes that she pulled cats out of trees instead. Then, we see Talya (This is the weird but correct spelling because an obligatory iPhone product placement told me so) asking Brandon if his moms sent Callie back to juvey. Brandon says no and then they make-out because juvey talk is such a turn-on.
The next scene takes place in the Great Lesbian Kitchen with Bill, the foster care guy. He tells the lady lovers that Callie's mom died when she was 10 and she and Jude have been in and out of foster homes since then. Lena asks if he is looking for a permanent placement for them and he says, "Always," and then Steph clears her throat and looks out the window and sees a young boy in their tree. At first, I think they have a trespasser but then I realize Steph is looking through a magical window to the past.
Back at school, a teacher brings Lena a note and the only word we are supposed to notice is "PILLS" and Lena says, "Well, you know what that means?" and I say, "Medication" but she means "Locker searches." As a security officer searches the lockers, Lena looks at Marianna like "I'm sorry for the inconvenience, my innocent cherub." and Marianna looks back like, "I have nothing to hide and you look great in taupe and did you do something different and fabulous with your hair today?"
In the next scene, Mike and Steph are driving around in a police car and Mike brings up the events of the previous night and Steph mentions that they decided not to ground Brandon because he is a good guy who plays a mean concerto and Mike says, "You're kidding, right?" Steph is not kidding and says, "Lena thought…" and then Mike exhales dramatically and says, "Lena thought…" And I think of that Mr. Morton song from Schoolhouse Rock and think that Lena is the subject of the sentence and what the predicate says, she does. My happy song is interrupted when Mike goes on a tirade in which he refers to Lena as "hippy dippy" and makes light of her "PhD in Child Whatever the Hell It Is" but then Steph gives him a verbal lashing before challenging him to a duel at high noon. Or, you know, says nothing to defend Lena. Steph, Steph, Steph.
There is another series of rapid-fire scenes… Jude gets in a fight defending Marianna's nice friend, Lexi. Callie checks in on Jude. Jesus is in Lena's office for fighting and she asks him if he took his pill and he says, "Can't I just have a bad day?" and Lena sighs and doesn't call the psychiatrist and I probably wouldn't have either because I, too, am hippy dippy. Marianna is waiting for Jesus outside of Lena's office and he tells her that he didn't take his pill to save her ass and this is such a tangled web, children! The moral of this story – as the moral of every story ever should be – is that you should never lie to your lesbian mothers. Then, Callie is in the music room drinking bottled water without any regard for the environment (which is how we know she's only lived with lesbians for a few days). Brandon comes in and Callie plays a C chord on the guitar which is the key to her heart and she opens up to Brandon a little bit and he puts his hand on her thigh and Talya sees that through the window and we all know where this is heading.
Pages: 1 2See entire article on one page