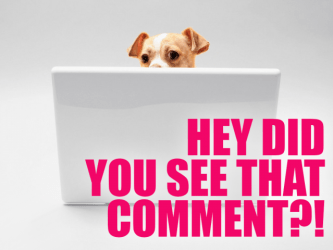 Hello 2016ers!
Happy First Day Of The Year to everyone! This week there was SO much great stuff on Autostraddle dot com, including this amazing New Year's Open Thread! This is the Year of You, Autostraddlers. This is The Year of YOU!
Today seems like a great day to revisit Carolyn's ideas on what to do with all the champagne you've got left over from last night.
Also Heather Hogan ranked all 83 queer story lines that poured out of your television in 2015. Every one of them is ranked in Heather Hogan Fashion. Spoiler Alert: Laughter ensues.
We shared our old school mix tapes memories with you. Then you shared yours with us. It was beautiful.
Ali spoke with Autostraddler and SpaceX engineer Joy Dunn about Falcon 9. It's only the coolest thing ever to enter my life.
If you are a human person who is alive and living on this planet Earth, then Ali's advice on using old sex toys with new partners is probs relevant to your interests.
This world is full of people. Until now I assumed the world was binary — full of either cat people or dog people. But now, NOW, my eyes have been opened to the existence of turtle people. Let Maddie's turtle, Galapagos, walk very very slowly right into your heart. There are also whiskey people. And for those people Laneia has ideas on how to drink it.
Also Doc Martens! And Comments!
---
On NEW YEAR'S OPEN THREAD: What's 2016 Gonna Be All About For You?:
The Best Resolution Ever Award to shewasnice:

The You Do You Award to Mos Stef: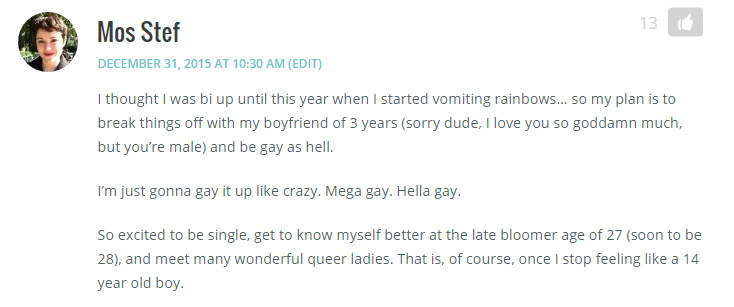 On Mixtapes We Really Made When We Were Teenagers: A Roundtable:
The Good Ole Days Award to queer girl:

The Feelings Award to Sigrid:
On No Filter: Samira Wiley Fears The Deer and Jill Soloway Officially Joins The Club, Gets The Haircut:
The Wiccan Award to queer girl:

On You Need Help: Old Sex Toys, New Partners:
The Clear The Cache Award to monae:

The Total Package Award to m. teerexington.:

The Sustainability Award to Sally:

---
See a clever, hilarious or thought provoking comment around this website-ship? Email it to me at: bren [at] autostraddle [dot] com!