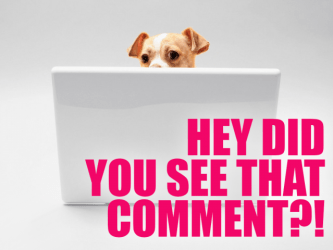 Sometimes I forget that we are from the internet. Like when a bunch of us are hanging on California's gayest mountain (well, for 2 weeks a year) and I keep being amazed at how clever and hilarious everyone is. Note to self: IRL comment awards should be a thing too. When I came home from camp and read all the comments from the past week I  became overwhelmed by how cute and hilarious you all are both in and out of the interwebs. You really know how to put a girl in a good mood, even if she's home sick with the camp plague and still a little worried about embarrassing A-Camp photos that have yet to surface but most certainly exist.
For those of you who couldn't make it up the mountain, don't worry. We missed you loads, but many of the posts this week directly corresponded to the activities we were doing up there. What if you invited local 'straddlers over and had your own mini A-Camp? What then? You could cook stuff from Jamie's vegan round up and make adorable bottlecap clamshell holders for your DIY beauty creations! If you're hoping to make it in the spring start getting hyped by reading Carmen's California dreaming poetry post. And if you were there and are in still deep withdrawal you can go here and also here to talk about it some more.
Oh, and have you directed your eyes to our epic photo galleries this week? You must see 50 Girls Outside (NSFW) and Riese's epic 150 Years of Lesbians and then direct your ears to Alice's Friendship Is Magic playlist and the new Tegan & Sara single. Lizz also recapped the Glee premiere, the tech team straddled the iOS 6 release, Gabrielle tried to make your cramps feel better and Hansen talked about long distance relationships. And that's just a little bit of what happened this week on Autostraddle. Now onto the awards!
The Yeah, We Should Probably All Be Amish Award to kalamac: "I would have loved to have seen a show with a Revolution like premise, but instead of how the future is portrayed on the show, the Amish have taken over the world, since that's pretty much how they live anyway."
The Unreleased Ryan Murphy Bio Award to Susi: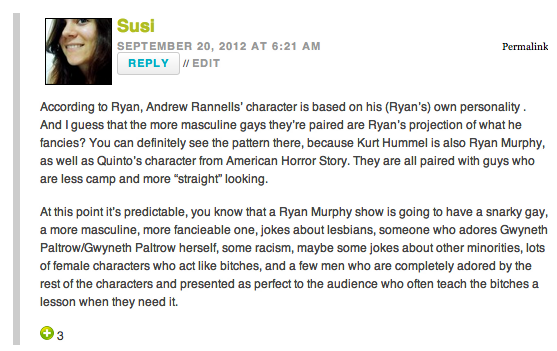 On 29 Things We Don't Understand Post-Camp:
The Still On The Mountain Award to Fawksfyre: "I had to contact IT 4 times to reset my passwords at work."
The We Demand A Recount Award to Cassandra: "More people don't want to do threesomes than don't wanna do animals. I think we need to talk about this."
On Secret Mitt Romney Video Leaks, Is A Cluster F*ck:
The Financial Planning Award to big mama V: 
On Bad Blood: A Menstrual Cramp Survival Guide:
The Alternative To Alternative Medicine Award to Sarah: "I usually just take a shit ton of ibuprofen in addition to the shit ton I take for chronic migraines. Then my friends and my mom tell me I'm going to damage my liver and then I'm like no, that's tylenol, ibuprofen will just fuck up my kidneys and give me a stomach ulcer. Also, the fan on my computer doesn't work so well, so it gets super hot and I put the computer on my stomach and watch tv on netlfix like toddlers and tiaras or parks and rec. Theorectically, I 'm into alternative medicine but I really can't make myself stop taking ibuprofen."
On Prize Pack Giveaway: The Perks of Being A Wallflower:
The If You Type It One More Time Maybe She'll Appear Award to ms_anne_thropy: