On May 17, a small group of people paid $50,000 a plate to congregate in the Boca Rotan home of private equity manager/infamous sex party host Marc Leder. There, they gathered around presidential candidate Mitt Romney to finally hear some Real Talk about his campaign strategy and foreign policy feelings. Romney spoke candidly and with abandon, for he was among friends — also known as fellow millionaires — and didn't have to censor himself as he would for the media. But the media was there, in the form of a hidden camera on an anonymous attending guest. The video was subsequently leaked to Mother Jones, who broke the story of Romney "raw and unplugged" yesterday. Didn't Mittsy's mother teach him to never say anything he wouldn't want to (literally) see on the front page of the paper?
I think it's safe to say that we all already knew that Romney is a slime ball. But now we know that he doesn't think so highly of us, either. Of his thoughts on Obama supporters, Romney said:
There are 47 percent of the people who will vote for the president no matter what. All right, there are 47 percent who are with him, who are dependent upon government, who believe that they are victims, who believe the government has a responsibility to care for them, who believe that they are entitled to health care, to food, to housing, to you-name-it. That that's an entitlement. And the government should give it to them. And they will vote for this president no matter what…These are people who pay no income tax… [My] job is is not to worry about those people. I'll never convince them they should take personal responsibility and care for their lives.
Well screw you too, Mitt Romney. It's not my job to worry about you either, but now I have to, because you are a worrisome individual.
Romney added that he hasn't criticized these lazy, irresponsible Obama supporters publicly because he doesn't want to alienate anyone. Speculating that there are about 5%-7% of voters that he'll have to win over to be elected, Romney postured that the way to these voters hearts is to not lay blame on them for what he sees as Obama's failings. He revealed a manipulative strategy of capitalizing on voters disappointment in Obama, suggesting,
When you say to them, "Do you think Barack Obama is a failure?" they overwhelmingly say no. They like him. But when you say, "Are you disappointed that his policies haven't worked?" they say yes. And because they voted for him, they don't want to be told that they were wrong, that he's a bad guy, that he did bad things, that he's corrupt. Those people that we have to get, they want to believe they did the right thing, but he just wasn't up to the task. They love the phrase that he's "over his head."
When an attendee expressed concern that Romney's attack on Obama didn't involve intellectual firepower, Romney responded that intellectual discussions of important topics don't win elections. He's counting on his ads to defeat his opponent, whom he described as naively confident in the power of his own perceived magnetism, charm, persuasiveness to navigate foreign policy. Ouch!
Romney went on to complain about how hard it is to be a rich little white boy, bemoaning his heritage and saying that if he was Mexican, he'd have a better shot at winning. Of the Latino community, Romney also said, "We are having a much harder time with Hispanic voters, and if the Hispanic voting bloc becomes as committed to the Democrats as the African American voting block has in the past, why, we're in trouble as a party and, I think, as a nation."
And in terms of foreign policy, Romney revealed an attitude towards Israel/Palestine tinged with racism. Speaking of Palestinians as a single block of people with singular opinion, he said, "I look at the Palestinians not wanting to see peace anyway, for political purposes, committed to the destruction and elimination of Israel, and these thorny issues, and I say there's just no way." The only road to peace that Romney said he could foresee is the vague hope that "something will happen and resolve it." How's that for a foreign policy strategy? Let's just cross our fingers and hope that "something will happen." Though when speaking publicly about the issue, he claims to support a two-state solution, it appears that Romney privately dismisses chances for peace at all.
After the initial video was revealed, Obama campaign manager Jim Messina responded in a letter to reporters, saying,
It's shocking that a candidate for President of the United States would go behind closed doors and declare to a group of wealthy donors that half the American people view themselves as 'victims,' entitled to handouts, and are unwilling to take 'personal responsibility' for their lives. It's hard to serve as president for all Americans when you've disdainfully written off half the nation.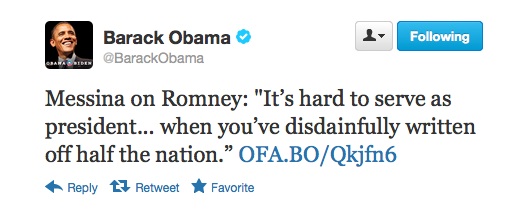 And the Romney campaign is scrambling to defend their boy, though it's hard to imagine what they could possibly come up with to redeem him. In a last minute press conference Monday night, Romney announced that he stands by his statements, and his only mistake was an inelegant delivery. When asked what insurance he could give voters that he's not saying different things to funders than people on the stump, Romney responded with a classic non-answer:
…At a fundraiser you have people say governor how are you going to win this? And so I respond well, the president has his group I have my group I want to keep my team strong and motivated and I want to get those people in the middle, that's something which fundraising people who are parting with their monies are very interested in knowing can you win or not and that's what this was addressing.
Whatever that means!
Despite the dire implications of this massive cluster fuck, it could have been worse for the GOP darling: the donor party could have turned into one of host Marc Leder's "sex parties," which are apparently the talk of the Hamptons, described by the New York Post last year as "Playboy Mansion met the East EBond…  guests cavorted nude in the pool and performed sex acts, scantily dressed Russians danced on platforms and men twirled lit torches to a booming techno beat." I would have liked to see a video of Mitt Romney go-go dancing, though. We should be so lucky.