Hello Stormchasers!
Hurricane Hermine is headed our way and no one — not the governor, the local news channels, the radio folks — no one seems to agree on just how to pronounce "Hermine." A surprising number of people seem to think this storm is a character from Harry Potter.
But everyone, the governor included, agrees that Autostraddle dot com blew us all away this week.
You say potato, Carrie says pota-no. I'm totes on Team Tater.
Cameron Esposito and Rhea Butcher are funny lesbians on a funny show about funny lesbians.
Life's not all fun and card games — except when it is.
Abby, world famous Dad and Riese's fiancée, is an aspiring scholar and model with some pretty sweet looks for back-to-school time. Didn't think leggings could be butch? Think again.
Also Queer Horoscopes! And Comments!
---
On Foolish Child #4: The Straight Parents' Guide To Explaining Gay Things To Children:
The ME-OW Award to Joanna and queer girl: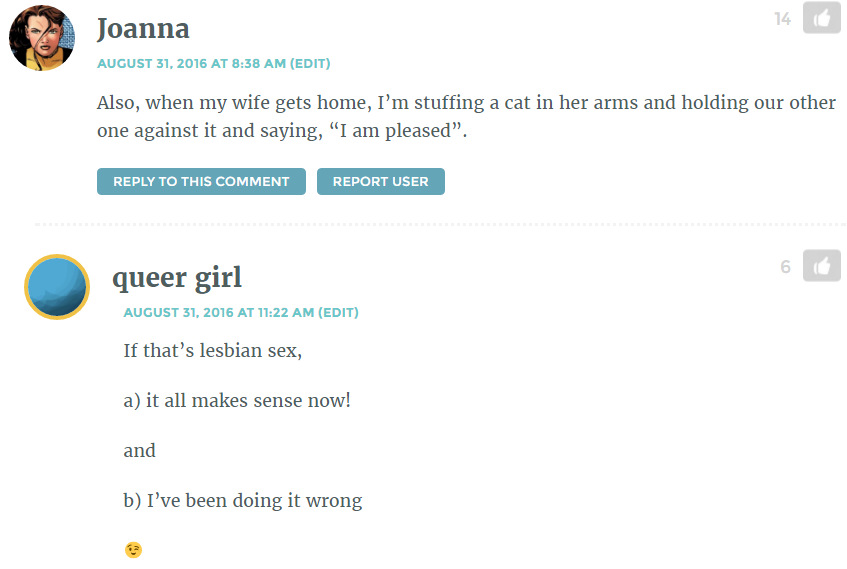 On No Filter: Hey Samira Wiley, Where'd You Get That Shirt?:
The Doubling Your Chances Samira Wiley Sees This Award to M:
On A Lesbian Etiquette Guide to Stealing Rural Farms:
The Babeland Ranch Award to Brit:
The Just Desserts Award to Harper Hopkins:

The 3.14159 Award to Al:
On I Promise You're On the Right Side of History: 23 Things to Eat if You Do Like Potatoes:
The Spuds Mackenzie Award to Kay: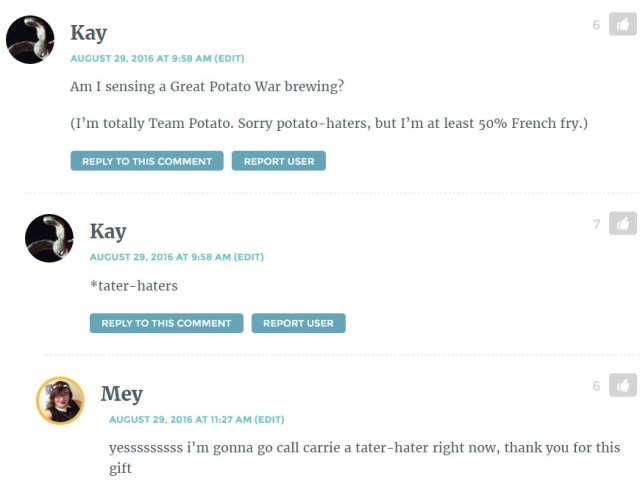 ---
See a clever, hilarious or thought provoking comment around this website-ship? Email it to me at: bren [at] autostraddle [dot] com!