photography by riese bernard
---
As Frank Ocean recently said, "summer's not as long as it used to be.wp_postsThat's especially true when you're going back to school, like me! After taking a few years off I'll be starting community college this week, and my venture into the world of "adult educationwp_postsis as new to me as my venture into THE WORLD OF FASHION. Specifically: my queer, masculine-ish-of-center, tomboy baby butch fashion. One morning I woke up and realized I was completely unsatisfied with (almost) my entire closet, and have since been on a journey to find my style-of-center, mixing Goodwill finds with brand-name bits from the sale rack.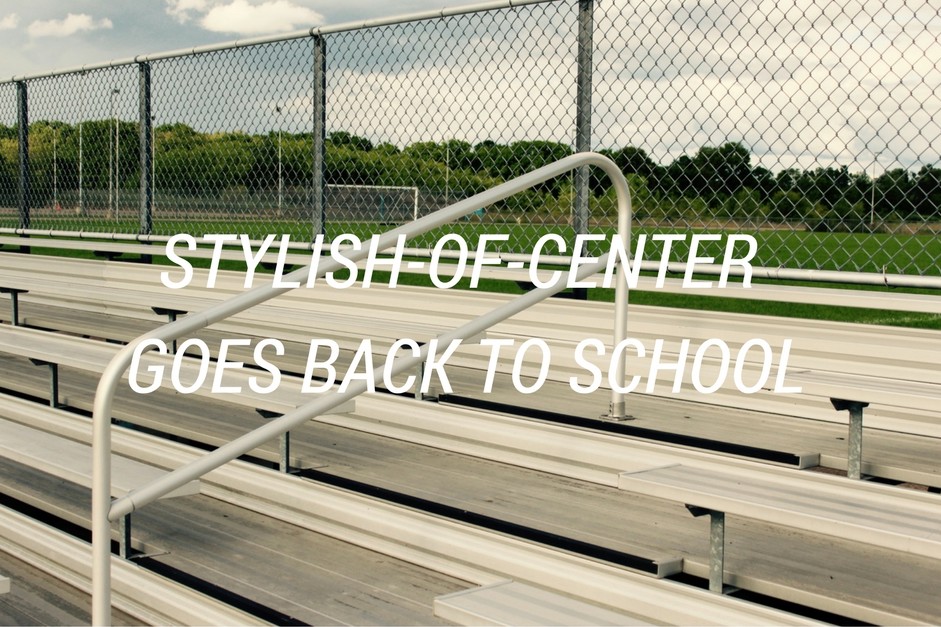 ---
Day One: Bad Boi Has an Awakening of Adulthood and Wants To Further Their Academic Pursuits to Grow as a Person
It's the beginning of the week. I've got the energy and I want to look like I'm taking community college seriously (because girl, I am). The vibe I'm really going for is "bad boi has an awakening of adulthood and wants to further their academic pursuits to grow as a personwp_postsbecause that's my truth and I want to tell it. I usually get my collared shirts at thrift stores, but for this white shirt I wanted a starchy collar for ultimate nerd vibes and JC Penny had the answer. Sometimes I wear binders, sometimes I don't, but the way binders enable me to fit into boys/mens button-ups makes me wanna lead all the queers in a "Hallelujahwp_postschorus, and not the Rufus Wainwright building.
If I'm feeling a little more flowy and chill, this pretty rad gray crop top from American Eagle helps me get my #butchcrop vibes on. I've started experimenting with pants from the men's section, and a couple of months ago David Beckham and H&M came out with these sporty-slack-joggers that make me feel pretty cool. Unfortunately, they don't seem to exist anymore, but you can definitely go for the same look with some slim-fit chinos.
---
Day Two: Skater Boi
Now that everyone has seen just how high you can button your collar, your serious student vibes are not to be questioned. This is when you hit-em-up style and go classic skate park circa 2005. Ironically, this is exactly how I looked in 2005 when I… skipped school to go to the skate park.
My Thrasher Mag tee brings back solid memories and projects my roots, and I'm serious about these gym socks as an homage to the beloved Avril Lavigne. I love the fit of these men's Dickies slacks too. Kinda profesh, kinda makes me want to see how long till I can spell S-K-A-T-E in Tony Hawk Pro Skater. Also, this is a look in which I don't feel the need to explain the state of my haircut. Bonus!
---
Day Three: (Butch) Leggings as Pants
There's nothing more infuriating to me than a man talking about something he knows nothing about. Specifically: the movement that is "leggings as pants." Can I get a hell yes to athleisure? I don't know why it took me so long to join this movement, but I'm never gonna leave to make up for lost time. It's the middle of the week, already your professor has figured out a way to deplete your printing budget at the library and if he changes his office hours one more time you may just lose it. This calls for putting on "Kanye's New Workout Plan,wp_postsforgetting your troubles, and going for a quick jog (approximately two-ish minutes before I get winded and need a time out). And no shame — I'll show up to the new office hours, in this exact outfit, feeling confident, cute, and fit. You can't stop me!!!
---
Day Four/Five: TGIT/F
Fridays are Fridays for a reason. Everyone needs a stopping point. As excited as I am to learn new things and grow as a person, I'm gonna need a break. That break will probably include dancing with queers at a gay bar downtown and drinking away the idea of MLA format. This year, I was super excited to invest in a pair of Timberlands. As a person who gets 75% of their wardrobe from Goodwill, Timberlands were a serious expense, but if you'd spent as much time as I have drooling over pictures of Drake wearing his, you would've done the same. Luckily for us, there's a lot of shoes that look similar and don't break the bank! For this "look,wp_postswe're going all black. To quote one of my favorite movies, Walk The Line –
Vivian Cash: You can't wear black. It looks like you're going to a funeral.
Johnny Cash: Maybe I am…
And guess what, you are! Funeral to the school week! You've got approximately 48 hours to recuperate, feign sanity, and do it all over again. One of my favorite trends to come out of this year has been the oversized and boxy tees. It's the cut I've been looking for my whole life. And like the lesbian I am, I paired this with with a flannel or a denim jacket (both thrifted), though if you're feeling doubly gay I daresay do both.
Best of luck out there, I know I'll be needing it. At the very least we'll look good trying.