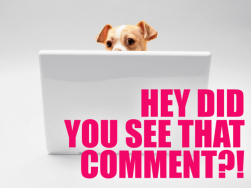 This week I purchased two ferns to support a local school. Will the ferns live to see the New Year? My history with green things points to "no," but maybe 257th times the charm! Only time will tell.
This week Autostraddle dot com was way brighter than the future of my ferns.
We had a Kristen Stewart spotting!
Ali found some super geeky, nerdy ornaments for your tree or bush or other ornament hanging device.
Alaina made the Christmas playlist you never knew you wanted.
Brittani Nichols continues to be the most talented human ever.
There's new merch just in time for the Holigays!
Also boobs and butts! And Comments!
---
On Holigay Gift Guide: Boobs! Flaunt 'Em Cause You Got Em! And Also Butts!:
The Best Use of Emoticons Award to queer girl:

On Donald Trump's Cabinet Nominations, Ranked By Terror They Inspire In My Heart:
The Trump Logic Award to Al:

The Truth Award to Allison:
The Oh Yeeeaaaahhhhh Award to Al:

The Donald J. Voldemort Award to Bea Trice:

The Reader's Choice Award to Rey:
---
See a clever, hilarious or thought provoking comment around this website-ship? Email it to me at: bren [at] autostraddle [dot] com!