Hello friends! I'm here to bring you important news about the gifts you'd love to give and the time you have left. Would the Safe Space Sweater look amazing on your best friend's torso? Is the Dead Lesbian Pin Pack a perfect addition to your ex-girlfriend's jean jacket?  Well you better order before this Friday, December 16th to ensure that your packages get delivered by December 23rd.
Here's a reminder of some of the amazing merch we've got in-store for you!
---
1. Safe Space Fleece Sweatshirt
2. Gal Pal Black Hoodie
---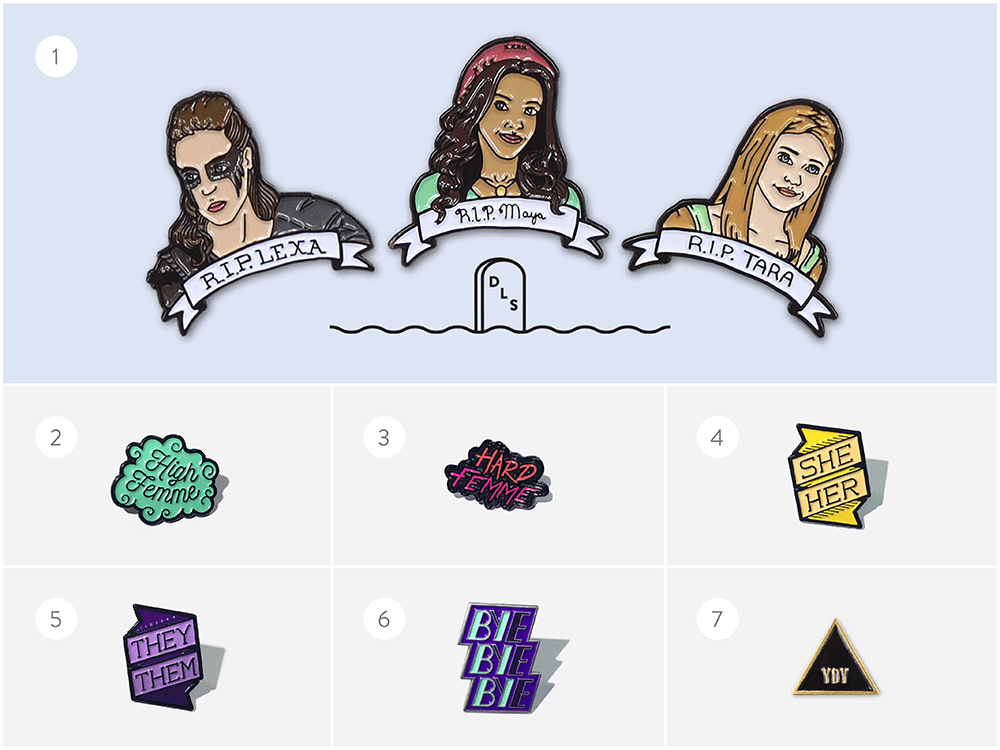 1. Dead Lesbian Society Pin Pack #01 : Maya, Lexa, & Tara
2. High Femme Pin
3. Hard Femme Pin
4. She/Her Pronoun Pin
5. They/Them Pronoun Pin
6. Bi Bi Bi Pin
7. You Do You Pin
---
1. You Do You Athletic Blue Triblend Tee
2. You Do You Athletic Grey Triblend Tee
3. Scissoring Vintage Black Tee
4. Queer Deer Triblend Tee
---
A bunch of stuff also went on sale today!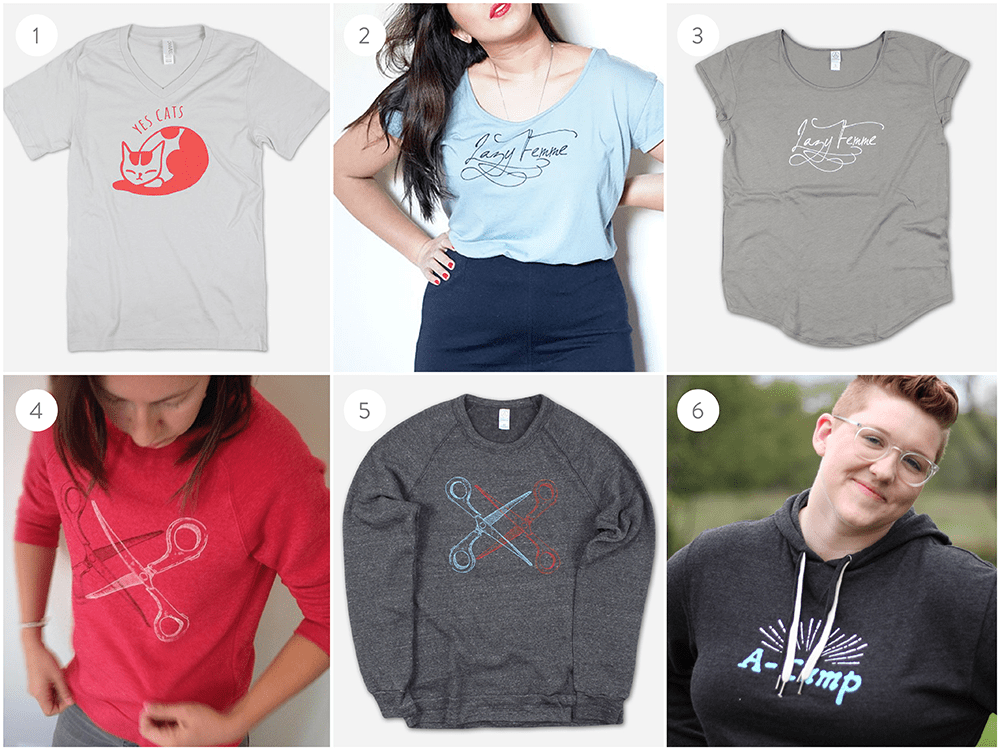 1. Yes Cats Tee $22 $15
2. Lazy Femme Blue Tee $26 $15
3. Lazy Femme Nickel Tee $26 $15
4. Basic Scissoring Red Fleece Sweatshirt $48 $35
5. Basic Scissoring Grey Fleece Sweatshirt $48 $35
6. A-Camp Grey Hoodie $48 $35
---
Do you ever feel the need to wrap gayness around queerness, like a turducken that you can't eat? Solution:
Wrap all your Autostraddle gifts or dildos you bought from one of our affiliates with this super-queer, gaymo-forever wrapping paper illustrated by Cameron Glavin. If you were at A-Camp in October, you might recognize the pattern from the banners hanging in Crown Hall! As soon as I saw them I knew I wanted to make merch with 'em.
The paper features four festively queer woodland creatures and the message "I got you a thing". You'll get three 20″x 29″ sheets, all rolled up safely in a cardboard tube. If you order literally anything from our store (even a $3 sticker!) you can add this wrapping paper to your order for a mere $3.
---
Everything you see above is ready for you in the Autostraddle store, plus an estimated bajillion more fun things like pins, tees, sweaters and zines! And remember, order by Friday, December 16th to get your gifts before Christmas and Hanukkah!